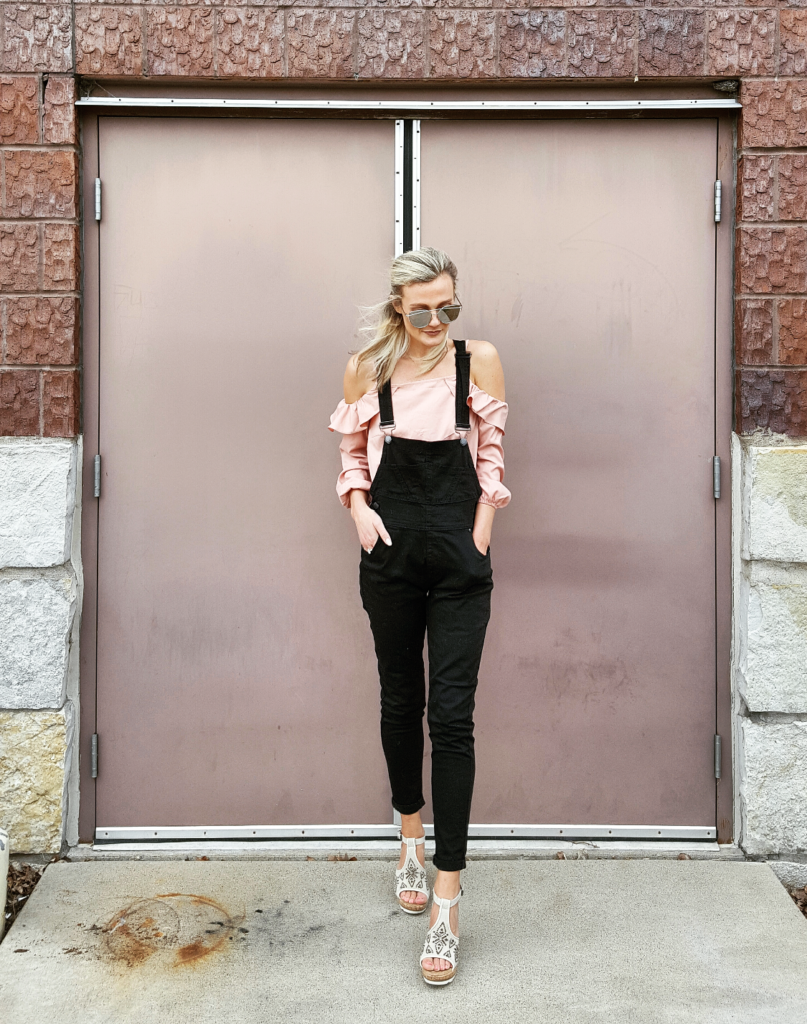 I love a great overall, a really comfy wedge, and a good cold-shoulder top. So this look is bringing all the goods in one shot. When it comes to springtime in Minnesota, you never know what to expect. This past weekend was absolutely beautiful and gives me the feeling summer is somewhere in sight.
If you are on the hunt for an affordable pair of overalls, then look no further. Offering more of a fashion forward fit with slimmer legs, this pair offers plenty of room for adjustment up top and loads of style. I love overalls. They are so easy to throw on to run errands, grab brunch, just a comfy and easy look that pairs with anything. I think a little pair of heels and a body suit would also look cute with this pair.
My top is actually a cold-shoulder dress that I picked up for a trip to Mexico! Surprise! You can easily repurpose summer dresses as tops during transitional seasons. Since this one is thin and on the shorter side it tucked in nicely to make for a perfect spring top. You have probably seen this blush dress on my feed as I have worn it multiple times and now I have even more ways to wear it. It is also under $40!
My wedges might be my favorite part of this whole look. Comfy and stylish, plus the color goes with just about anything in your closet. This pair comes in a variety of colors and I thought my mom might take them off my feet on the way to the airport Sunday morning! I am pretty much in love with everything Minnetonka Moccasin is doing this spring. From the cuts, styles, and colors, there is a little something for everyone.
Now for the wonderful news!!! It's giveaway time…
I'm partnering with Minnetonka Moccasin to give one lucky reader a $100 e-gift card to use towards any pair of shoes sold online. The new spring styles are fabulous and I love this pair, these, and this one, and they're all under $100! I am a big fan of this company so you will be seeing plenty of their spring sandal line up on my feed and on my feet.
To enter our giveaway, simply follow @minnetonkamocc on Instagram, and tag a best friend or someone who you know could use a free pair of kicks! The winner will be announced on 4-14-17 by 11:00 pm CST.  Open to all US residents.
Links to shop this look are all below and everything I am wearing is under $100. Click on the product images or the links under the photos to go directly to each retailer for purchasing.
Special thank you to Capsul Jewelry for my beautiful necklace. Enjoy!
OVERALLS // WEDGES // TOP // SUNGLASSES