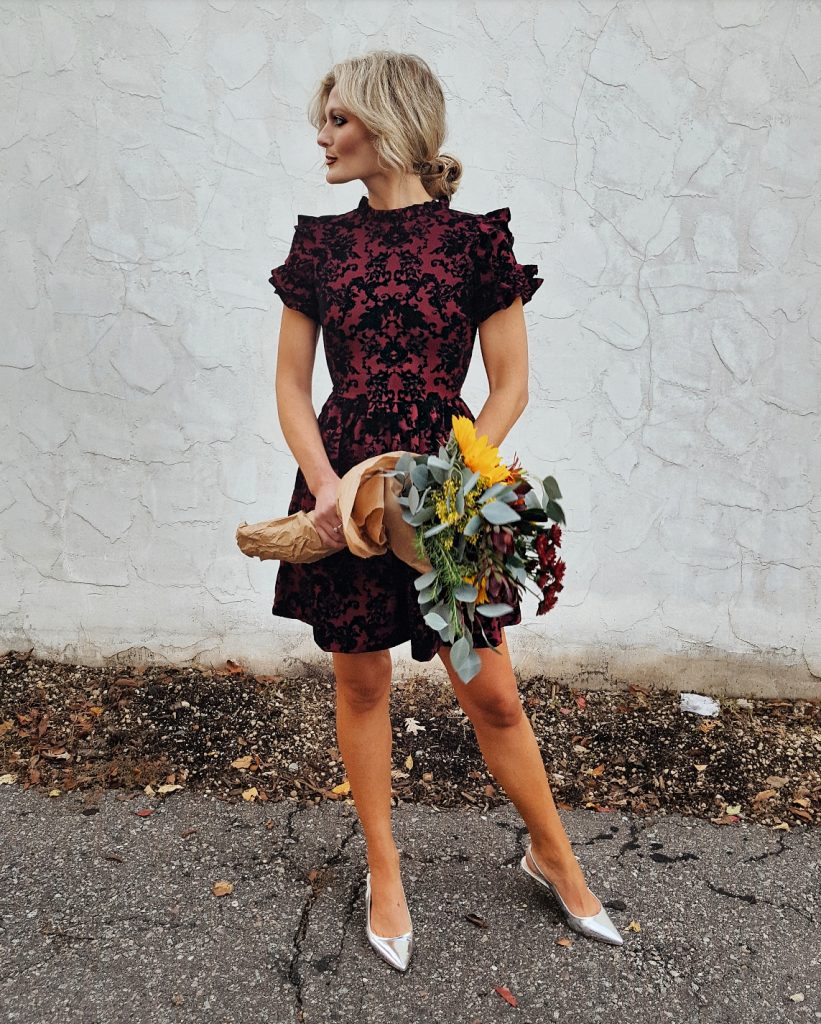 Remember that post talking all about the color of the year? A discussion on the deep red tawny port that is going to be everywhere this fall and winter? Ladies, this dress has pretty much every single trend for fall 2017, all rolled into one little fit and flared frock.
I am the dress' biggest fan! Which of course comes as no surprise, as you see me in dresses regularly! When I partnered with Bloomingdales, I was beyond thrilled to tell you about Aqua and their exclusive styles found only at Bloomies! This velvet red dress immediately stole my heart. The overall style is flirty, a ruffle sleeve detail and flattering fit and flare cut make this a winner, and it is a customer favorite (you can read the reviews). Also, who else is loving all the velvet this year! It's definitely another trend you will be spotting (everywhere) this fall.
I can guarantee, no matter where you go, this dress is sure to be a showstopper. My husband immediately fell in love with it the minute I walked downstairs. He is a big fan of anything with a hint of red, so I have been trying to give falls hottest color a bit of a chance. I tend to walk towards the tan, creme, white and nude tones no matter the store. So, exploring a bit more color in my wardrobe has been a treat.
Pairing a silver kitten heel was the perfect touch since this look is on the shorter side it kept things fun and feminine. I am sure some of you feel the same way I do about color, so I have rounded up a few of my favorite 100% Aqua dresses for you below! All of these are a steal and would be perfect for your upcoming holiday festivities or wedding season!
Any questions do not hesitate to let me know! Scroll down for more images and all of my picks from the links below! Enjoy!

Thank you to Bloomingdales and Aqua for making this post possible!