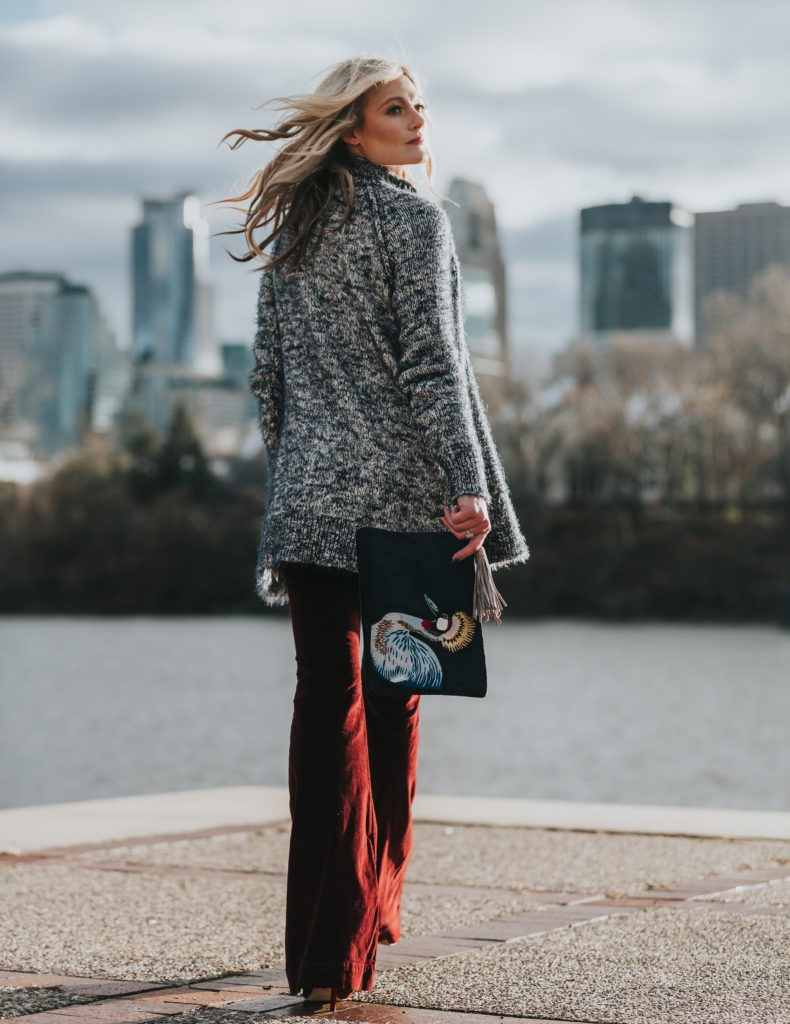 The holidays are here and I cannot believe how fast this month seems to be flying by. I absolutely love this time of year so I wish it would just slow down a bit. We have four holiday parties to attend this week. I'm excited and a little nervous to make it through them all. Then there is always the dreaded question of what to wear? Stay tuned.
Each winter I try to add a few statement pieces to my wardrobe and I fell in love with this cozy sweater coat. You will definitely find me wrapped up in it all winter long. It is beautifully made and with the undoubtedly dropping temperatures headed this direction, plus plenty of fluffy snow, this sweater is a win.
I'm also wildly in love with anything velvet and what is better than velvet at Christmas time? Nothing! I paired a black surplice top, velvet bell bottoms, a stylish sweater, a pair of wedge boots for a casual look. Quickly transition this look by adding a burgundy heel for a pop of color and a detailed velvet clutch. Now you are ready to hit the town.
The tiny blue specs in the sweater match the clutch perfectly and I just love this whole outfit paired together. This comfy yet stylish look will have you ready to hit the town for any holiday event. Casual drinks with friends, dinner party or a fun night out the town with your girlfriends.
See more images below as well as links to everything I am wearing. Enjoy!
SWEATER // BELLE BOTTOMS // SURPLICE TOP // HEELS // WEDGE BOOTS // CLUTCH // BEANIE
Special thanks to Russell Heeter Photography for the beautiful images, James Jeans, Sam Edelman, Sorel and Lilla P.