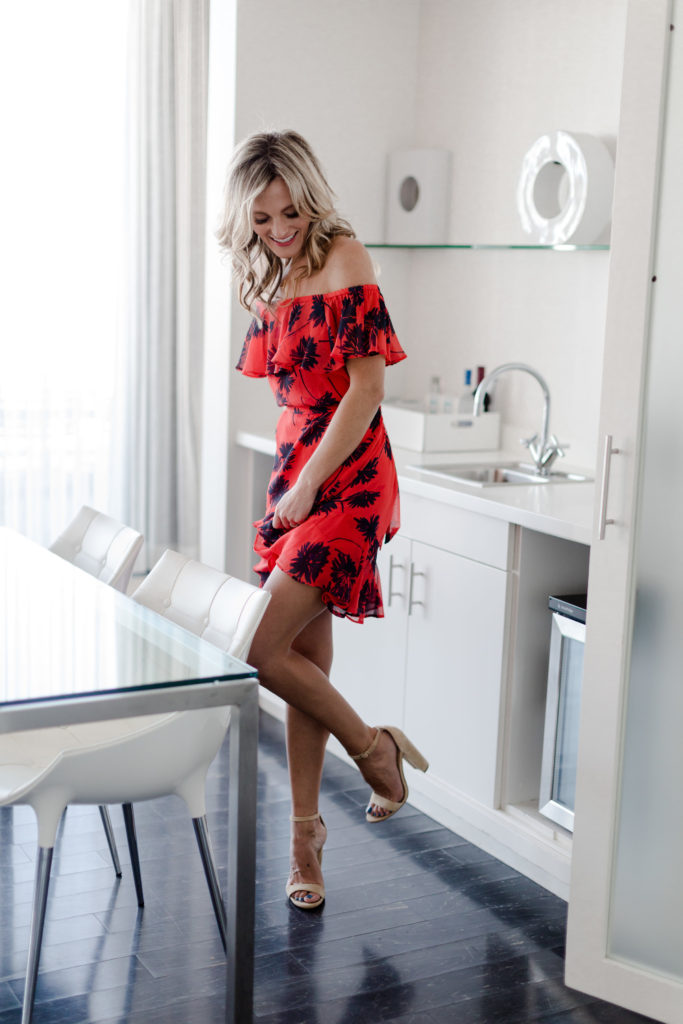 Valentine's is around the corner! Something about February that makes me want to wave a magic wand around to melt all the snow away so we can start spring as soon as possible. Flirty dresses with bold prints are a must-have this season, and as we slowly heat up, you will see a lot of little numbers like this featured on C+M.
Thanks to Donna Morgan for making me feel ultra feminine in this off the shoulder dress. I love the movement, length, and the fit. I could wear a dress every single day and be happy. I have always been a dress girl. The ease of dresses has always appealed to me especially being able to dress up or down with simple accessories. Add a sneaker, bootie, jacket or sweater and you can change any look in a snap.
I had a blast running around the Meridien Chambers in Minneapolis. This room is hands down my favorite in the cities. Barefoot mattress dancing and hallway running were a total blast! I hope you enjoy browsing through these images by my friend Russell as much as we did taking them. Links to everything below. Enjoy and happy love day to all!
DRESS // HEELS // CUFF // NECKLACE // LIPS
Special thank you to: Donna Morgan, Russell Heeter Photography, Le Meridien Chambers Minneapolis + Tina Beaupre Makeup.