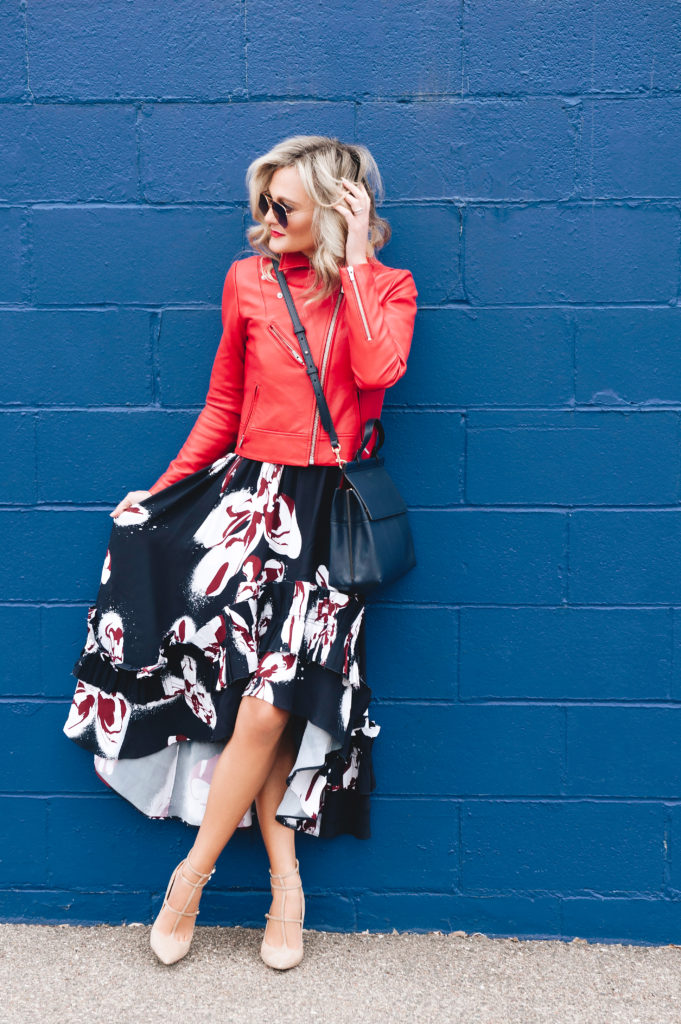 HELLO SPRING! I am beyond excited that today is the first day of spring! Confession? I went a little crazy this weekend and cleaned off all the patio furniture and set it up…OK if you know Minnesota then you know that we will surely have another phantom snowfall grace our yards, but I could careless! I am so excited the lakes are thawing and the birds are chirping, spring is here.
I am thrilled to partner with Rent the Runway to bring you a brand new spring look. It's time for all of us to start thinking about a warmer wardrobe. Transitioning from winter to spring can be a bit tricky especially as wedding and parties start to ramp up. So much to do and so little time to plan for it.
This dress, though! Can you see the ruffled details? Felt like it just screamed spring from the screen. And it did not disappoint. Paired with a kick butt leather jacket that literally feels like butter, a simple coordinating handbag, and a strappy nude heel, this dress is a stunner. Tiny pieces of detail and all kinds of fun movement make you want to twirl in the street.
You can wear this dress strapless or not which is a nice option. I prefer a strap to strapless, just feel it is more flattering on my frame, but this dress is really stunning in person. I love the weight of the fabric, makes it feel very luxurious. Rock it for one night or make it yours forever, that is the beauty of the system.
If you have yet to experience Rent the Runway, then I will tell you to try it! I have used them over and over and they have been life savers! From black-tie weddings to a business trip in Chicago, they have it all. Remember this crimson dress I wore for the holidays? Yep, it is all RTR!
With the world of social media, how many times do you wear something and wear it then and only then? With RTR, you aren't locked into owning anything, but if you do fall in love with something, make it yours forever. My biggest advice is to read the comments. I love hearing what worked for different customers so read away.
See more images and links to everything found at the end of this post! Big shout out to my friend Eric Doolin Photography for these images and for making me laugh. Hope you enjoy!
DRESS // HEELS // JACKET // BAG // GLASSES