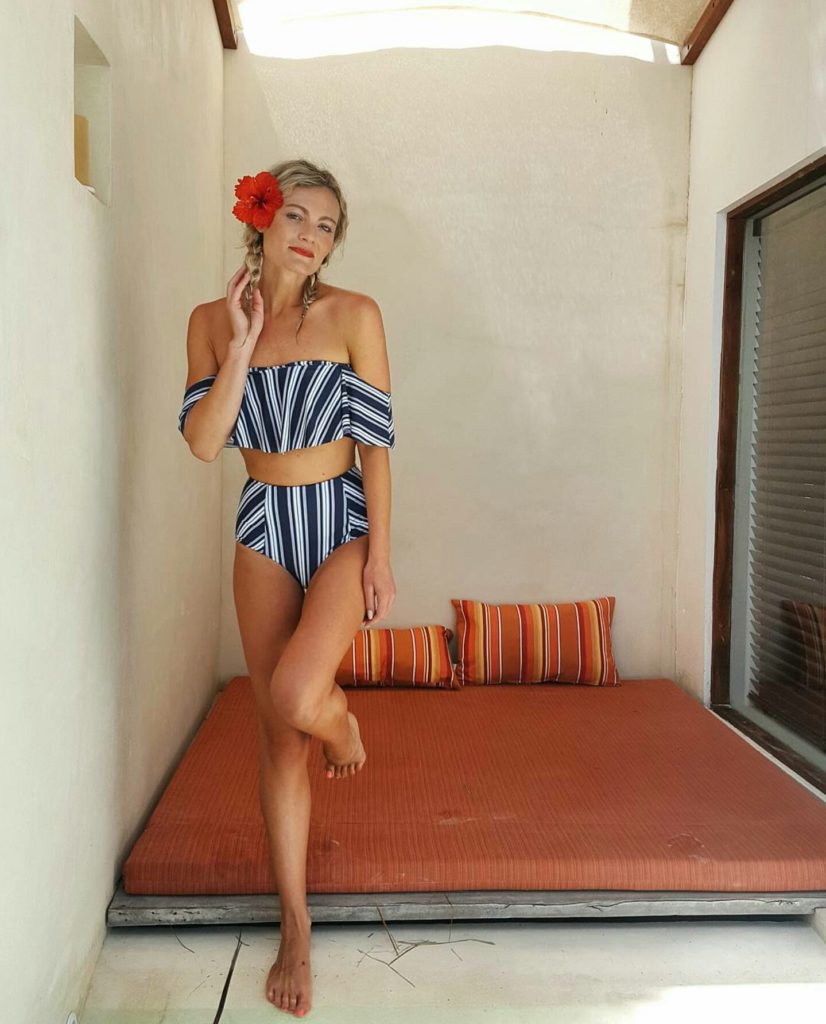 I don't know where to begin when it comes the second part of our travels. If I told you how often I think about Tulum, the ocean, sunshine and palm trees, I would be a millionaire. I miss it. I want to go back and I wish we were just packing our suitcases to head there today.
Tulum is unlike any other part of Mexico, and I pray to the Lord that it does not change. There is a hippy vibe that quickly envelopes you the minute you arrive. Biking is the best way to get around or just set out on foot for fresh juice, drinks, ice cream or shopping.
We had some of the best food, surprisingly a lot of Italian (John's favorite food) and all super fresh and loaded with flavor. Notably from Posada Margherita, limited menu but trust me everything is amazing. The little appetizer that comes out with bread and cheese is amazing. Not mention, we sat right by the kitchen and you can watch it all go down with fresh pasta, accents, lots of fire. It is good. So just go.
After checking into The Beach Tulum, we headed out on the hotel's complimentary bikes to grab a snack and drinks at El Pez (another favorite with beautiful views). Breakfast is included at the hotel and comes with two options, Ziggy's which we loved and had a lot more for John to choose from, and Frescos. Frescos is a little more limited but super fresh and yummy!  Other notable restaurants: El Pez, Hartwood (go at 2 pm and stand in line for a reservation), Raw Love, Mezzanine, Mi Vida, Mateos, Zamas, Arthelado, and we had fabulous drinks on the beach at Hip Hotel, Coco Tulum, and Ukami.
The best part of each day? Waking up and watching the sunrise. John and I actually do this on a lot of our vacations. Something so magical about seeing the sun take over and let the moon rest. The mornings really are so peaceful. We find ourselves just exhausted from the sun and ocean so bedtime is always a lot earlier than usual making early morning wake-up calls a lot easier!
It is hard to convey all the wonderful things I love about Tulum on this computer screen. There are so many little things, but one that stands out most was visiting a cenote. Sac Actun is one of the largest and it was absolutely jaw-droppingly gorgeous. This cenote is a guided only tour and women I recommend renting the wetsuit, I was freezing, John, of course, was fine! You need to wear no sunscreen or chemicals on your body and the tour includes a snorkel and mask. The whole tour is spent underground in a water filled cave. It is such a wonderful experience. We went the first thing in the morning at like 8 am (notice my tired eyes) to beat the crowds and it was worth it!
What to bring to Tulum? I would recommend bringing as little as possible because a swimsuit, coverup, flip-flop, and kaftan are pretty much all that is required. There are tons of shops to walk in and out of so leave the heels at home, the nicest shoes I brought were a pair of lace-up flats and a wedge that was easy for our journeys around town in the evenings. We packed way more than necessary, I dressed up much more when we were in Playa, so just be relaxed and comfortable. A few of my favorite items are this coverup, suit, shorts (easily slip over a one-piece for daytime), romper to wear over your suit,  sunglasses, easy little dress for dinner, nice sandals, casual sandals that slip on and off, towel, sunscreen, and a good hat when laying out!
I am sharing way too many photos from our travels, everything I wore, and links below! There is also a really fabulous video my hubby put together thank you (@johnnydrones)! Hope you enjoy and as always any questions send them my way or leave in the comments below!