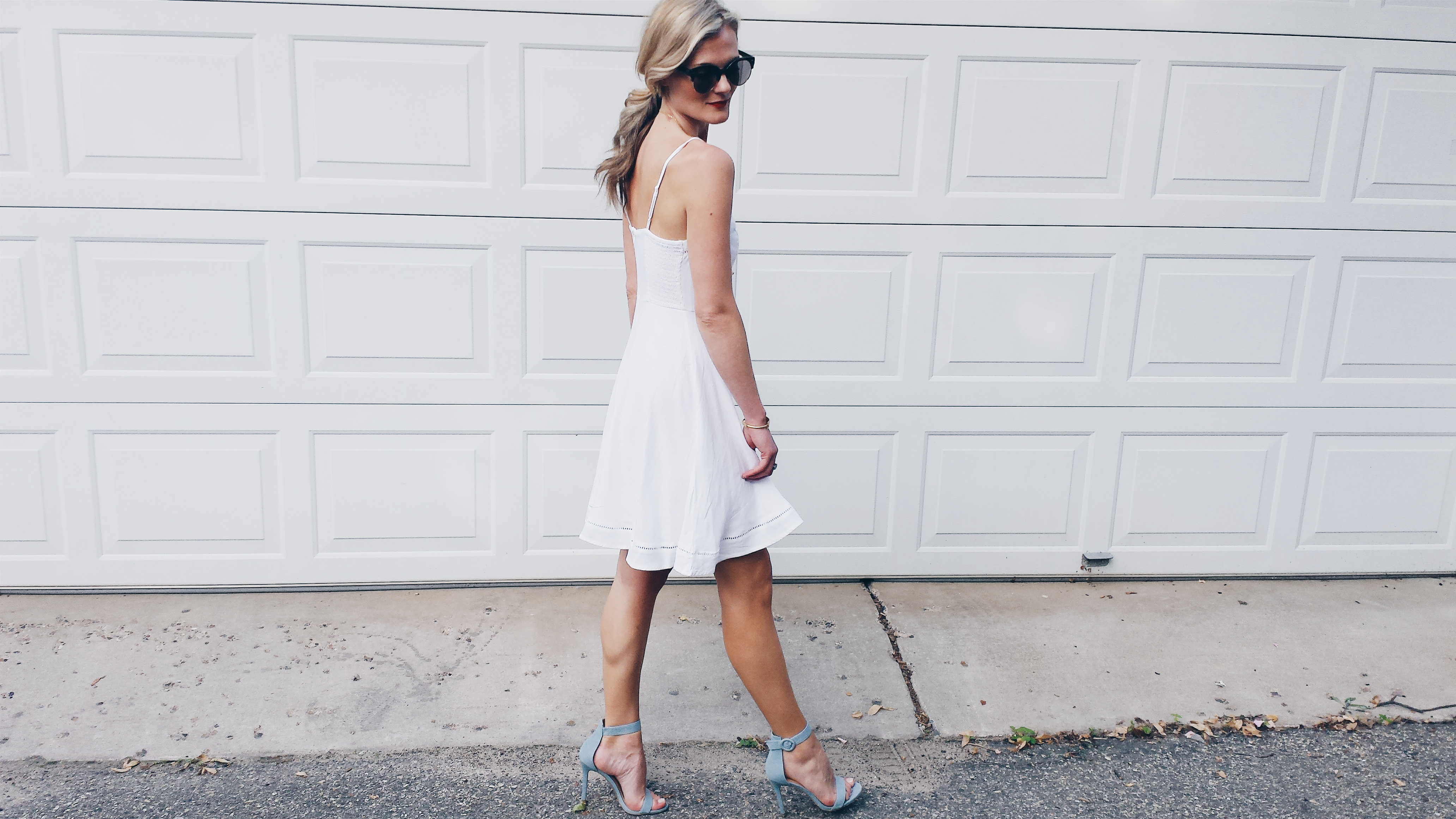 I love dresses, especially LWD's. For years I have been rocking them and have loved seeing their come back in the past few years. And now I feel like dresses are everywhere and wildly appropriate for pretty much any occasion. So when I picked up this adorable little fit and flare LWD (Little White Dress) from Old Navy , it instantly brought a smile to my face. (P.S. it is currently on major sale and under $20).
Pair any dress with a beautiful and stunning statement necklace like this  gorgeous gold dipped shark tooth, .courtesy of SBG Designs.  This is a company that is very near and dear to my heart. Everything is handmade right here in Minnesota. Be on the look out for big things coming from this company. Or better yet give them a call they do custom work and you will fall in love with everything about them.
Heels! Something else I love, and feeling feminine while rocking a little pop of color on my feet gets me excited to get dressed.  So in the name of keeping it simple a simple blue denim heel courtesy of my fab friends at AMI Clubwear were the perfect touch. A nice touch of blue but still simple to go with anything. These are also a fabulous price (you are welcome ).
I also love a really good pop of color on my lips and this matte liquid lipstick from Aromi Beauty is my latest obsession. Liquid that dries to a nice matte and doesn't rub off? Yes Please! Check out all 18 shades they have to offer you will be hooked plus they all smell like a dream, and are made right here in Minni. (You are welcome again!).  Links can be found below to shop all these items.
White Fit and Flare Dress – Old Navy //  Shark Tooth Gold Dipped Necklace – SBG Designs // Blue Denim Strap Heels – AMI Clubwear // Festival Round Sunglasses – Urban Outfitters // Market Find ID Bracelet – Madewell // Flamenco Red Matte Liquid Lipstick – Aromi Beauty