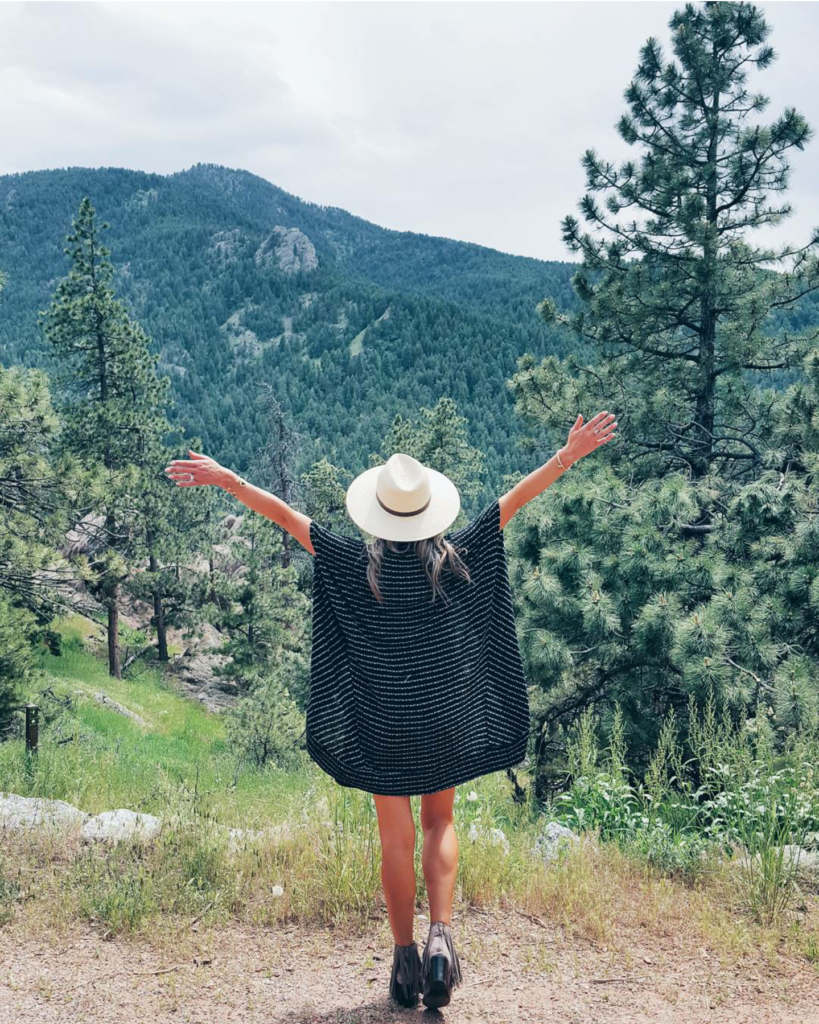 I haven't ever been one of those Colorado fanatics. Vacation to me means a glass of bubbles with the sound of the waves crashing, my bare feet buried in the sand, and my suitcase filled with lots of sundresses and bikinis. When John surprised me with a trip to Vail for my birthday, I had no idea I would fall in love with Colorado the way I did.
We spent the first day in Boulder and headed up to Lost Gulch for some of the most breathtaking views I have ever experienced. I worked with a really kind and talented photographer while there and she showed us the Flat Irons and it was one of my favorite moments of our trip. Our evening consisted of a trip to Red Rocks Amphitheatre and people let me tell you….worth it! We had the privilege of watching the Lumineers perform and it was a beautiful time to be outdoors with total strangers singing at the top of our lungs.
We then jumped on the road and headed out for Vail, but not without a few pit stops. It was a pretty unmapped trip, we sort of just let the mountains take us where they wanted and after seeing the FlatIrons in Boulder we knew a view like that would be hard to beat. We came across Swan Lake and went past that to Dillon where we found the most beautiful Scenic Overlook that didn't disappoint. A little out of our way but worth the hour it took to enjoy the views.
Arriving in Vail we were in for a treat. The Gondola opened the first day we were there and we made sure to make the most of it with double trips up the mountain. One hike in the morning and a return trip later in the afternoon. I kept saying I felt like I was living in the movie The Sound of Music. I even sang "The Hills are Alive" while running around in the snow-capped mountains.
The GoPro games happened to be taking place in Vail Village not far from our hotel, the Four Seasons Vail Hotel. This was the perfect little home away from home during our stay. We were very blessed with a fireplace in the bedroom and I will tell you I couldn't resist turning it on every single morning. I would open the door and let the natural air in while John slept and I drink my coffee. It was like a slice of my own little Heaven on earth.
I would hands down recommend this hotel to anyone. We enjoyed the pool in the afternoon and spent a lot of time just hanging out in Vail Village. The proximity of the hotel to activities and restaurants was ideal. We walked to every dinner and dined at the hotel's restaurant FLAME and enjoyed the beautiful lobby bar. The concierge was knowledgable and kind to help us with our activities as well as dinner reservations. A few of our favorite included: Sweet Basil (get the bruschetta) and definitely go to Mountain Standard for the Standard Margarita alone (it is unreal) but the food is pretty fab too.
John booked us on a White Water Rafting excursion with Lakota Guides and let me tell you – I laughed and screamed and froze all in one. We had a really great tour guide Trevor, he took so much time prepping the group and training us all in that I felt quite safe. The water was quite high due to all the snow melt and at a cool 50 degrees, so it made for an adventurous ride. The entire outing was worth it and I would recommend it to any couples traveling but definitely not for the kids.
I was quite sad driving away from our hotel and saying adieu to Vail, but I know we will be back. I think the summers in Vail might be just as beautiful as the winters and if you aren't a ski bunny (like me) then you will definitely appreciate the beauty of Colorado this time of year.
All my outfits linked below!