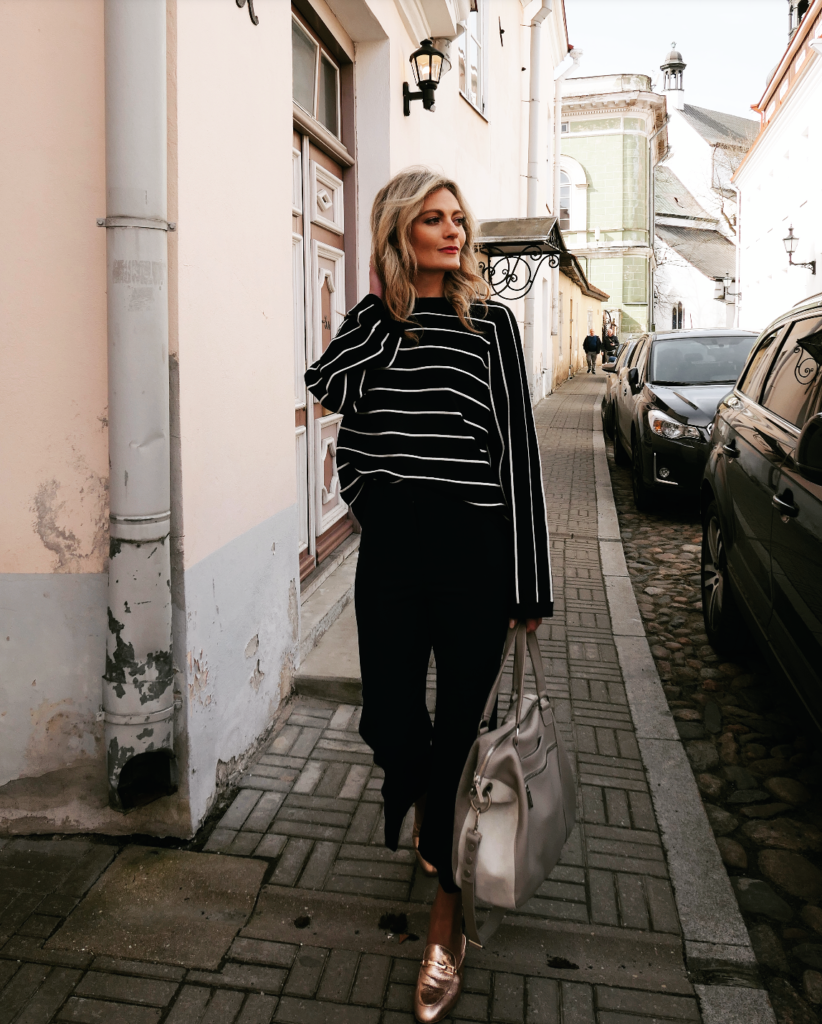 Walking through the streets of Estonia was one of my most memorable stops while cruising. Behind each turn was a surprise. Pastel pinks, blues and all kinds of beautiful colors filled Tallinn. Our tour guide was especially lovely on this portion of the trip. Telling us all kinds of history of the people. The heartbreak, the loss, and the peace that now prevails. Even the flag is a symbol of their journey.
It was quite chilly during our quick visit to Estonia, but the sun was shining and the people were absolutely wonderful. Cafes, shops, and loads of walking were available. We took in the ambiance at an adorable little spot in the city center with cappuccinos and sponge cake. Soaking up the sun, accents and just enjoying everything happening around us.
A good sweater is a must in my book and one with stripes and rad sleeves is even better! Especially on a brisk spring day in May while in Estonia. I just love & Other Stories and these trousers and sweater are a little match made in Heaven. The fit on these cropped trousers was perfect. They are also super comfortable for travel and loads of walking. I can't wait to pair these with a little off the shoulder top for warmer summer days.
Lots of photos running around the streets of Tallinn below. Also, find links to the specific items below all the images.
SWEATER // TROUSER // MULES // TOTE // LIPS

IN COLLABORATION WITH PRINCESS CRUISES