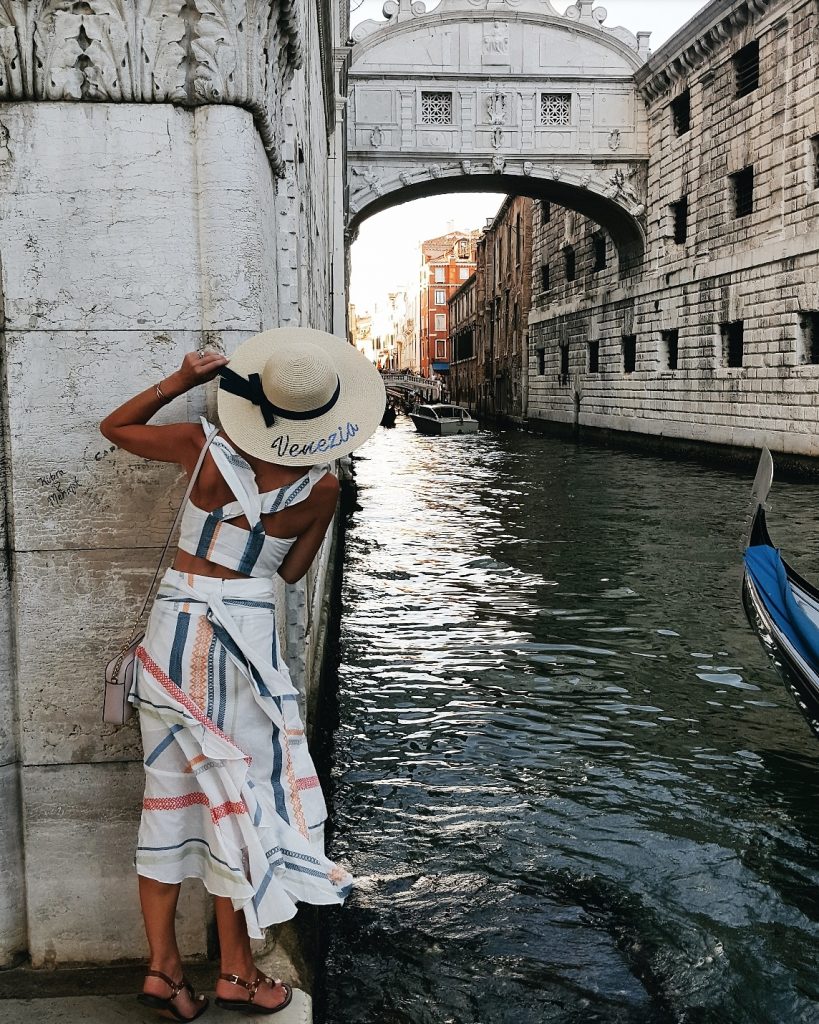 When first planning our European trip, Venice, was at the top of our list. I had heard unflattering reports of the city being smelly, crowded, and overrated. My review is of a somewhat more flattering nature. I'm smitten with the sinking city.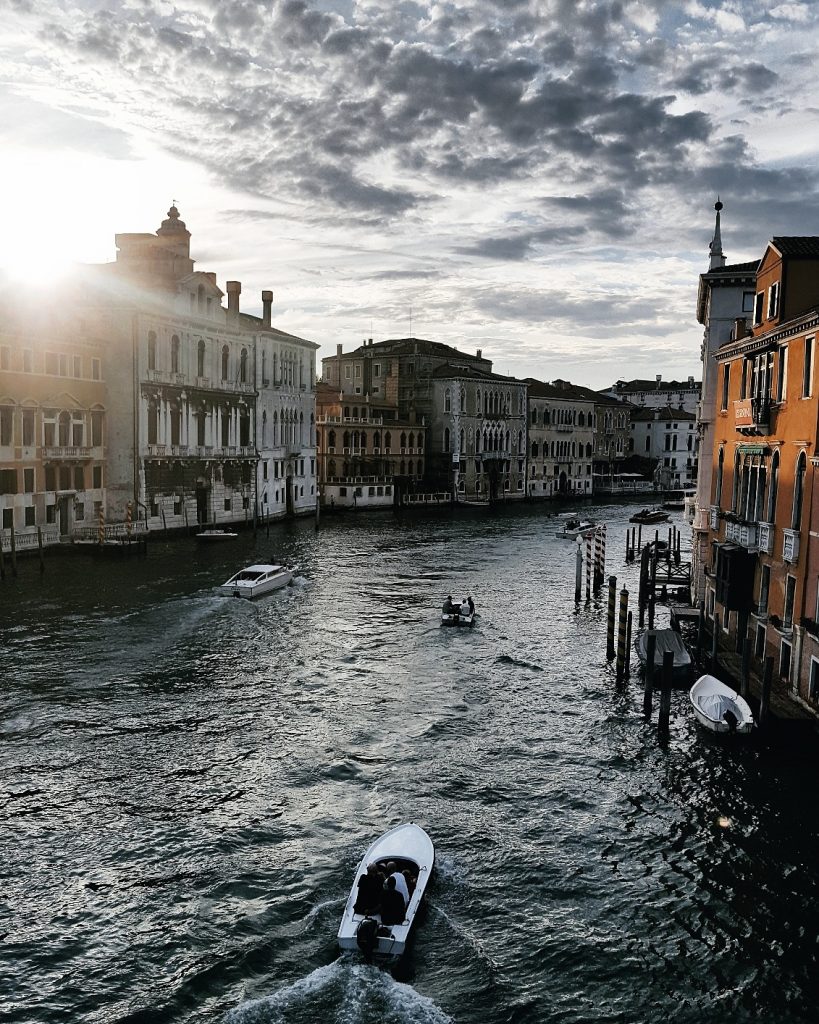 WATER TAXI – WORTH THE SPLURGE!
Splurge on a private water taxi. It's the best way to arrive at your destination. The taxi was hands-down the absolute best thing we did on our trip.  It's a bit spendy but worth every penny. Our water ride was the perfect tour of the city. A quick way to acclimate yourself and the views are unparalleled.
I cried under the Rialto Bridge while entering the main cruise way through town. I will never forget it. John made a video of this and included a clip of it in it!
We also took a private taxi to get to the colorful island of Burano, and it was so nice to have space and privacy. It is a one-way ride, and we opted for the Vaporetto back home which is much more budget friendly, but it takes about double if not triple the time to get back. I highly recommend taking a trip to one of the small islands surrounding Venice. A nice break from the tourist attractions.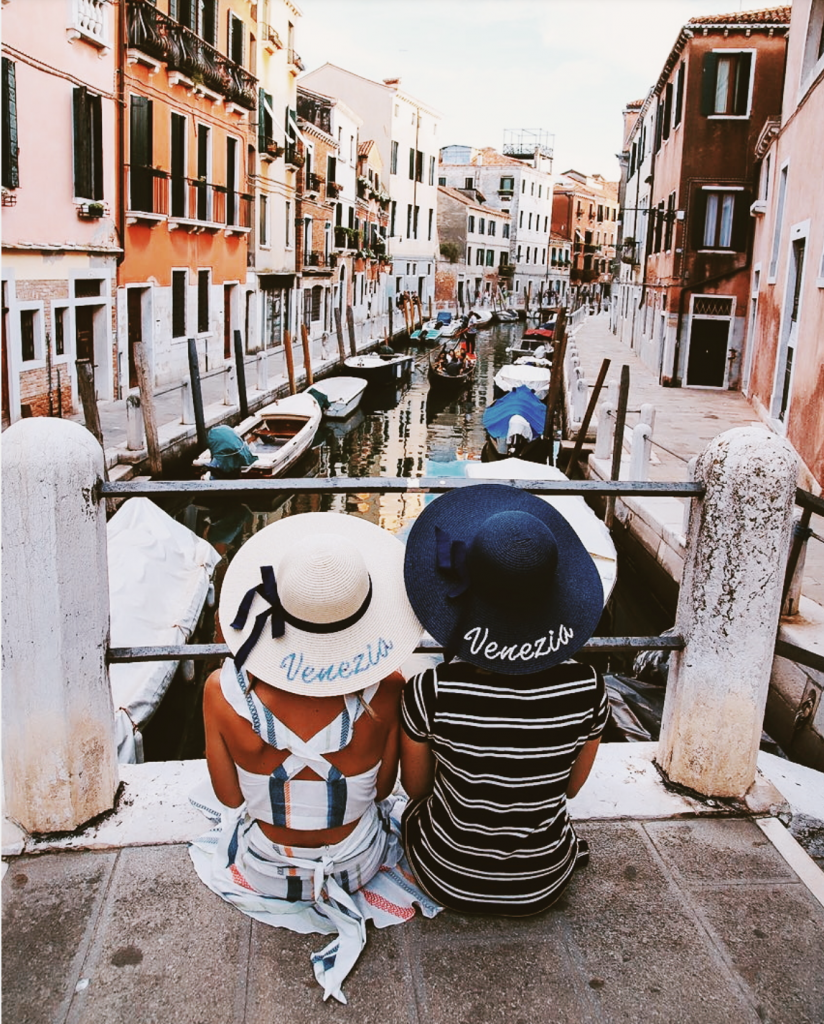 IT'S CROWDED!
We opted for a little apartment over a busy hotel. It was perfect. Far away from the main attractions, our stay was quiet and free of the typical bustling crowds known all too well in Venice. We searched for a canal view and found one that was seated perfectly in the city. We enjoyed wine outside and loved having a bigger space to stretch out. It was so quiet on the streets near our place; I couldn't believe we were in Venice during one of the busiest travel months!
My best friend, her husband and my godson all joined us! Total surprise to me, but the two bedrooms, bathrooms, and balcony were a perfect match for our needs! There are a ton of Airbnb options so just search for the one that fits yours best. I think you will enjoy it a little more than a hotel! We even went to the market not too far from the apartment and cooked dinner for the four of us.
There are tons of little alley ways to get lost, and you will find plenty of non-crowded and overpriced places to eat. We found a few small quaint spots and enjoyed having the restaurant almost entirely to ourselves.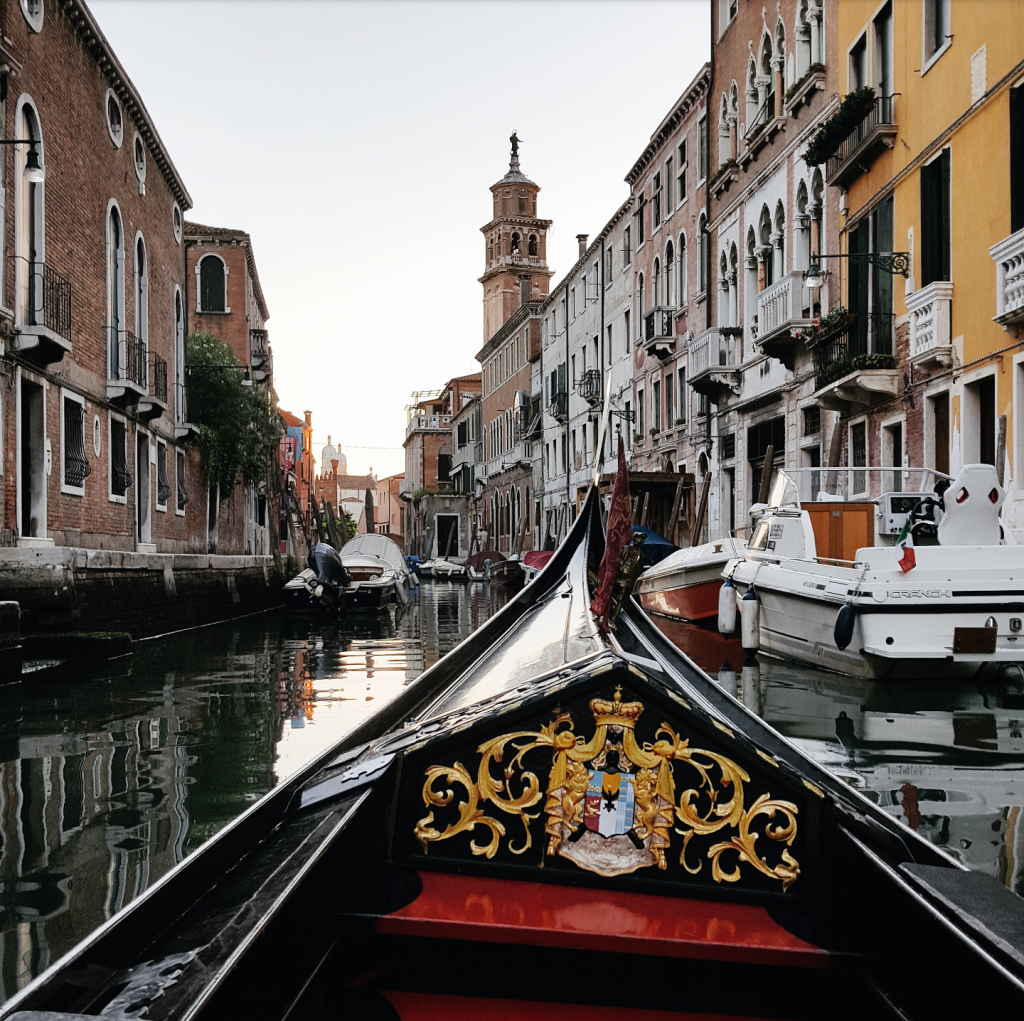 EVENINGS ARE THE BEST!
Evenings are quieter because all the cruise ships depart at dinner time to set sail for their next destinations. Want to know an essential travel tip? Hit all the main attractions just before sunset, and you will find fewer tourists and much more space to think, photograph, and enjoy!
We loved seeing Piazza San Marco while the sun was hitting the buildings and we could even walk around without droves of people looming by us. Our gondola ride was lovely at golden hour. Our gondolier was excellent and showed us all over the city. He even chimed in with little facts as we passed by some of the most famous areas in Venice.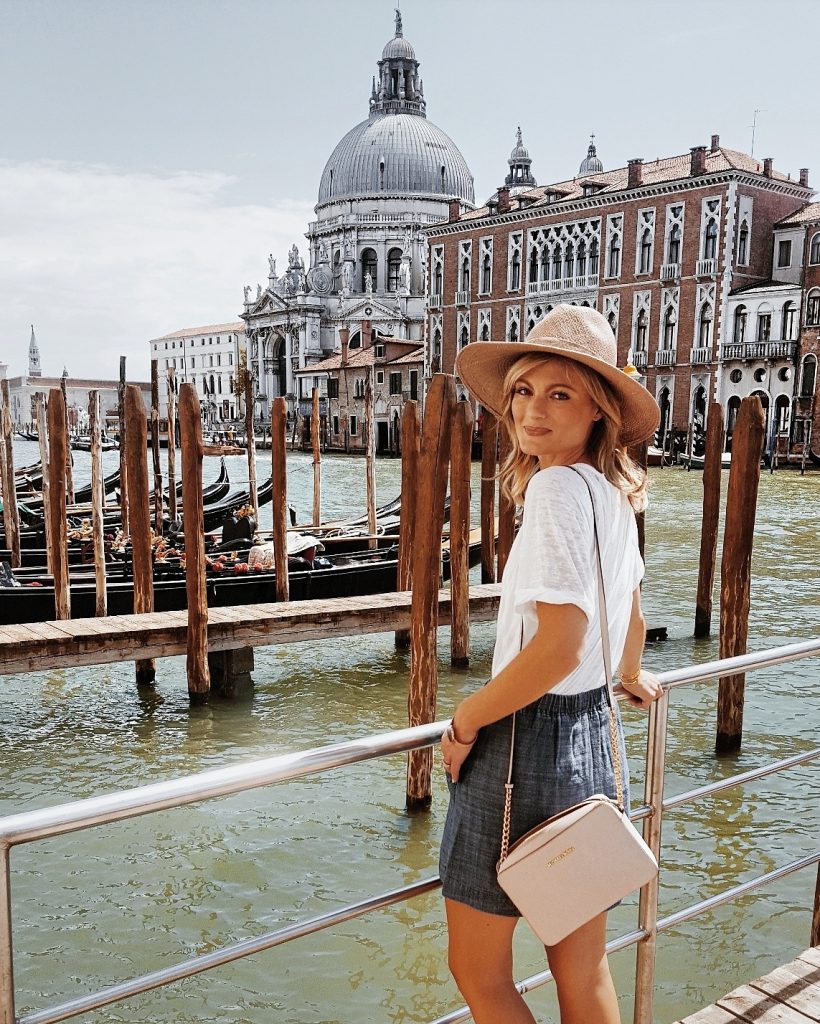 SHOPPING OUT OF THE TOURIST TRAPS
I was smitten with the Venetian glass and wanted a piece of it to treasure forever. We initially came across a beautiful glass shop near the Academia Bridge. I was in sticker shock! The glass price $75-$95.00 each! I walked away from my finds and kept on searching. A second shop revealed a much lower price of $45.00 each, then a third at $32.00. We even came across a few at $11.00 far far away from the crowded shopping areas. A little persistence will do your wallet good!
Talk to the shop owners and get to know them and the history of the stores. Most of them are eager to share about the economy and the hardships. We met the maker of the glasses we purchased, and it made it all just feel that more special. I know I will treasure them forever.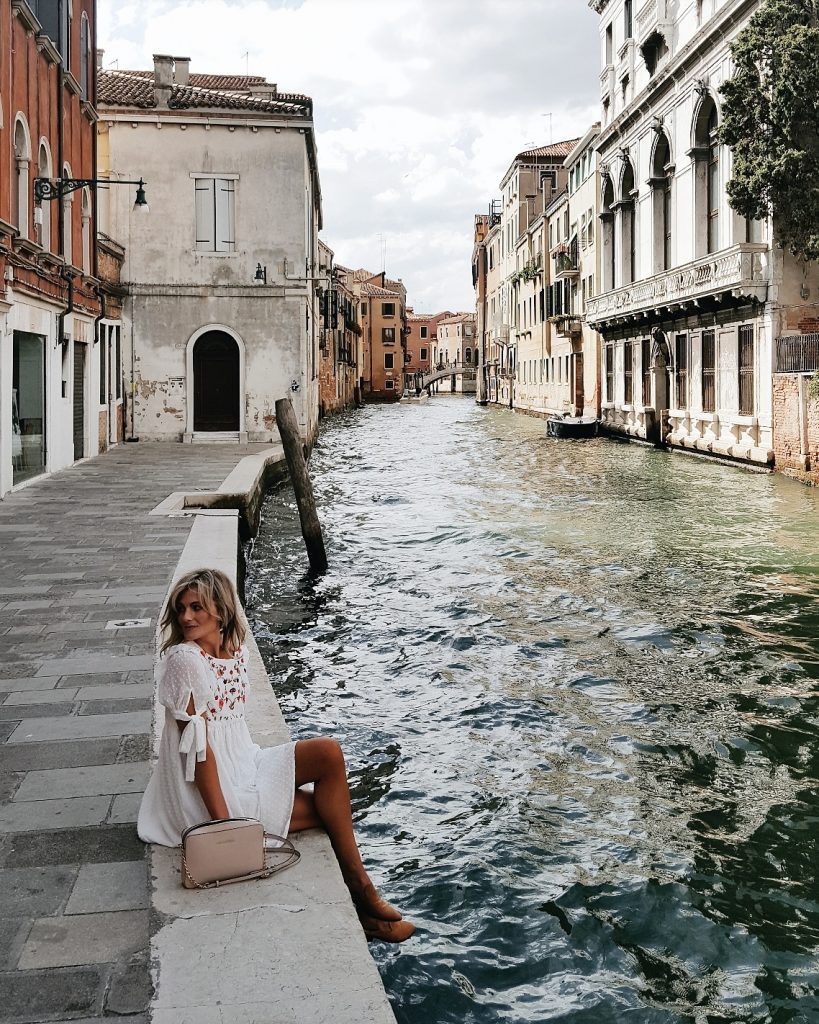 STEPS STEPS STEPS & MORE STEPS
Ladies, this is a public service announcement. Leave your stilettos at home! Although Venice was the dressiest of all the stops along our route, it's even encouraged to get dolled up here! But a bevy of stairs, cobblestone streets, and uneven pathways would probably leave you with a broken ankle!
I love a great pair of heels, but I brought along one pair and probably wore them a handful of times over the three weeks we were traveling, and never in Venice. If a little lift is a must, then I would recommend an espadrille wedge that is comfortable and easy to walk in! I wore these, and they were perfect on all of our stops!
I'm sharing all of the photos from our time in Venice, including a video by my talented husband @johnnydrones. I hope you enjoy, and I hope you get to see Venice one day because I was absolutely in love with it. Getting lost holding my husband's hand, eating Italian food, drinking wine, and watching the gondolas pass by our balcony are all memories I will cherish forever. There is nothing like it, and I will say that a lot about this trip, but I mean it!