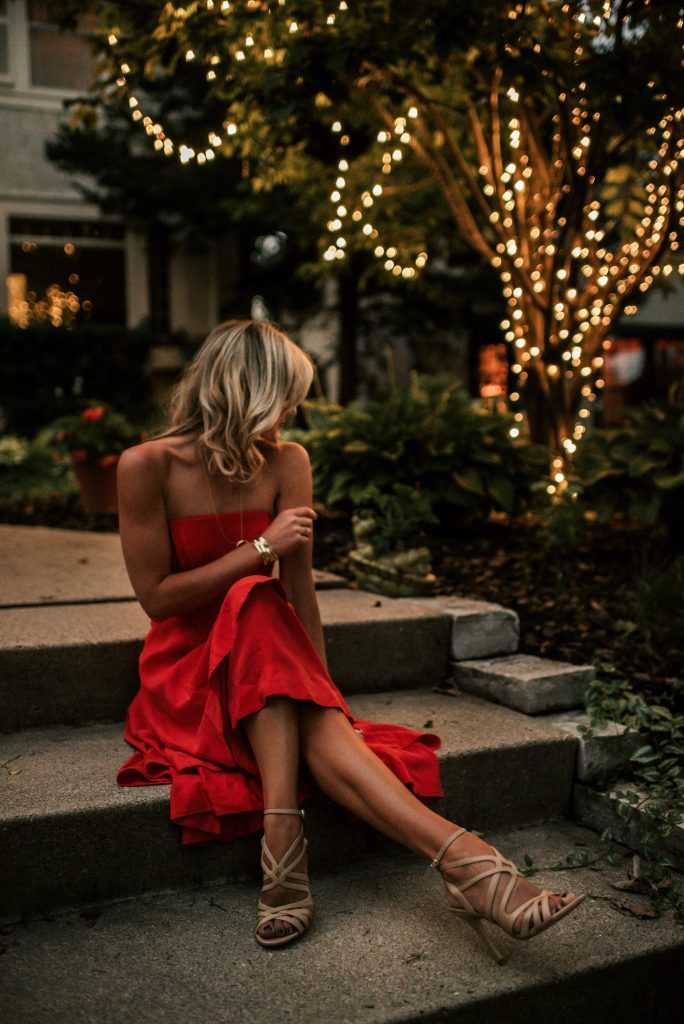 Sure, every bride says it, I was even guilty of it. You will wear this dress again! But, how many of us have a closet filled with bridesmaid dresses that will most likely never see the light of day again? Raise your hand if you are reading this and anonymously joined this club!
I was cleaning out my closet yesterday, and it hit me, there are so many great dresses that I have worn and should wear again. I am giving you five foolproof tips on how to do just this!
THROW A JACKET ON IT – this is a reliable trick that not only can help any old dress hanging in your closet receive an instant facelift but give you some serious street style. Leather will always be a great go-to (top trend again this season) and offers an edgier less wedding type look to your frock. I have a leather coat with silver stars that I just love, and it makes any dress look great.
BOOTIES – an instant way to give off a more casual appeal, booties are a fall must-have. I think any dress: long, short, midi, can be a match with these cuties. I love a good nude bootie for fall and a pointed leather bootie for the cooler seasons.
SWEATER OR CARDIGAN – layering is a favorite for the autumn season, but over a beautiful gown, this gives an effortless vibe that is sure to keep you looking on trend. I love a good chunky sweater or cardigan vest that will provide depth to your outfit and keep the dressier vibes at bay.
DENIM – everyone has it, and everyone loves it. Re-think adding a little denim to your dresses. I love when a short dress turns into a top for the fall with a slight tuck and casual vibe. Sequins aren't just for the evening so throw on that dress with a boyfriend jean, bootie and hit the town. Denim always keeps things casual and cool so consider this before giving away that bridesmaid gown you love but think you will never have a nice enough place to wear it.
ACCESSORIES – if you were watching the Emmy's, you know that accessories were top of mind this season. A belt cinched around the waist, a casual bag, scarf, or even a hat can change any look. I love wearing hats and how cute is a little beanie or a big chunky scarf as an addition to any dress.
This playful dress from Paper-Crown is the perfect bridesmaid dress or special occasion dress. Ideal for a special evening on a vacation, wedding, wedding guest, or dancing the night away! I fell so in love with it, especially for a moody fall evening like this one paired with a simple cardigan and a strappy heel. Easy to change this one up with any of the tips above!
All the beautiful imagery from this shoot by my friend Paisley Ann Photography. Thanks to Paper Crown and Sam Edelman for always showing so much support to C+M. Enjoy!
DRESS // HEELS // WATCH // CARDIGAN // BRACELET // NECKLACE