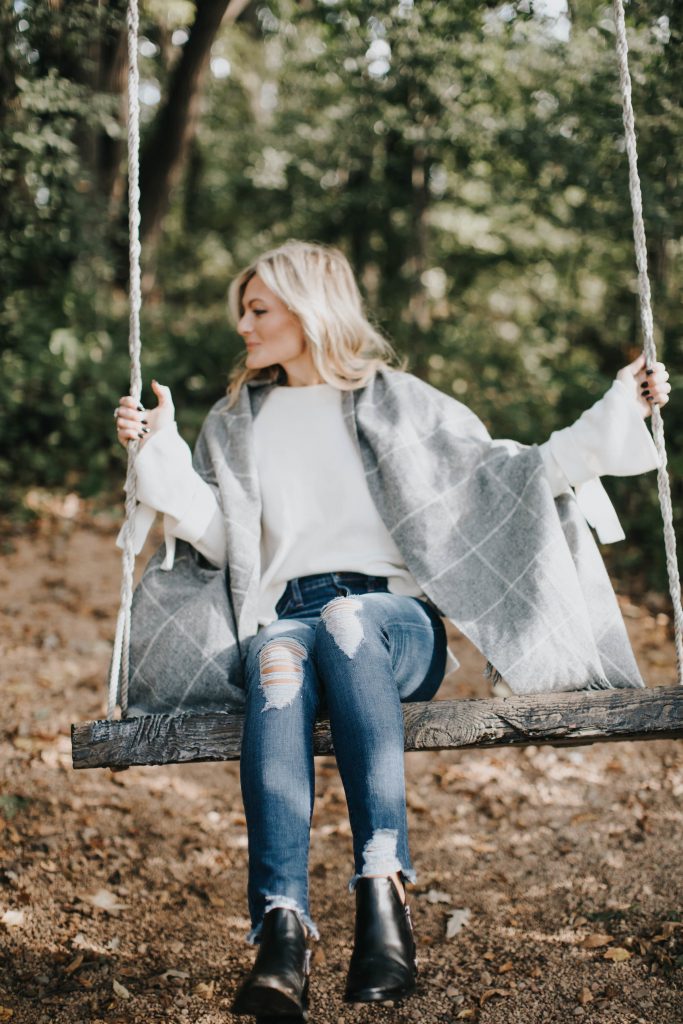 When it comes to crazy highs and low's during fall's temperate climate, there are a few simple wardrobe pieces that will keep you looking sharp and warm all season long.
Just exactly what do you need to go rushing out to buy this weekend? Probably not a lot, because you most likely already have 2 or 3 of these items in your closet. The trick is making the most of these critical items and utilizing them for the rest of the year.
Staples are items that you can continue to reach into your closet for again and again. Simple pieces that are classic and pull your overall look together. Something that makes you feel and look good like seasonal favorites: sweaters, denim, booties, and scarves.
When purchasing items for this season, keep it simple. Neutral colors will create a smooth base which you can build and layer, even when the snow starts falling.
1.  SWEATER WEATHER – A simple creme sweater will go great with anything in your wardrobe, and this one looks great with just about all of it! I love the weight on this one plus embellishments like ties and bows are showing up everywhere this year. This sweater also comes in multiple colors so stock up!
2. MAD ABOUT BLANKET SCARVES – Scarves are one of the best accessories of the season. This scarf doubles as a cape, so it can be tied many ways for a polished look. The grey tone and check print give it a classic look that you will be choosing over and over as you head out the door. Also perfect for the holiday season!
3. DENIM DAYS – Denim is a must-have for fall. From apple picking to hayrides to football games, a good pair of denim can take you anywhere your weekend wishes. I love the fit on these ripped skinnies, and they run true to size too! I have been living in them since I picked them up!
4. BOOTIE BOOTIE BOOTIE – Booties are life when it comes to autumn, and they come in so many shapes, heights, colors, and sizes it can be confusing as to how and where you find them. I love a good neutral pair of booties. The details on this pair are just fabulous, and as I said in my previous post, DSW has been go-to for mine. Love these ankle booties with the pearl heel detail, double side zippers, and a smooth black leather that will fit nicely with dresses, denim, sweaters, and look great for winter!
Details on all of these items are found below as well as links to shop each item I am wearing! Enjoy!
SWEATER // SKINNIES // BOOTIES // CAPE SCARF // RING // SUNNIES 

Images Russell Heeter Photography