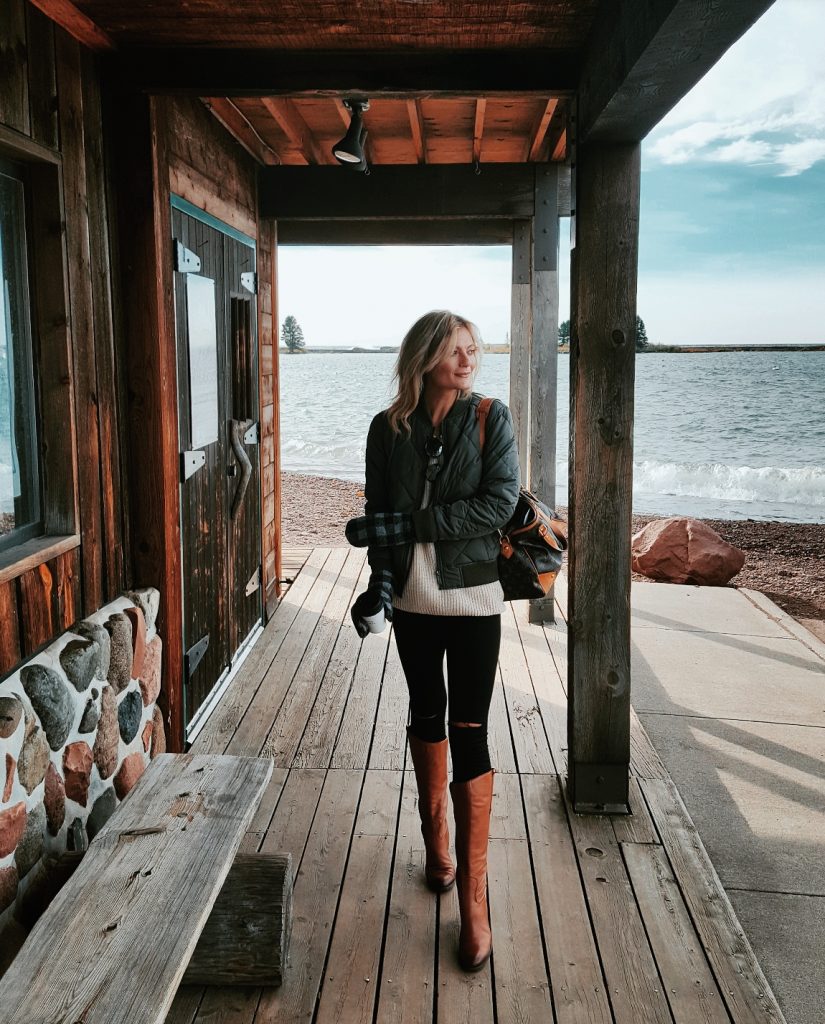 Visiting the North Shore has been high on my priority list since moving to Minnesota. John and I decided to try and chase the fall colors up north this last week, and we were a bit late as the trees had already peeked but, it was definitely worth the visit.
The drive took us five hours from Minneapolis. First on the agenda, a first-time visit to the Split Rock Lighthouse, a signature landmark on Lake Superior. It was a chilly windy day, and you can watch the video John created below to see it all!  On our way home we took a walk down to Pebble Beach where you can view the lighthouse from afar. The walk is also entirely welcomed by all after so much time in the car.
Cities like Duluth, Two Harbors, and Lutsen dot the map on your drive north. Each town offers quaint shops and plenty of sights to see. We tried to visit Betty's Pies, but the line was practically on the street. They are known for being the best, and the crowds proved it correct! Making sure we add this to our list next year.
Lake Superior is the largest of the Great Lakes. It feels like you are standing on an ocean due to its size and grandeur. Our hotel was situated right on the water and waking up to the lakes morning light was beautiful. We played with the dogs on the beach and walked up and down to restaurants. It was lovely!
We searched high and low for pet-friendly properties, and there aren't many in the area! We loved this hotel's location because it offered free parking, water access, and conveniently located in town for exploring Grand Marais. They also had free wi-fi, complimentary breakfast, and the rooms are clean. I enjoyed our balcony that opened up to the water.
I am very thankful to so many of you for the fantastic restaurant recommendations. We dined at the Gun Flint Tavern (their world-famous vegetarian chili was a win), and we were delighted. Also tried the Crooked Spoon (order the caramelized onion and triple brie bruschetta) which was my favorite of all. I am a vegetarian/pescetarian, so I am a little skeptical of the food the further north we climb, but I was pleasantly surprised at all of the options here.
Our morning run to the World's Best Donut Shop was worth every minute of the wait. We opted for the glazed cake donut, and it tasted fabulous. This past Sunday, was their last day of being open so add this to your must-visit list for next year. Biggest advice is to arrive early, they get crazy busy, and the wait can be long on the weekends!
Also, be sure to make a stop at Java Moose. Our first day I tested the Nordic Miel, and it is fabulous! All the ingredients are made in Minnesota too! The perfect and necessary fuel for a chilly and windy morning walking around Grand Marais.
We stopped at quite a few of the quaint shops downtown like the Lake Superior Trading Post, Joy & Co., and my favorite of all Up State MN. Modern vibes with a Nordic feel and reminiscent of the many shops I toured in Northern Europe, notably Denmark. They offer great gifts for that hard to buy person on your list, and many are made right here in Minne.
Being so close to the Canadian border we decided to keep heading north. Stopped along the way at the many must-visit spots like Minnesota's High Falls at Grand Portage State Park. Standing at the lookout, you can see into Canada! You are so close to the border,  less than a 2-minute drive!
This journey was my first time stepping foot into Canada, and if you were following my Instagram stories, you know I was a little more than excited! I gave the border patrol a bit of a chuckle with my excitement.
We spent a little over an hour driving around Ontario. We parked and walked to the river and took photos at another falls. It was very serene, and the weather was beautiful and warm in the high 60's. So happy to add Canada to my list of countries visited.
It was so great to bring the dogs with us. I had a lot of inquiries on whether or not we had a hard time having them along. Traveling with animals is always a bit tricky and definitely, takes a little preparation but overall it was great to have them along.
The most significant concern seemed to be about crossing the border. Before we left Minneapolis, we made a call to the Canadian Border Patrol to confirm what was needed to do so. Be sure you have proof of rabies vaccination as that is required. My vet sent me all of their paperwork, so we had plenty information along. In the end, the patrol didn't even look at them!
Grand Marais overall is pet-friendly. We loved seeing all the furry friends enjoying the hikes and outdoors on our trip. Worth taking your animal along if you have one.
Sharing plenty of photos below for you to get a feel for our getaway! Also linked everything I brought along in my suitcase, just click the images to shop. Any questions, feel free to send them my way. Enjoy!