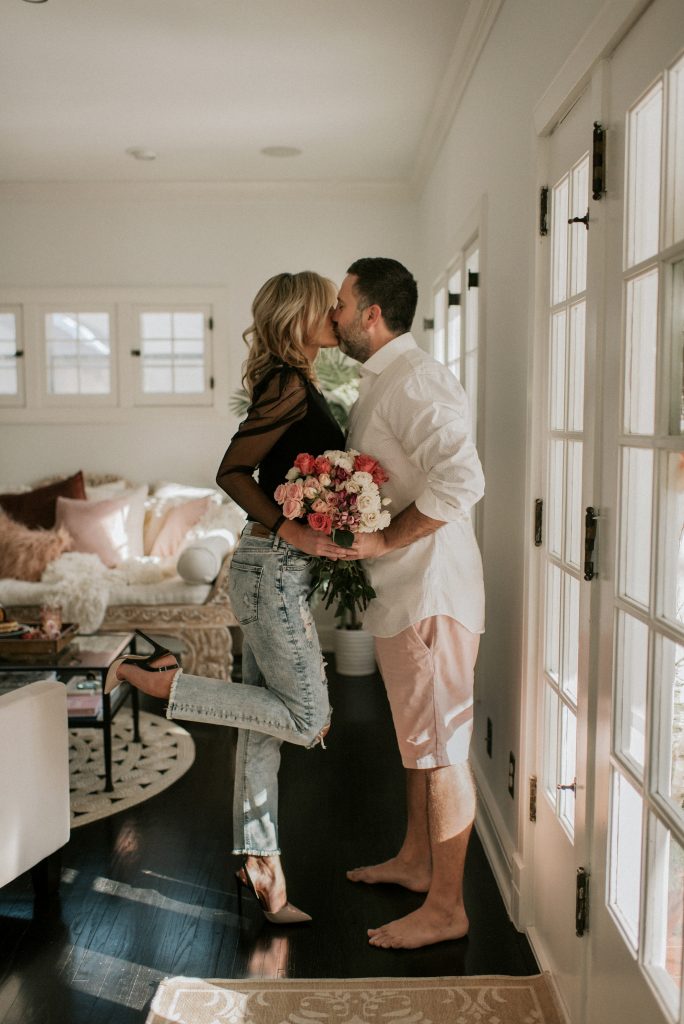 Who love's Valentine's Day? I used to be one of those people who felt like this overblown and super heart sized holiday was ridiculous! In fact, no matter what I do or where I go, I can't stop thinking of Taylor Swift in the movie Valentine's Day carrying around that giant stuffed animal! And that is how I picture this day precisely in my head.
I still remember living in Los Angeles, and John and I were roommates, and he brought me home flowers (he had a girlfriend at the time – which sounds terrible!), but we were best friends, and I saved them for the longest time. These old dried out roses that I kept in the back of a vase in my room in LA. That feels like forever ago, and here we are so many Valentine's later.
We typically skip the pre-set menus and stick to fire and pizza with the doggies at home. And John always brings me flowers no matter what and I still give him chocolate. That is our little tradition, and I love it. This year I got a little carried away and decided to force us out into the bitter cold for a night of celebrating. I have a feeling this will only happen again on the rare occasion that I make the reservation, but we are giving it a try!
Let's talk about these outfits for a minute!
John and I both love shopping at Express. We have been quite lucky in finding almost all of John's suits here. I love the colors, the fit, and they are priced right. I wanted to be more relaxed for this at home couples look and felt his shorts were the perfect touch. A soft hint of something pink especially fitting since it is Valentines inspired! Not sure if you can see the subtle tiny grey polka dots on John's shirt, but I love it. This top goes with just about everything and is great for casual or dressy occasions.
I adore this ladies flirty top. The mesh sleeves have the most romantic look and feel, and would pair well with a leather skirt or a pinstripe pant if wanting to go a little dressier. Denim is appropriate just about anytime, and this pair has a retro vibe that will last forever. Just add a solid pump like these, love the two-tone, and you are ready to rock all day and well into the night!
Just looking at all of these pretty photos makes me feel hungry! We could barely wrap this all up before we were diving into the macarons and the waffles! That powder sugar falling just looks so magical, and it all tasted as good as it seems.
Wishing everyone a week filled with love and hope this inspires you to celebrate your Valentine with something special even if it is something small! Scroll down for lots of lovely photos and links to everything we are wearing + a special code you can use in store!

TOP // DENIM // HEELS // SHORTS // LONG SLEEVE
*Use ring code 3183 for $25 off purchase of $100+ in-store only, for promotion details click here.
This post sponsored by Express
Special Thank you, Paisley Ann Photography and Julie Phaxay