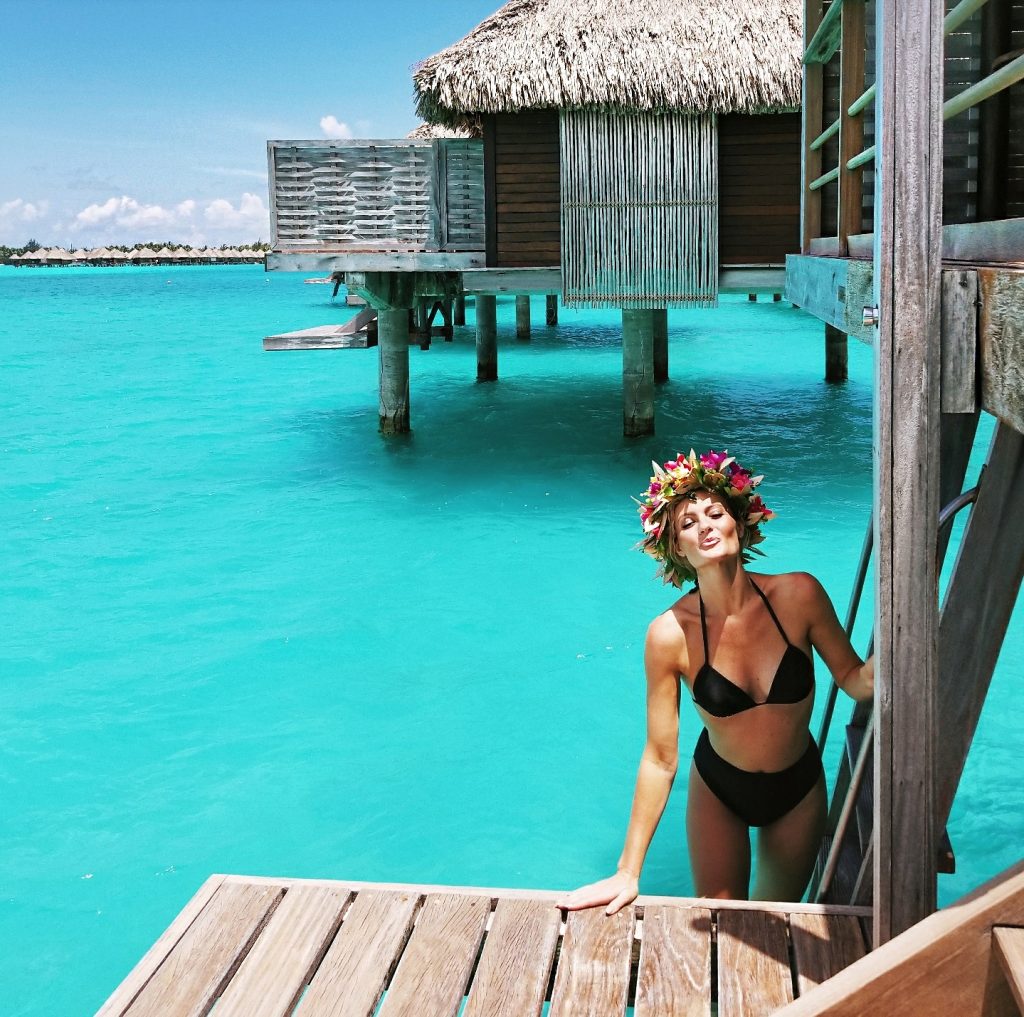 Just say the words Bora Bora, and they sound sexy, don't they? I love the sound of this little tropical getaway. A complete bucket list worthy destination. If it is at the top of your list, keep it there. It is out of control gorgeous, and unlike any other place, I have ever visited. And that is saying a lot because I love to travel.
We found out last-minute would be heading to Tahiti for a work trip for my husband's company. Filling in last-minute, we hit the lottery with this one. Plans and planes booked, we had very little organizing or planning on our end which was a total dream! And did I mention this was an absolute dream? I am still pinching myself that it all happened.
So what do you need to know about this place? I am happy to tell you everything!
Getting to Bora Bora.
Prepare yourself because this is a journey. IT IS LONG! John and I have flown to Europe, Bali, Australia, Hawaii and this flight was no joke. My being pregnant was not the most ideal of all situations and ladies if you are pregnant I would not suggest this as a babymoon destination. A series of three flights will have you arriving on the island a little exhausted. Drink plenty of water. We flew from Minneapolis to Los Angeles to Papeete to Bora Bora.
When flying Air Tahiti, my only suggestion would be to book a seat by the window. The seats are two, four, two and the ones in the middle are a bit challenging! Also, prepare yourself for the propeller planes from Papeete to Bora Bora. This last leg about did me in, but we made it. They have strict weight restrictions for these smaller flights so pack accordingly. Both of our carry-ons were too heavy, and we were scrambling to make it all fit.
Once you arrive at the airport in Bora Bora, your chariot awaits. Most hotels will send a water taxi for your transfer. We stayed at the Four Seasons Bora Bora. Oh, my goodness was it a stunner. Driving past the over water bungalows and seeing the hotel for the first time is something I will never forget. It looks even prettier than in the photos you see online.
John was able to capture quite a few beautiful shots of the property before finding out droning is not allowed (oops)! So we retired it after that but so happy he snuck it in, he posted a bunch on his Instagram too. Gorgeous views from up high in the sky! Everywhere you turn there is blue as blue as can be. The air, water, the beaches it is all just what you imagine paradise to look and feel.
What to do in Bora Bora.
Since we were on a work trip most of our days were open and the evenings revolved around happy hours with our group then dinners together. If I were traveling to this destination for a honeymoon or a dream getaway with my man, I would most likely use a travel agent to help arrange all of it.
One of my favorite activities was visiting the Tahitian market in Papeete. We had an overnight stay one night before leaving Monday morning for Bora Bora and were able to squeeze in a trip to the market. Loads of fruit, flowers, tiny little shops selling handmade goods like baskets, hats, clutches, oils, and shirts. There are also some beautiful and reliable Pearl Shops here. Our guide was excellent and took us all over and explained about the vendors and items. Highly recommend a stop here if you have time! You won't find a lot of shopping outside of this stop on Bora Bora. (Although surprisingly, the airport had a few cute shops!).
The island is quite small. The hotel has everything so if relaxing is your game then you could check-in and never leave. The overwater bungalows provide enough entertainment with the brightest blue water you have ever laid eyes on!
Plenty of activities are included with your stay at the Four Seasons from snorkeling, kayaking, and stand up paddleboarding. The hotel concierge can also arrange activities for you that are an extra fee like a tour of the island, skydiving, snorkeling, private lunches, photo opportunities. They have an entire booklet! It is all awesome, and the hotel vets the vendors, so they are trustworthy!
I heard fabulous things about the FS spa too. They were not comfortable with my stage of pregnancy, so I skipped it. But there were rave reviews from all who experienced their services everything from the facility to the Tahitian massages and facials.
We were a little limited with my condition, so the afternoon group activity that we participated in was perfect for us. Our entire group headed out on a catamaran for swimming with sting ray's, snorkeling and an authentic lunch on a private island. They even served us food out of leaf boats. It was all amazing. Fish and stingrays were swimming around us while we were eating.
A mild note to the worried about the stingrays. I was quite concerned about getting in the water with these animals because all I kept thinking about was the baby and then Steve Irwin. We all know how that ended sadly. However, let your worries subside because they have clipped off the stinger part of the ray's tails. So there is no harm or risk when swimming with these beauties. Our guide would dive down and just scoop them up into his arms like they were his little puppies. It was crazy. I have photos of it all below.
Also, there is a lagoon at the back of the Four Seasons; filled with all kinds of exotic fish. We grabbed our go pro and headed down to see it. You can get right in the water and snorkel with all of these fish, the lagoon is quite long and has coral and all kinds of underwater views. Definitely, worth a stop if at the Four Seasons.
Dining out in Bora Bora.
The options are a limited as it is a quaint little island. But the hotel has plenty of options, so you don't have to leave! One of our favorites was on our first night when we attended a traditional dinner on property. The hotel puts on a live performance one night a week with dancing, fire throwing, and a family style dinner. It was a fun way to kick start the trip!
We also had a lovely beach picnic set up outside for our last night with string lights and a fabulous seafood style meal.
If you are looking for authentic, Bloody Mary's is a must visit. An institution for anyone who is visiting Bora Bora. The restaurants covered in sand, and you walk up to the chef and pick out your entire meal. I would highly recommend the coconut ice cream here it was divine!
We had one free night to do whatever we wanted. We arranged to take the water taxi over to the main island for dinner at a highly recommended French restaurant called St. James Bora Bora. It is rated #2 on TripAdvisor, and the staff was lovely. They were hosting a wine tasting for a group when we arrived, and everyone loved it. Overall it was excellent and pleasant to just have an evening for the two of us.
What to Pack.
If you know me then you know I love all things beach and tropical. Swimsuits and light and airy dresses are never a chore to pack in my suitcase! But here are a few things you might not think about bringing along to paradise.
International Travel Adapter – all the plugs are European. We have used this one all year and loved it.
I leave all my straighteners and curling irons at home and embrace the wet slicked back look anytime we are traveling to a tropical location. My hair loves to go curly, and with the humidity, there is no fighting it! Just grab a good leave-in conditioner and embrace the boho look!
Portable phone charger for long days out running around, I love this one.
Sunscreen (the hotel had some but bring 40 or more, not many places to purchase once on the island other than the gift shop, and you know how pricey that can be!)
A hat that will stay on when it is windy, it was windy on the water as well as on our walks.
Sunglasses (two pairs at least in case you drop one) or one for looking cute and one for excursions
GoPro for underwater adventures always captures best photos! This one is our favorite version.
Wedges or sandals, you won't be in a lot of heels here! Plus wedges are best for walking the wood walkways with slits!
Water shoes – wish I had these when snorkeling and exploring the beaches.
Sundresses – Easy to pack and honestly, it is never that chilly at night except when taking the boat in the evenings to dinner. I never carried a jacket or sweater once.
Swimsuits that you can be active in during the daytime. (See all mine below!)
Cover-ups that you can wear to breakfast then head to the pool and slip on and off easily! I'm linking everything I wore for you below so scroll down and click the images to shop immediately!
Sandals that slip on and off as it is hot on the ground, especially when running to the bar or bathroom! I wore these the whole time!
Snacks – I like having options, so I packed Trader Joe's pistachios, nuts, granola bars and drink plenty of water. In the end, I wish I had brought more options with me but was so happy to have at least what I did pack!
Books – Air Tahiti has the worst selection of movies, and you will be bored so download your favorites or bring a few good books! My favorites: You are a Badass, Big Magic, Present over Perfect, The Happiest Baby on the Block, and Jesus Calling.
A wet pack for that one swimsuit that won't dry! We had a long time before checkout, and I wish I had a waterproof bag to put my suit in or a laundry bag. I forgot to bring mine but love this set.
Tile – we love these! Throw these in your suitcase for easy app tracking. These tiles will tell you exactly where your belongings are. They rock!
A portable scale – I have posted this before (we use this one) but it saved our butts multiple times when needing to weight our bags.
Socks to wear on the airplane and a sweater. Our flight was freezing!
As we were leaving the airport in Papeete, I decided to change into a more airplane-friendly outfit since I would be flying for quite some time and headed back to the cold. Threw this in my carry on!
If you wear contacts, remember to bring your glasses and a mini eye care kit on the plane with you. I always have a backup pair of contacts, glasses, contact solution, and cleaner.
Hand wipes and sanitizer. Use the wipes to wipe off your armrest, your tray table, and anything else within reach!
I hope that helps! There is so much to cover, and I know this is such a long one but I wanted everyone to feel prepared if you are taking a similar trip! John and I both woke up on Monday in a blur. Give yourself a day back to recover if you have the time. There is a four hour time difference, and that always messes with you a little bit coming home, going there brings no issues with adjusting!
Overall, this place is paradise. When I look up the word, I would expect to see a photo of Bora Bora in the dictionary. I hope we have the joy of visiting again one-day, but for now, I am just going to hold on to the memories and photos!