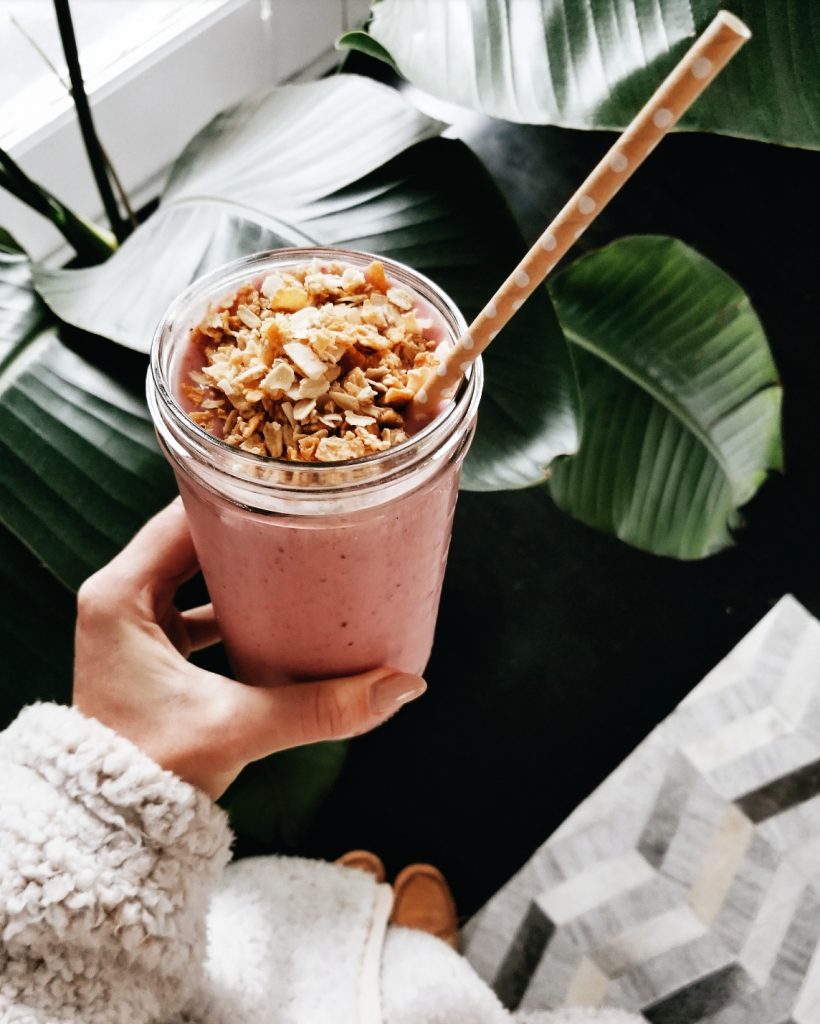 So far pregnancy has introduced me to owning my first blender! Riveting is what I am sure you are thinking, but it was a game changer for me! I have always been a healthy eater. Add needing to supply healthy sources to a growing baby and smoothies have been the perfect solution!
I am not a fan of super sweet or savory smoothies, not big on peanut butter or chocolate either.  Below you will find mostly tropical inspired recipes. I love bananas and strawberries, and lately, peaches have sounded like Heaven!
Most of the recipes below have come after a bit of trial and error. I usually end up making a little too much, but after some good old-fashioned experimenting, I feel comfortable throwing just about anything I want in the blender. I also like to freeze the extra, so I have it on busy mornings I am on my way out the door.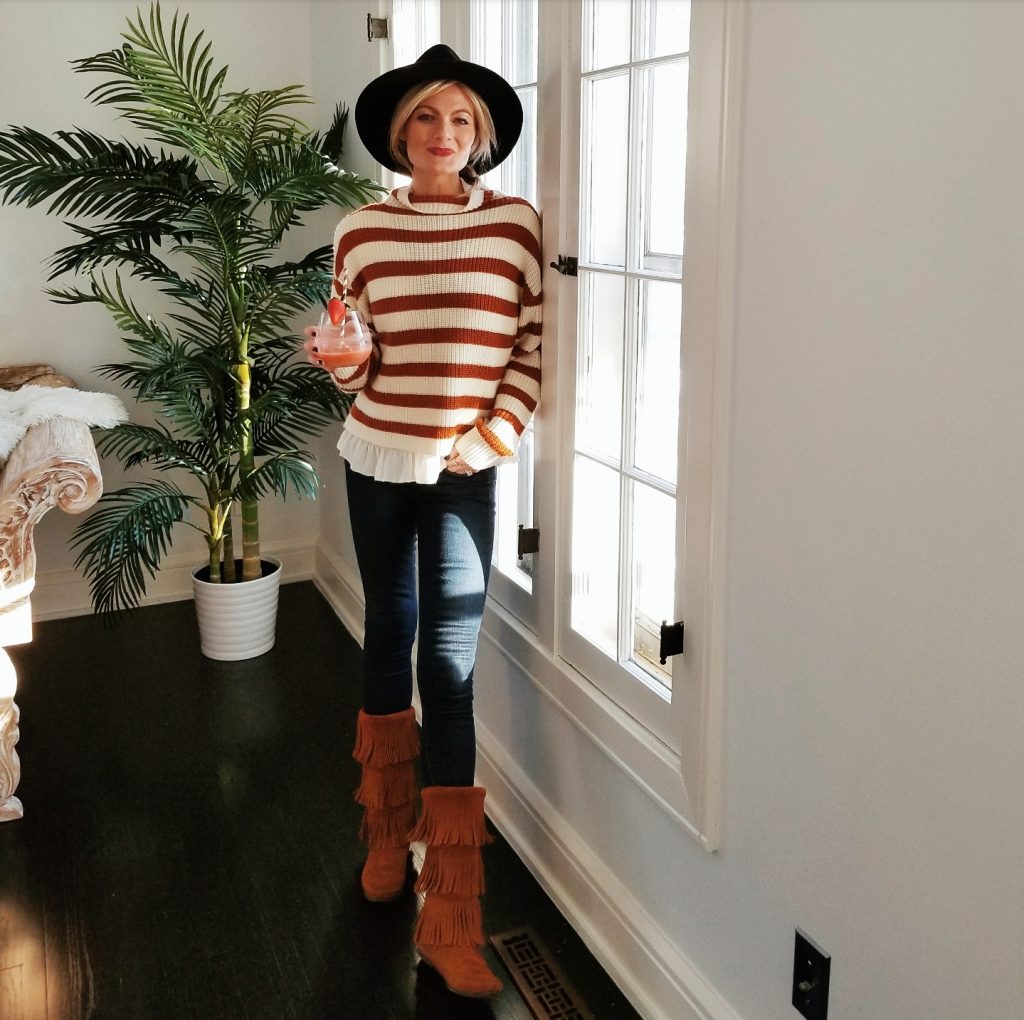 After hours searching on Pinterest for smoothies, I just said forget it and started making my own. So, for the most part, these recipes are all just things I made up and tossed in the blender every morning (mostly before a cup of coffee too!). I wake up ravenous! Greek yogurt (I like the plain by Fage) has so many significant health benefits, and so does all that fruit!
I love buying my frozen fruit at Trader Joes and Target. Both have a nice mix of options. Trader Joe's has a few more options like acai, frozen coconut chunks, and I live for their Coconut blend granola as a topper on all of my smoothies. Some I drink with a straw and others are thicker, so I use a spoon. If your smoothie seems too thick add a little more liquid until the consistency is nice and smooth.
You can also try switching up the yogurt (plain, greek, flavored, we like the Fage greek honey yogurt a lot) will stretch these recipes. Also feel free to substitute the juice for coconut milk or even almond milk. I use fresh and frozen fruit, and I never add ice. Also, my cheap Black and Decker blender has been working just fine; I might splurge and upgrade. For now, mine works like a charm!
Hope you enjoy and please let me know if you have any fabulous recipes to share! Serving these in a fun glass can also make you feel a little fancier especially if you are a fellow pregnant person and missing your cocktails. I like using mason jars and wine glasses with a pretty paper straw. Makes me feel like it is a special treat, but it is also healthy and good for the baby, so it is a win, win situation!
Enjoy!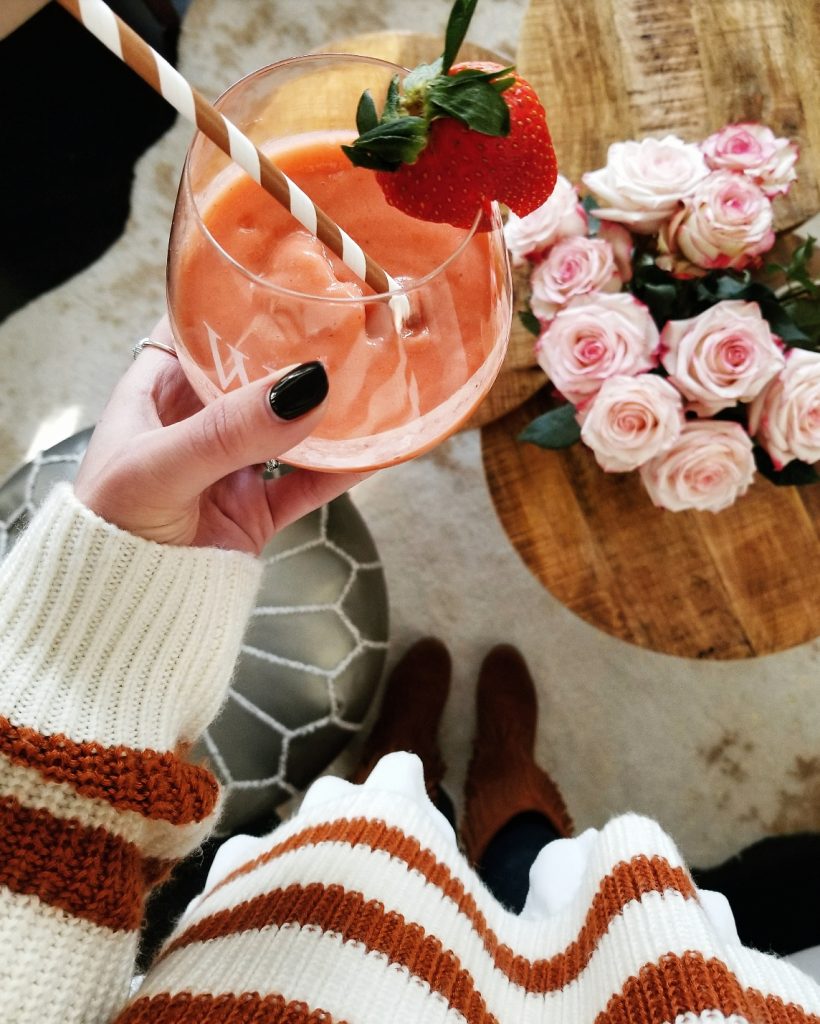 VERY BERRY SMOOTHIE
1 CUP FROZEN BERRY MIX
3 CHUNKS FROZEN COCONUT
½ CUP ORGANIC ORANGE JUICE
1 CUP PLAIN FAGE GREEK YOGURT
1 BANANA
HANDFUL OF ALMONDS
TOP WITH COCONUT GRANOLA FROM TRADER JOES AND GARNISH WITH EXTRA BERRIES OR BANANA
PEACHES AND STRAWBERRIES
1 CUP FROZEN PEACHES
1 CUP FROZEN BANANAS AND STRAWBERRIES BLEND
½ CUP ORGANIC ORANGE JUICE
1 CUP HONEY FAGE GREEK YOGURT
TOP WITH GRANOLA AND FRESH SLICED STRAWBERRIES
TROPICAL BLEND
½ CUP FROZEN MANGO
½ CUP FROZEN COCONUT CHUNKS
1 PACKET FROZEN ACAI
½ CUP ORANGE JUICE (ADD AS NEEDED FOR DESIRED THICKNESS)
1 CUP MIXED FROZEN BERRIES
1 BANANA
GARNISH WITH COCONUT GRANOLA AND SLICED BANANAS
APPLE PIE SMOOTHIE
(THIS ONE SOUNDS SO GOOD FOR DESSERT!)
2 APPLES, CORED AND PEELED
1 CUP ALMOND MILK
½ CUP PLAIN GREEK YOGURT
1 TSP CINNAMON
½ TSP NUTMEG
½ CUP NUTS (WALNUTS OR PECAN
HONEY TO SWEETEN
BANANA GINGER SMOOTHIE
1 BANANA
1 CUP VANILLA YOGURT
1 TBSP HONEY
½ TSP FRESHLY GRATED GINGER
TOP WITH SLICED BANANAS (GREAT FOR NAUSEA)