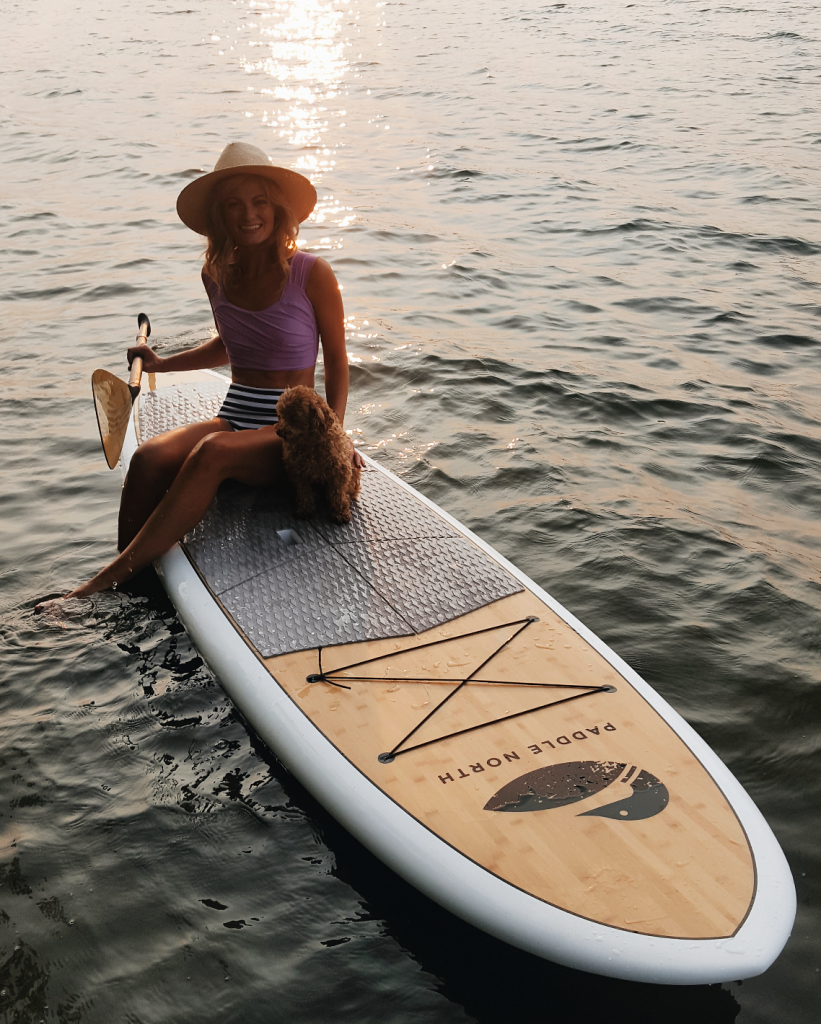 Have you ever walked past something your whole life and never really appreciated it? I felt like this the minute I started to paddle board out in the middle of the lake all alone. A place I love, but I have not spent that much time getting to know personally.
My friends at Paddle North create these gorgeous SUP boards right here in MN. I decided to give theirs a spin earlier this week.  Gliding from one end of the lake to the other is going to be my latest obsession. A peaceful night filled with sailboats cruising around catching the last moments of the sun. And some of the most unforgettable shades of pink. One of those moments where you stop to take it all in and remember we live in a beautiful world.
It was my first time paddling on Lake Harriet. The board (I am on the Loon) performed beautifully. A hybrid made of bamboo, it is much lighter than most boards. As I have mentioned before, traditional working out isn't something I am interested in often. But, boy does it feel good to stand up paddle board. I tried it for the first time in California, and then my in-laws brought two boards to the lake, so I find myself out on them frequently. Such a peaceful way to enjoy being outside and get a little workout in all at once.
I wore this adorable swimsuit from my friends at Albion Fit. I had a lot of questions about it too. This suit is part of their new line that launched earlier this week. I am so happy to tell you when you use my code MACAROONS15 you will receive 15% off your purchase! I am in the XS top and bottom and love the fit, especially the high waist on the bottoms and cute shoulder detailing on the top!
If you are in the market for either of these two things, I would highly recommend both companies! The faces behind Paddle North are some of the kindest you will ever meet. All hands on and very passionate about their brand and quality. I love that!
I am sure you will see me running out to the lake with my board frequently! I can't wait for cooler days ahead and to go out paddling once the colors start popping and the leaves begin changing around the lakes.
Photos from our evening spent paddling on the water below. Isn't Babette the cutest little adventurer! Also, thanks to my hubby @johnnydrones for making the beautiful drone video. Enjoy!