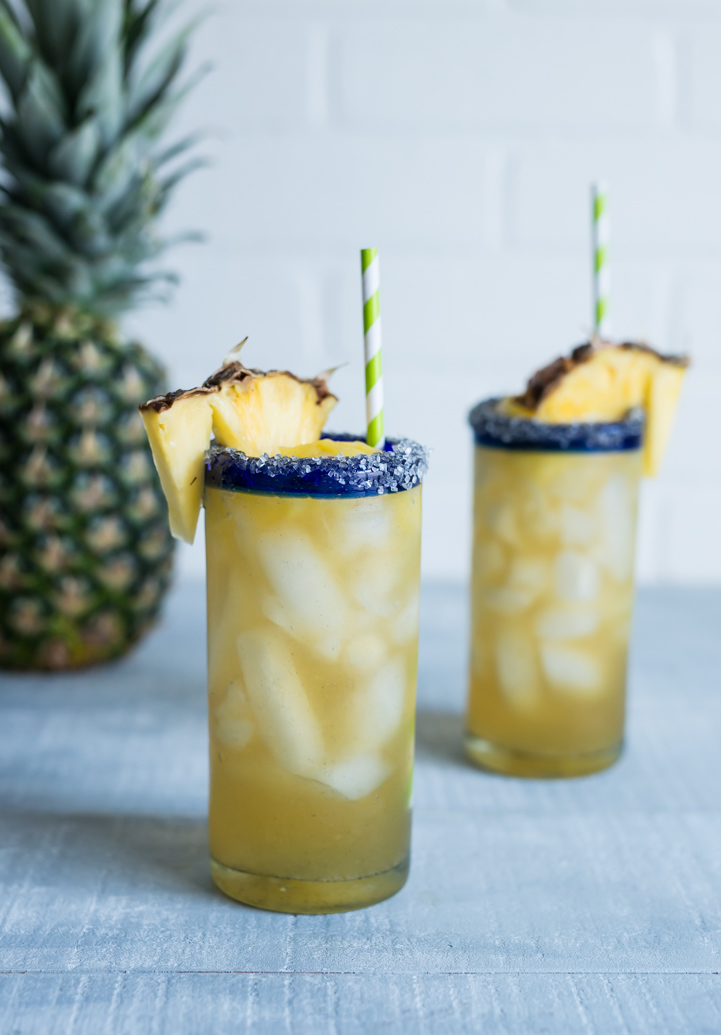 I love entertaining, my husband and I get so excited for this time of year when we can open the back patio and pull out the furniture and start hosting friends and family. I am always on the prowl for a great recipes=, and I do not play around when it comes to cocktails. I stumbled on this fantastic blog Pineapple & Coconut, and fell in love with their mission! The entire site is a total dream, and I have a feeling if you are reading this then you will feel the urge to click your way on over to see more.
I love anything vanilla, have a major crush on the pineapple right now, and I will do basically anything for a good Margarita… so naturally this Vanilla Pineapple Margarita seemed like heaven in a glass. Check out the website she boasts a heaping load of healthy recipes and this is a website I will be visiting often for more inspiration and we will be featuring more from Pineapple & Coconut as a *guest blogger here with us on C+M!  This not only beautiful yet yummy recipe is below and sure to be a crowd pleaser for all of your hosting needs. Enjoy!
Vanilla Pineapple Margaritas Recipe: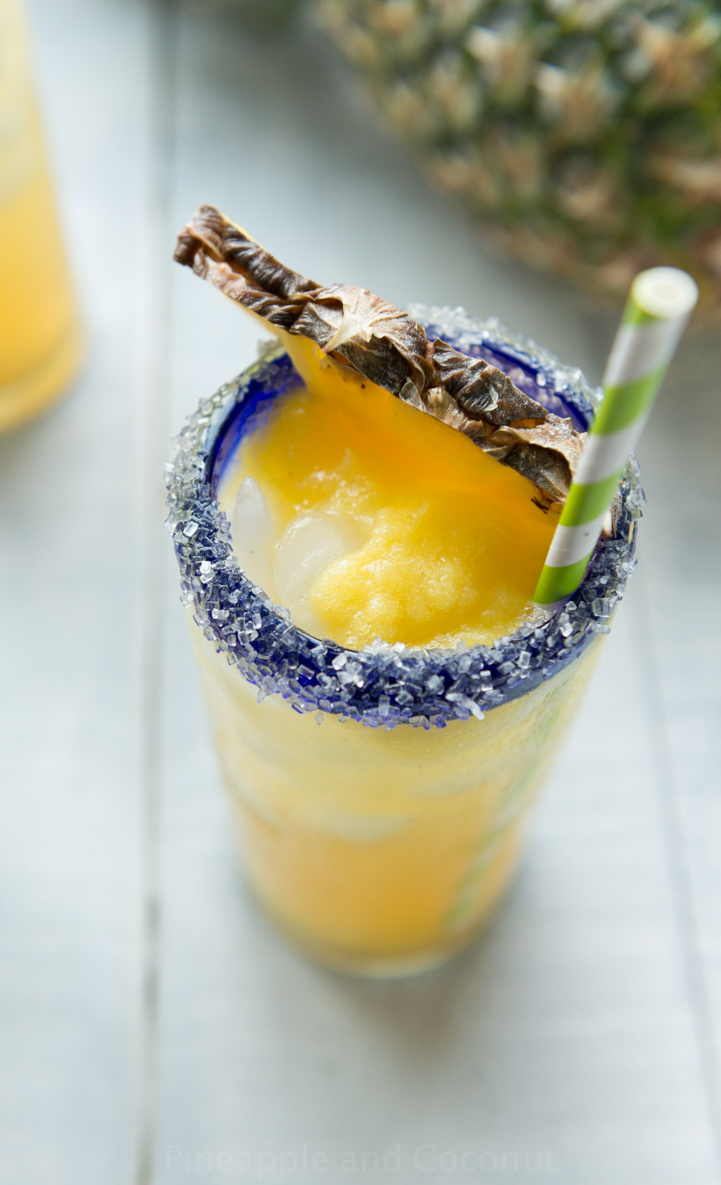 Ingredients
2 ounces Silver tequila
2 ounces triple sec /Patron Citronage/Grand Marnier/Orange Curacao
4 ounces Pineapple juice
2 Tbsp Vanilla Simple Syrup*
2 tsp Lime Juice
2-4 Tbsp pineapple puree
Sparkling sugar for rimming glasses (Bob's Red Mill Sparkling Sugar)
Fresh Pineapple Wedges
For the simple syrup
1 cup sugar ( I used dixie crystals)
1 cup water
1 Tbsp Nielsen-Massey vanilla paste
2 tsp Nielsen-Massey Madagascar Bourbon Vanilla extract
Instructions:
Make the simple syrup
Combine all the ingredients in a pan and set over medium heat stirring until the sugar is dissolved. Transfer to an airtight container or jar, such as a mason jar, and chill before using.
Make the pineapple puree
Blend 1 cup of fresh or frozen and thawed pineapple. Chill until ready to add to the drinks. Stir or shake well before using.
Make the cocktails: (Makes 2 cocktails)
Dip two glasses in the vanilla simple syrup then rim in sparkling sugar, fill with ice
Fill a cocktail shaker with ice and add the tequila, triple sec (or orange liqueur of choice), pineapple juice, vanilla simple syrup and lime juice. Shake well and divide between glasses. Top with pineapple puree. Garnish with a fresh pineapple slice and serve.
Now all you have to do is ENJOY!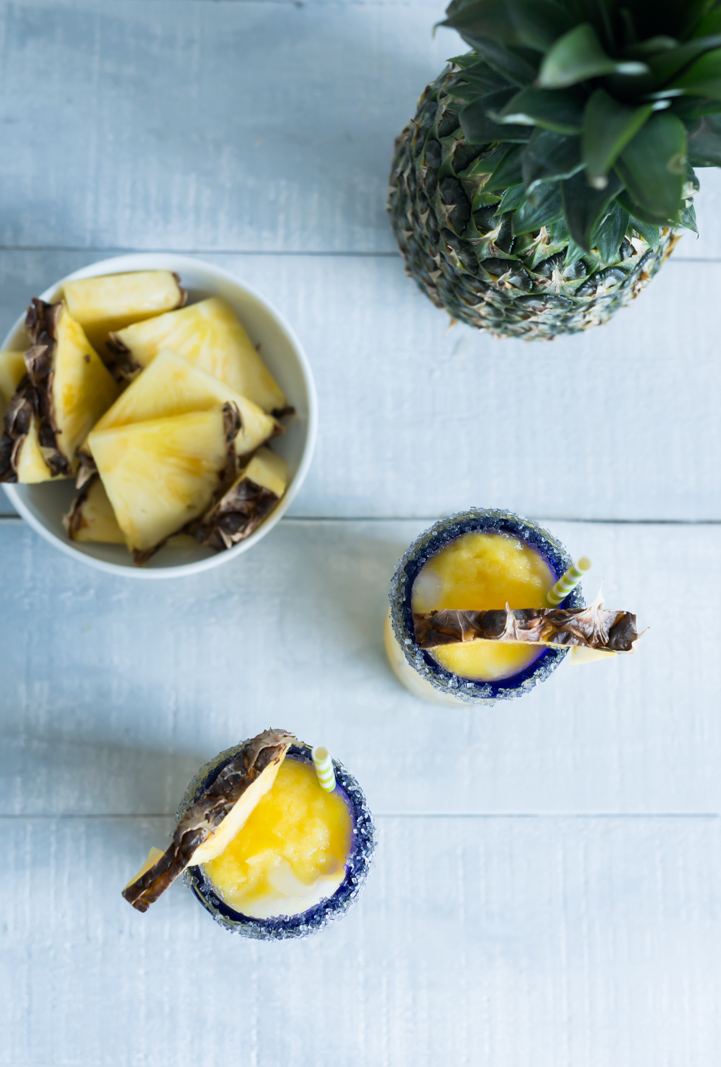 All images property of PineappleandCoconut.com
* If you would like to be a guest featured blogger on Champagne + Macaroons send us a note we would love to hear from you! We love connecting with other creative types! Email us  hello@champagnemacaroons.com