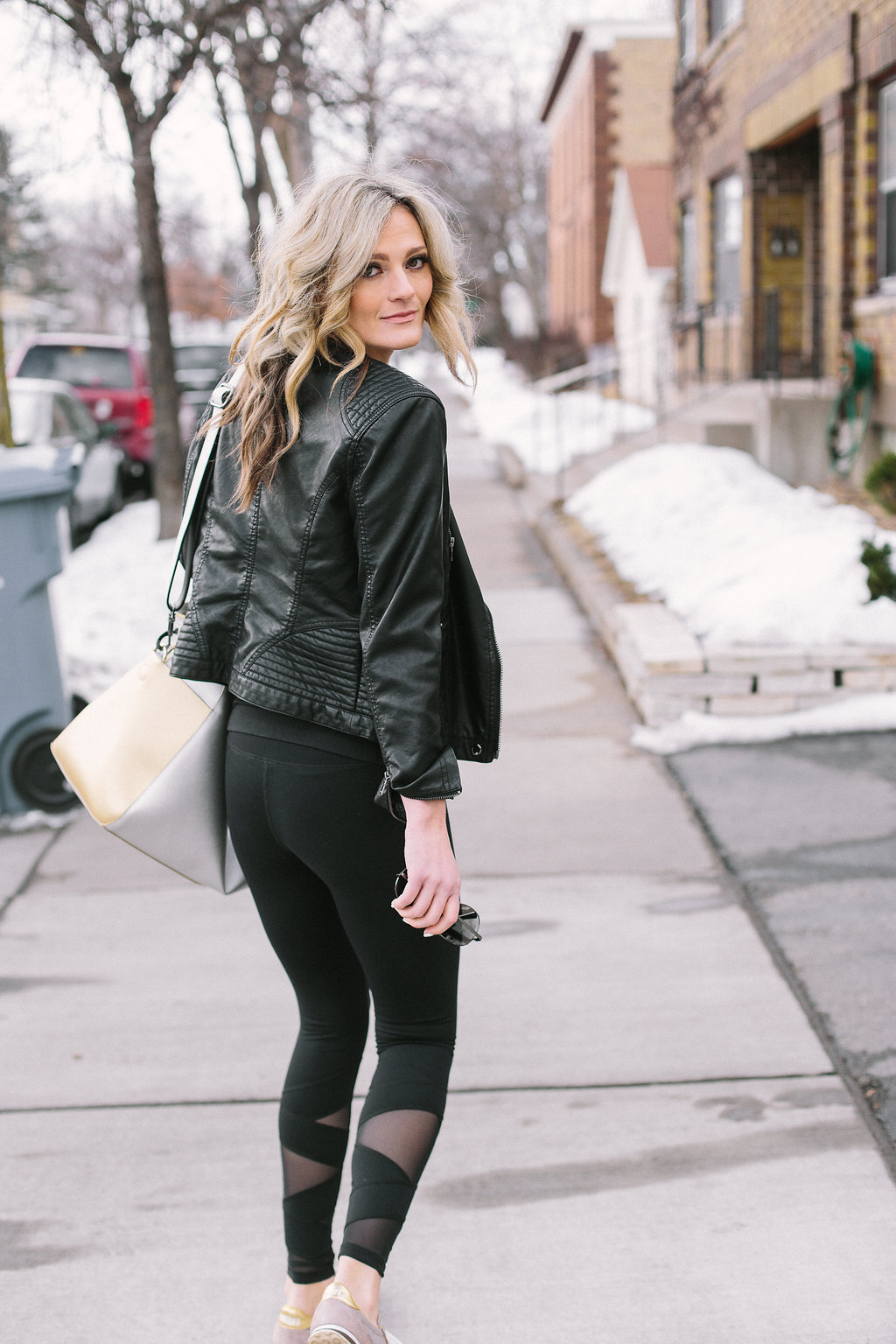 Motivate Monday's are back! Back again!
We took a little break so we could bring you the best of Tonic's new spring line-up for our Motivate Monday series. Starting this journey 6 months ago we set out with a mission to bring you the inspiration to take your "athleisure" wardrobe to the next level. Go ahead and sound the style alarm because these Siren Leggings are going to do just that.
When I first set eyes on these stylish leggings, I fell madly in love. For my feature tonight, I wanted a relaxed post-gym, yoga or Pilates inspired style. I paired my leggings with Tonic's Silhouette Tank Top, another piece with all the right touches. A feminine halter and sweetheart neckline with a built-in shelf bra for added support. This top can take you from the gym to a night out on the town. Get a load of that back detail too it is beautiful.
Simple accessories can take your athleisure look from messy to sophisticated. I'm wearing my black leather jacket, chic tennis shoes, and a stylish weekender for a simple yet stylish look. My secret weapon is a good pair of sunglasses. Not only do they tie the overall outfit together, they hide just about everything from bags under the eyes to a makeup free face. Running around town to meetings, coffee dates, or just blogging at home, I enjoy wearing casual, comfortable and relaxed clothes that still give me a feminine edge. Trust me you will want both of these Tonic pieces in your wardrobe for spring.
Do you have a secret weapon? Leave me a comment below and tell me if so. You just might see it in a future post! I would really love to hear how you feel about the Motivate series and if you have any ideas or tips for us, what you look for in your everyday wardrobe. Tell me. We are all ears!
Links to shop all of these items from this look can be found below.
Happy Monday – XO Tamara

Top + Leggings c/o Tonic Lifestyle Apparel // Weekender c/o Deux Lux // Running Shoes // Jacket // Aviators // Images Ellen Ashton Photography