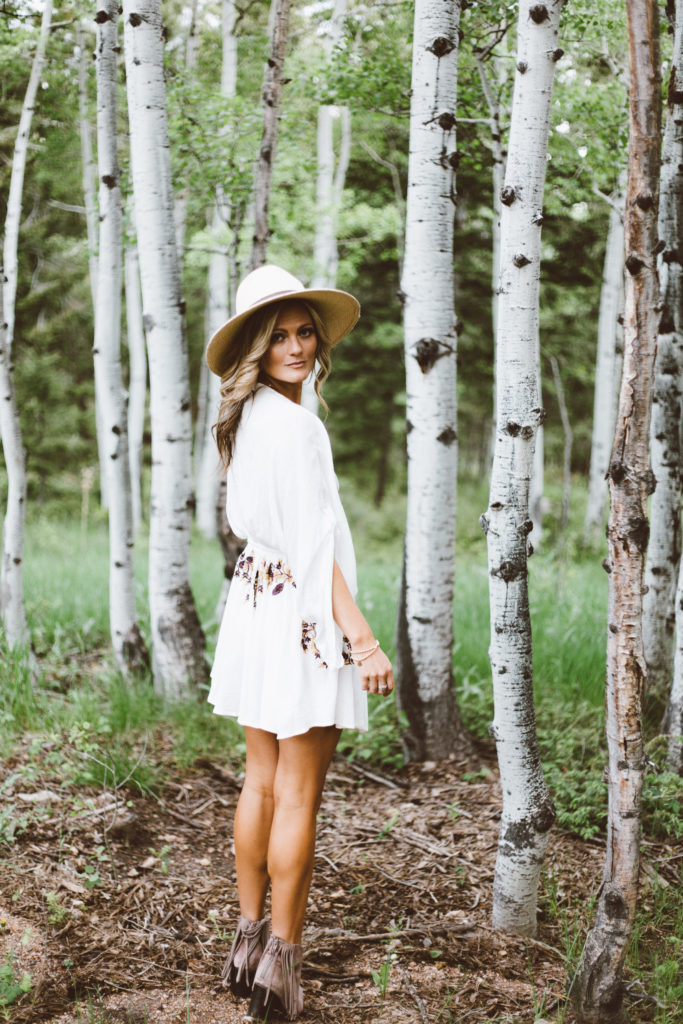 Travel is something that lights a fire inside of me. On this trip, in particular, Ashleigh of Red Aspen Photography not only captured some of what are my absolute favorite images, but she kindly showed us the many sides of Boulder. Colorado is quite charming in the summertime and seeing Aspens, Poppies, Mountains, Rain, all with my sweet husband by my side made for an unforgettable experience.
This whole shoot was pretty organic. I picked up this magical pineapple dress at Free People just before we met up at the top of Lost Gulch that day, and we were all a little panicked as the rain started to fall. With multiple radar checks and a beautiful bouquet by Fawns Leap in hand, we somehow made it happen.
I love what I have been able to do this past year on C+M, connecting with total strangers, sharing my heart with you, meeting new faces in different cities. Having the chance to capture all those moments and share it right here on the blog, well it truly is the best feeling in the world.
I hope you enjoy these beautiful images as it was really hard to pick. Be sure to check out the guest appearance made by my sweet hubby. He wasn't too happy about it at the time, but looking back on it I am so grateful for these images with my number one.  Thank you, Ashleigh, for loving us and guiding us around Boulder & the Flat Irons. We can't wait to visit again. Enjoy!
DRESS // BRALETTE // BOOTS (similar ) // HAT // NECKLACE // BRACELET // WRAP BRACELET // POLISH