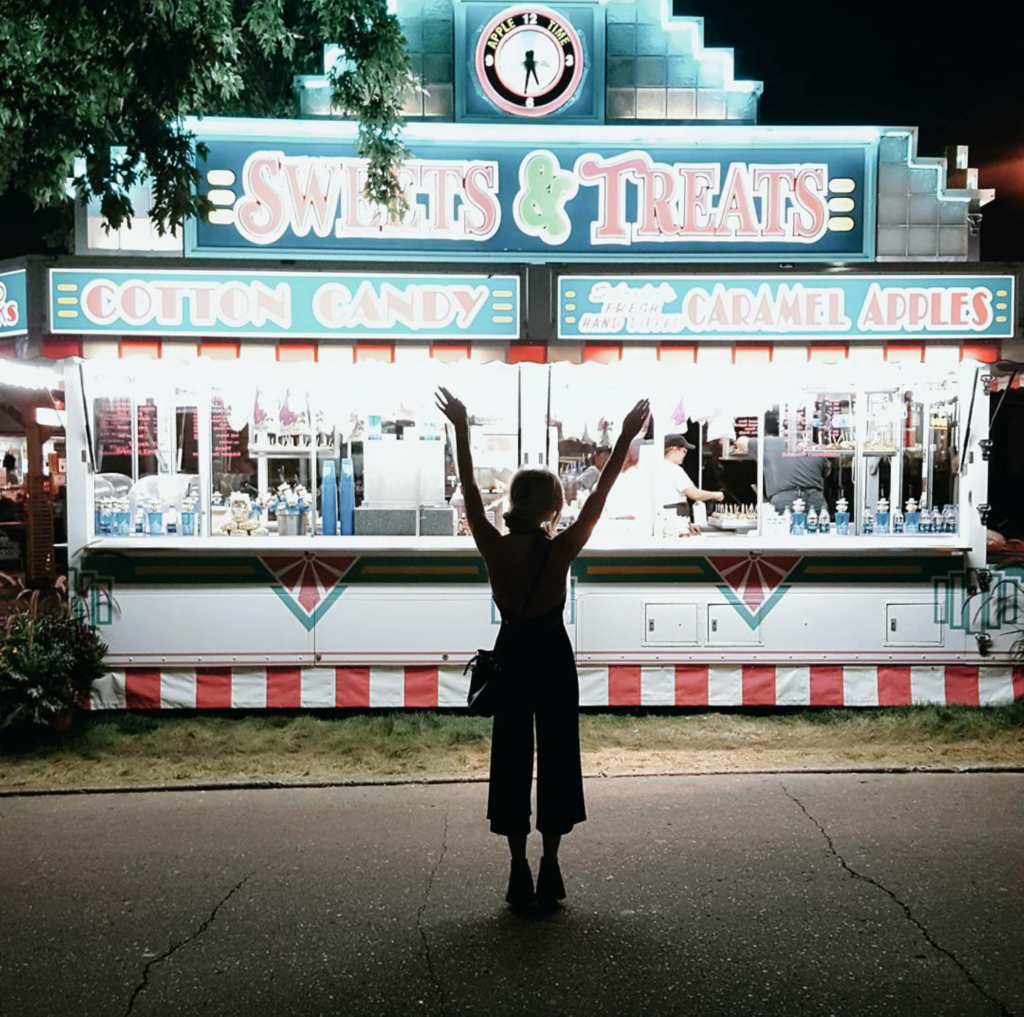 I have no idea what all goes into making the Minnesota State Fair all that it is other than a ton of energy, fried food, Minnesotans, and lots of yummy goodness. Which obviously makes for happy people bumping into each other for 12 straight days year after year at the Great Minnesota Get-Together.
John and I first visited the State Fair four years ago where we purchased a 30-year-old bonsai tree that quickly died three months after coming home. We felt so bad we swore we would never go back, but with a little pushing and an available week night, we headed to the fair grounds.
First up, a ride in the sky to watch the sunset and conveniently travel across the park to be dropped at our first stop, Sweet Martha's cookies. Not only are these cookies warm, but they pile as many as they can into buckets and cones and they rock!
With our cookies in cone, we traveled around taking it all in. Sampled a little Greek stand due to hunger pangs, then wavered between a crepe and risotto balls, but instead went for spicy Cajun fried pickles. WORTH IT and add the hot sauce, so good! Still wish I had tried the Fried Risotto balls at French Meadow's stand but missed ordering them by one minute. If anyone tries them, please tell me what you think. Still regretting it!
The Fair has something for everyone, and I mean everyone at every age. Games, Rides, Sweets, Beer, Wine, Crepes, Fried Candy Bars, Fries, Music, Mexican, Asian, American, anything you want on a stick. I cannot imagine anyone walking away hungry and the energy at the fair is always contagious. Loads of people with no major agenda other than having fun.
We arrived in the evening just as the sun was setting so I was able to squeeze in a few photos to share with you. One of the highlights was just walking around the rides late at night. The bright lights and laughter heard from kids and adults was contagious. Any thoughts or recommendations send them my way I love hearing everyone's favorite memories or places to see or things to try! P.S. I linked this cute little jumpsuit below…
Until Next Year….