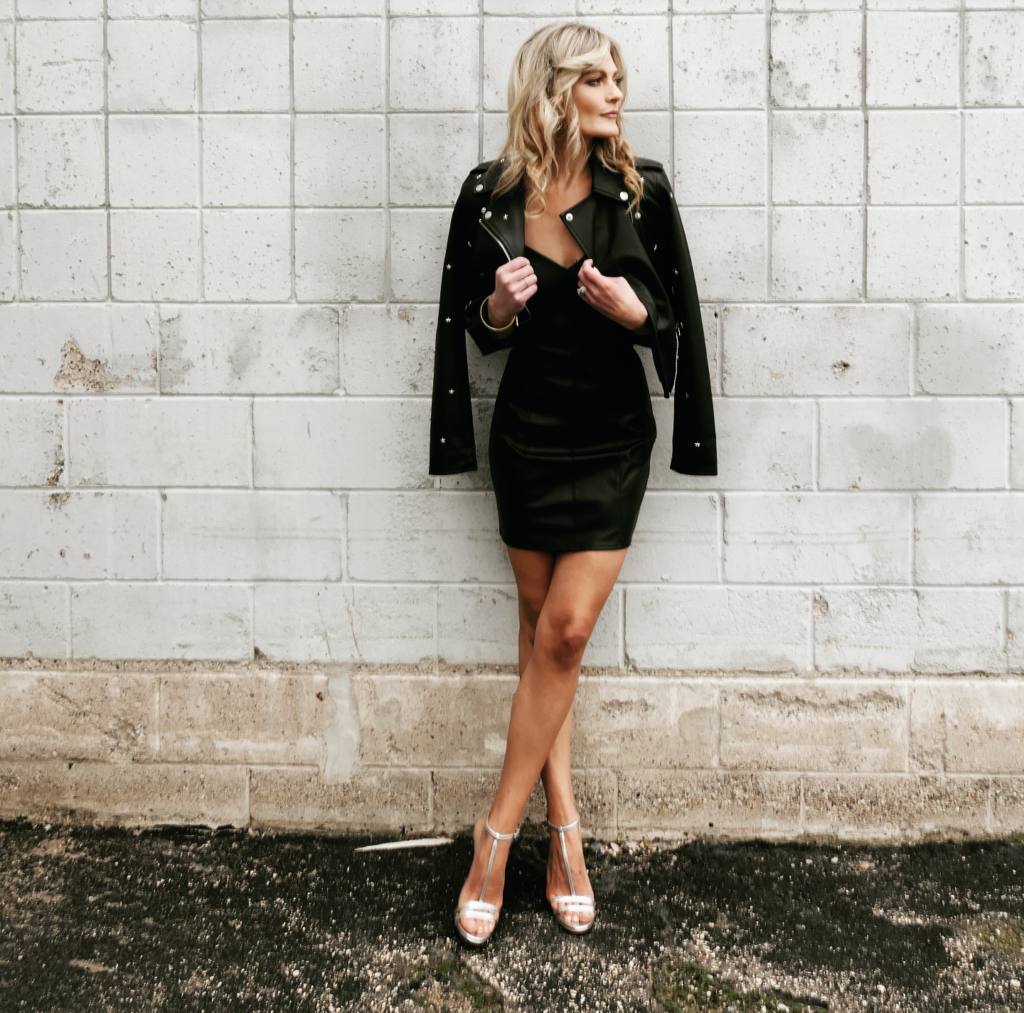 Trends come and go, but one that has never gone out of style is a great Little Black Dress. When it comes to rummaging through your closet for that perfect look, black is always in style. Leather and metallic were hitting the runways hard for spring/summer 2017, and Express beat both trends with a shining star.
Remember when Olivia Newton-John spit her cigarette out at the end of Grease while dressed from head to toe in leather, and whispered in a sultry tone, "Tell me about it Stud?" That look right there guaranteed leather isn't going anywhere fast. Almost sixty years later it is still here to stay, and I think it's even safe to say there's nothing trendy about this ongoing trend.
If metallic isn't your thing, have no fear. Subtle touches of star detailing paired with a strappy heel make for an edgy yet appropriate look that will leave your man begging for more. There is something very empowering about an LBD and a good pair of heels. I preach it on the regular. No matter the occasion, a good pair of shoes can change your entire day. Dresses are a part of my everyday wardrobe, but when it comes to a night on the town, wedding, birthday, or a special occasion that requires a little something extra, leather is hands down a winner.
This dress is a stunner! Fits in all the right places, and feels like a dream. You could easily pair it with a white tee, chunky sweater or cute sneakers. Dress it up or easily dress it down. This look is classic and timeless. A great LBD is a blank canvas and quickly changes by adding a pop of color or keep in line with the trend of the year and go monotone. A head to toe one color look is striking and will leave you the talk of the night! Since leather makes such a statement on its own, I opted to keep the accessories to a minimum. Earrings or a bracelet would be an easy way to change this look for multiple wears.
I chose this fun and playful star-studded leather jacket for a matchy vibe which also shined as my main accessory. This jacket is appropriate with just about anything in your closet. Think denim, skirt, shorts, sundress, jumper or even a cute pair of overalls. Dress it up or down. But add it to your wish list for year-round enjoyment for any occasion!

In Collaboration with Express