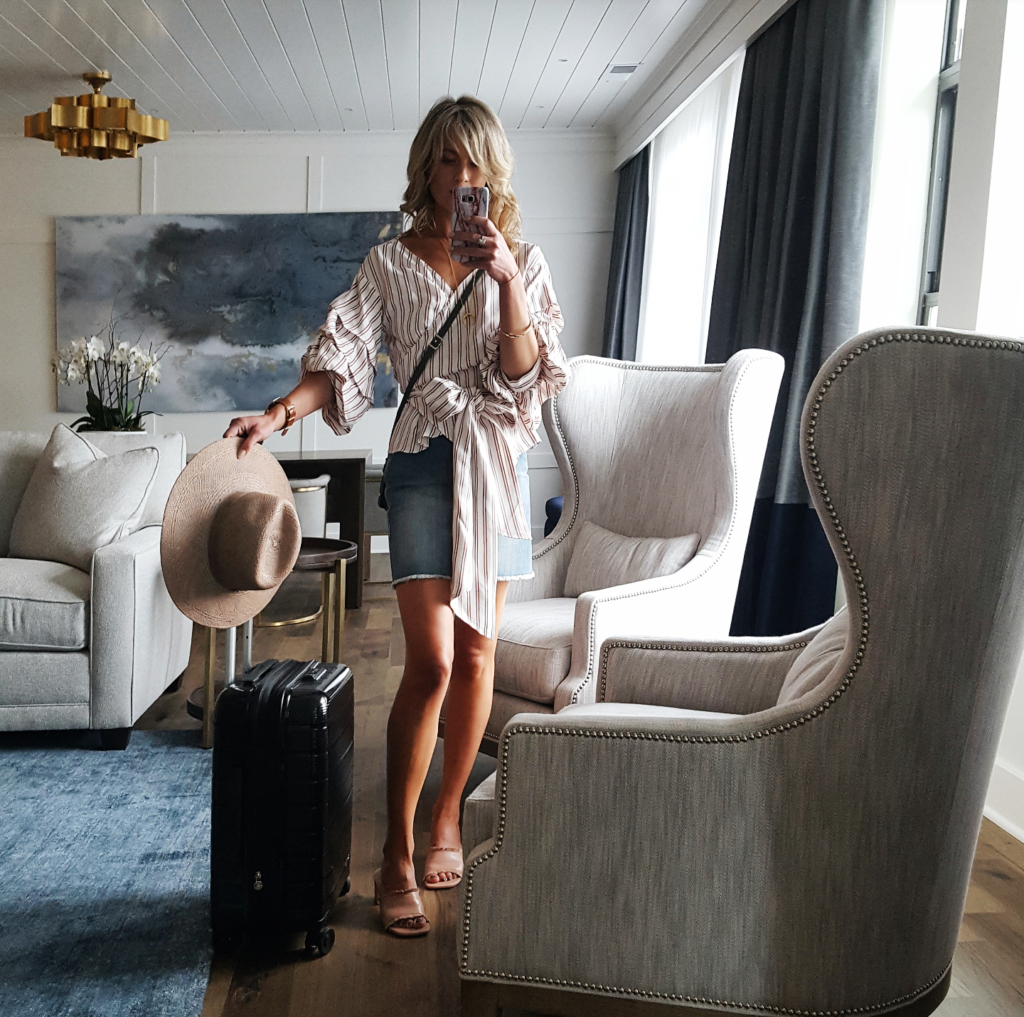 Ideally nestled in the corner of downtown Wayzata, Hotel Landing gives its guests plenty of walking, shopping, and patio hopping. Crisp whites and clean navy tones replicate the nautical feel of the city. The minute you step foot inside the hotel, fresh flowers, dog-friendly atmosphere, and a pleasant staff await.
Celebrating the Hotel's arrival to the Twin Cities, we spent twenty-four hours in the Presidential Suite, and it is a stunner. Seating for nine at the dining room table, a cozy living room feel complete with fireplace and coffee table books worth browsing. Guest bathroom for entertaining as well as a full kitchen setup. The master bedroom is gorgeous! Spacious, clean and a picture-perfect bed you could sleep in for days. This suite would be ideal for a wedding weekend, girl's getaway, bachelorette or family stay spent sailing around Lake Minnetonka.
Once situated in the room, we hit the ground running. I wanted to enjoy all the hotel had to offer during our quick stay! After a tour of the property and a little bubbly we popped out of the hotel for an afternoon stroll in downtown Wayzata.
Wayzata, is a charming city, offering a bevy of patios, shops, and activities. Rent a boat on Lake Minnetonka, sit outside people watching at COV or grab a delicious treat at the bakery inside the new local favorite, Bellecour. And be sure to pop by my favorite Starbucks for an afternoon pick me up or cute photo op. Movie theater and loads of boutiques, there is plenty to do if visiting or returning for a stay in the cities. And all are conveniently within walking distance from the property.
Dinner at the hotel's restaurant, NineTwentyFive did not disappoint. We dined over a satisfying three-course meal, and our server made the night extra special! Wild rice corn fritters to start accompanied by fresh summer greens, I opted for a fresh Halibut entrée, and John had the filet. I would also highly recommend a little bubbly and creme brulee for the grand finale! We were so happy with our meal, and our server was beyond knowledgeable. The restaurant officially opens this coming Friday. I can't wait to take my family when they come to town.
Waking up in a big comfy hotel bed is one of my favorite things in the world! There is no secret I have had my fair share of hotel stays and a lot of them right here in the Twin Cities! We spent Friday morning enjoying the room, fireplace on, windows open, and a late breakfast in our pajamas! My favorite dish was the fresh fruit and granola with yogurt. That granola is Heaven, as well as the fresh squeezed orange juice. I didn't want to leave this little haven.
The hotel overall offers an old-world charm. Inviting and a perfect addition to the city of Wayzata. I had multiple conversations with guests dining and staying at the hotel. Everyone felt nostalgic and more than happy to see this newcomer in the neighborhood. It has been fifty years since a hotel opened on the shores of Minnetonka, and I have a feeling this one is here to stay! Scroll down to see photos of our staycation. Enjoy!