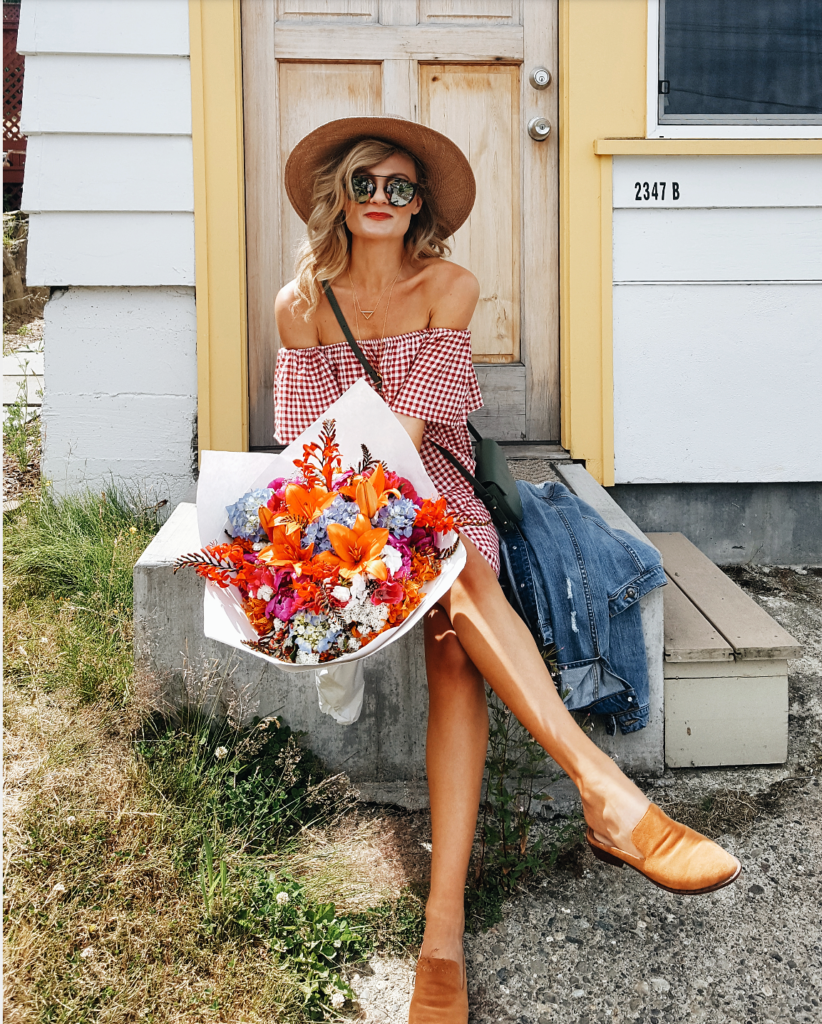 Our first trip to the Pacific Northwest was a success. We had so many recommendations and wonderful things to see and do while in Seattle. We could have used a few more days to really do it all. Zero rain, sunshine and lots of walking were the theme of this trip, and I am breaking it down for you below. Three easy categories: eat, sleep and play Seattle.
EAT
Food seemed to be what was most on everyone's mind when it comes to Seattle. Our first meal was at a quaint little rooftop restaurant, Maximilien, that offered beautiful views of the Puget Sound. A slight breeze the sunshine was welcome as well as the freshly filled basket of croissants and warm butter. Also not to miss Beechers Handmade Cheese at Pikes Place Market. Warm gooey grilled cheese, tomato soup, and cheese curds were all amazing. Crowds were wrapped around the corner watching and waiting for these savory goods. There are tons of little bakery's offering sweet treats, ice cream, pastries, juices and sandwiches to go. We had high hopes of eating at Piroshky Piroshky, but the line was insane every single day, and we didn't want to wait.  Add it to your list if looking for a filled Russian pie, and you have some time to spare.
We had a few restaurants on our list that came highly recommended and ended up hitting Lola for amazing Mediterranean from the Northwest, the Nest at the Thompson for afternoon drinks and stunning views of the Pacific. We made reservations at The Pink Door but those changed when our ferry ride was delayed and we ended up pleasantly surprised while dining over some of Seattle's best pizza at Roccos in Belltown. Open until 2 am this little hole in the wall serves scratch hand-tossed pizza by the slice. It is worth every single minute of it!
SLEEP
Hotels are my favorite part of travel. With the holiday weekend bringing crazy prices and all kinds of bustling crowds, we felt right at home at the W Seattle. Perfectly seated downtown for easy walking and exploring, we loved the urban vibe of the hotel. Our room had beautiful views of Mount Rainier and offered a short walk to the Puget Sound and Pikes Place Market. We spent a lot of time at these spots so it was nice to be car free this trip. Uber and taxis were readily available for our adventures around the city.
I took a fabulous tour of the property and tried out the new Sound Suite. The first of its kind in the US, this sound proof room is so cool. If you are hosting an event, small gathering, wedding event, or need a recording studio, look no further. We spent one evening chatting with locals over champagne by the warm fire in the Living Room, and I would highly recommend the edamame if you like a little kick! I would also recommend the Thompson, Four Seasons, Kimpton and Edgewater.
PLAY
Pikes Market is a no-brainer if you are a first timer in Seattle. There is a little something for everyone with loads of shopping and the flower market is my favorite! We walked through here almost every day since it was so close to the hotel. Be sure to stroll down Post Alley for a look at the famous gum wall. I would also recommend a boat or ferry ride. We took a lovely cruise for the wedding we were attending. Great views of Lake Union and Washington, as well as a quick pass by the Tom Hank's house from Sleepless in Seattle! I love boats so this was a highlight and there are tons of options available. I wish we had time to go on the Locks cruise, so book in advance!
We decided to explore Bainbridge and a short ride to the Island was well worth the $8 round trip ticket. Walking the charming shops felt like we were world's away. There is plenty to do and see, wineries, waterfront park, views of the Puget Sound, and Cascade Mountain range to the east.  Our ferry ended up breaking down and we spent a little more time on the island than we had planned, but I would definitely recommend the trip.
We toured the Chihuly Garden, located next to the Space Needle. The museum is beautiful (a little pricey) but definitely a perfect stop on a rainy afternoon! There are stunning views of the Space Needle from this area and it was quite busy with vendors and live music for the holiday, so a fun area to head if in need of an afternoon in and out. Plenty of photo opportunities in this area.
We decided to ride the Seattle Great Wheel in hopes of seeing the fireworks on the Fourth. I felt like a kid again, and very nostalgic watching little bursts of color light up the sky on America's birthday. The Wheel is an easy attraction for a family and a cheesy tourist attraction but we took a bag of popcorn and a glass of wine and made the most of it! The Pier has free games, touristy shops and loads of seafood, ice cream and cotton candy vendors.
WHAT TO PACK
We crammed so much in such a short period of time and my biggest piece of advice would be to bring comfy walking shoes (wore these mules all over) a sweater or denim jacket for the cool mornings and breezy evenings, and a crossbody bag that is light for all the moving around, shades and plenty of space on your camera. All of my outfits are linked below, as well as my carry on luggage. I was able to fit quite a few outfits in this bag and highly recommend my hard case spinner if you have any trips on the horizon.

Special thank you to W Seattle for having us!