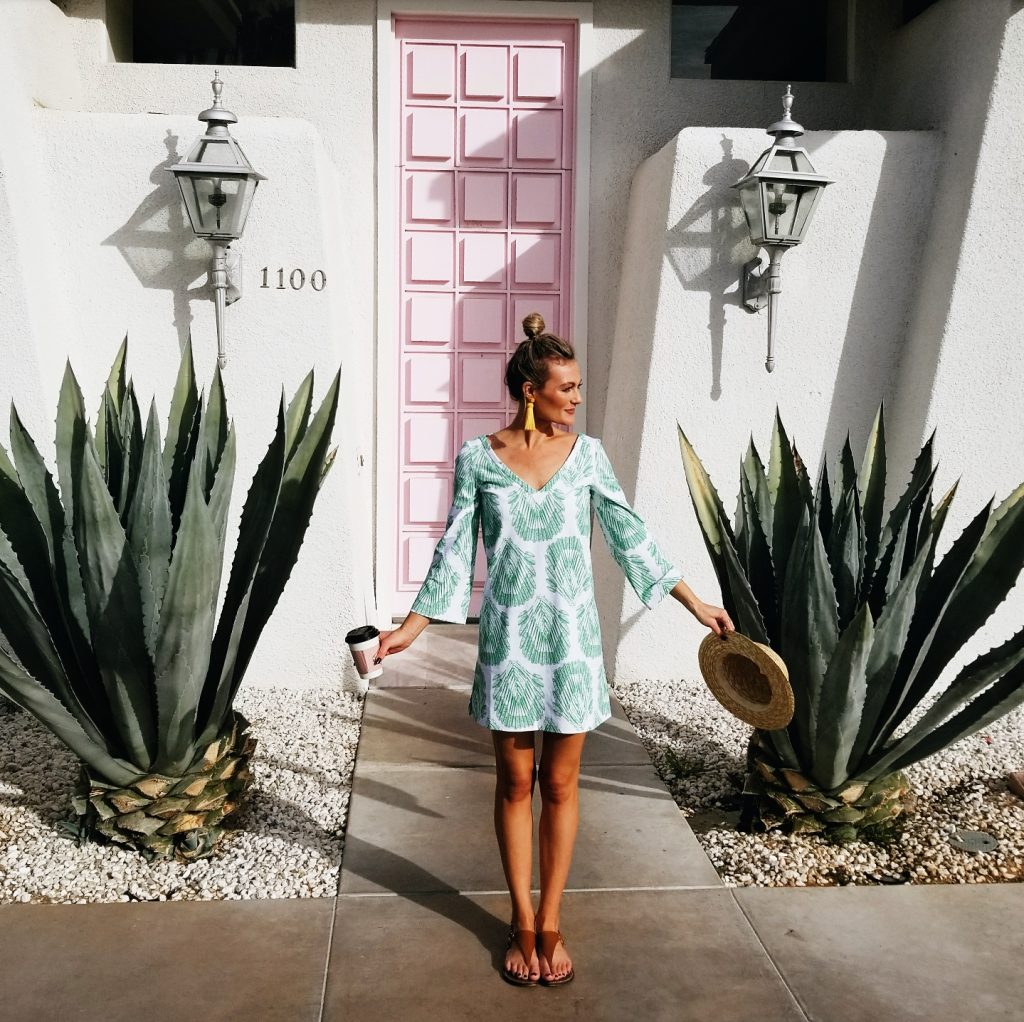 AHHHH! Where do I start! I freaking love Palm Springs! And since it has been having a moment for quite some time, apparently, it's hotter now more than ever. With festivals like Coachella, architecture tours, film festivals, and being one of the warmest spots to visit while the rest of the US falls prey to arctic blasts, it is a destination you will want to add to your travel list in 2018.
Our fourth stay in the desert, it's always one I hate to leave. Palm Springs has a fabulously retro charm that is hard to find anywhere else. So much history covers the city from Marilyn Monore to Frank Sinatra's frequently talked about visits, it just makes you feel like old Hollywood glamour.
But of course, California relaxed dress code, and the overall laid-back vibe is alive and well in Palm Springs. I love everything about it.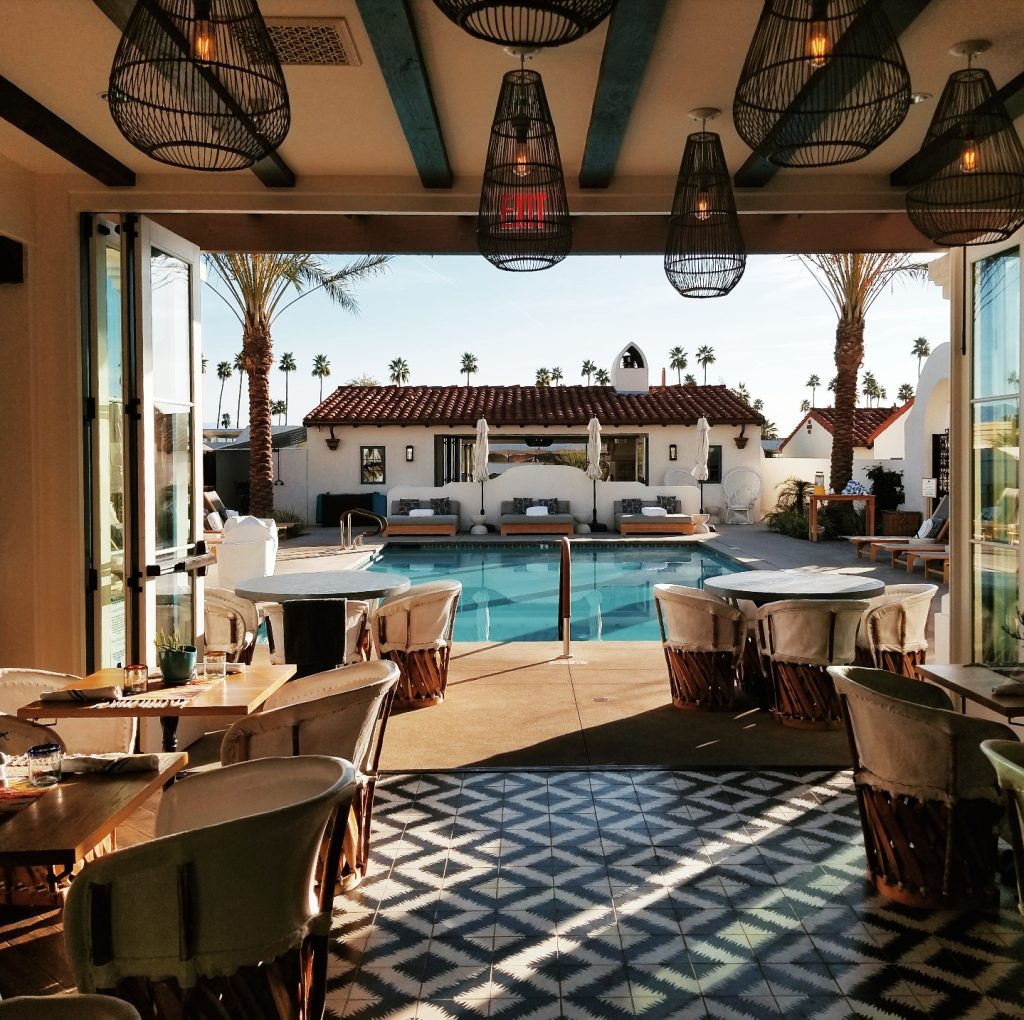 Eat
When it comes to eating in the desert, there are plenty of fabulous options. Palm Springs has become quite the hot spot, and the dining is top-notch. Makes sense with it being LA's playground and a short two-hour drive from the ocean. We love trying new places and going back to see some of our favorites. I love the west coast food scene more than the usual person. I ate yummy fish, fresh veggies, and good coffee; you will undoubtedly enjoy the cuisine here! The fish tacos at Azucar were top notch, just ask for a side of the sriracha sauce, and you will be thanking me later!
Sleep
We have stayed all over this city! From downtown to the outer skirts of the polo fields, and you can't pick a wrong spot. We tend to enjoy being close to the central strip downtown as it requires no car rental and the ease of setting out on foot to walk, bike, or shop. Our latest getaway left me raving! It is going to be hard to beat this destination, and I already want to go back.
I came to La Serena Villas while searching on Instagram, so typical! I instantly knew this was a little slice of paradise! The beautifully decorated rooms, pool, rooftop bar and numerous fireplaces, it is all a win. We were thrilled with our decision! The staff, the villas, outdoor bathtub (which kept us canceling our dinner reservations twice), fireplace in the room and on the patio, and of course the food.
I frequently spoke with the owner, and he and his wife could not be kinder. While we were laying at the pool, various guests came to visit the property and were greeted so warmly almost like family. Being just under a year old the hotel boasts being one of the hip newbies on the block. A photographer happened to be at the pool snapping away one morning for a new feature on the property. No surprise!
Each morning a breakfast basket is delivered to your room filled with an English style breakfast and a perfect jump start to the day. We would enjoy while the fire blazed and we sipped coffee together then head out on the available bikes. We biked all over town, hiked, and then headed back for the sun and pool until the early evening.
If you are a cotton-candy sky lover as I am, then look no further than Palm Springs. A slight chill starts the morning then a nice warm-up followed by a colder evening air. It is perfection, and I loved sitting around the fire at night in my robe just relaxing. Ugh, I wish to be back there, and I am currently writing this while sitting on the plane just a few hours from it.
Play
The best part of visiting the desert is you can do whatever you want while here. Get dressed up, don't get dressed up, eat out, order in, walk, bike, hike, it's all available. We opted to head out on a cloudy morning for Joshua Tree.
I read many unique facts about Joshua Tree National Park. So naturally, John and I had to drive and see the park for ourselves, mainly because we were so close to it! I was overwhelmed by its vastness. The desert was enormous, and the trees are unlike anything I have ever seen before. We paid the $25.00 car entry and grabbed a park map, and we were on our way. It was so chill, we rarely bumped into others, and we just spent the day exploring the land.
We hiked up rocks to see stunning views, we walked through the trees, and we were both in awe of Mother Nature. We did not watch the sunset here, but I would like to go back and make that happen one day. The park is just a whole beast of its own. Unlike anything I have ever seen and worth the hour drive to feel it all in person.
Multiple people sent me ideas while visiting here and you could spend a few days discovering this park. There is a famous bar called Pappy & Harriets and we did not have time to make it there but we will one day! Also, there is a very cool experience (closed for renovations while we were there), but it is called the Integration, a sound bath experience, and it sounds all kinds of amazing and hippy, and I would love to do this. The sessions fill up quite quickly so book in advance if you do plan on heading to the park!
I am linking all my vacation looks for you below and hope you enjoy this winter travel series. I have quite a few more planned for you so stay tuned! Spring Break is around the corner, and I am hopeful these destinations are giving you a little glimpse into the sun. Summer will be here before we all know it and I can't wait because Minnesota summers are hard to beat, so getaway now!
Any questions send my way! Also, be sure to scroll to the end for a beautiful video by my talented hubby @johnnydrones!

Thank you to La Serena Villas for the kind hospitality!
Striped Swimsuit is Albion Fit. Use code "Macaroons15" for 15% off your order!
Script Hats are custom order by Bits and Pieces to go.