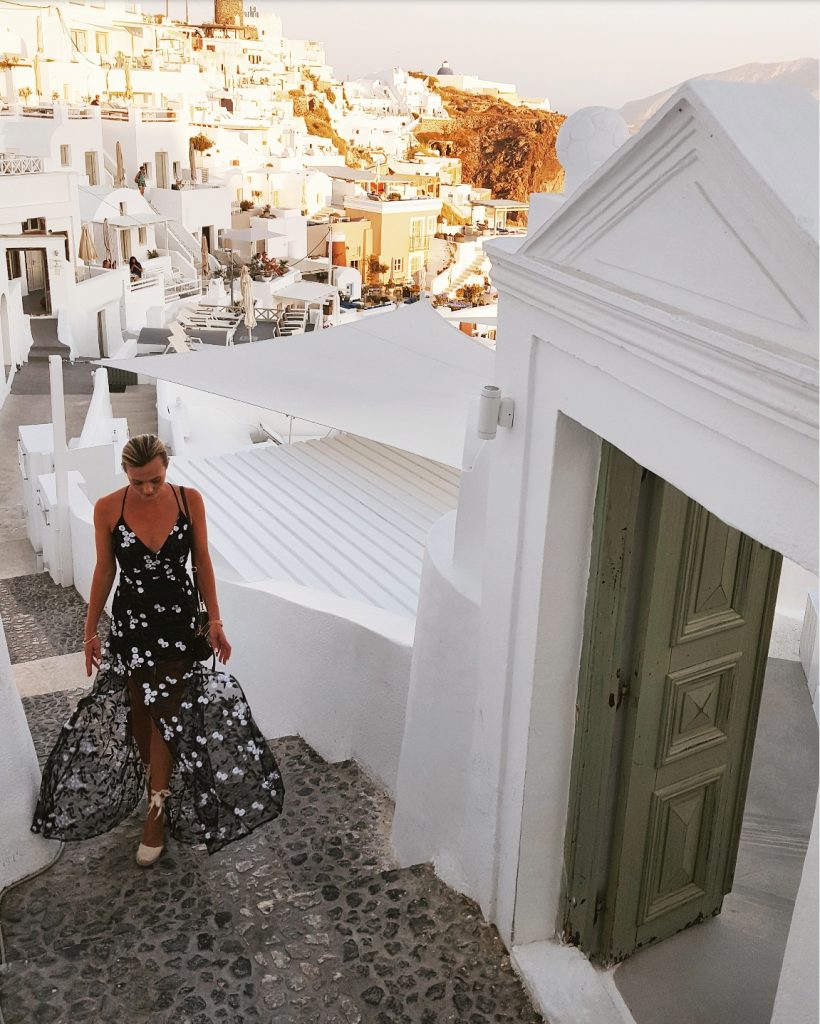 Santorini dreaming should be a song on the radio. Thinking about the sunsets, the way the buildings leave you feeling like you are floating around and not to mention the ocean views are unforgettable. First timers you will feel enamored, smitten, and still dream of being back well after your jet lag has worn.
My husband was the mastermind behind this rather extensive European trip. He also planned our unforgettable honeymoon, and based on that trip; I knew we were in for a great time.  Santorini is unlike anything I have ever experienced. The minute we step foot into the sea of white buildings and star-filled doorways, I knew this was going to be special.
After spending countless hours deep on Pinterest and Google searches, I felt prepared to tackle this romantic city. And in reality, I was very underprepared.  I will be sharing a few of the things I wish someone had told me while packing for Greece. As well as a few things no one mentioned anywhere else, like the hotels stacked on top of one another, the crazy crowds in Oia, and the wild walkways to adventure around the city!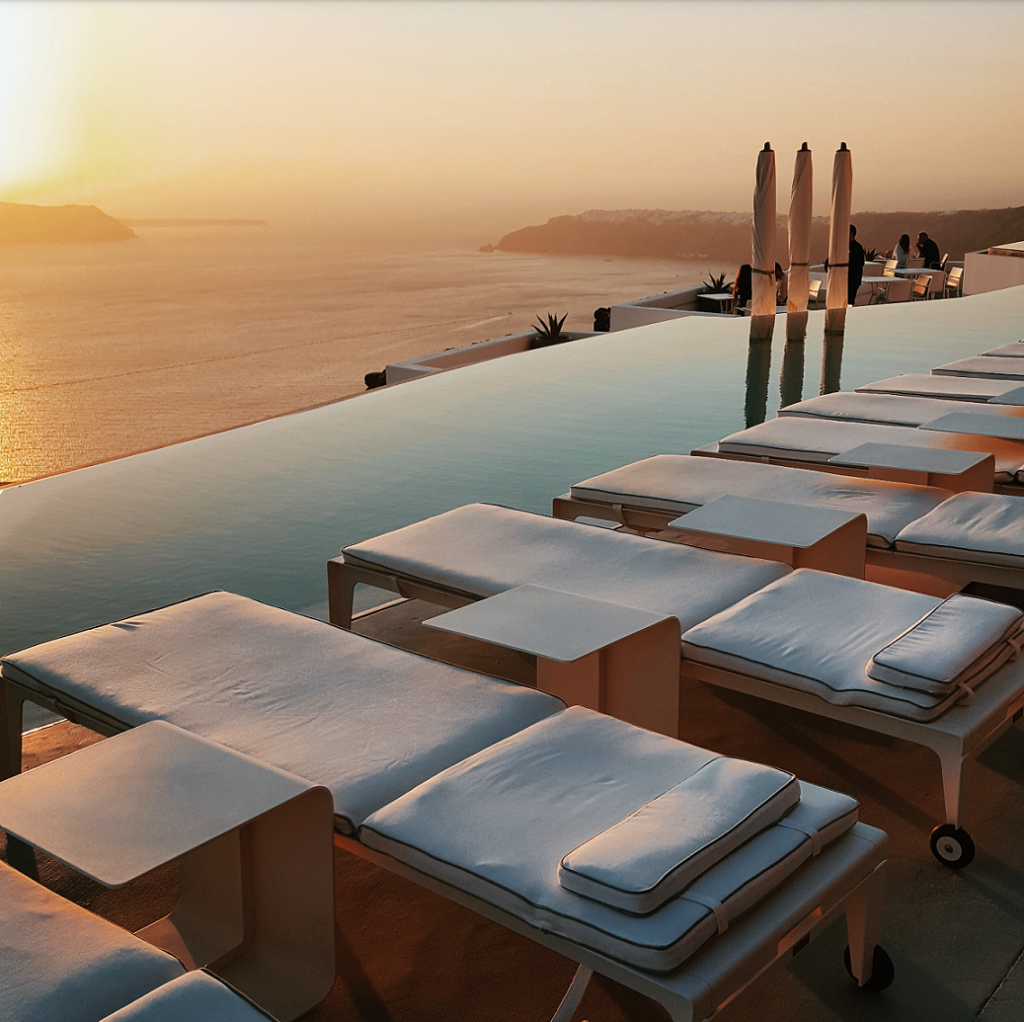 AIR
We flew into Santorini from Athens, which is how most people will arrive. We had previously boarded a boat in Venice that sailed through Croatia and many stops in Greece and ended in Athens. I think that could be another separate post because there is so much information to share!
Our hotel (which we loved) had a crew to assist once we stepped foot outside the airport. A quick drive to the property, two strapping guys threw our luggage on their shoulders and away we went to check into paradise!
STAY
We loved our hotel, did I mention that? Honeymoon Petra Villas was stunning. Initially, this trip was our last big one before baby, so we sort of went all out! We booked the most fantastic room here and never looked back. The staff, the accommodations, pool, food, everything was fabulous. I would go back tomorrow and stay right there.
I loved our room in particular because it was away from the central portion of bedrooms, and had a private pool! We spent almost every afternoon lounging by the water and eating Greek food. It is a dream vacation getaway. The bathtub was also a stunner. Large windows to view the cruise ships coming in and out of port. Stunning sunsets and even better sunrises.
EAT
When it comes to eating in Santorini, we did not have many places booked. We wanted to get to our destination and ask around, plus the concierge at the hotel have many recommendations. Our first night we tried just to walk around get the lay of the land, so we had pizza and a view.
The second night we booked a table at Grace Hotel's restaurant, Santoro, and it is quite an experience. The food looks like art, and the sunsets here are hard to beat. It was a little too fussy for John's taste, but I was delighted! They had this fish entree that came enclosed in a puffed pastry that was amazing! Probably one of my favorite meals the whole trip.
We also wandered into Oia for an evening to see what the fuss was about here. We stumbled upon the most precious Italian spot with perfect ocean views, and the food was to die for fabulous! It is Lotza, and I would make a reservation at one of the outer tables right at sunset! It is worth the stop!
We also walked over to Thiera for a late lunch the day we checked out and loved our meal at To Briki. We heard about this place from another couple staying at our hotel. The food was fabulous! Also, be sure you try the coffee. I have no idea what the Greeks use or why it is so good, but Greek coffee is lovely.
Honeymoon Petra Villas had great food as well. Each morning we had a buffet style breakfast on the terrace. Perfect start to every single day, that view is hard to find anywhere else. So many options as well as plenty to hold you over for most of the morning. We would order a snack and drinks at the bar restaurant, Paraga, then wander out for dinner. There was one night we just wanted to do nothing so we just did that and it was terrific!
There is a small grocery store just across from Petra that has American owners, and they were so helpful! We would stop by and grab snacks for the room or bottles of wine, and they helped us with all of it!
PLAY
Overall Santorini is meant to be a getaway to rest, restore and relax. We were looking to do just this as we were coming off a long cruise and had walked and toured extensively. The one activity that we planned doing was the sunset cruise.
We were so happy with the experience! The hotel has the Santorini Sailing Center, and the boats are great, crew cooked us a meal right on the ship, and it was a day we are so happy to have had in Santorini! Jumping off the catamaran was a highlight of our entire trip!
We did a lot of walking, touring the different parts of the island, and some treasure hunting for me! I like to bring back one small item from every place we visit, and this spot had plenty of cute shops.
There are a lot of activities available like ATV's, sightseeing tours, wine tasting and other over water activities!
TIPS
So here are the dirty details! The ones you might not see on any websites as no previous material warned me! Santorini is an island. The islands built into a cliffside, and that means it is rugged, think stairs. Think lots of stairs!
Ladies leave your heels at home. We watched women trying to climb up and down the stairs in dresses and gowns with heels, and it was impossible. The streets are uneven as are the many stairs you will climb when walking to dinner (no other transportation no Ubers!). I also recommend a sandal that has a back closure for walking as the walkways and streets are slick. I slipped a few times!
There is a mighty wind that kicks up in the evenings. Another element I wish someone had mentioned as I packed quite a few summer dresses that were very quick to fly over my head! One night it was so intense we had to tie my dress in a knot so I could just walk. I would also bring a sweater or jacket for the evenings as it is chilly. I had a sweatshirt for our cruise, once the sun is down it is cool!
Also, for the packing. We were lucky our hotel had handlers to manage our heavy American luggage, we were spending three weeks in Europe, and this was our last stop, but still! If your accommodations have someone to help, that will be amazing because we watched couples sweating dragging their bags up and down stairways. It is not for the faint of heart. Be prepared and make sure you arrive off as close to your property as you can be! One reason I loved our hotel the check in and luggage was seamless!
Lastly, we stayed in Thira. Most of the beautiful images you will see online are of Oia. We traveled here by car one evening as we had to see it. Once we were there, I could not wait to leave. I was pushed multiple times by the crowds into walls. People were animals trying to see the sunset at the tip of the island, but newsflash, the same sunset happens all around the island!!! We ended up trying to turn around and were almost smashed, it was even windier here and just beyond crowded. I have heard daytime is much better as the restaurants are quite busy with tourists trying to see the sunset at night. I have a photo of a walkway we stumbled upon, and a couple told us they had been searching for three hours for this spot! People lined up to take that one image; it was unlike anything I have ever seen! Not what you read about but just here to keep it real!
I say all of this only because I hate being disappointed or disillusioned when I arrive in bucket list destinations! I always try to take the good and the bad and share both! Of course, there is way more to love about this place, but I honestly believe a few of the tips above will be game changers for anyone traveling to Santorini!
This week, in particular, I have had multiple inquiries about Greece. So this post especially has been a long time coming to your inboxes. I wanted to share as a part of my Winter Getaway Series. I love to travel more than anything in the world. Planning our trips together is always a highlight and joy to prepare. Such a fun activity to do together and a gift that you can keep on enjoying for a lifetime. We can't wait to show our little guy the world. Traveling and experiencing new places always leaves us wanting more. Greece was at the top of my list, and I would go back anytime!