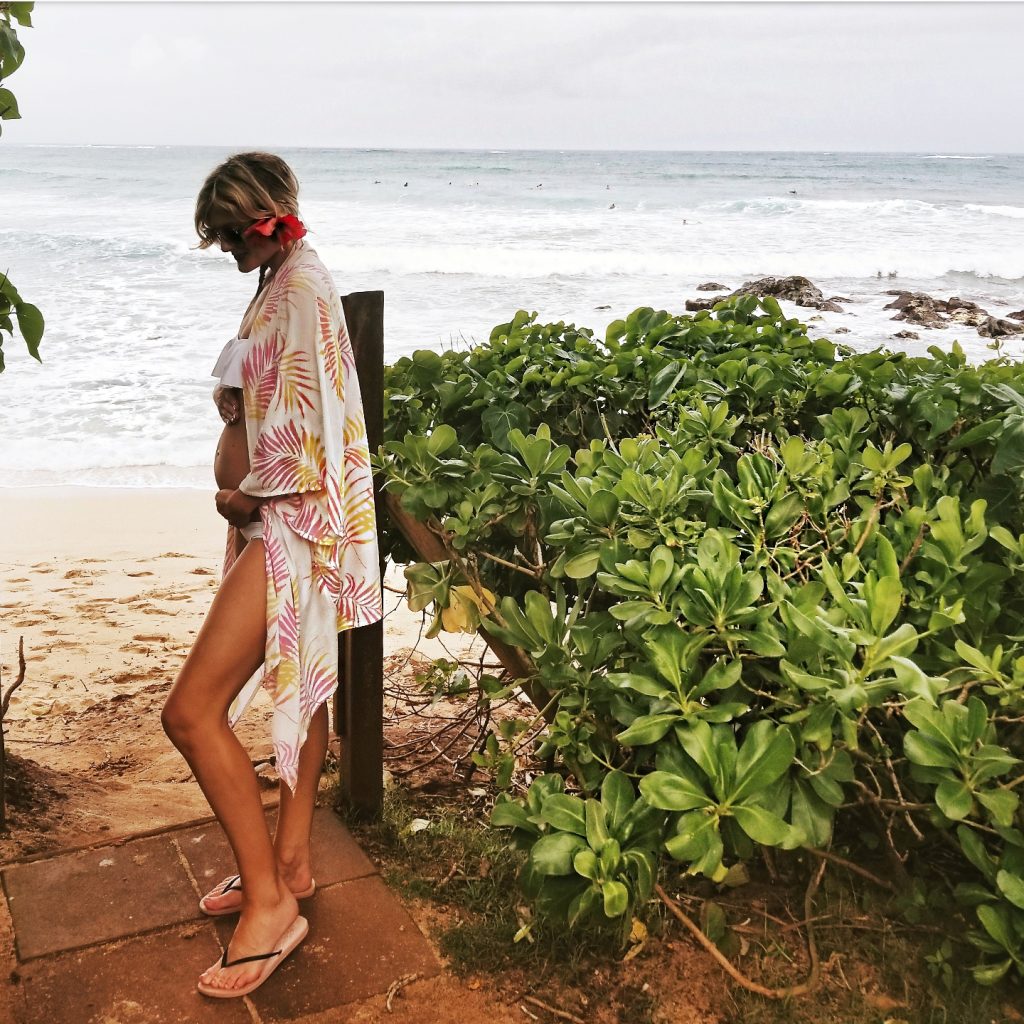 Hawaii never get's old! This trip was our fourth visit, and I could go every year and never tire of our time spent there. I could do without that eight-hour flight, but worth it in the end! When picking a babymoon destination we wanted a place where we knew the beaches were pristine, the sun would be shining and views fantastic!
I tell everyone about Hawaii. I adore everything about it. Most likely because it is the first place John and I went when on a trip as a couple (scroll to the end for a flashback to our very first trip to Oahu in 2009). It will always hold a very dear place in my heart. We have visited Oahu, Maui, Kauai, and Lanai.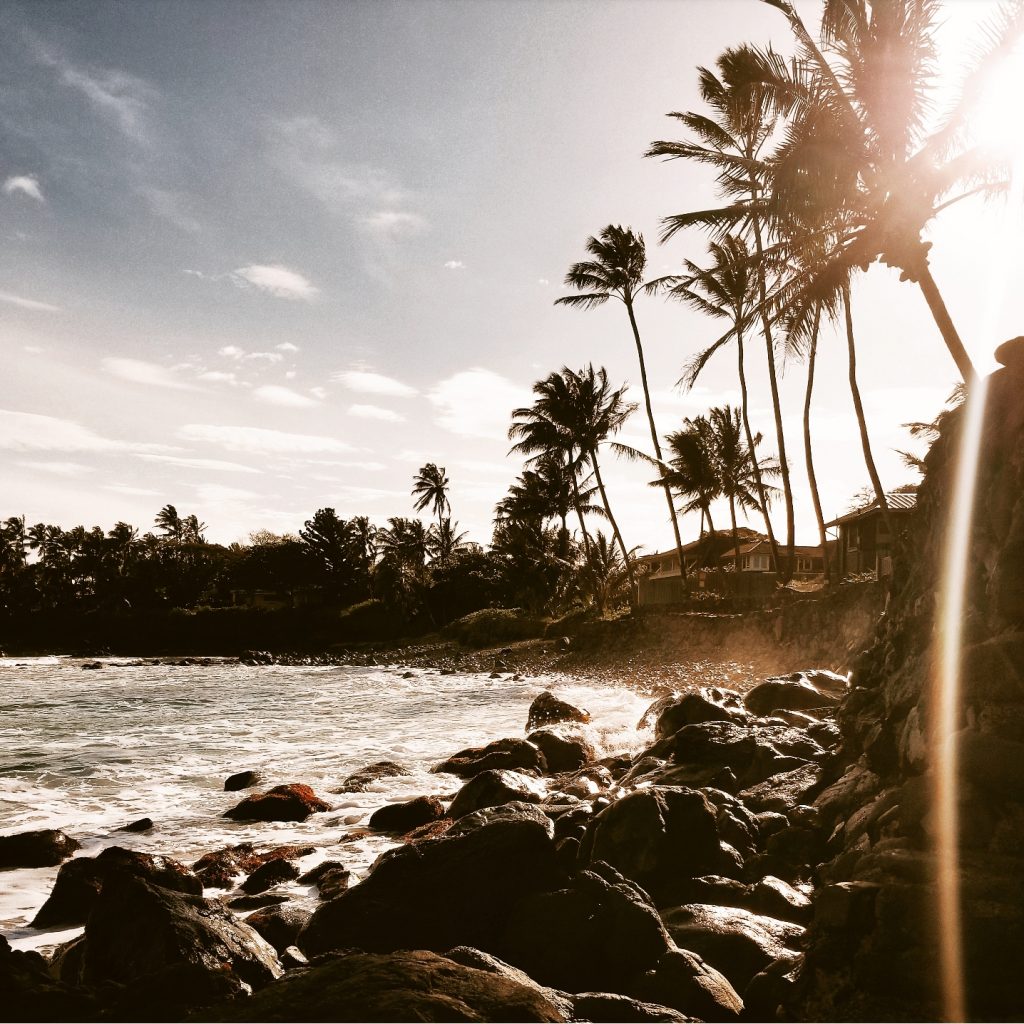 PART I – PAIA
Each island holds a little something different than the next and each trip has been unique. Since this trip was our babymoon, we were all about soaking in our last few months before baby boy arrives. We made relaxing the name of the game! We ventured up the Hana Highway to Paia. A small beach town on the North Shore of Maui that is a great pitstop for fuel and food as you pass through town on your way up the Road to Hana.
The cute little Paia Inn was our home for four nights, and we spent the time wisely! Great food, beaches, plenty of Green Sea Turtles, and walking. We opted out of having a rental car this trip as we had already been to Maui twice before so felt that we could enjoy the area car-free! A few of my top recommendations can be found below in this charming beach town.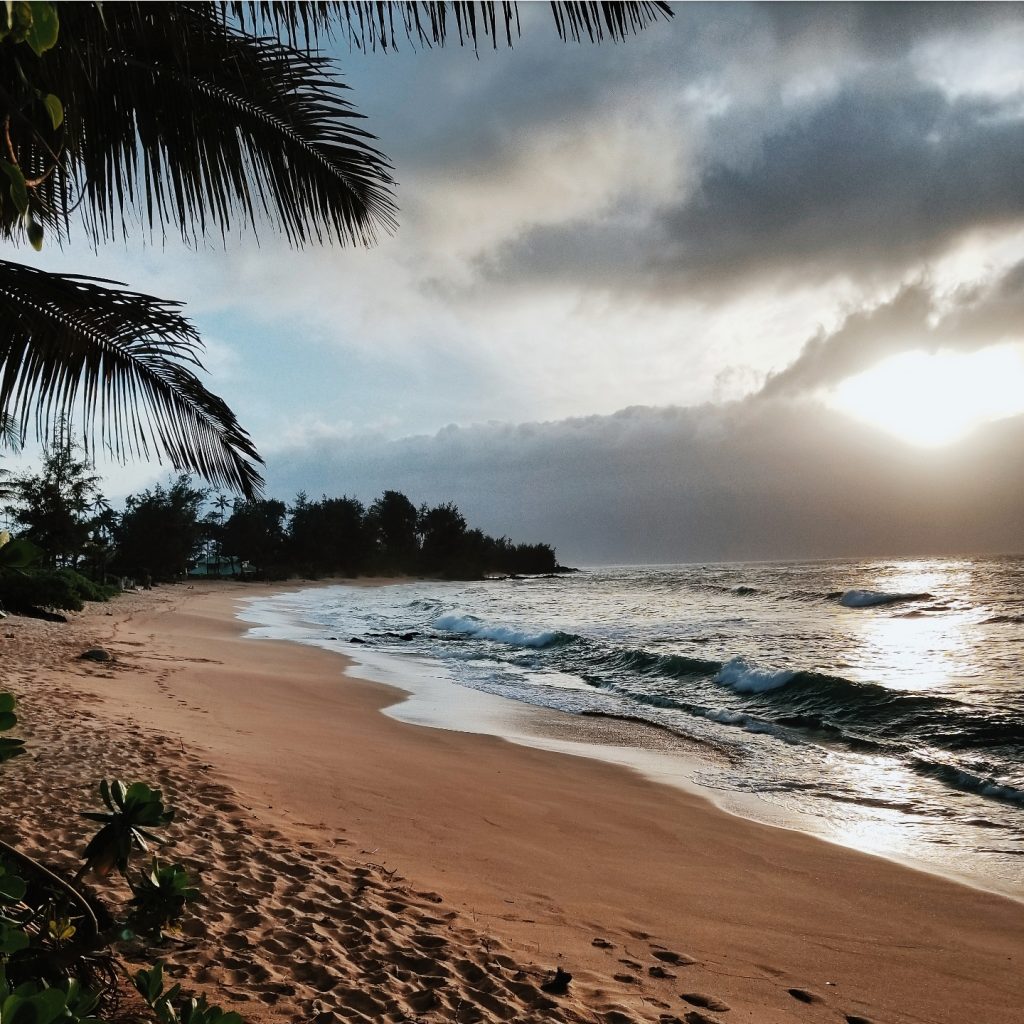 EAT:
Flatbread Company was our first stop after a day of traveling; it is also one door down from our hotel, so we managed to eat here twice. Once at the restaurant (which boasts long lines but great for groups) and once out on the water as the sunset! Seriously that pizza is terrific, and the salads are pretty fabulous too!
Paia Inn Cafe is fabulous! We enjoyed spending my birthday brunch here. A straightforward spot for us to enjoy since we were already staying at the Inn. Fresh options like juices and fruits as well as beautifully plated meals. I loved the Huevos Rancheros (sans chorizo)!
Paia Cafe & Coffee Bar was probably my top recommendation. Not only were the cappuccinos to die for but they had one of the best Acai Bowls on the island! We ate here twice and went for an afternoon snack one day while out shopping! Highly recommend you make a trip here if you are traveling north to Hana or just stopping in town for a day of shopping. They also offer happy hour and live music in the evenings!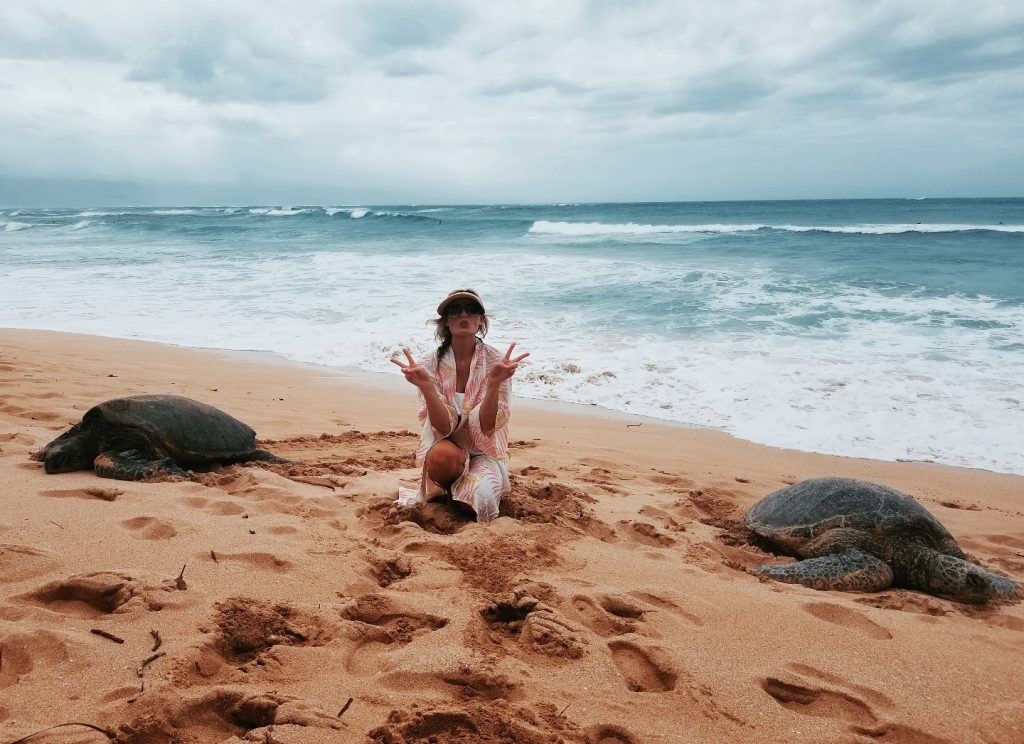 Mama's Fish House is a North Shore staple! It is hard to say you are going to Maui and someone does not mention dining at this establishment. I would say reservations are required as this place is a hot spot no matter the time of year. We were unable to get a reservation initially but bumped into two Minnesotans who ended up being so generous to book us a table here for my birthday dinner! We lucked out. The overall vibe is just old school Hawaii you will want to be there before the sun goes down to enjoy the view and the overall ambiance!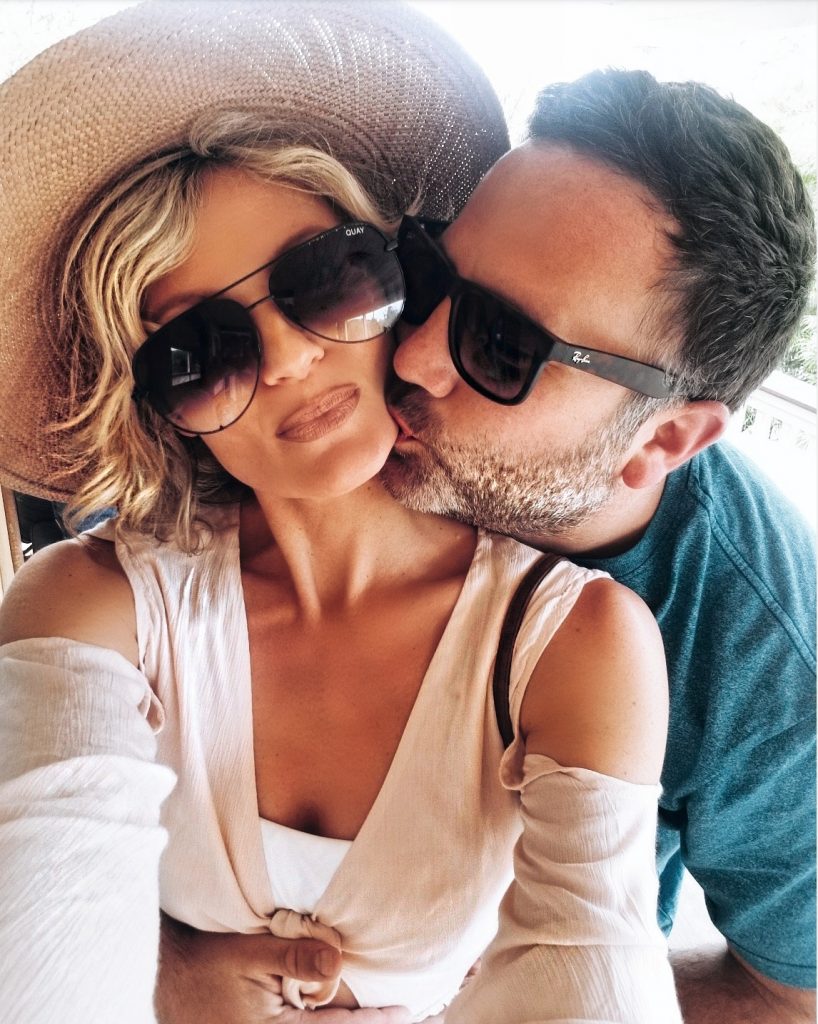 Others to note Paia Gelato, Cafe des Amis, Paia Bowls, Cafe Mambo, Mana Foods, Milagros 
PLAY:
Shopping is abundant in this quaint North Shore stop. We have driven the Road to Hana before which is the main attraction. It is a full day's activity so if you are planning on going go prepared! It is a beautiful and windy drive with waterfalls, red and black sand beaches, and breathtaking views. Oprah even has a house here! So you know it is good! Also, there is a line of food trucks on your way up to Hana, and the Island Chef has one of the best places on the island! John and I were there over six years ago and still talk about it!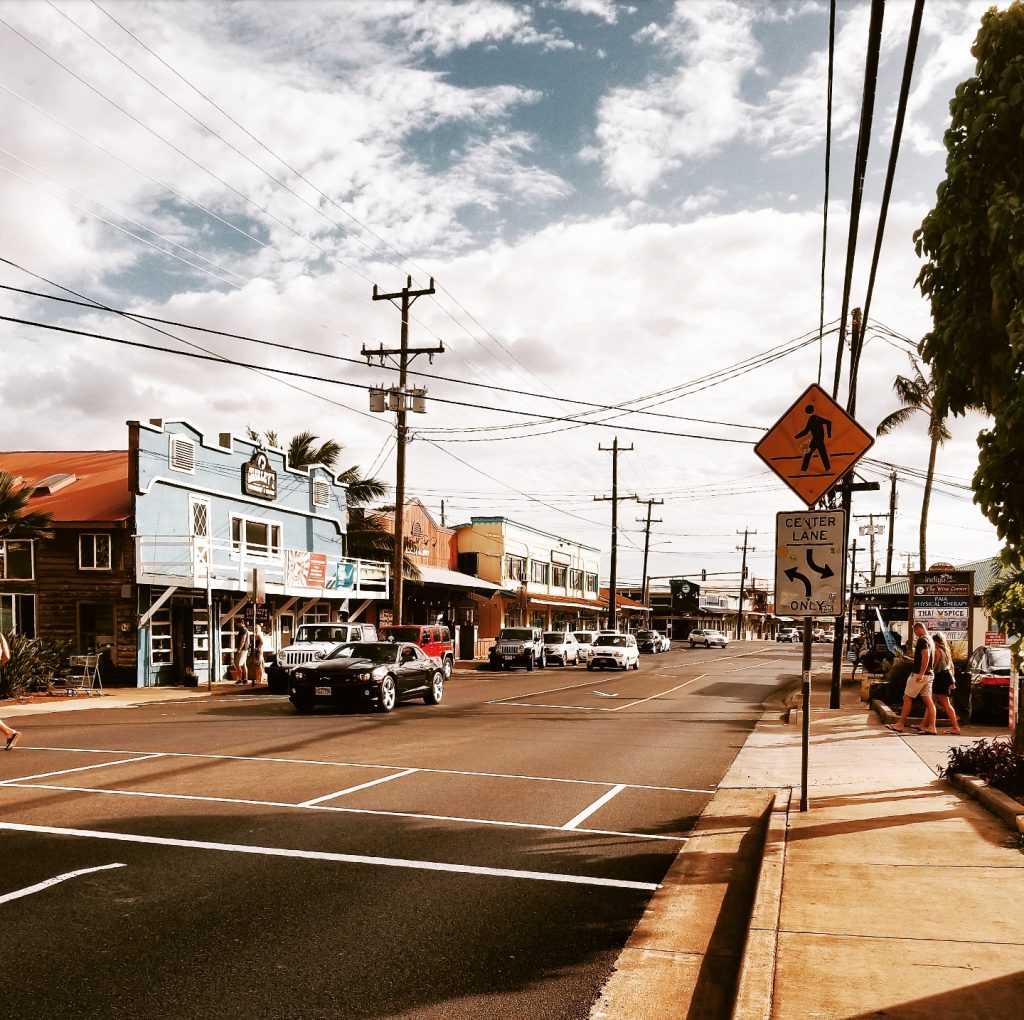 After our last trip to Maui, we made a quick jump out in Paia. We visited a shop or two, but we knew we always wanted to come back and spend more time. It is a quick drive from the airport, so you have access to the rest of the island if you want to book excursions like helicopter rides or whale watching tours. We didn't do that here, but we have in the past, and it is well worth it!
Maui offers it all! Acess to the beach was key. Our Inn sat right on the water so we could see the water from our balcony. I loved where we stayed because all the stores, cappuccinos, and acai bowls were a stone's throw away. We would walk the beach in the morning, grab a coffee and bite to eat and wait for the morning sun showers to pass then head down to the water! Pretty dreamy and perfect for a relaxing babymoon!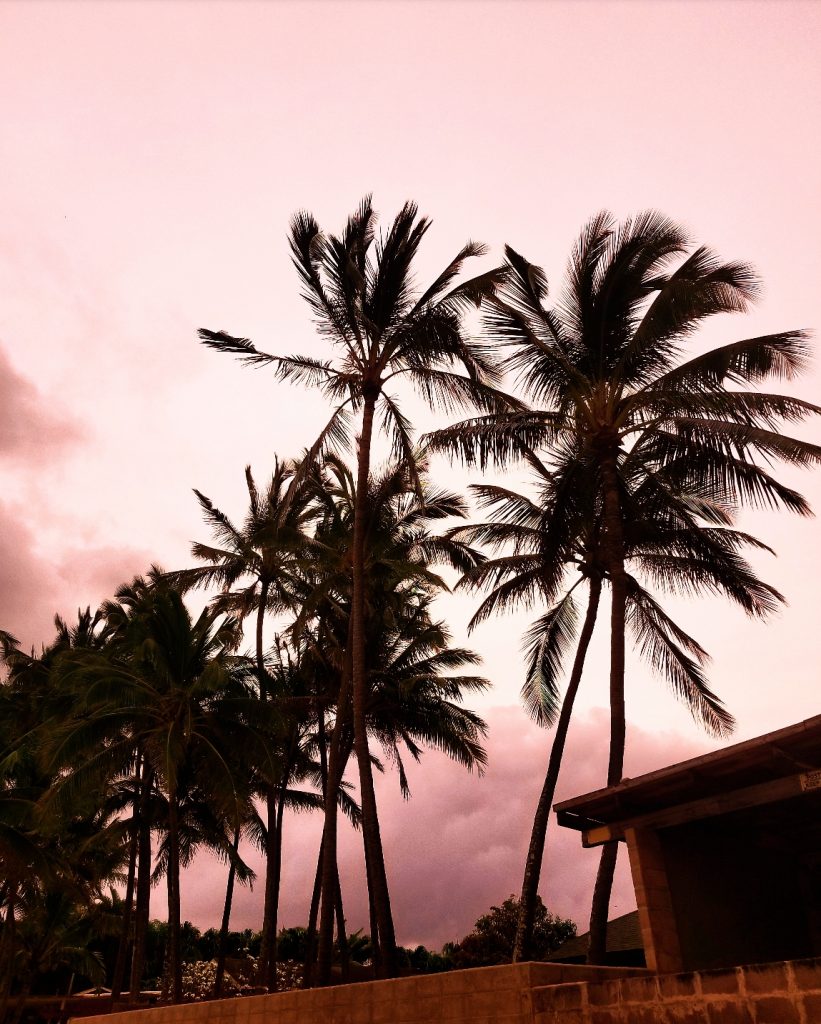 PART II – LANAI
After our four days were up, we packed our bags and hailed an uber for one of the most exciting airport rides and drivers yet. The uber drivers were all a little colorful in their backgrounds and lifestyles, but made for an adventure as usual! But such an easy way to get around and prices were less than a taxi service. Once in Lahaina, we departed on a forty-five-minute ferry to the island of Lanai. I love that we could skip the afternoon at the airport and relax on an outdoor boat ride. Also as we were pulling into the harbor, spinner dolphins were trailing us in our wake!
Lanai is tiny! Mainly driven by tourists visiting the Four Seasons Lanai, the city itself only has about 3,000 people. Everyone knows one another, and there is a compelling sense of community on the island. Everywhere you go people are waving at one another, and the workers are all so joyful. First time I have passed a cleaning crew and said Aloha and they said thank you so much for staying with us with a big smile! Like, okay what is in the water here? It seems like it is pure happiness.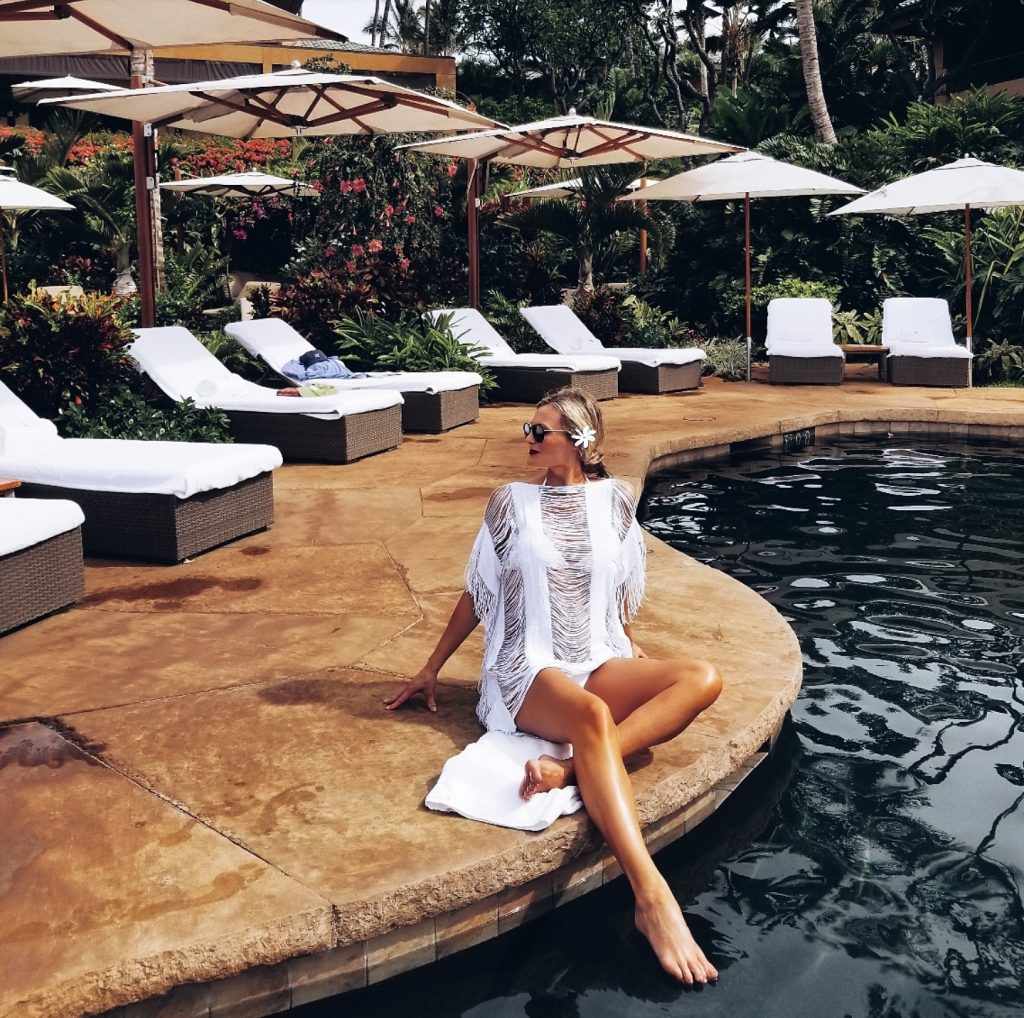 The Four Seasons is gorgeous! Grand and spacious with lush tropical greenery and pools overlooking the beach. We wanted two different experiences and knew that ending here in Lanai would be a little bit of luxury! The rooms are newly renovated as is the entire property! Everything has a Balinese feel, and we loved it! The staff was over the top kind to us! Everyone was into our baby, and they asked us to please come back when he is little, so they can all meet him.
Every morning the pool staff would greet me and then welcome the baby asking me how he was doing today. Adorable! I have a hard time not falling in love with the hotel crew everywhere we go! I cried when we left Bali, and they all sang to me in the lobby, felt like I was leaving my own family! Ridiculous!
EAT:
NOBU is one of my favorite spots in Dallas, and lucky for me the hotel has one right on property! We were such fans we booked it twice! John had not ever had the exceptional opportunity of dining here and after drinks and an evening on our sunset tour he was very pleased with the meal! Ask him about the Japenese Spare Ribs and his new found the love of Mochi! Whole Foods has something similar if you want to try and can't make it to Nobu Lanai!
Hotel Lanai (currently undergoing a remodel) is another quaint place to stay on the island, and they have the most adorable restaurant, Lanai City Bar & Grill. The Four Seasons offers a free shuttle to transfer you up to the City of Lanai, and it is a fun break from eating on property! We enjoyed seeing so many locals arriving that evening for the live music. The food was terrific too! We ran into our server from the night before at Nobu here, and she was just the sweetest!
Malibu Farm is the onsite restaurant by the pool and beach. Offering fresh and healthy options, I was so in love with the menu! Big salads and hummus as well as refreshing iced coffees which were my big splurge on this trip! Also, they bring you little trays right to your lounge chair, so you never need to leave your comfy spot or view for a quick bite!
PLAY:
Sweetheart Rock is such a perfect spot to hike when you need to get out and move your legs! We enjoyed taking morning walks post breakfast and early afternoon to get out and stretch! The views are beautiful, and the beach is spotless, and the hotel will set you up with chairs and water for the day. I shared a quick video from this spot on my Instagram! Such a gorgeous view from way up high and easy to hike even being pregnant!
We booked a few activities on Lanai, and one was a snorkel tour which ended up being completely private! We were shocked when we arrived it was just the catamaran and the two of us! The harbor is about a 2-minute drive from the front of the Four Seasons to the water, so it is super convenient to book excursions here. We spent three hours fishing and snorkeling, and it was fabulous! I would highly recommend this excursion if on a babymoon. Swimming is great for pregnancy. Just remember not to jump!
Another fun activity was our sunset cruise. Unfortunately, we did not see much of a sunset due to a cloudy evening on the water! We did end up meeting many fun couples (everyone was either on their honeymoon or babymoon!). The staff is so lovely and took us on a little tour of the island, took photos, let us each drive the boat, and served snacks and drinks! They even had a non-alcoholic drink for all the preggos on board!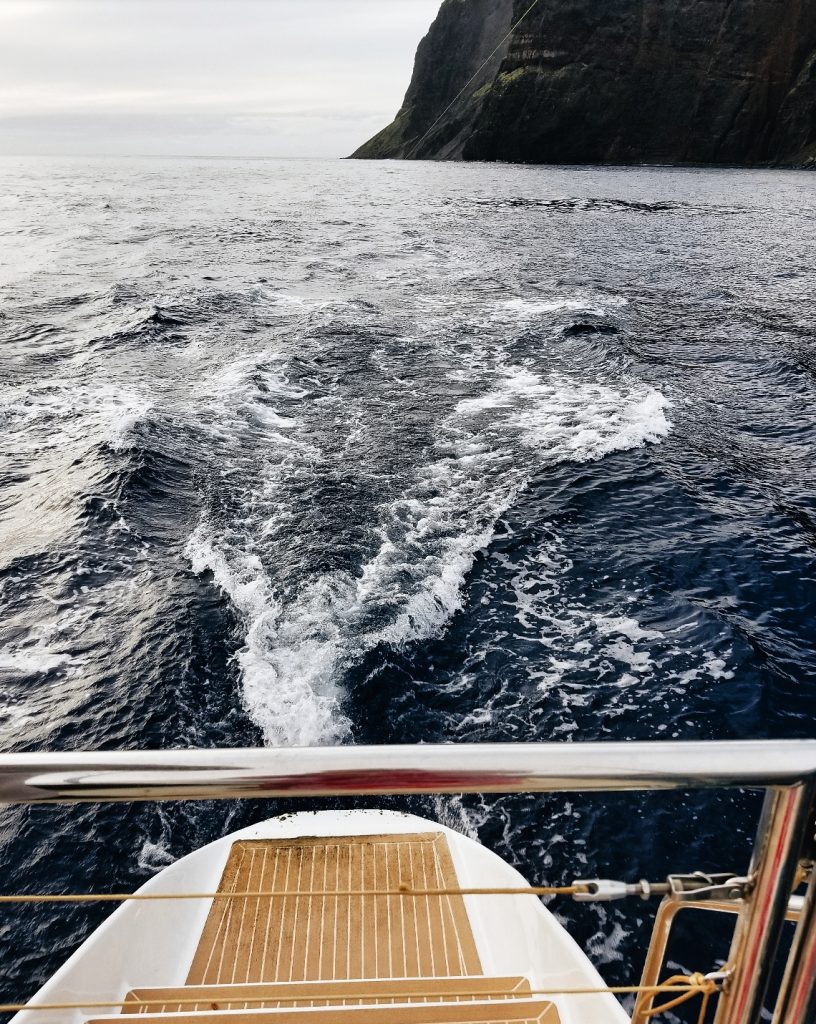 We had quite the pleasant little surprise and were spoiled by the Four Seasons with a late birthday gift and babymoon celebration in their private Sanctuary! We enjoyed this pretty spot for the entire day Saturday while relaxing in our little getaway. Fresh fruit and chocolates from Malibu Farms and a fun Watermelon infused drink for me! It was so very kind, and we felt spoiled! A fun way to unwind and enjoy being pampered a bit!
4×4 Jeep rentals are encouraged for exploring the island and visiting places like Shipwreck Beach and Garden of the Gods. I will be the first to mention after experiencing it for myself and being 25 weeks pregnant; I would not recommend this if pregnant. The ride is extremely bumpy and not comfortable at all.
If I am honest, I was in tears by the end of it! After two hours of up and down bumping, I could not handle it any longer! We wish someone had told us it was this treacherous. Of course after chatting post adventure with other pregnant ladies at the resort, many had the same experience as we did. I repeat not great for babymoons! A jeep excursion would have been suitable if I was only there on vacation or honeymooning but again definitely nothing compared to the snorkel and the sunset cruise so save your time, money and lunch!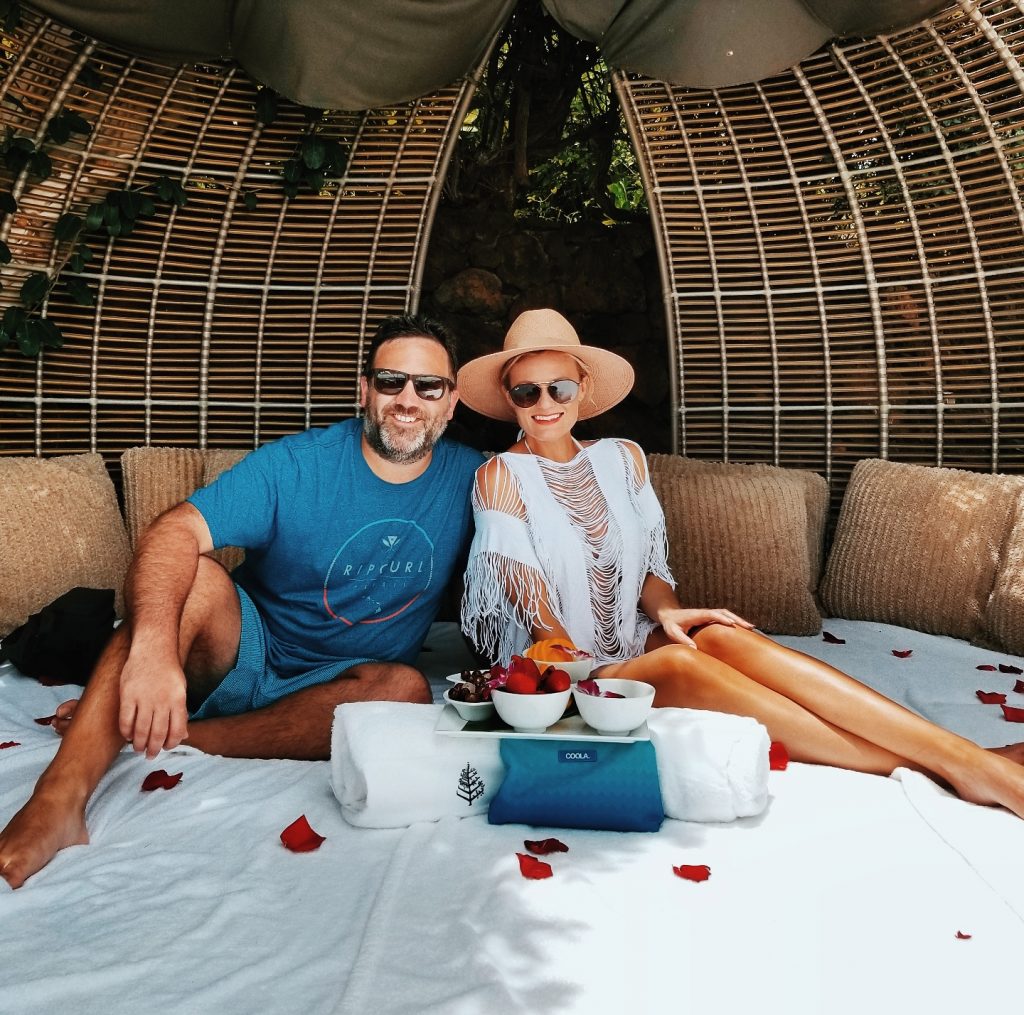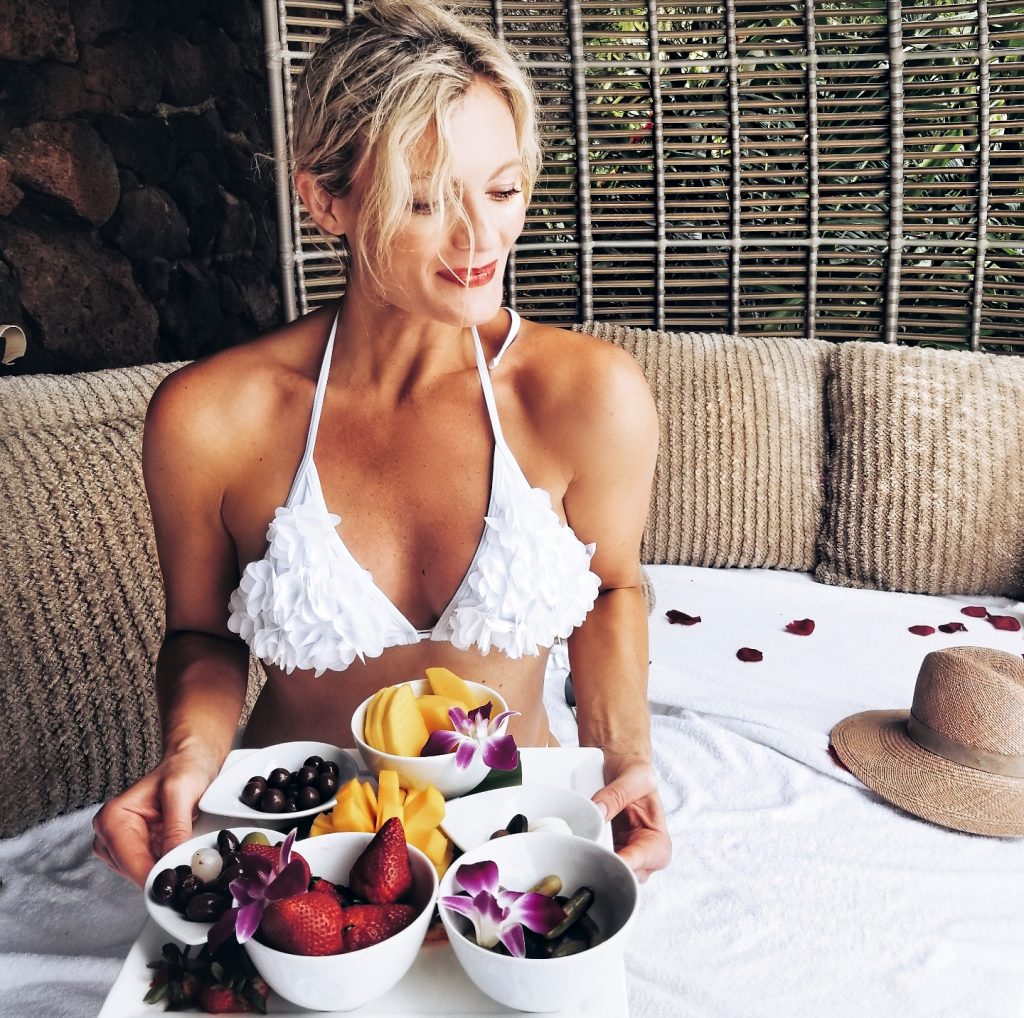 OVERVIEW:
If you have yet to see Hawaii, go! I can tell you watching the humpbacks jump around during whale season is one of my all-time favorite highlights of all. We were a little late this year, so we missed them, but it is unlike anything else!
We plan all our trips and enjoy doing it as a couple! It takes a lot of time, but if you lived in Minnesota and made it through this last brutal winter you know there is time to plan in the colder season! We somehow escaped the 15 inches of snowfall by a day, had my lovely husband not called and made the quick change, I have a feeling we would have missed part of our travel plans due to weather!
I can say my birthday was saved by not seeing the snow and our trip felt even more glorious soaking up the sun knowing we were missing the craziness back at home! I would recommend Maui or Lanai as a honeymoon, getaway, babymoon, or winter destination in a heartbeat! Each time we go, it feels like the first time. Hawaii has so much to offer, and I hope you enjoyed reading this!
*Also one last note to any pregnant ladies, I felt like traveling eight straight hours on an airplane pushed me a little. We broke up the flight on our return trip stopping in LA, which did make it feel a bit more comfortable. I could not have flown if I was much further along due to being uncomfortable and having the need to frequent the restroom and move about the cabin.
We bumped our baby trip up a little from our original timing due to these primary factors! I only mention it as you may want to think a bit about your timing as it is a long and exhausting day of travel. We started our day at 6 am and flew backward 5 hours so by the time we made it through two flights and checked into our hotel, we were sitting down to dinner at about 3 am back home! Just a thought, all worth it, and doable! Anything is possible if you plan it right!
Thanks for reading and thanks to my husband for being the best travel partner and future dad to our baby boy! Also to the Four Seasons Lanai for such a lovely and memorable time! We will be back, I am determined to have someone get married at this beautiful place, and we want to show our little guy all over Hawaii!  Mahalo!