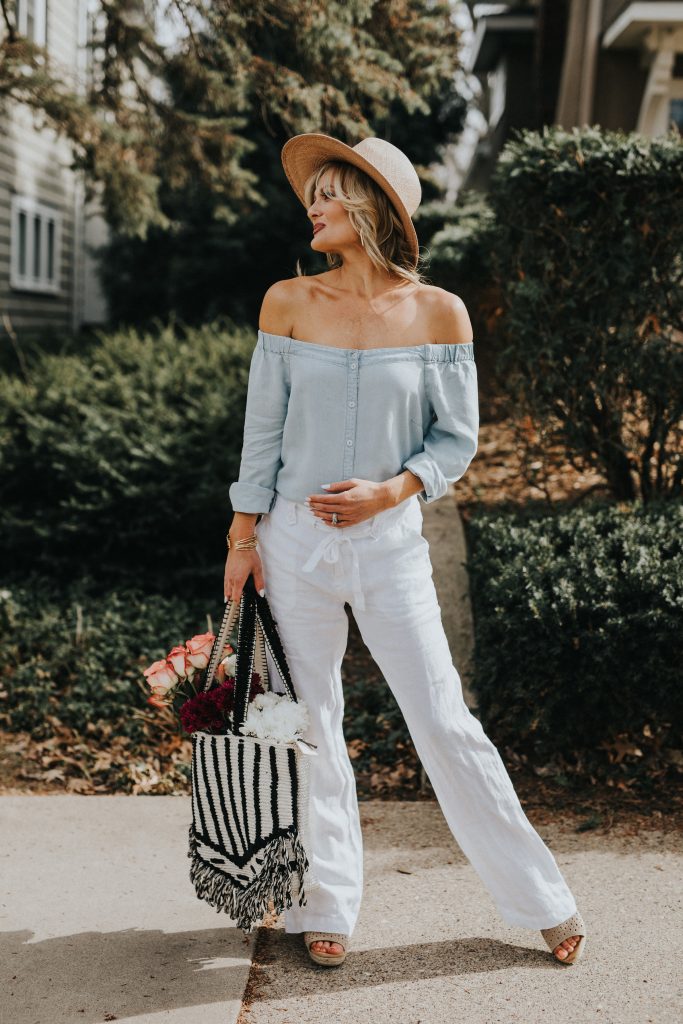 I get asked a lot about my feelings towards motherhood and transitioning into the mommy role. Would you believe the idea still sounds so foreign to me seven months later! Some days I completely forget that I am even pregnant!  Then the fatigue sets in, my clothes don't fit, and I quickly remember there is a tiny human growing inside my belly.
It is an absolute miracle to watch him grow but a mindblowing journey! I do not say that lightly either.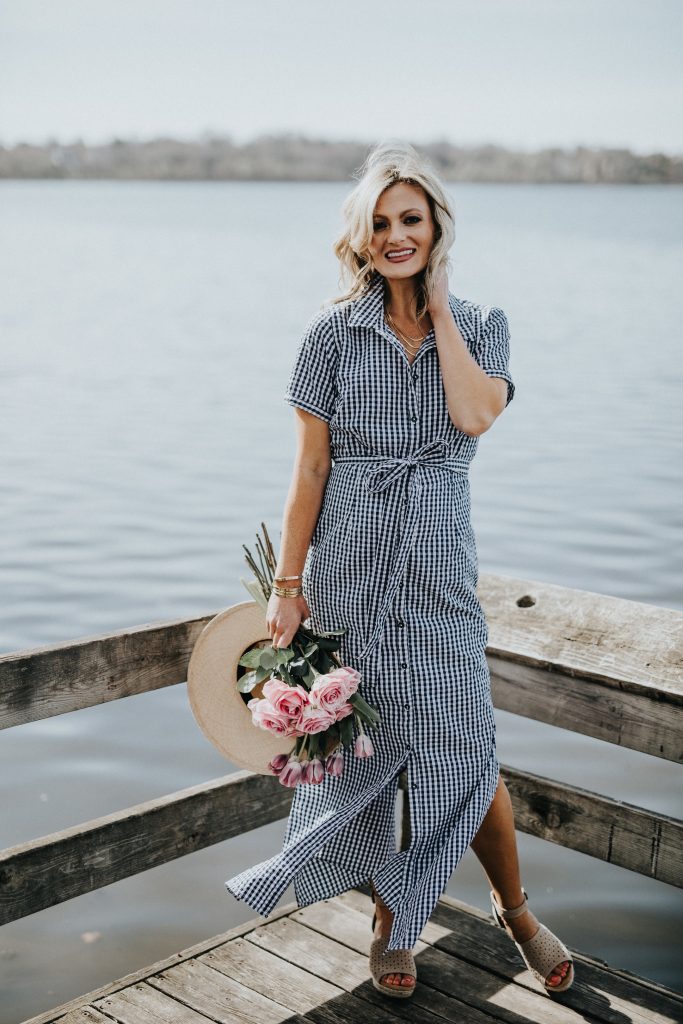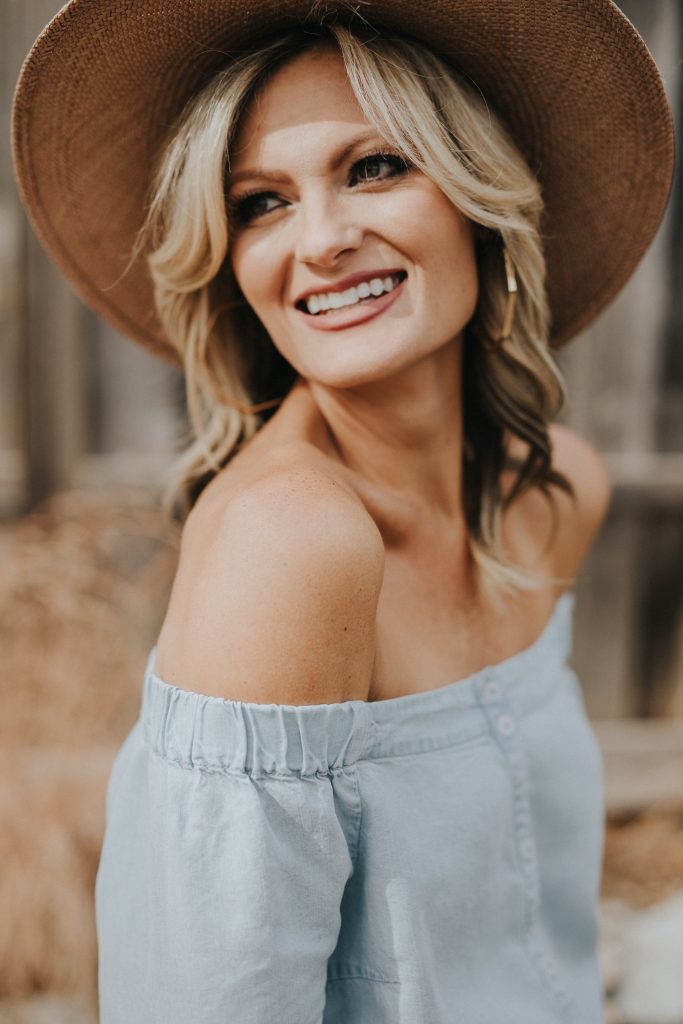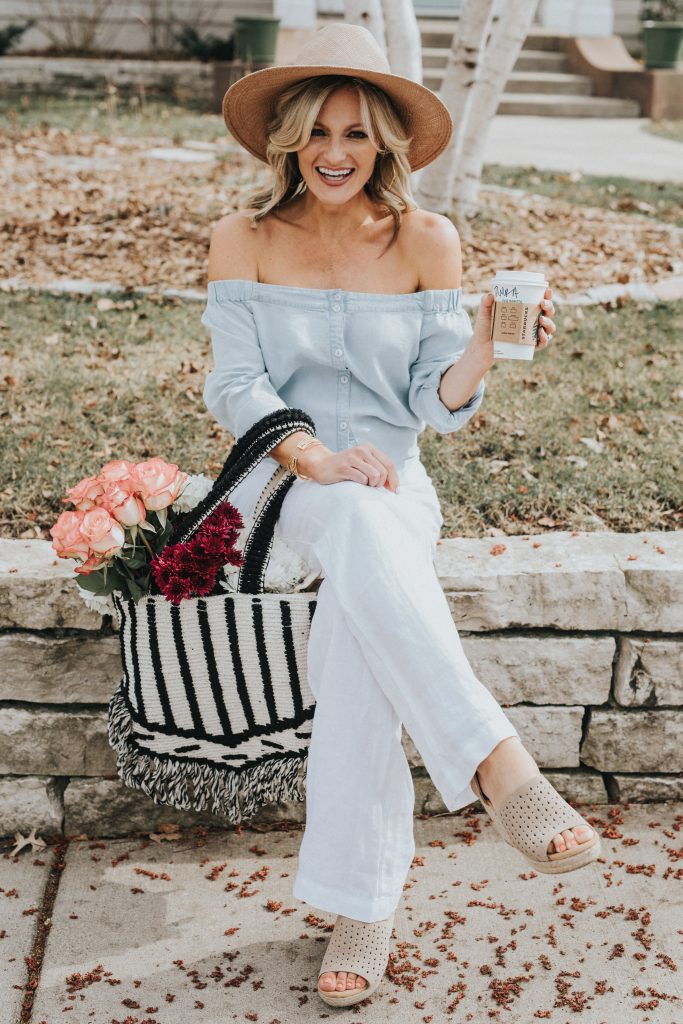 I have shared a bit about the process, and I plan to share a bit more as we start our third trimester because things are getting real! While going through the journey of being pregnant, I can't help but think about my mom, her mom, and all of my mommy friends who have gone before me.
When Sanctuary Clothing asked me to partner for a special Mother's Day feature, I felt honored. Sanctuary is a brand who has swooped in and supported me from the beginning of my blogging career. They have also been so supportive of me while transitioning into the mommy role. I have been told no by a few brands due to the pregnancy and even had a contract revoked. A soul-crushing experience, but seeing how open and receptive they've been means the word.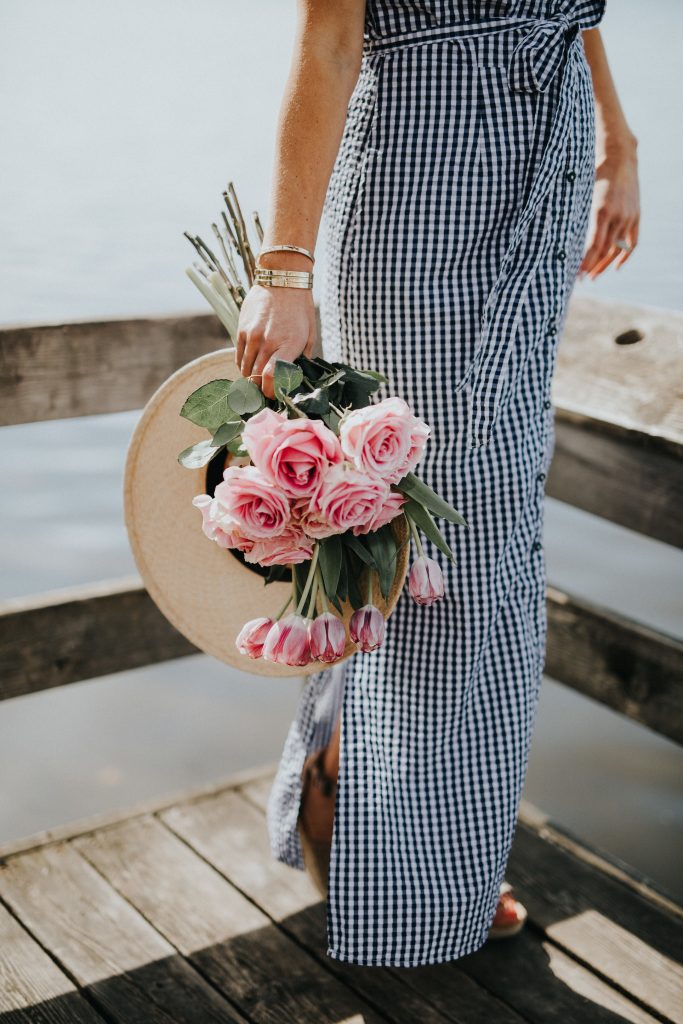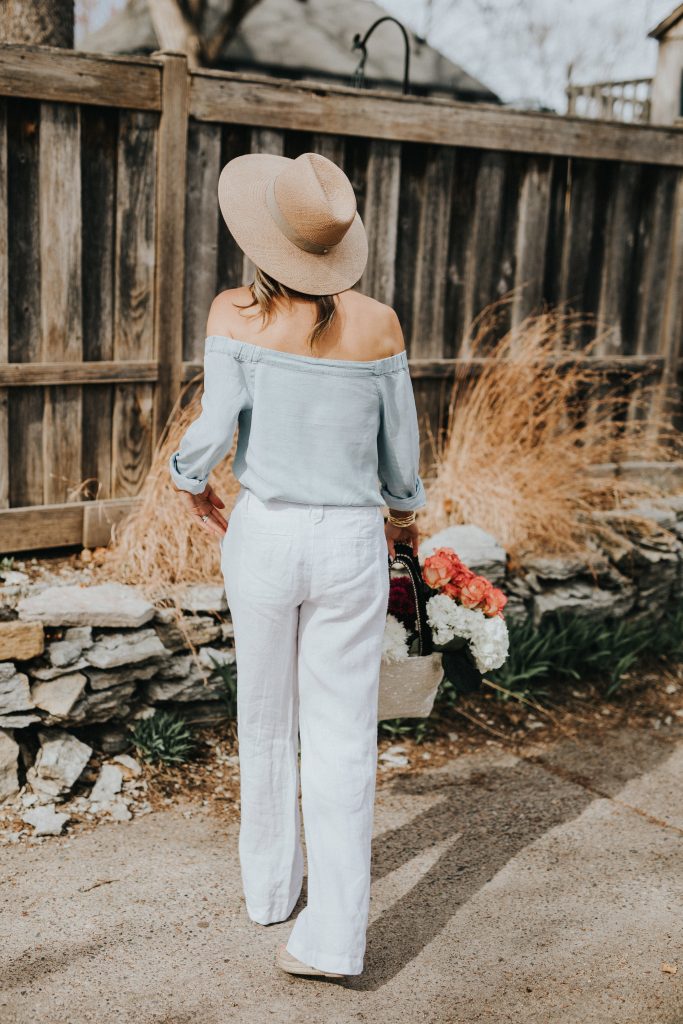 Their team was quick to recommend items that would be comfortable for me as I experienced growth. That has been one of the hardest adjustments and challenging at times to want to get dressed.
Sanctuary luckily has options that I have been able to wear all through my pregnancy and two that have been absolute lifesavers! I live in my Boyfriend Button down (comes in four colors)! Also, their adorable Brigade Joggers are comfy and fit below the belly and so do the Shoreline Linen pants. Love all their dresses and comfy little jackets too!
I am sure you have seen these splashed in my stories on the regular as well as on my Instagram! I wear a lot of Sanctuary and for all occasions! Think airplanes, relaxing at home, weekend brunch, they go everywhere!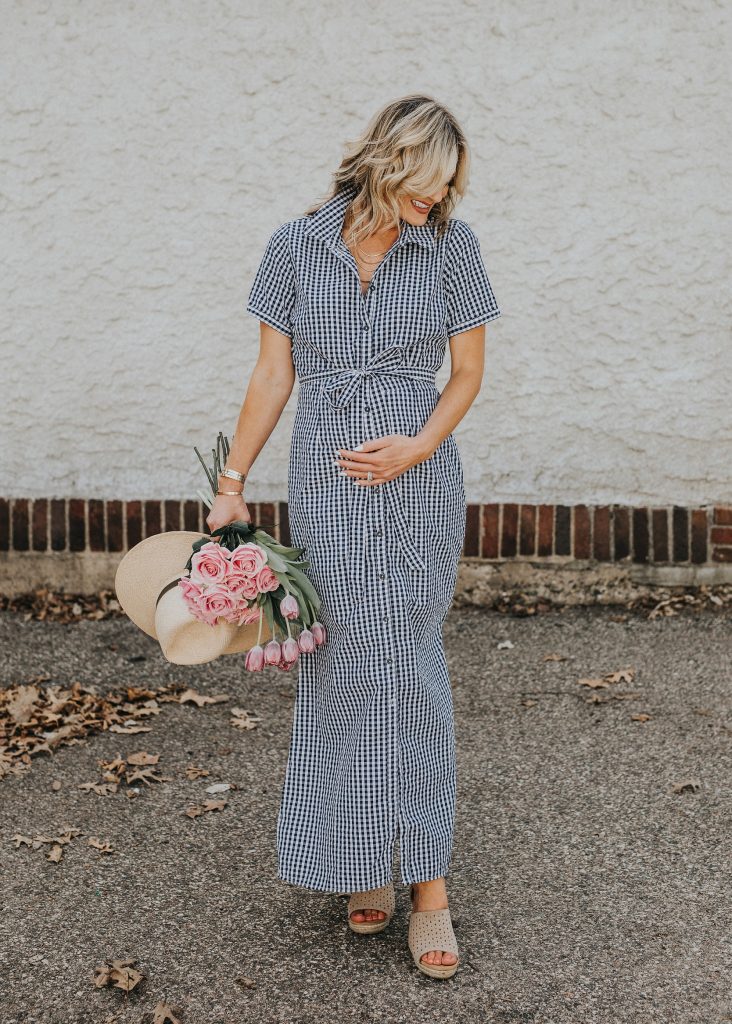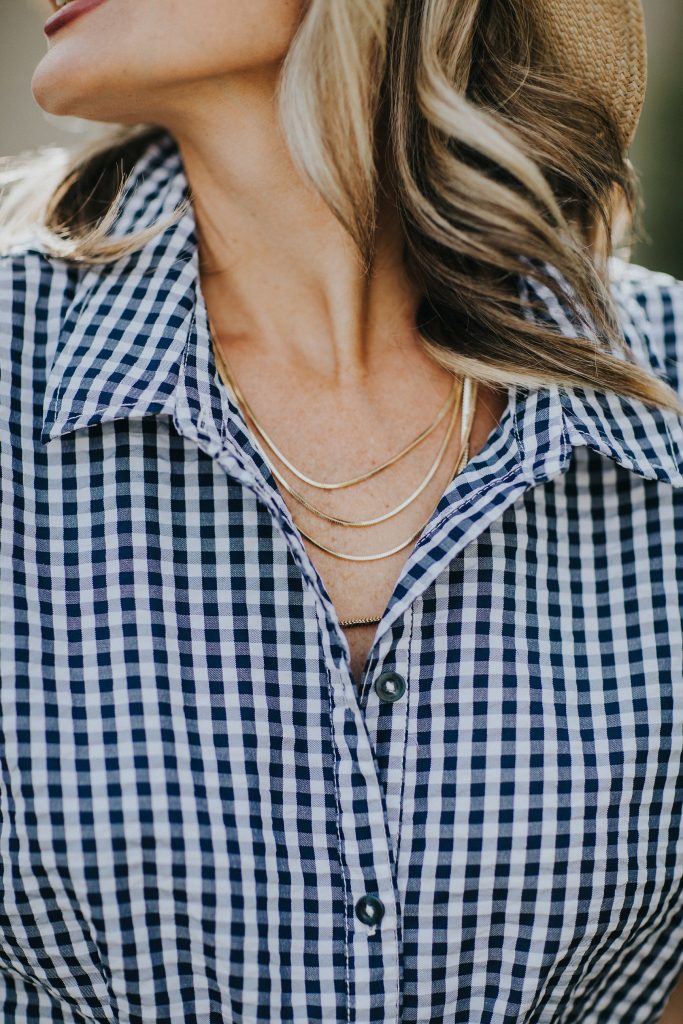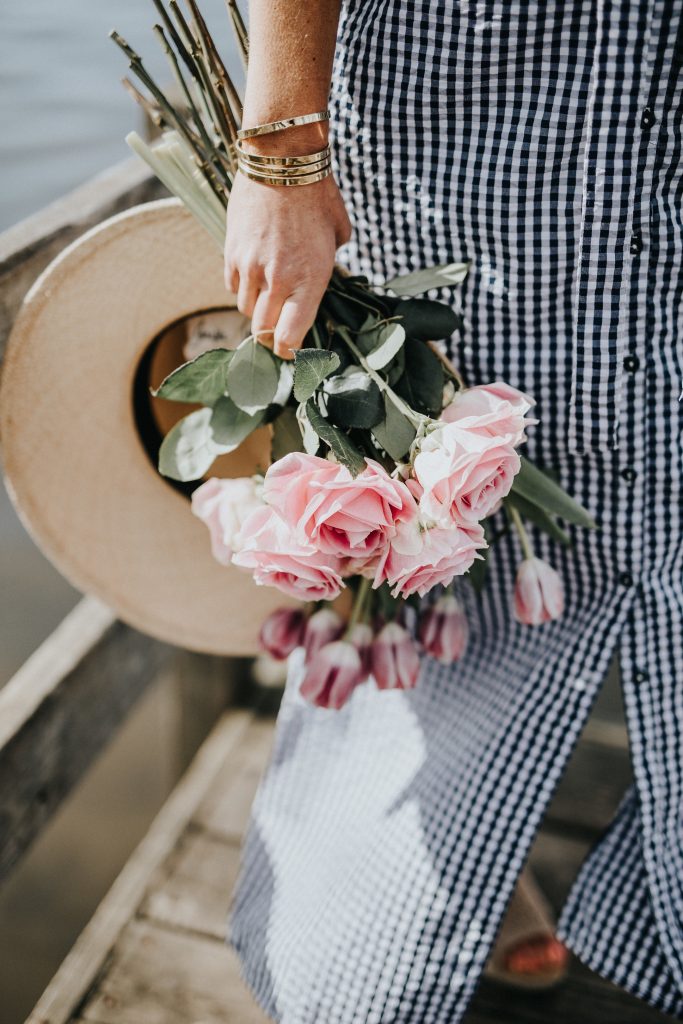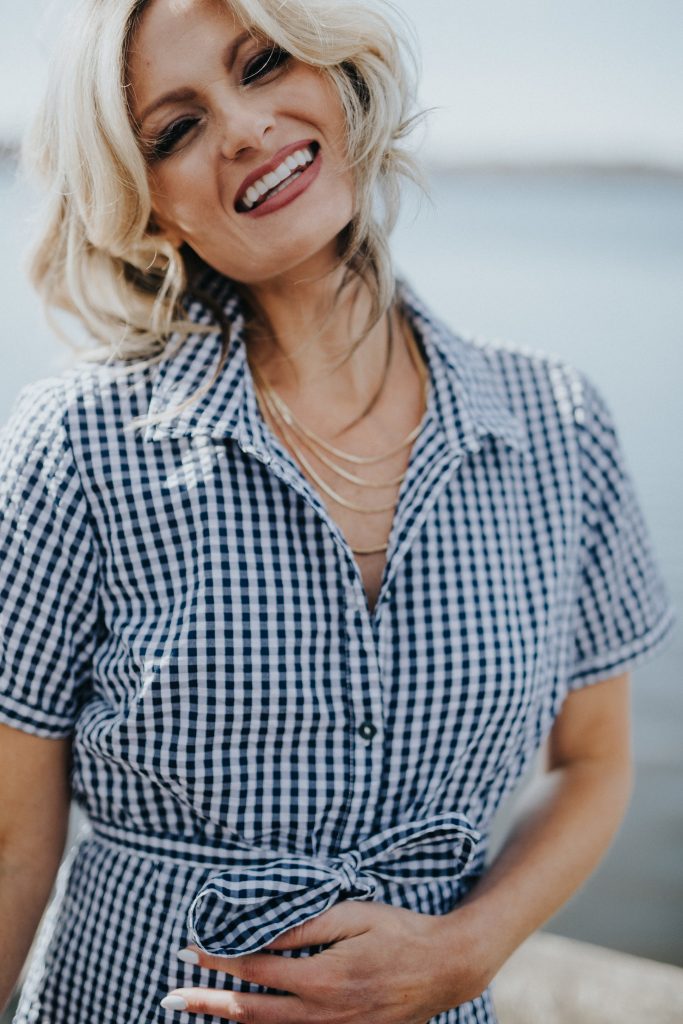 That is what made this giveaway such a joy. I love seeing other women's journey through this process. I read all of your kind messages, texts, emails and feedback to my ever-growing list of questions. It means the world that you take the time to send them.
Through this giveaway, I hope to bless someone who might be feeling some of the challenges of becoming a new mom or is a mom and pregnant or just kicking but with a family at home!

Overall this giveaway is meant to be fun, exciting, and rewarding! We want to hear from you so do not hold back! All the details are up on my Instagram post. So please leave your comments on the post to enter and follow all the rules! Someone is going to be a fortunate lady with this one!  Great prizes from brands that I love and talk about regularly: Sanctuary Clothing, LillaP, Minnetonka Moccasin and Bauble Bar! The package is just shy of a $1,000 value so tell your ladies and mommy friends!
I love connecting with the winner over giveaway's always such a joy to spoil someone, and this one is one of my all-time favorites! Being in the blogging world, I receive a lot and being able to give back is a treat! Hopefully, this will bless someone as we celebrate the joy of motherhood all week long!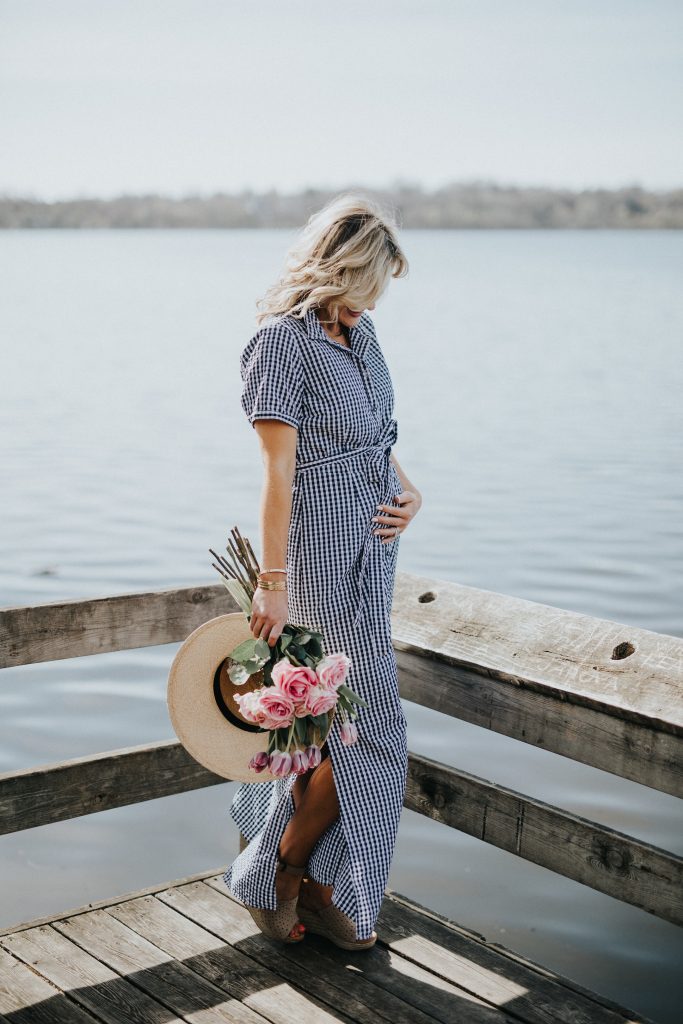 I'm sharing a few interview questions below based on Sanctuary's Mother's Day Campaign #IGOTITFROMMYMOM: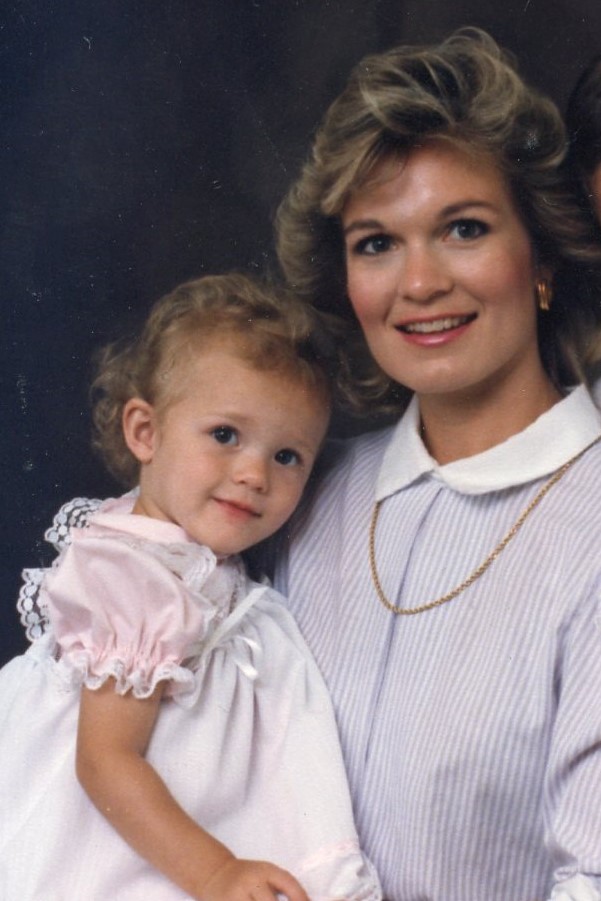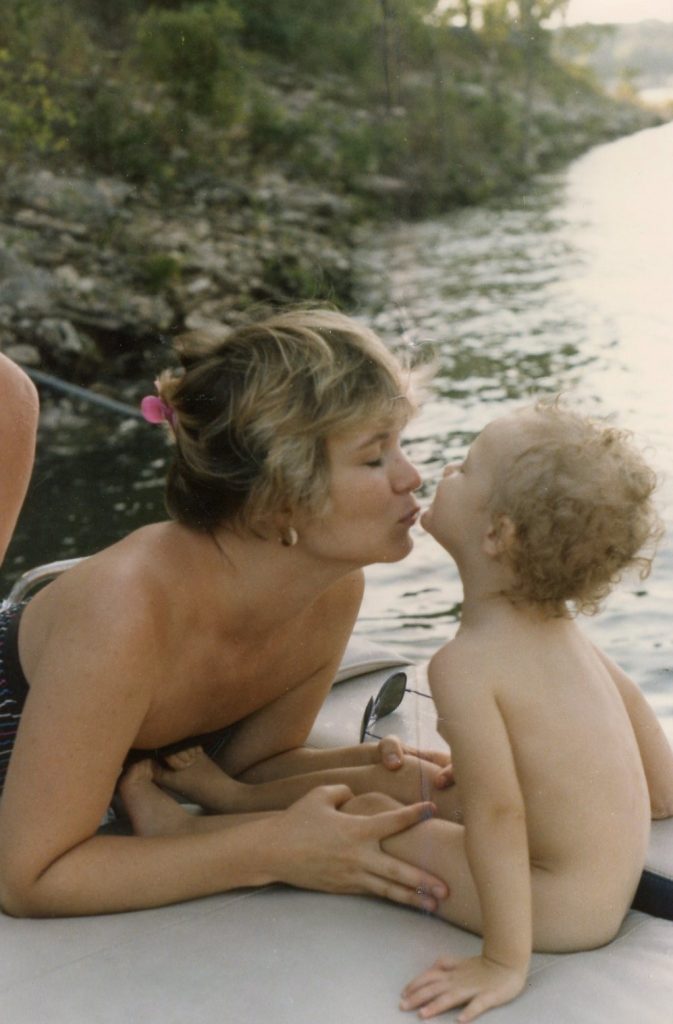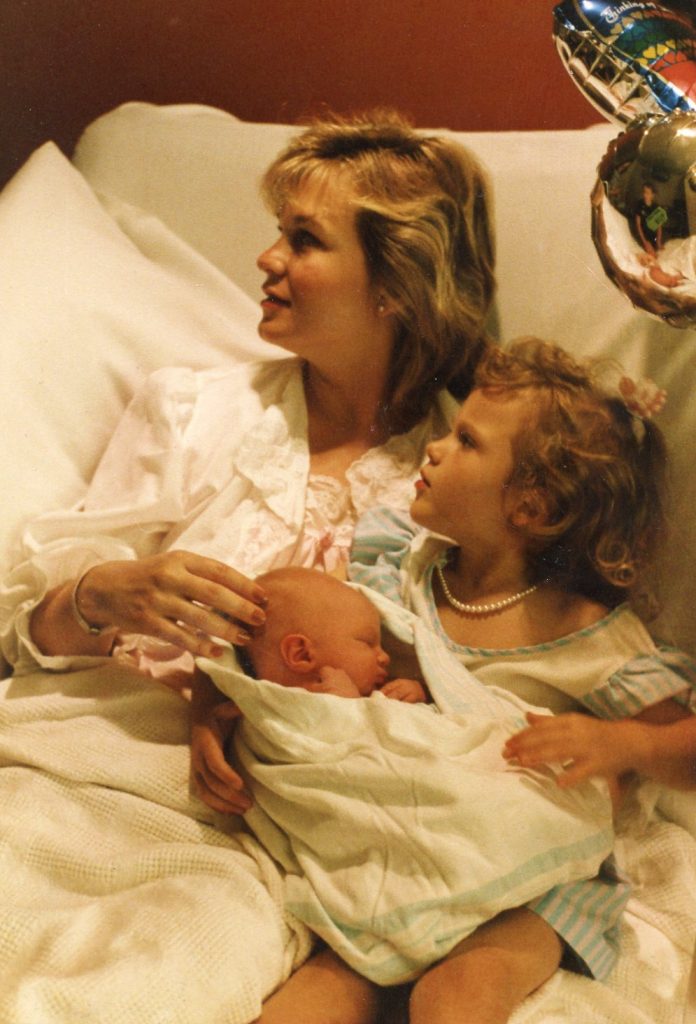 BEST THING YOU EVER RECEIVED FROM YOUR MOM
PHYSICAL GIFT: Well I would say the gift of life is the most obvious of all, but if I had to pick one physical item (which is hard to do), I adore the chandelier my mom gave us for our wedding gift. When we moved into our house, we were scrambling to make it all come together, and I told my mom I just knew it was the one and she so kindly made it happen! I look at it every single day, and I know we will have it forever!
PHYSICAL TRAIT: I am very grateful for my dishwater blonde hair! I know that sounds great when you say it out loud but I was born blonde, and my mom's hair is much lighter than mine, but I love being blonde together! I have tried to go darker, and it just doesn't work with the whole package! I also have her hazel green eyes. Both of ours tend to change colors depending on what we are wearing, the lighting and I think they are special!
CHARACTER QUALITY: My mother exudes joy. Not only does she genuinely love people, (I mean any person on the street, strangers at restaurants, women, babies, my girlfriends), she is joyful from morning to night. I also happen to love people, and I know it was because I watched her all those years growing up love and joyfully support others.
PERSONAL STYLE TIP or SHOPPING TIP: Ironically, my mother hates clothing shopping! How she ended up with a fashion-focused daughter is a mystery to me mostly because looking back at the images of my childhood times were rough! I think her best and most famous quote when it comes to shopping, she is all about the shoes. She says this everytime we go shoe shopping, "I love my feet, they are the only thing that never changes!"
RECIPE: We have this fudge pie recipe that has been passed down through the generations. There have been discussions of making it into something one day, and I am just hoping that happens because it is so simple, so delightful, and a winner every time! I can remember making it with my mom and grandma my entire childhood. I love having that image in my head. I hope to teach my son how to make it because a man that can bake is a real man in my eyes!
LIFELONG SKILL: When you grow up in the South (Well, technically Texas which is a place all it's own), entertaining is a skill that starts at an early age. I loved helping my mom decorate the house for Christmastime and every other holiday. She always made every occasion a grand one. Birthday parties, Thanksgiving, Easter, all of it was a joy to help and prepare for each time. I would say hosting is something some love or hate and I feel that happiness of loving people and serving them is something my mother has always loved to do and it is infectious. Vacuuming the house after Christmas presents are open, cutting veggies, making cookies, setting the tables, it is all a skill I am forever grateful to have learned.
QUOTES & LIFE LESSONS: Growing up my parent's marriage was not perfect. They will be the first to tell you. A quick divorce and re-marriage to one another three years later definitely shook us all up, but my mom always had one quote she would repeat over and over. She would say, "Don't marry someone you can live with, marry someone you can't live without." I will never forget hearing that quote, in fact, I am sure I gave more than a few eye-rolls to it when I was in my younger years because hello that is so gross mom! But now I am grateful for that advice and my husband of five years. I indeed couldn't imagine doing life without him.
DO YOU HAVE ANY MOTHER'S DAY TRADITIONS? DO YOU PLAN TO CONTINUE THEM WITH YOUR OWN FAMILY? Growing up near my extended family always made holidays feel big and extra special. There was still a reason to get together and celebrate something or someone. My mom is one of four girls, and there are eight grandchildren, so life was full. We always attended church. All the moms wore corsages, and then we would go to the Country Club for a big lunch or my grandmother's house to swim, and all be together afterward. I loved it, and I miss being close to family. Now living near my in-laws, we are navigating our traditions, and I know that will start to evolve as we build our family. I hope we keep the flower tradition going though, hint, hint honey!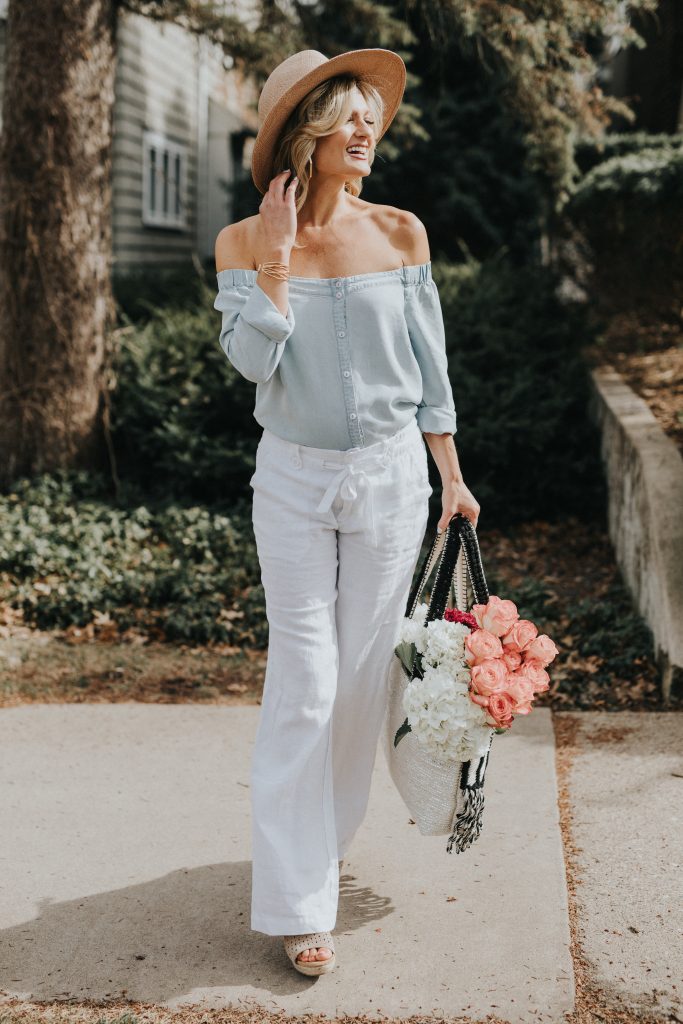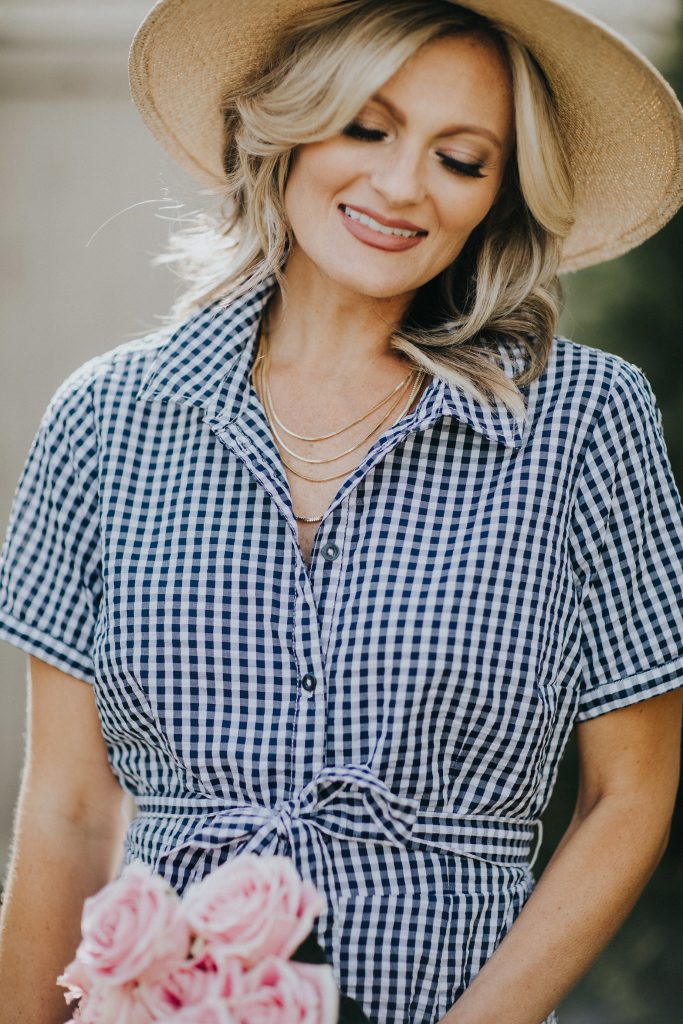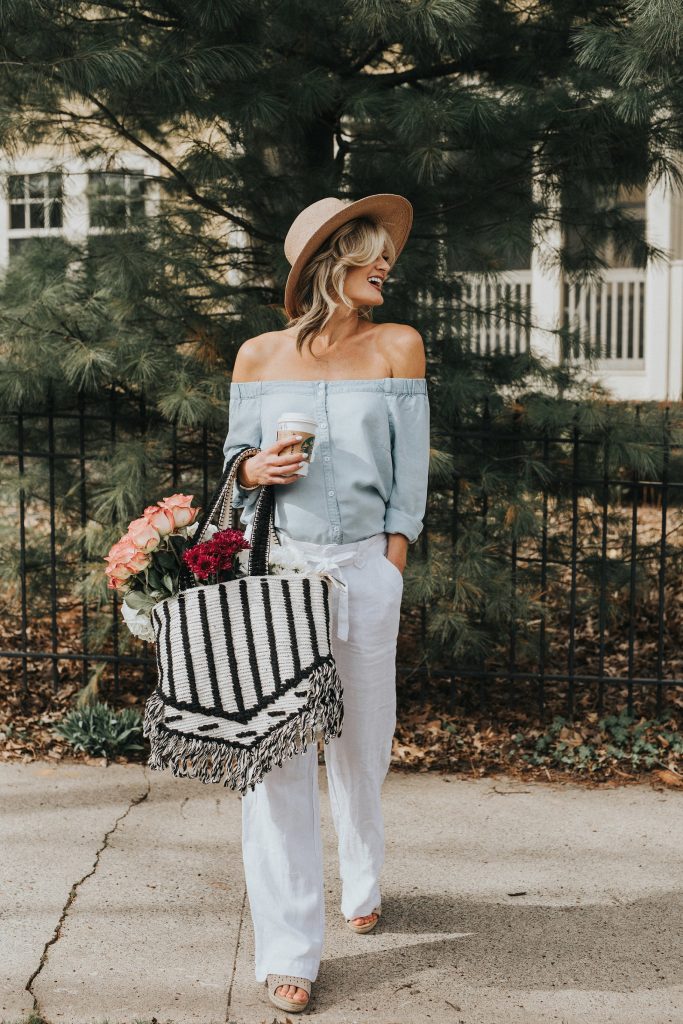 CHAMBRAY TOP // PANTS // WEDGES // TOTE // EARRINGS // DRESS // NECKLACE
Special thank you to Russell Heeter Photography for capturing these images I will treasure forever as well as Sanctuary Clothing for partnering and sponsoring this post with C+M!