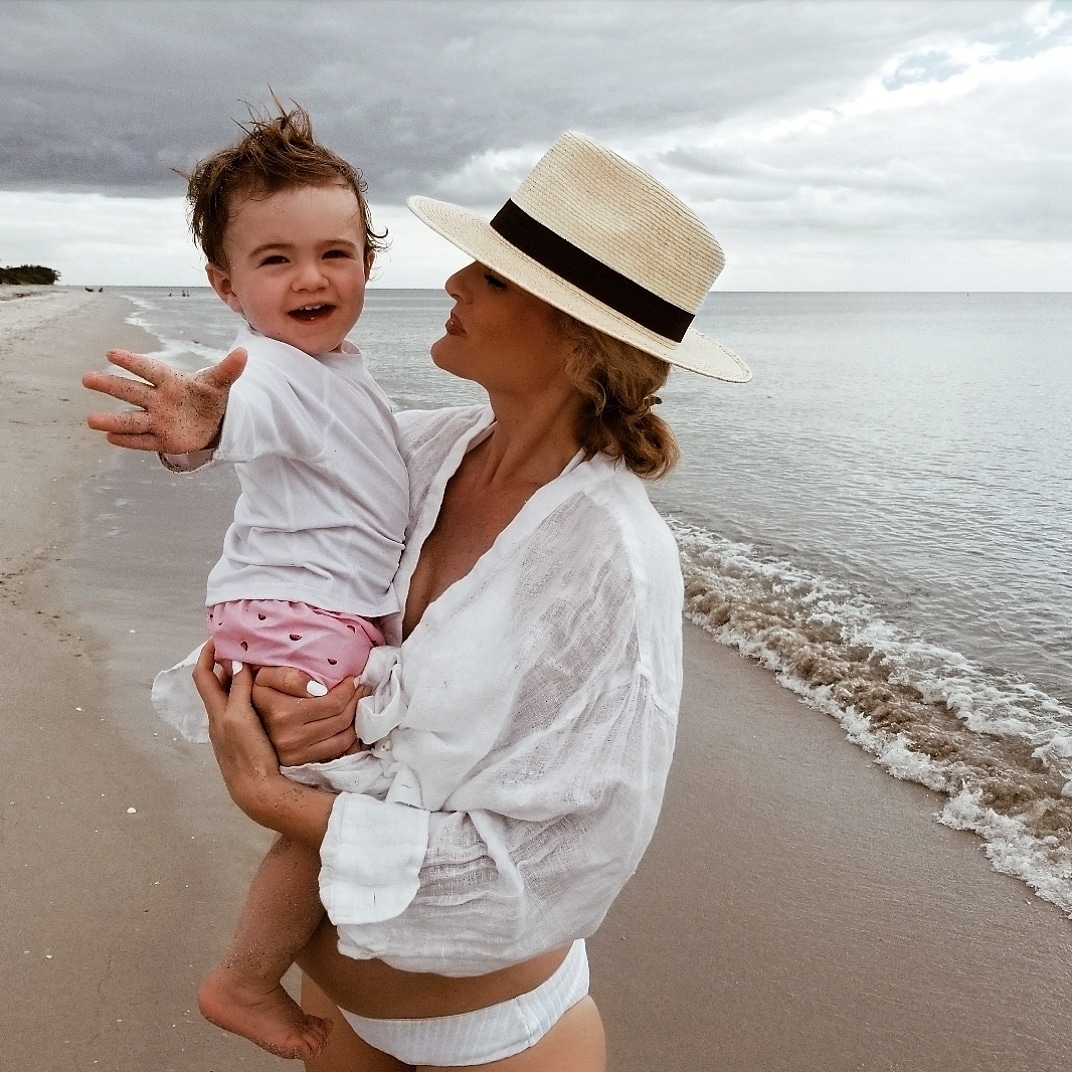 When it came time to plan a little getaway for our second babymoon, we wanted a destination that was easy on travel, offered a pool, beach, ocean swimming, and overall as relaxing as possible. We have been traveling with Leo since he was three months old, and this was not his first flight but his first one where he was able to walk! Three hours in the sky was the threshold for this mama!

I still can't believe we are on a babymoon. Everything about having a second baby is different from your first. Time seems to warp at a faster pace; there isn't time to relish in your pregnancy the way you did the first go around, so as I would tell all first-time mamas to be, soak it up!  Rest, take long showers, enjoy those manicures and spa days, read all the books! Put your feet up and just sit! Your days of enjoying the small luxuries are not over, but it is all just a little different once you have a baby waiting for you!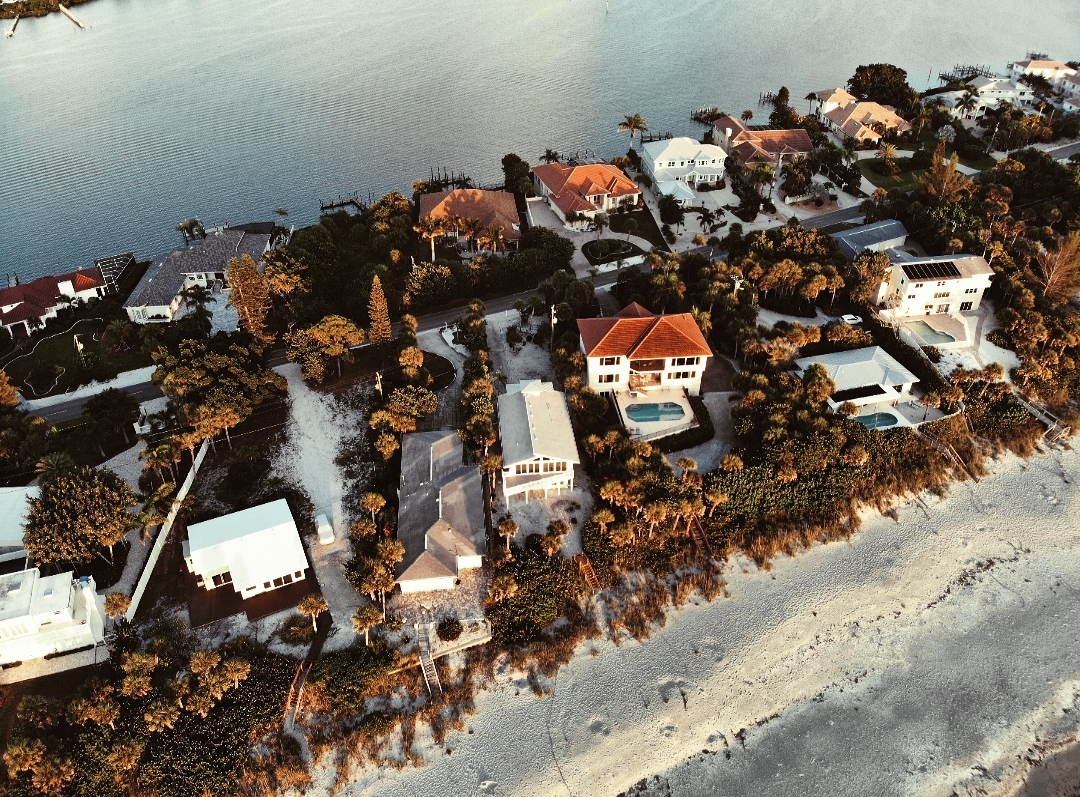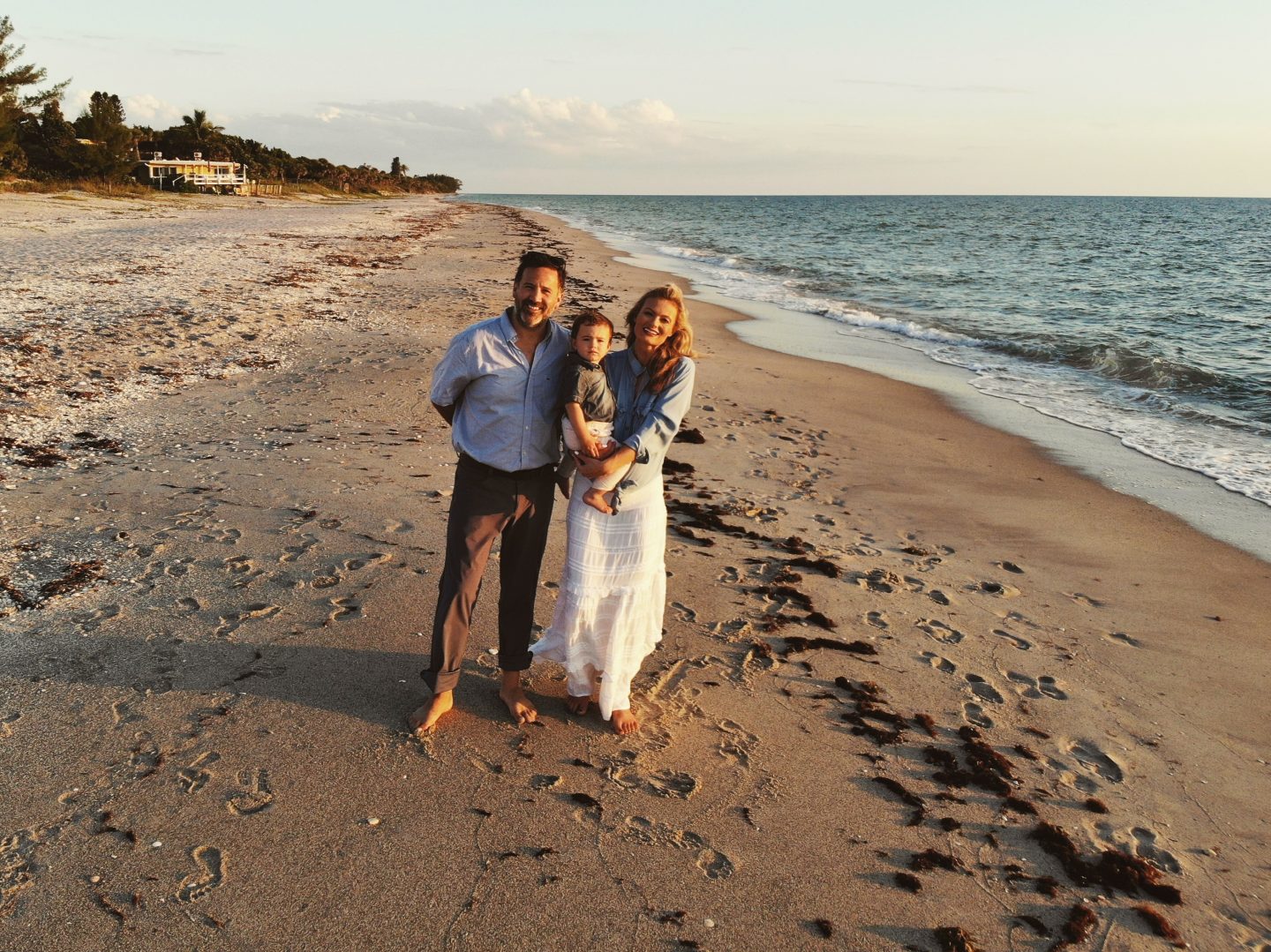 Our only mission? We booked this trip with one goal in mind, and that was relaxing. John and I have truly enjoyed having Leo on our vacations, and we have taken him out of the country and to the beach before but never a trip like this where one can sit back and hear those ocean waves crashing on the shoreline. He loved the water and the sand. We will take him back!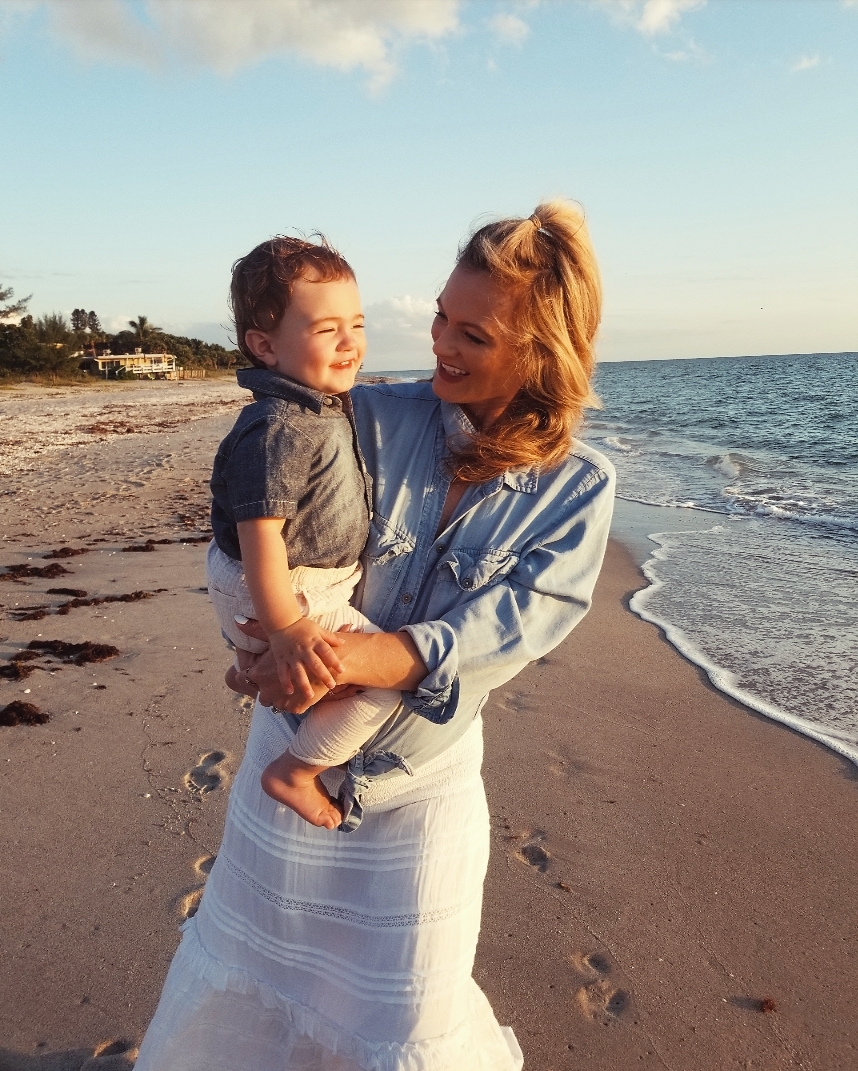 TRAVEL:
Minneapolis offers a direct flight into Tampa, Florida, and it takes about three hours flying time and an hour and twenty minutes to drive to Manasota Key Beach in Englewood, Florida. The most significant piece of advice is to arrive early at the airport and book a flight as close to nap time as possible. We flew out on a Friday morning, and it was crazily crowded at the airport. I believe it was the start of MEA weekend or just a busy weekend because the snow was on the horizon? Either way, we gave ourselves plenty of time, and we still felt rushed!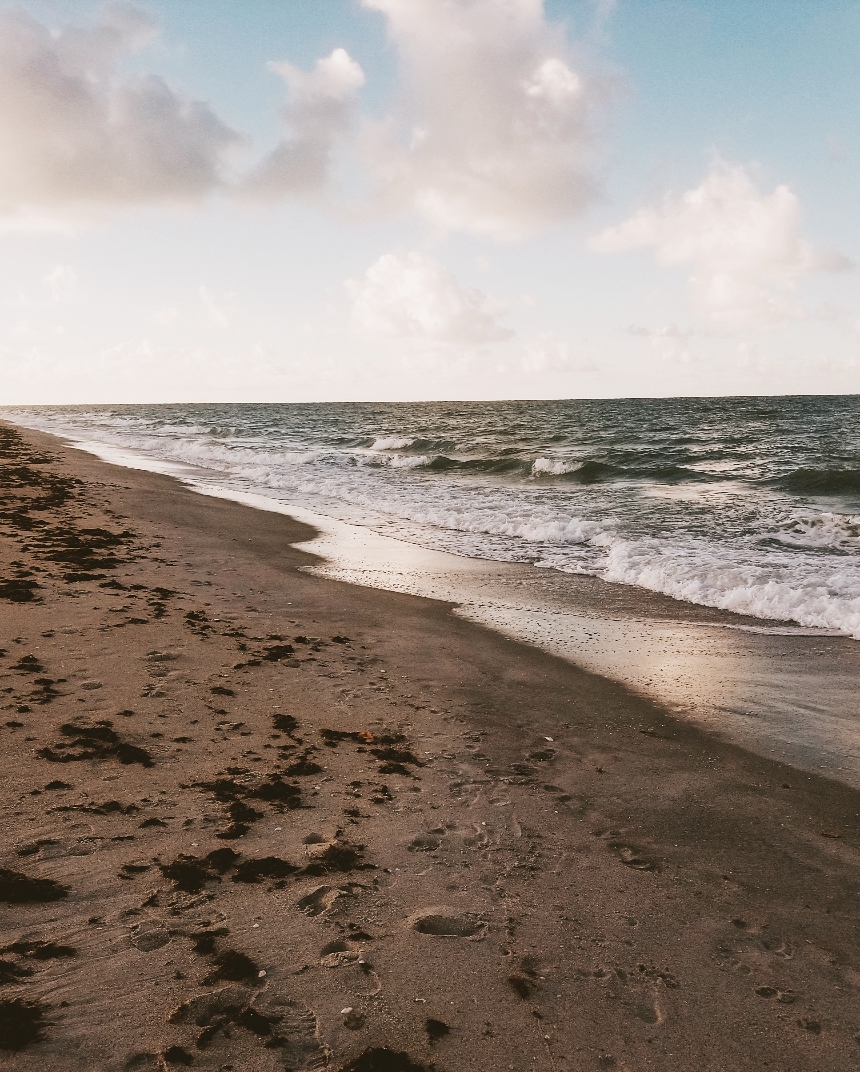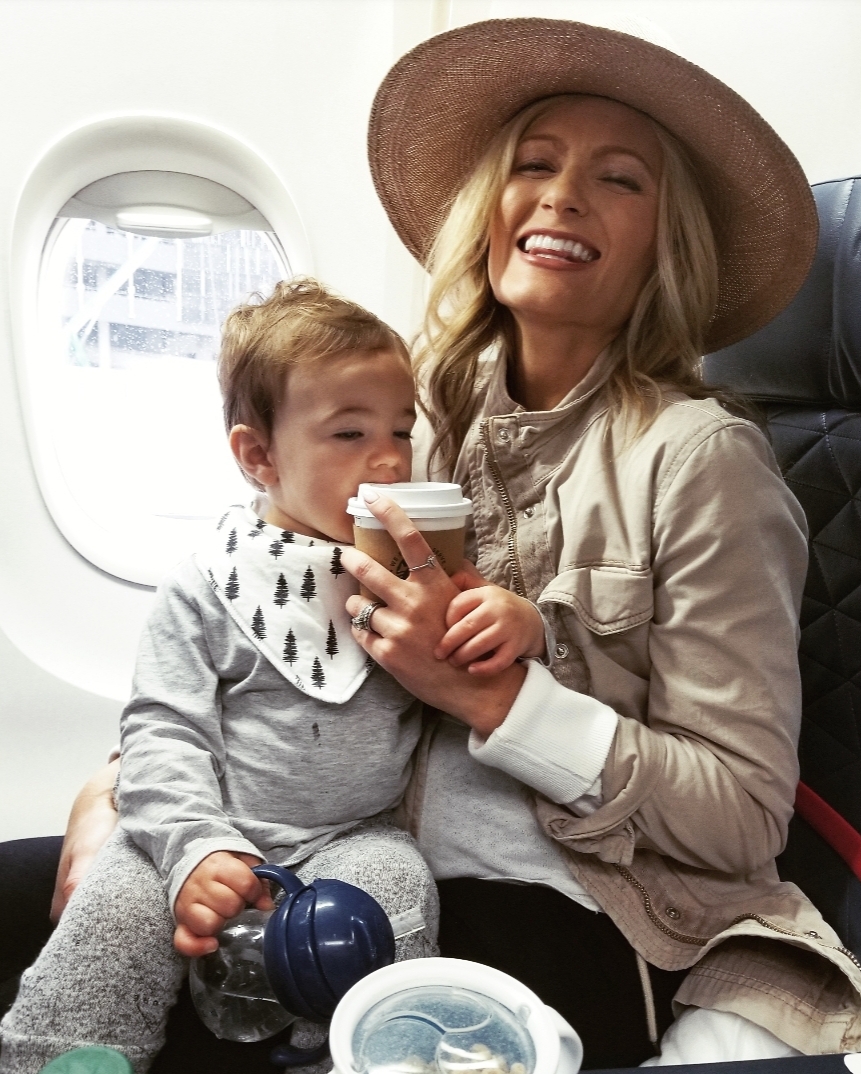 Travel with kiddo means more time is necessary. I brought milk in our carry on, and I had to check it at security, breaking down the stroller, all of those little things take up time! I had high hopes to let him stretch and run, but even TSA Pre-check is also crowded! Once we were on the plane, armed with snacks, re-usable stickers, Water Wow Activity Pads, books, and all of his favorite toys (see packing lists below)! Of course, the small free airline water bottles seemed to keep him happiest, also his dimpl!
I still give Leo a warm bottle of whole milk before he sleeps. We were leaving right around his first nap, so we had the bottle prepped and ready, but once he saw it, he wanted it, and I think we jumped the gun a wee bit, and he drank it and then was ready to play! Mission failed, but this was our first flight without breastfeeding, so I was a tad bit wondering if his ears would be bothered, but the kid is a champion!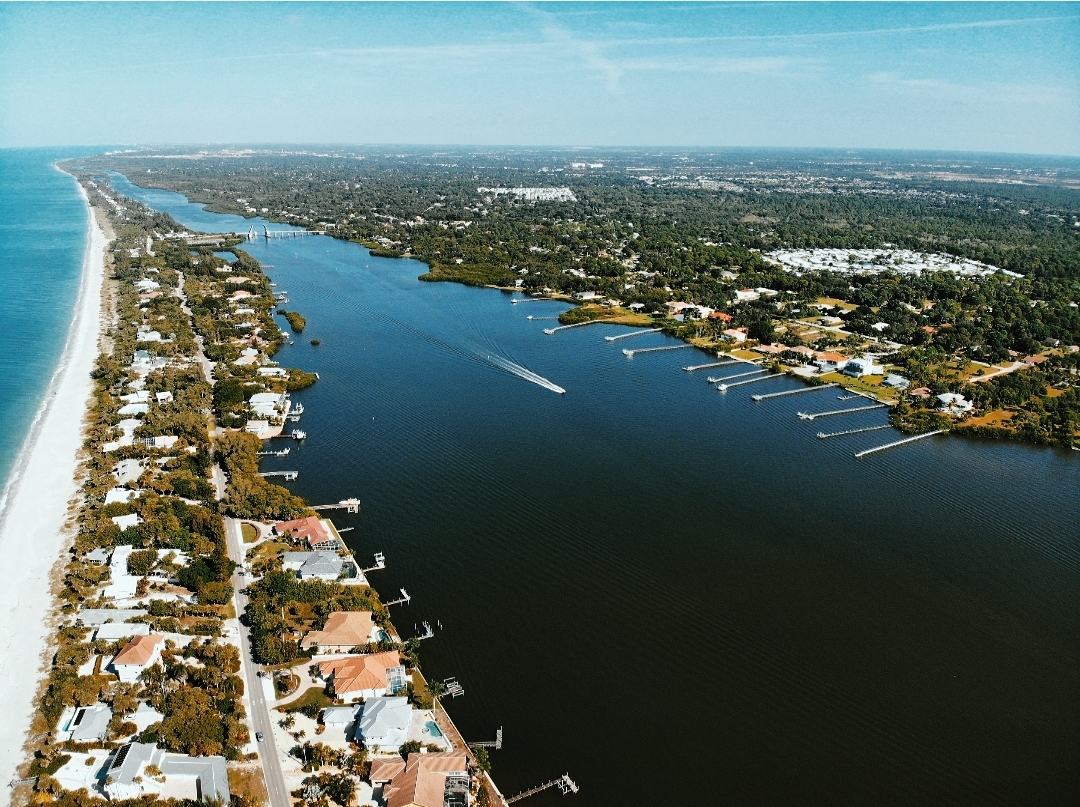 If you have flown with an active walking fourteen-month-old before you know, it takes it out of you. I was most anxious about this significant portion of our trip more than anything else. Not the hour and a half drive that came post-flight, not any of the days there, just the flying! It went better than I expected. Leo seems to be very okay with all the traveling, and everyone around us seemed to congratulate us upon landing, so it was a win! Whew!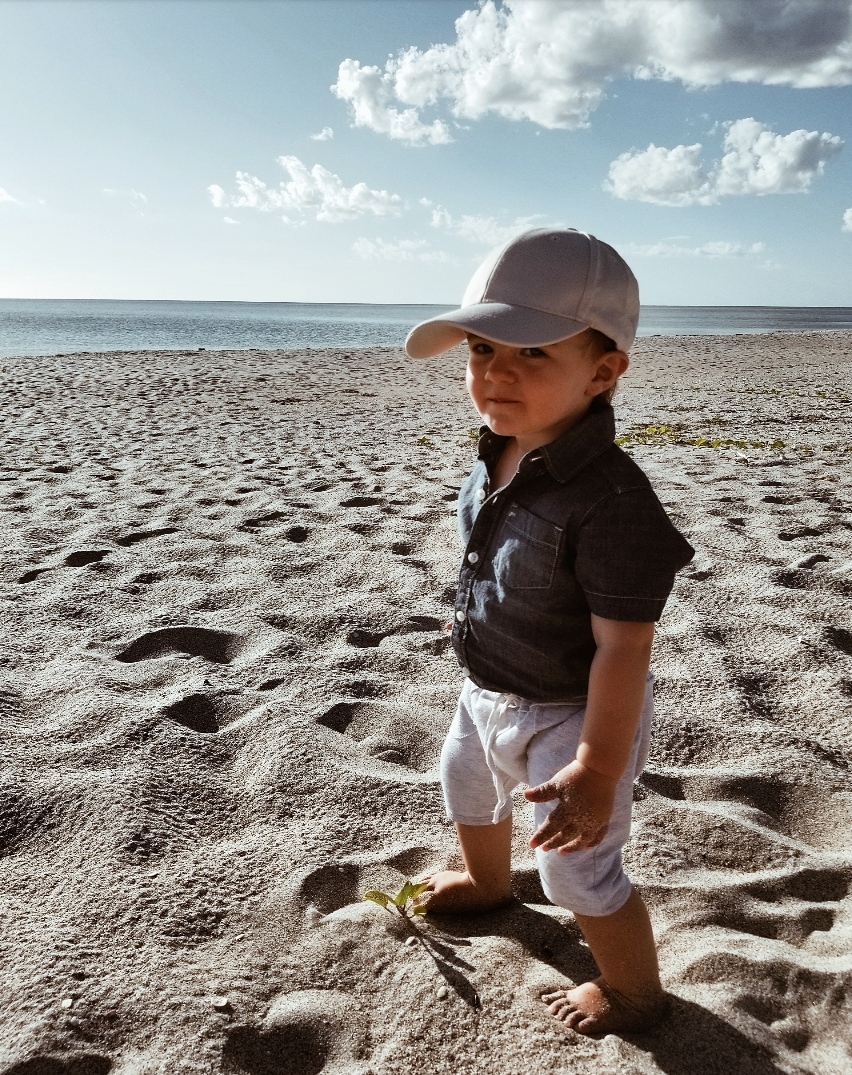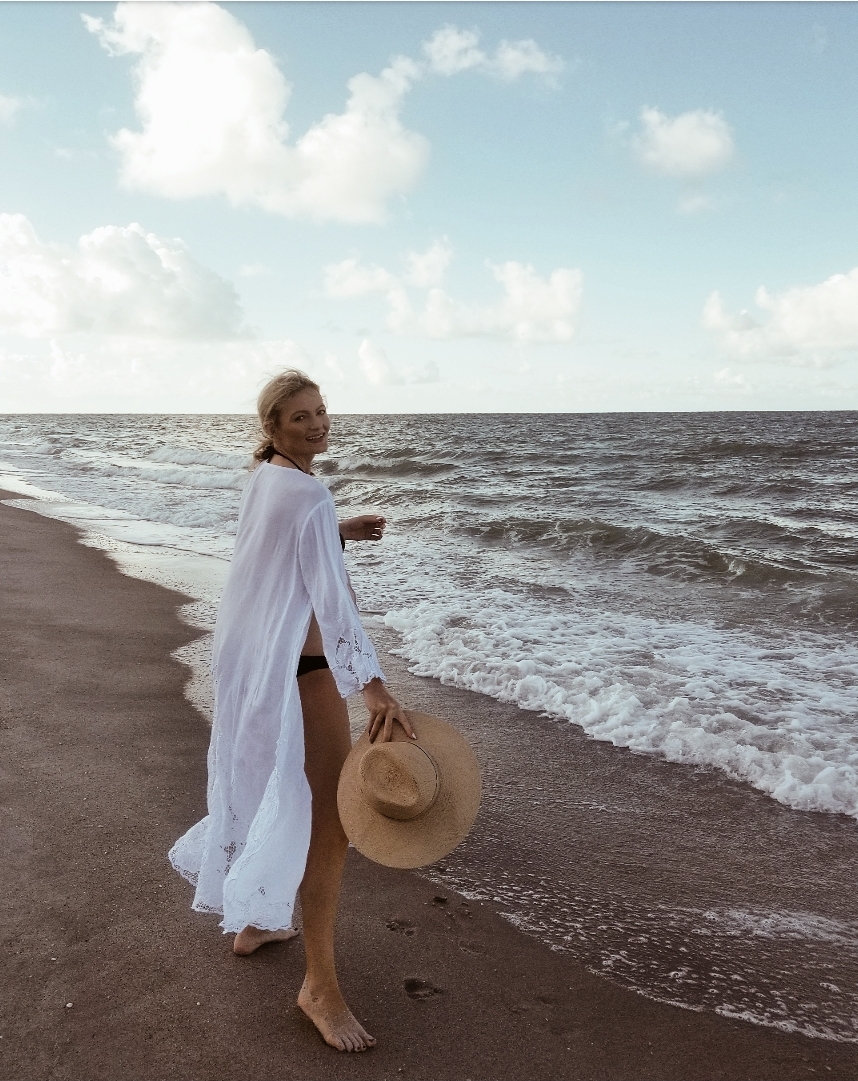 One thing that did help when we loaded up and finally got in the car had his favorite toy handy. Our sweet and loving neighbor gave us this music cube, and he is obsessed with it. Every time we get in his car seat, we provide it to him, and he plays with it the entire car ride. We packed it in our suitcase, so we could quickly grab it once we landed as I knew the hour and a half car ride would be a struggle. It was a win! Also, snacks, a few songs on youtube, and reading his favorite book, "Brown Bear, Brown Bear, What do you see."
Coming home was a little longer and more challenging than going. I genuinely believe the adrenaline and excitement of going keep everything moving, but no one ever wants to leave vacation!!! He did great he was just so much more active on the way home than the first flight, and I do believe that was due to the time of day. People genuinely are so kind when you travel with a kid, which makes me appreciate anyone flying with children now!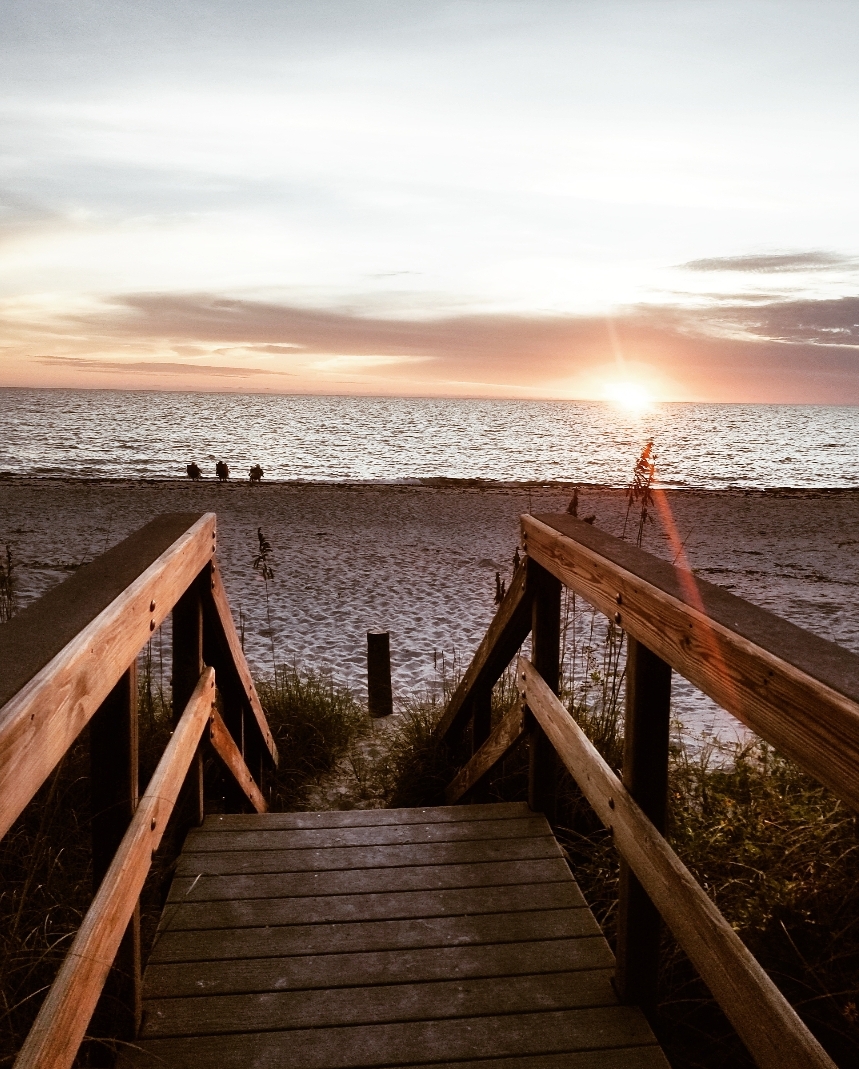 MANASOTA KEY – OUR AIRBNB
John found this little secluded beach location. I will take zero credit! He found the perfect house while searching on Airbnb and said I think this is the ideal spot, and he could not have been more right! We wanted water and beach access outside our back door, a pool, and an area where Leo could play in the mornings. This house checked off all the boxes! It can be tricky to find something affordable that accommodates those needs and is only suited for three to four people and lets you swim in the water!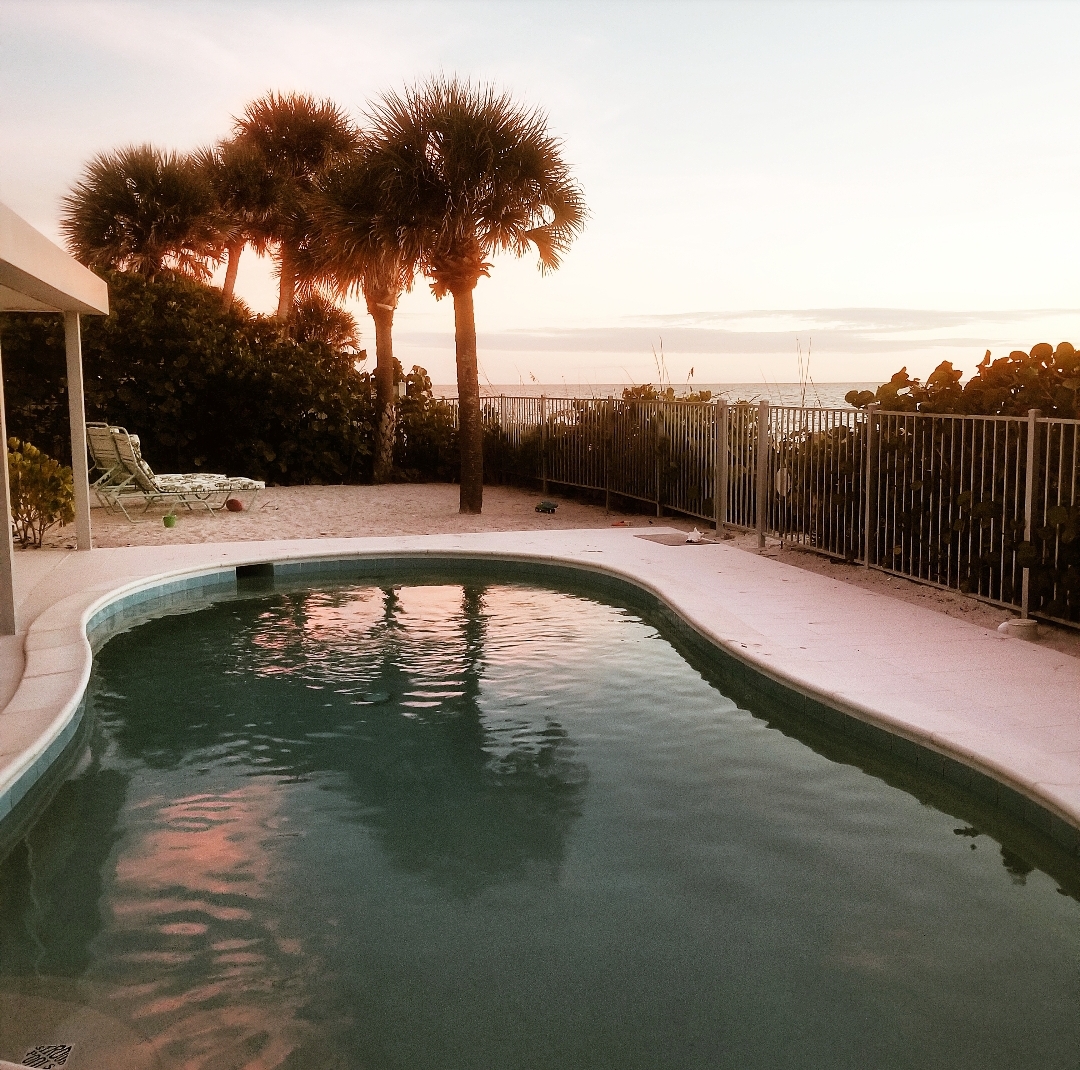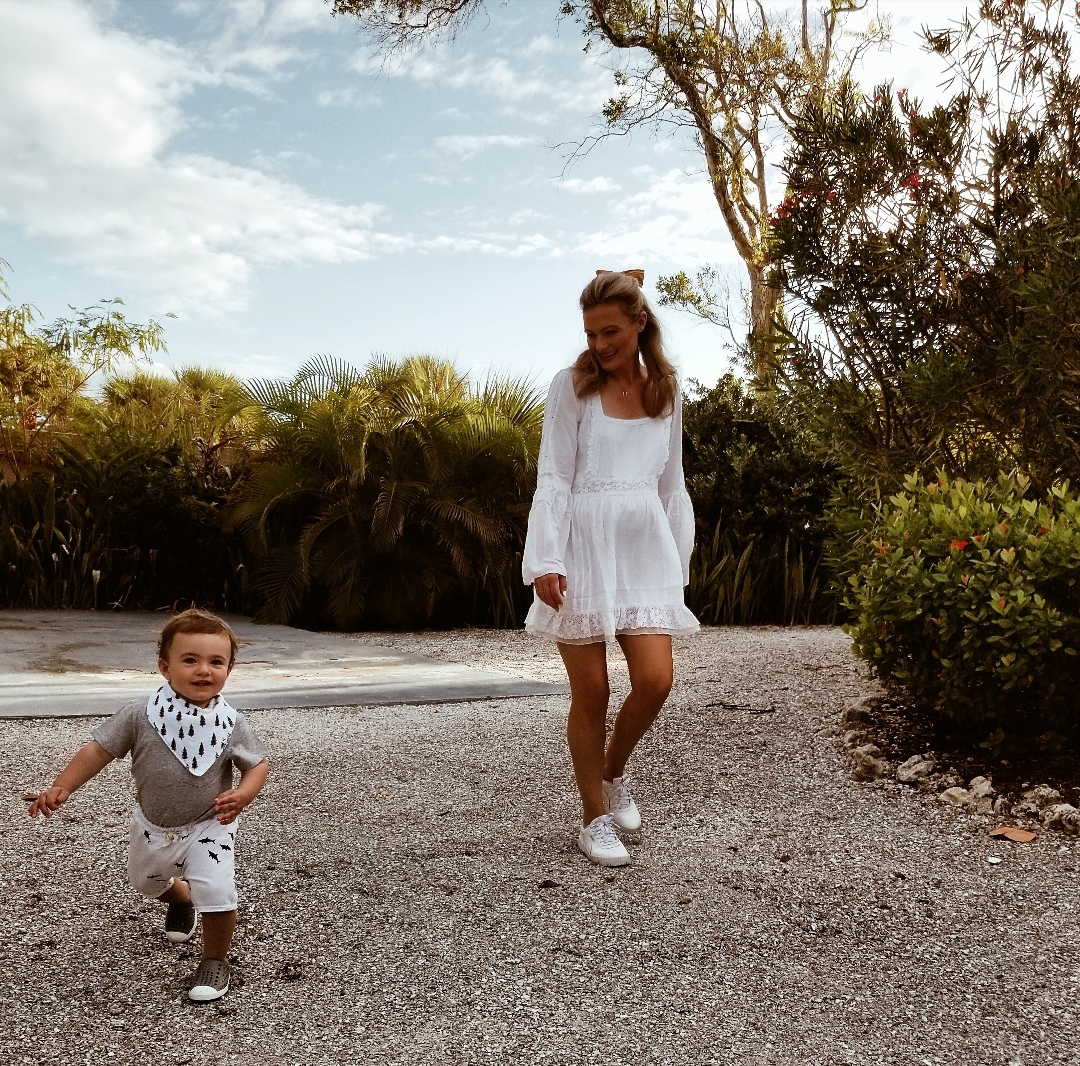 The house is beyond charming. A very European feel that is clean and has a beautiful kitchen where we cooked most of our meals. When we arrived in the little town of Englewood, we pulled off to go to the grocery store and loaded up on snacks and breakfast, lunch and dinner so we could mostly eat at home. That is a dream when it comes to travel with the kiddo!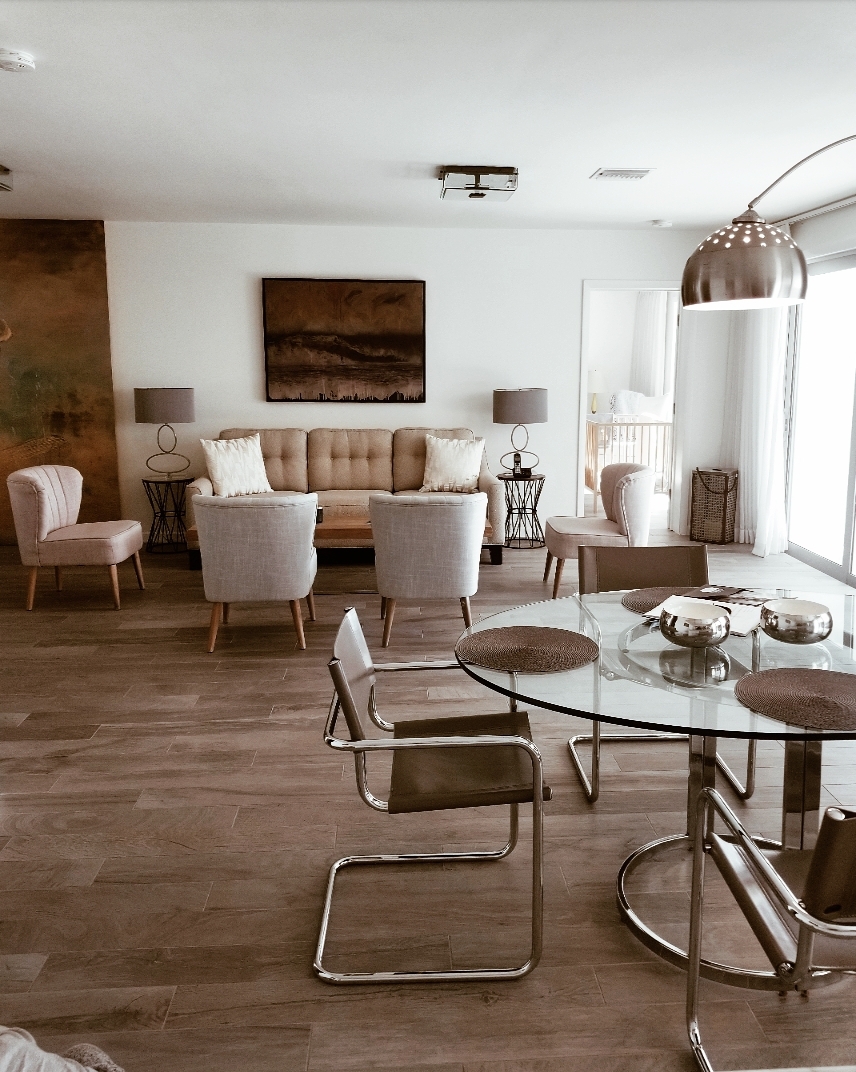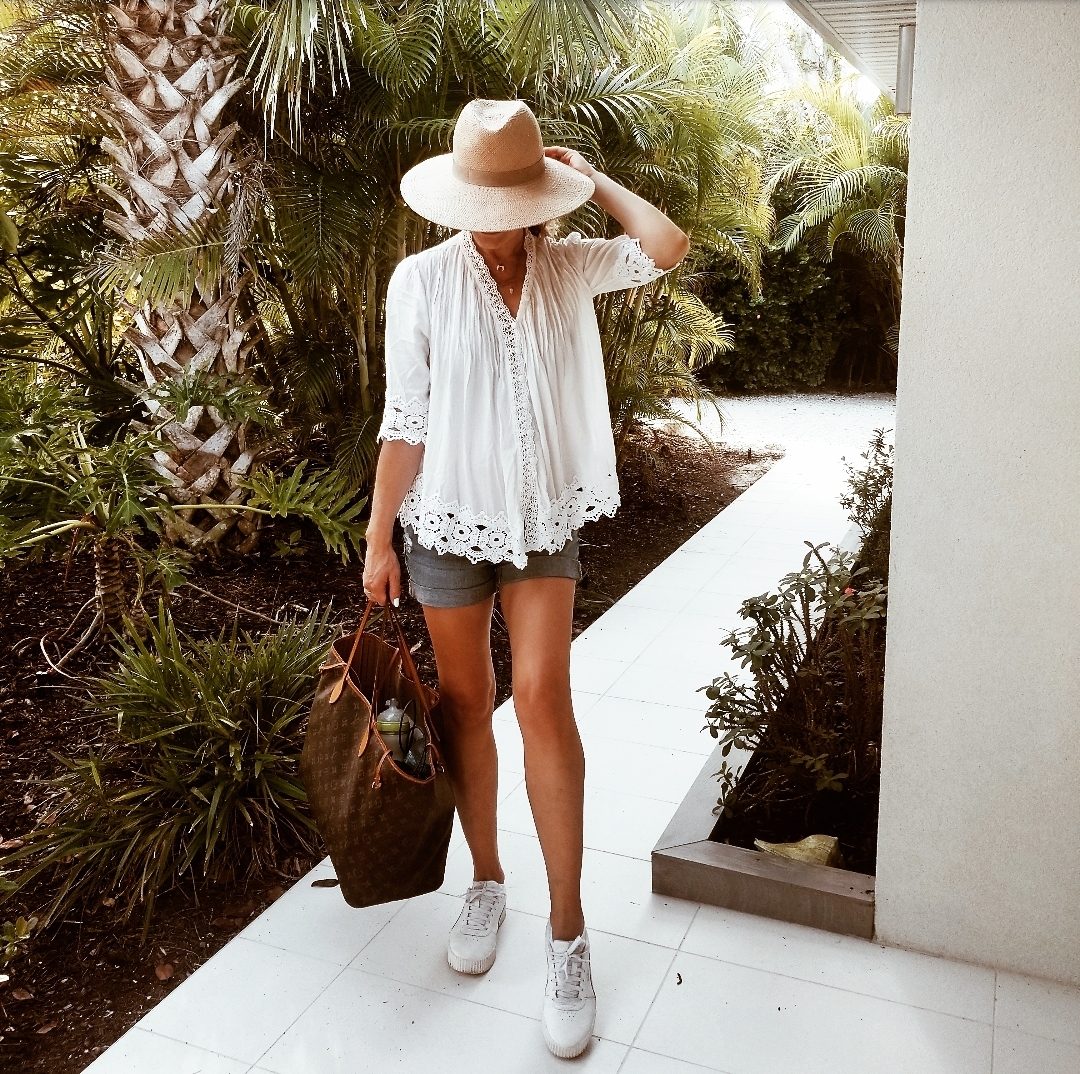 Leo wakes up about seven-thirty, and we let him play and drink our coffee. First thing, I would make a simple breakfast for all of us, which included toast, lots of fruit and yogurt, and scrambled eggs. Then we get ready and head to the beach and play until he is showing the tired signs; it is time for his first nap. He takes two naps, which is a great time to rest, recharge, clean up, and have a little downtime as parents! Also, the convenience of being able to just run down to the beach and back to the house is a total vacation dream because you always need something with a kid!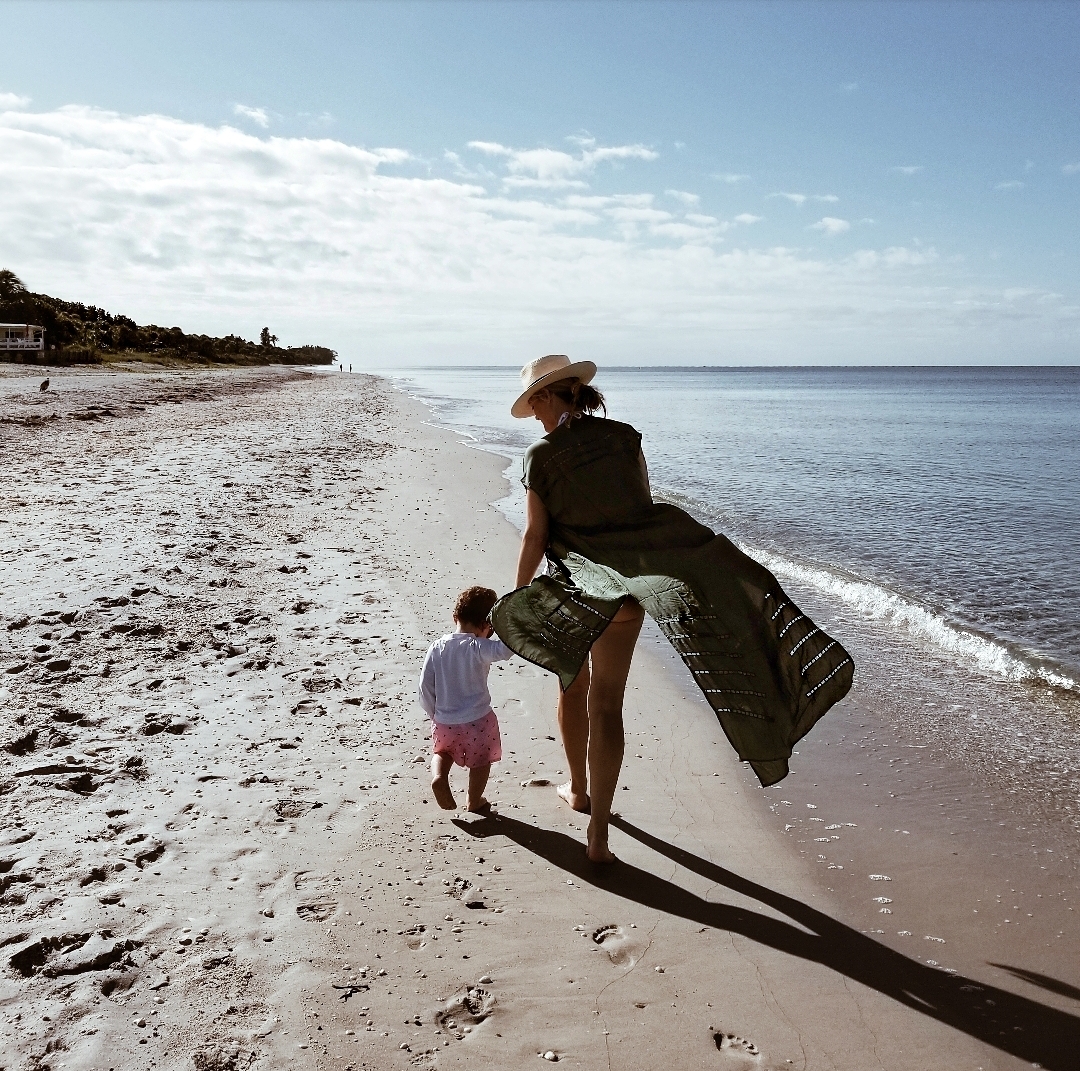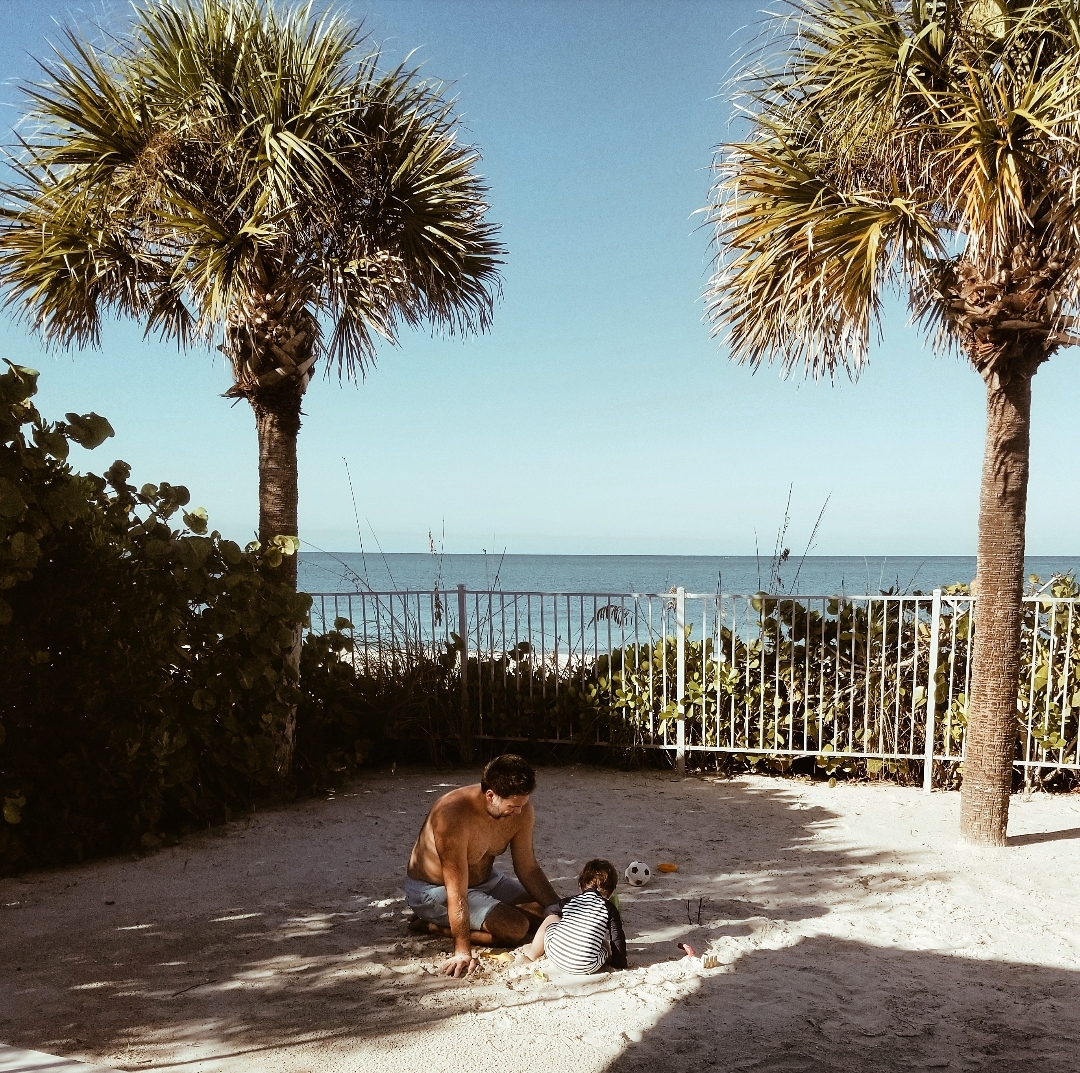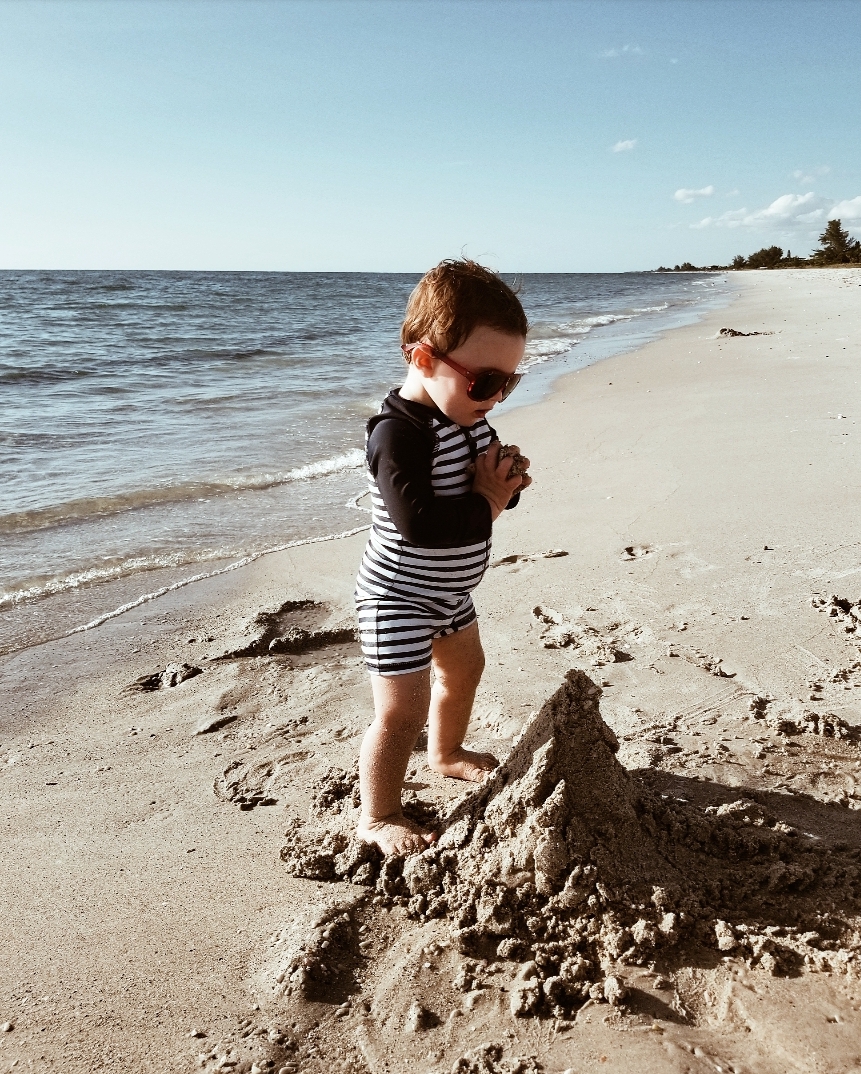 Overall there were very few people on the beach. It was mostly just the three of us during the days and busier with people walking in the mornings and watching the sunsets. We loved being able to be so carefree and felt like we owned the beach! I honestly brought very little down with us as the beach and ocean were enough.
The water was quite warm, and the first few days very few waves so relatively easy for all of us to swim. Leo loved running in and out of the waves. If you followed my Instagram Stories, you probably saw this daily! I am so glad he is a water-loving baby. There are shells all over the beach. Like everywhere you look seashells, and the sand was super soft. Not all beaches are created equal, and swimming in the ocean was a big must-have on our list!
THINGS TO DO:
We spent almost every single day enjoying the ocean, building in the sand, swimming in the pool, walking the beach, searching for shark teeth! Yes! That is correct! Manasota Key Beach is known for having tons of shark teeth, and we found a ton of them! I was addicted to it because looking for them is not hard. If you have older kids, they will do this for hours!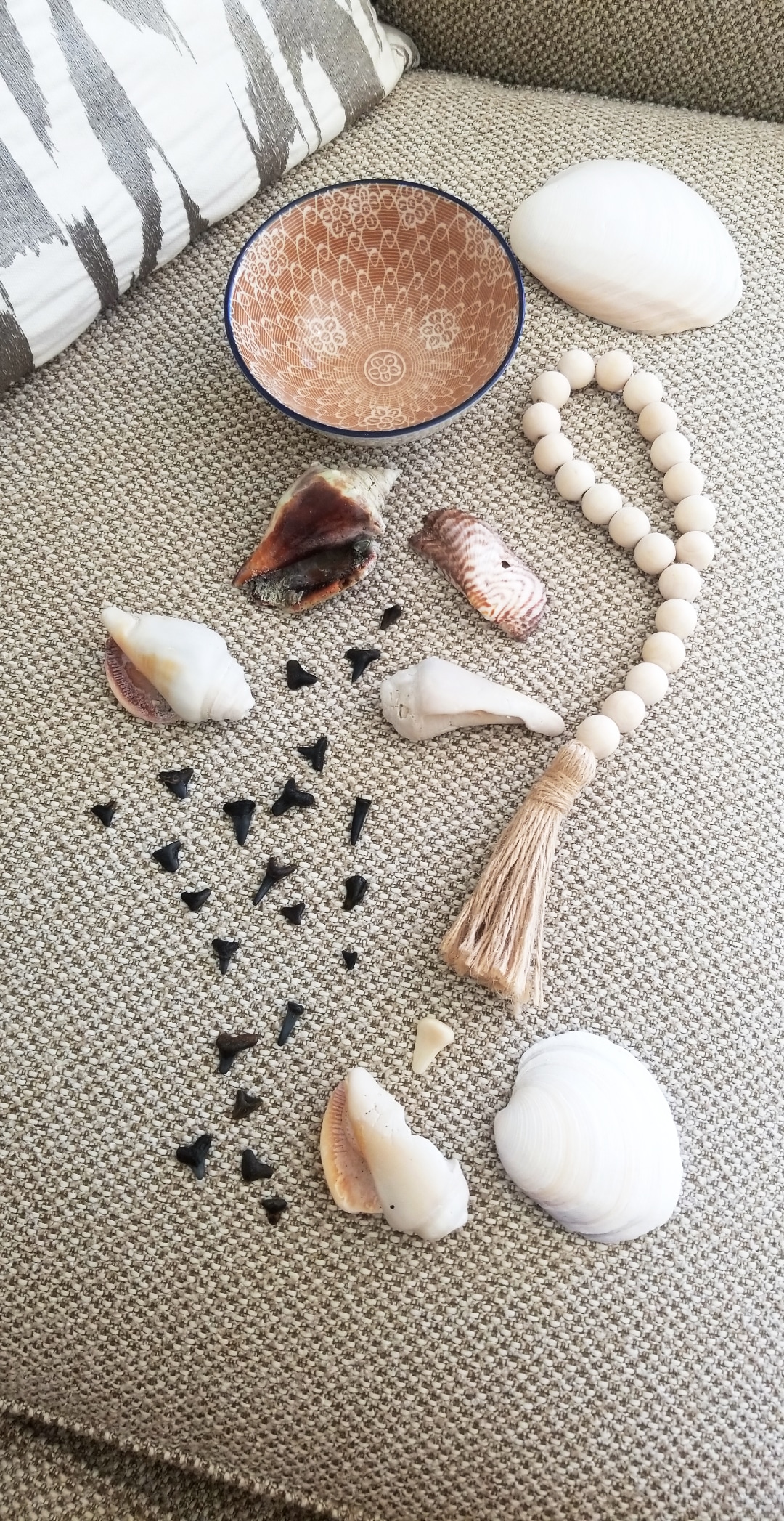 One night we went into the main street in Englewood for Mexican food at Compadres. Leo and I split the fajitas shrimp and chicken, and John had a chicken quesadilla! The food was excellent, and the service was too! Our one night, we went out and ate dinner in Englewood. The rest of the time we cooked easy meals at the house, everything from steak and salmon to pasta, chicken, and our last night we ordered pizza from Rob's Pizza! Geraldi's Pizza I have been told is delicious, but it was closed!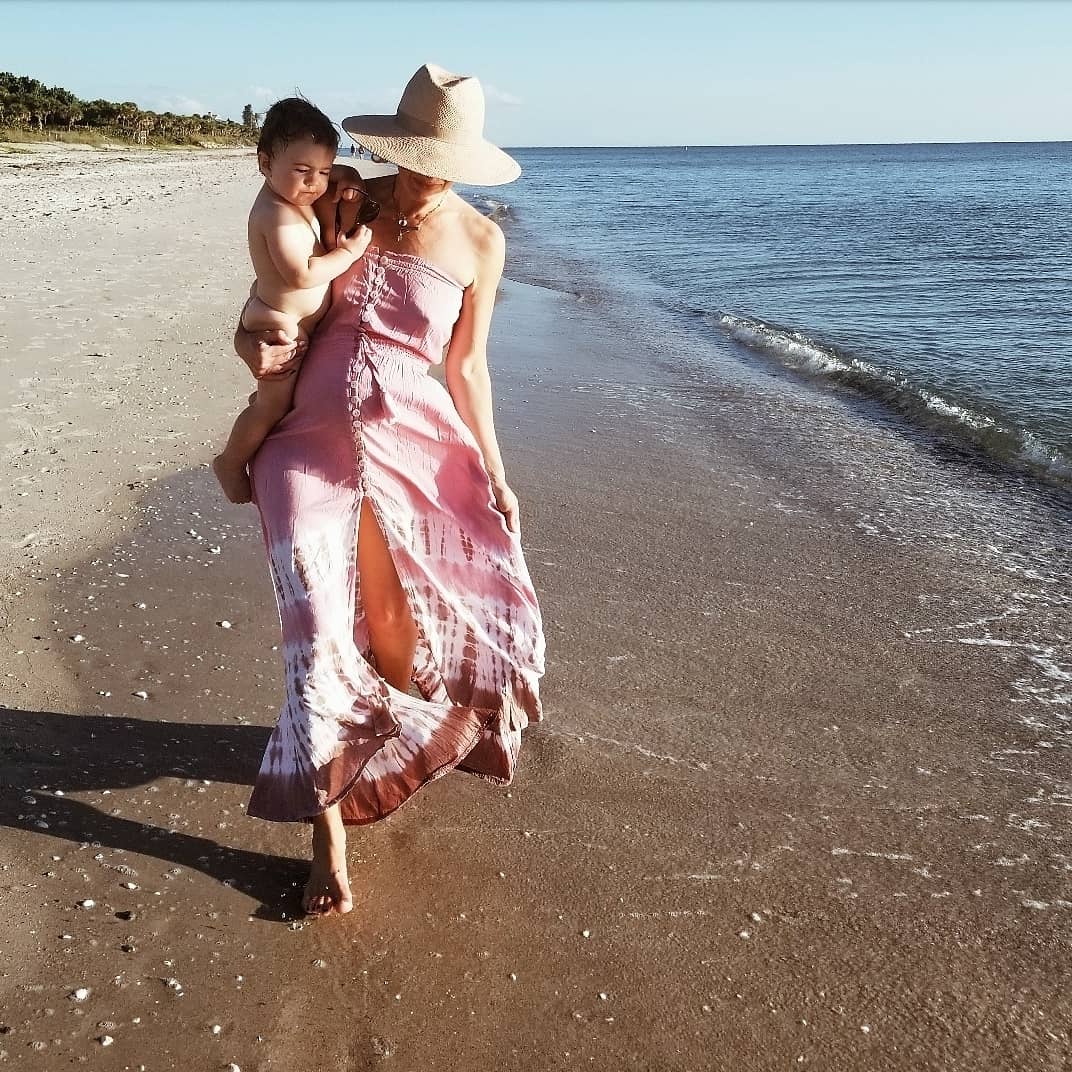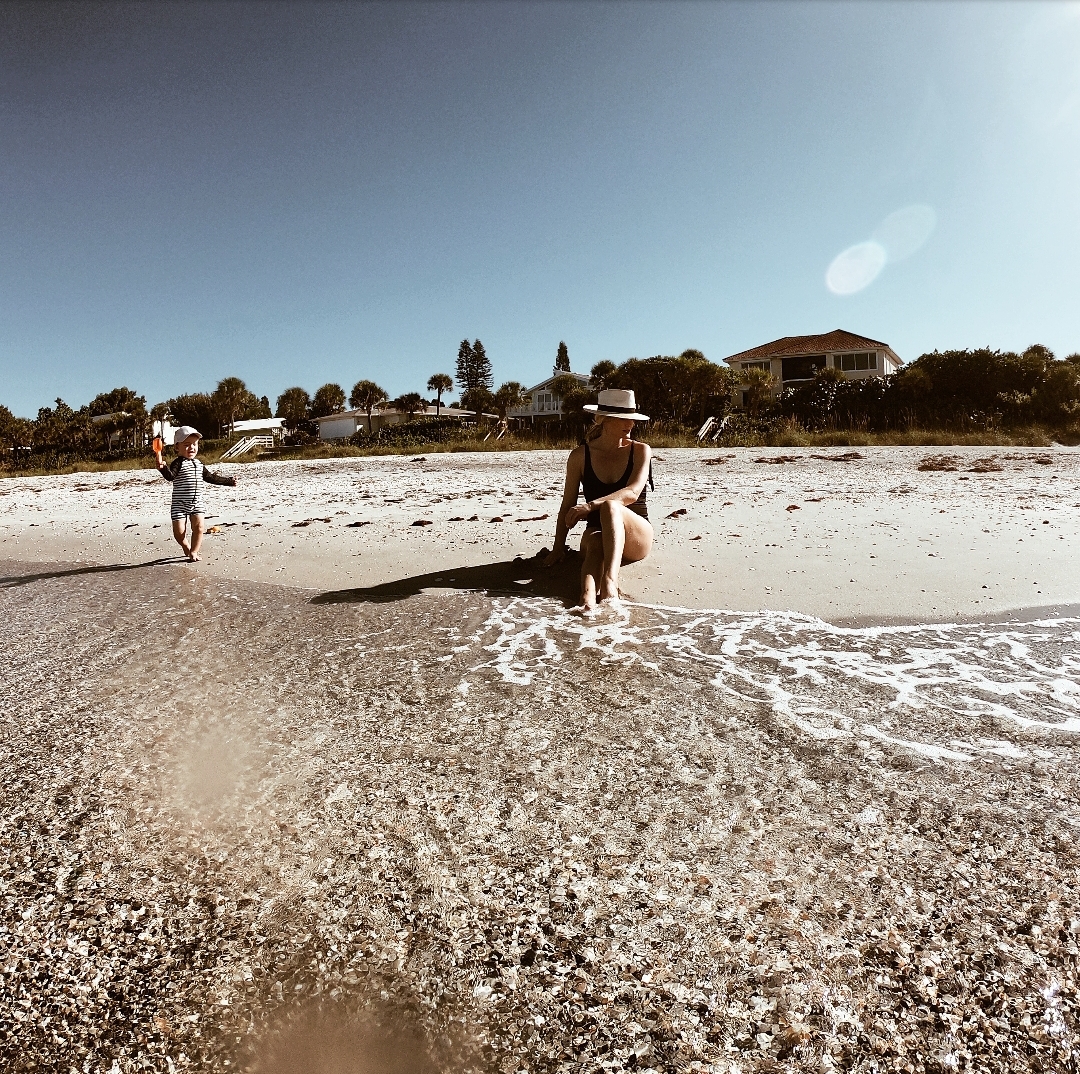 Overall there is not a lot to do or see in Englewood, but you are in between quite a few larger cities that would be great day trip destinations. Siesta Key, Sarasota, Venice, etc. We just really wanted to stay at the house and relax. We did venture into Venice one day to break up the sun and have a nice meal! We found the most amazing Mediterranean food at Bodrum's! The owners were so kind to us and made us feel right at home.
I grabbed a coffee at Island Organics and hit a few shops on the main street. I always enjoy finding one small thing to take home, and I wanted something to put in the nursery! Nest Venice is the most beautiful shop! I would have bought so much more, too, but held myself back!
We did talk about taking a boat excursion one day but bailed on it due to a lot of factors, but most mostly the timing with Leo's naps, his age, and the time to travel. We were in Florida for six days, and the first and last days were both pretty much total travel days, so we just said let's keep it and keep things as comfortable as possible!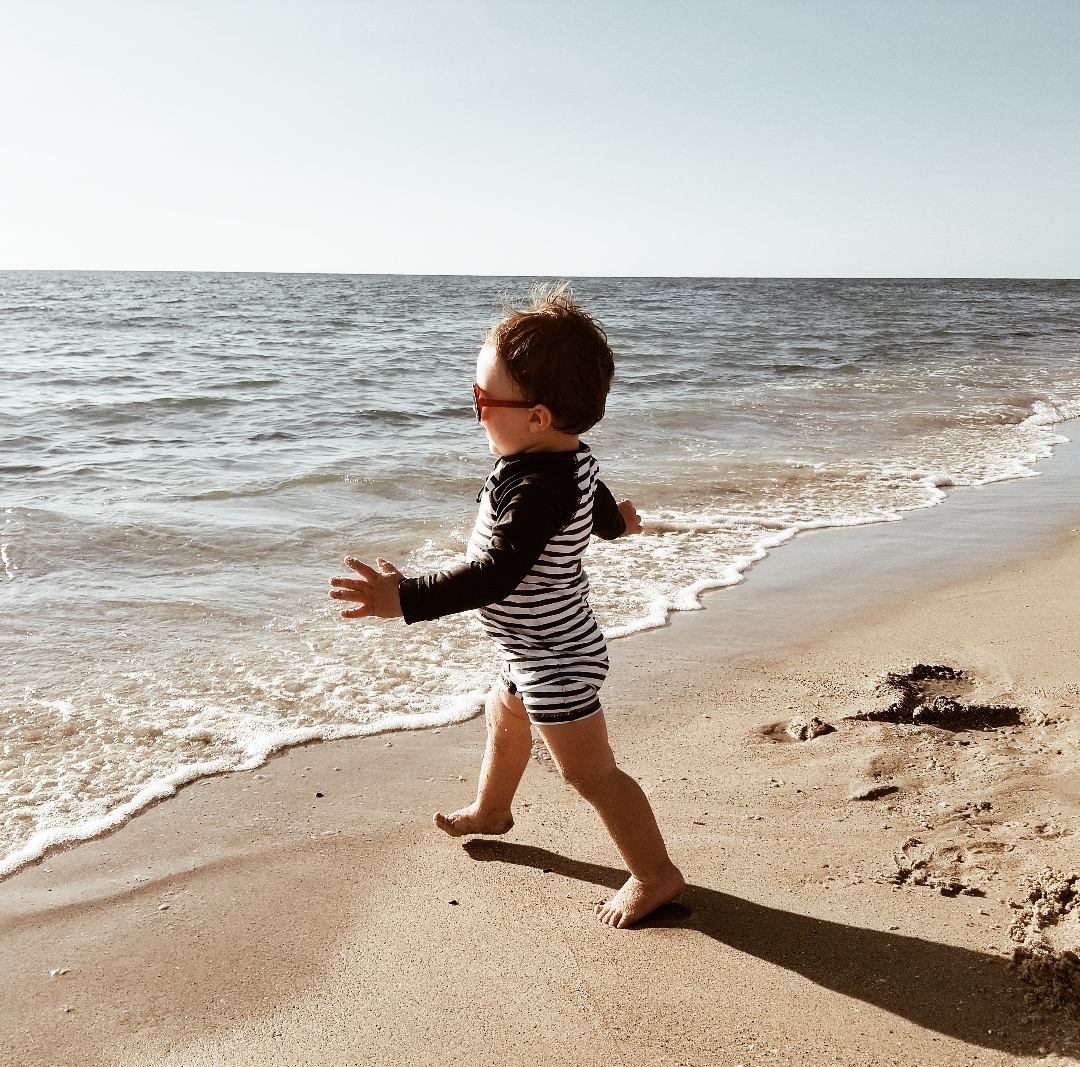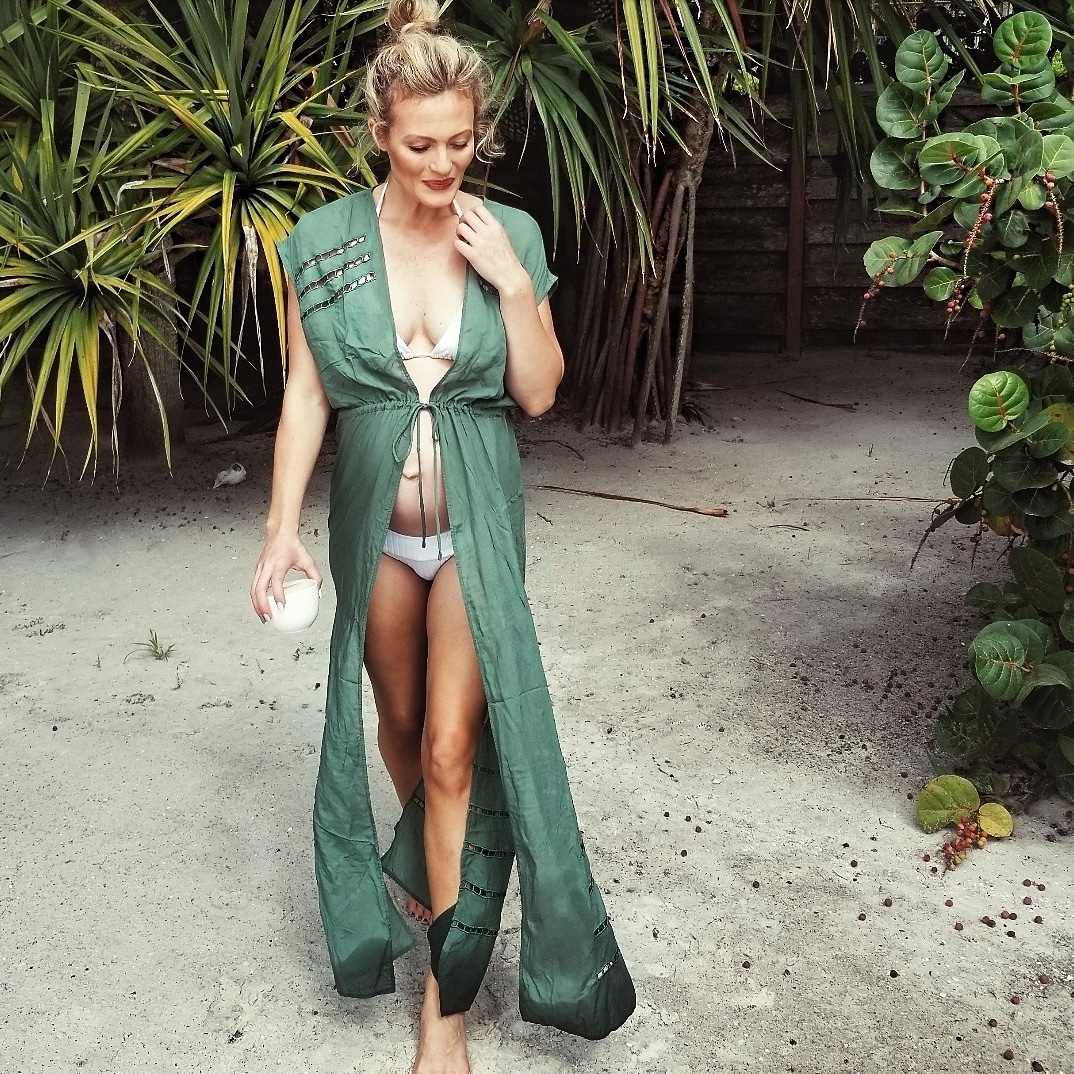 PACKING
When it comes to packing once again, we way overdid it! We had no idea what to anticipate, so we brought more items to wear in the evenings than we needed!! Which is so typical of us!  Most days, we were all in our suits and coverups until the sun went down. I received loads of questions on what to pack for a 14-Month-Old, and I will do my best to outline this below. If you read my Mexico post, there is a very different packing list for a 5 Month Old if you need it!
All the major things like Target, Publix, etc., are about a ten to fifteen-minute drive away from where we were staying, so I did feel that we were in good shape should we forget anything significant! There are also plenty of familiar restaurants and to go locations should you not wish to cook!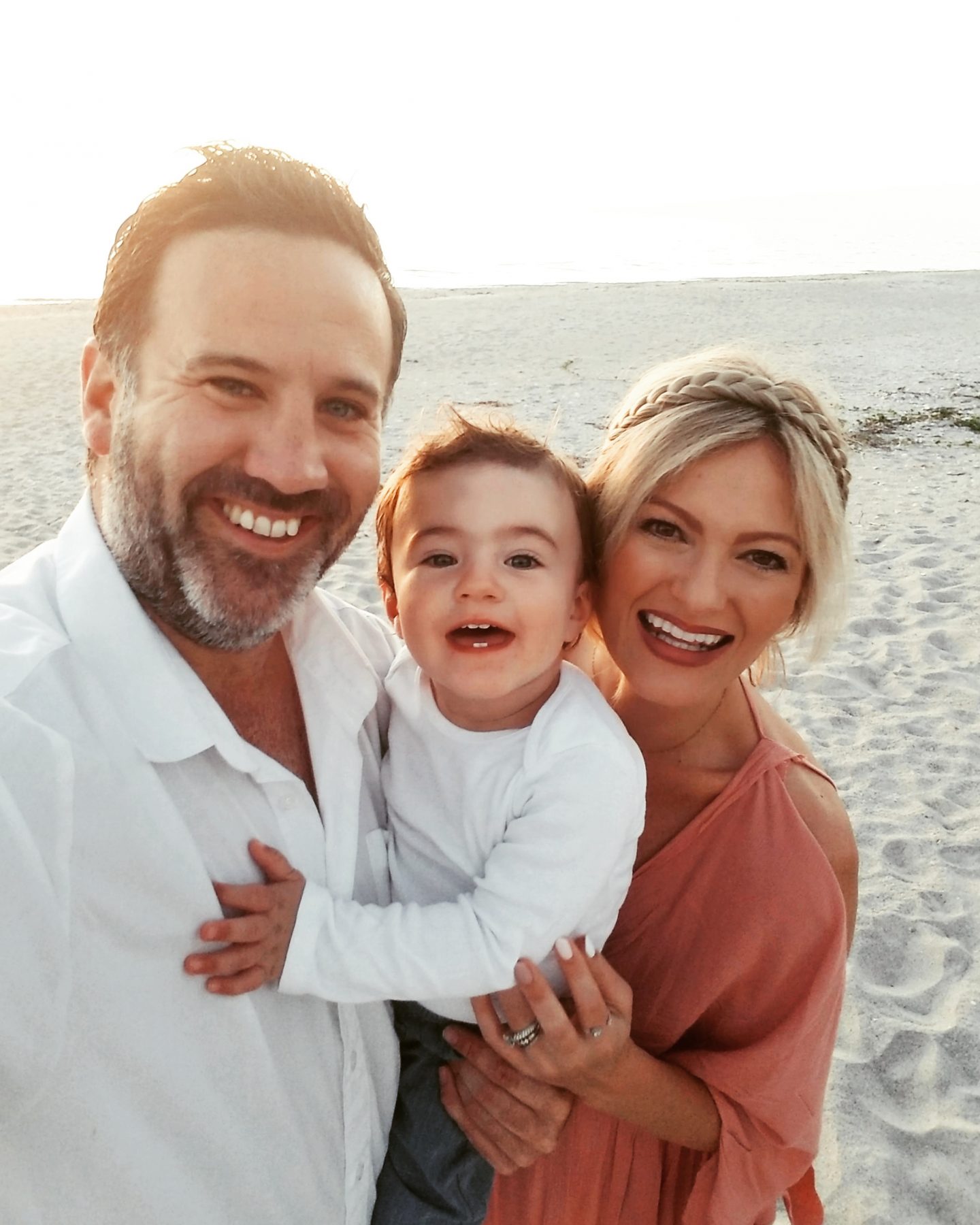 The scrolling images below will take you directly to the product page. I use an affiliate linking company that allows me to take the shopping off your hands and make it as easy as possible, so I hope that helps any mamas who are scrambling! Also, Amazon Prime, when packing for a trip, is so necessary!
AIRPLANE PACKING LIST:
Back-Up Outfit (Never Know)
Four Diapers
Wipes
Travel Changing Pad
Bib
Cloth Bip (he is drooling like crazy)
Milk stored in Twist Bags (2 pouches)
Snacks – Puffs, Teethers, Cheerios, Goldfish, Ella's Cookies, Banana
Snack Cup
Water Wow Activity Pad
Dimpl
Pipe Cleaners
Light Swaddle
Jacket
Hand Sanitizer
Wet Ones Wipes (wipe down the entire seat around you)

LEO'S SUITCASE CONTENTS:
Packing Cubes (love these so much)
Rashguards (two)
Swimsuits (three)
T-shirts
Onesies (short and Long Sleeved)
Shorts
Pants
Sweater
Diapers
Butt Cream
Nose Frida
Shoes – 3 pairs and he wore these the most
Sunglasses
Sand toys
Coordinating Fam Outift for Pictures
Sunscreen
Lotion
Thermometer
Shampoo/Baby Soap
Sleepsack
Sheet for the Crib (they had a crib at the house)
Travel Stroller
Wish we packed a collapsable Bathtub ( no tub at the Airbnb)
Also a collapsible high chair for meals ( We forgot to ask if they had a high chair!)
A few of his balls, books, and favorite toys
We rented his car seat from National

When it came time to pack for me, let me tell you it is super humbling to be entering your third trimester and carrying a coconut around while wearing a swimsuit! I will say that I loved the ease of the warm weather and being in a suit and coverup all day was glorious! I also live for dresses, so that was pretty much all I wore. I will share everything below!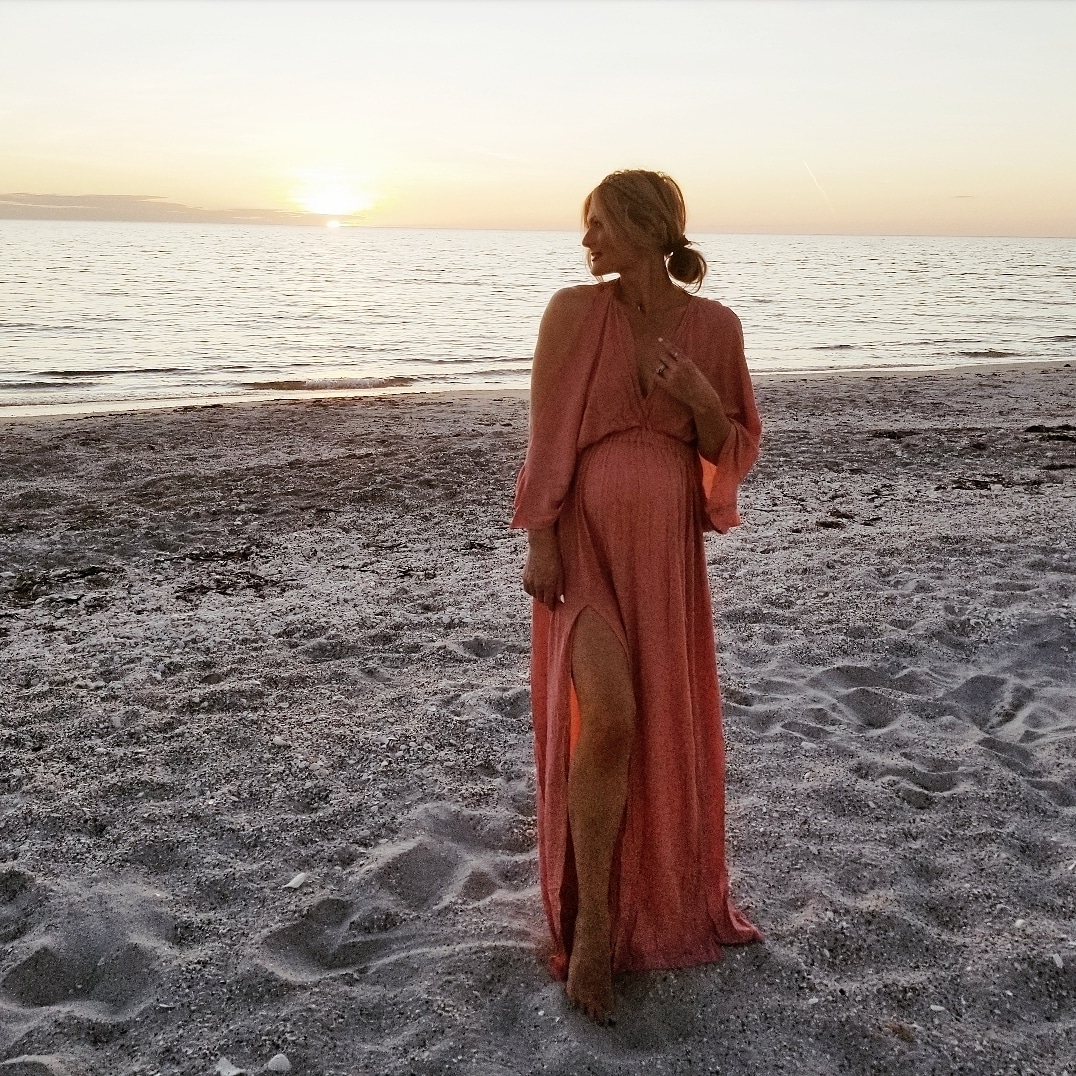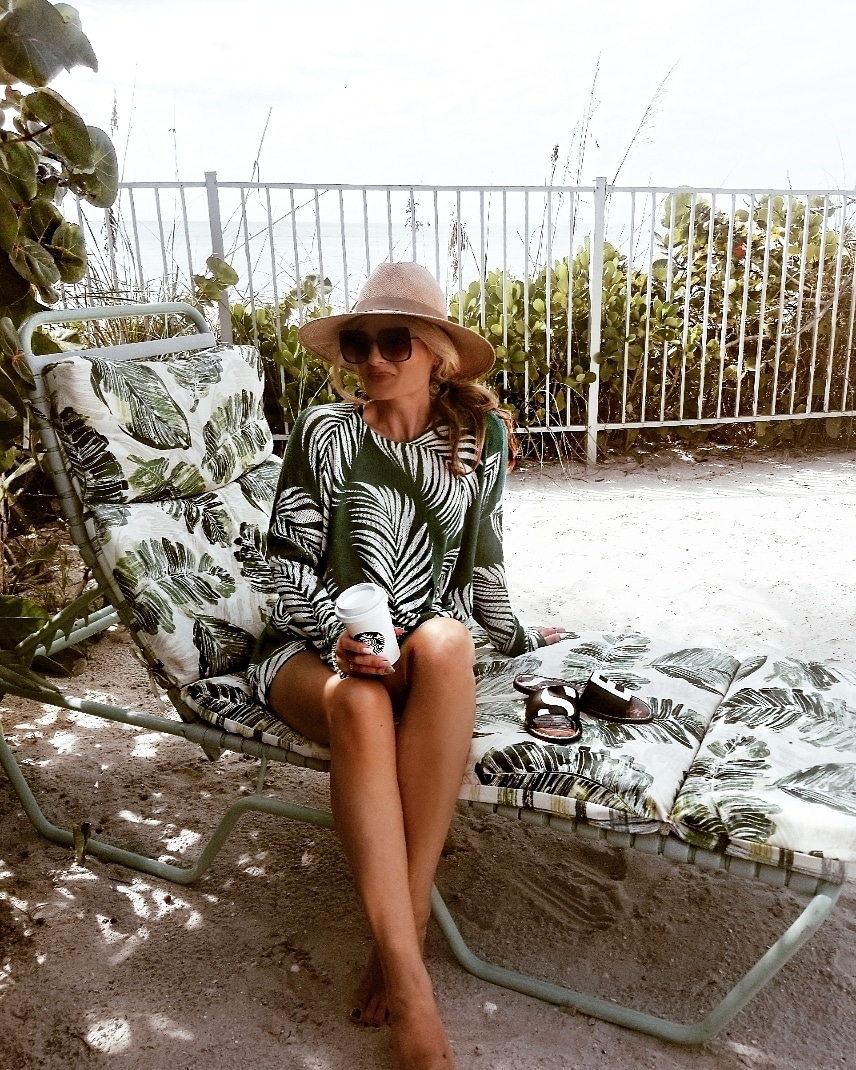 We did end up having a few little photo opportunities and wanted to capture the gorgeous sunsets that happen on this beach! I am grateful to a few very wonderful brands who loaded me up with all the good stuff like Everything But Water, Tiare Hawaii, Mumi Design, Sam Edelman, and Show Me Your Mumu! I a linking all my stuff below for everyone who was asking!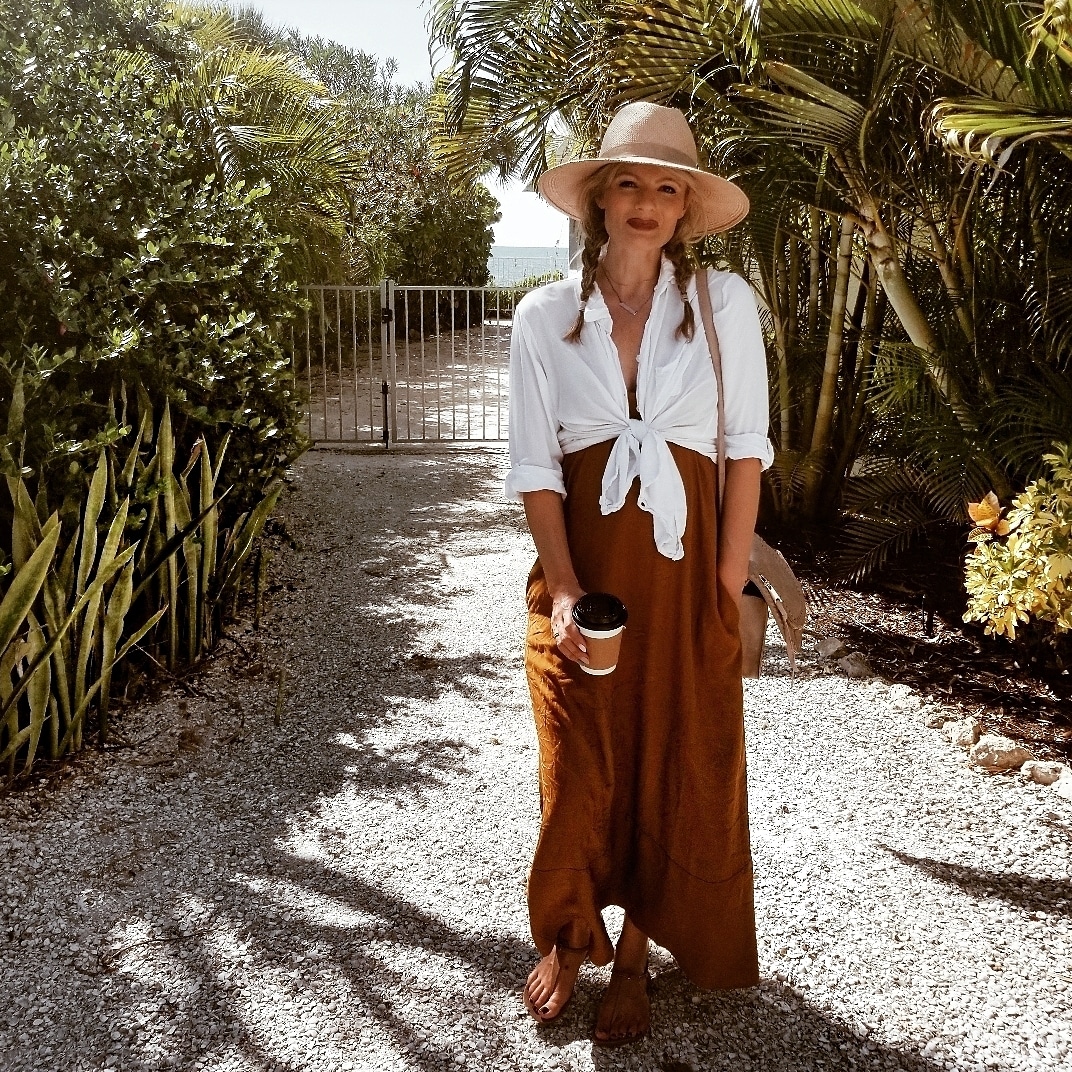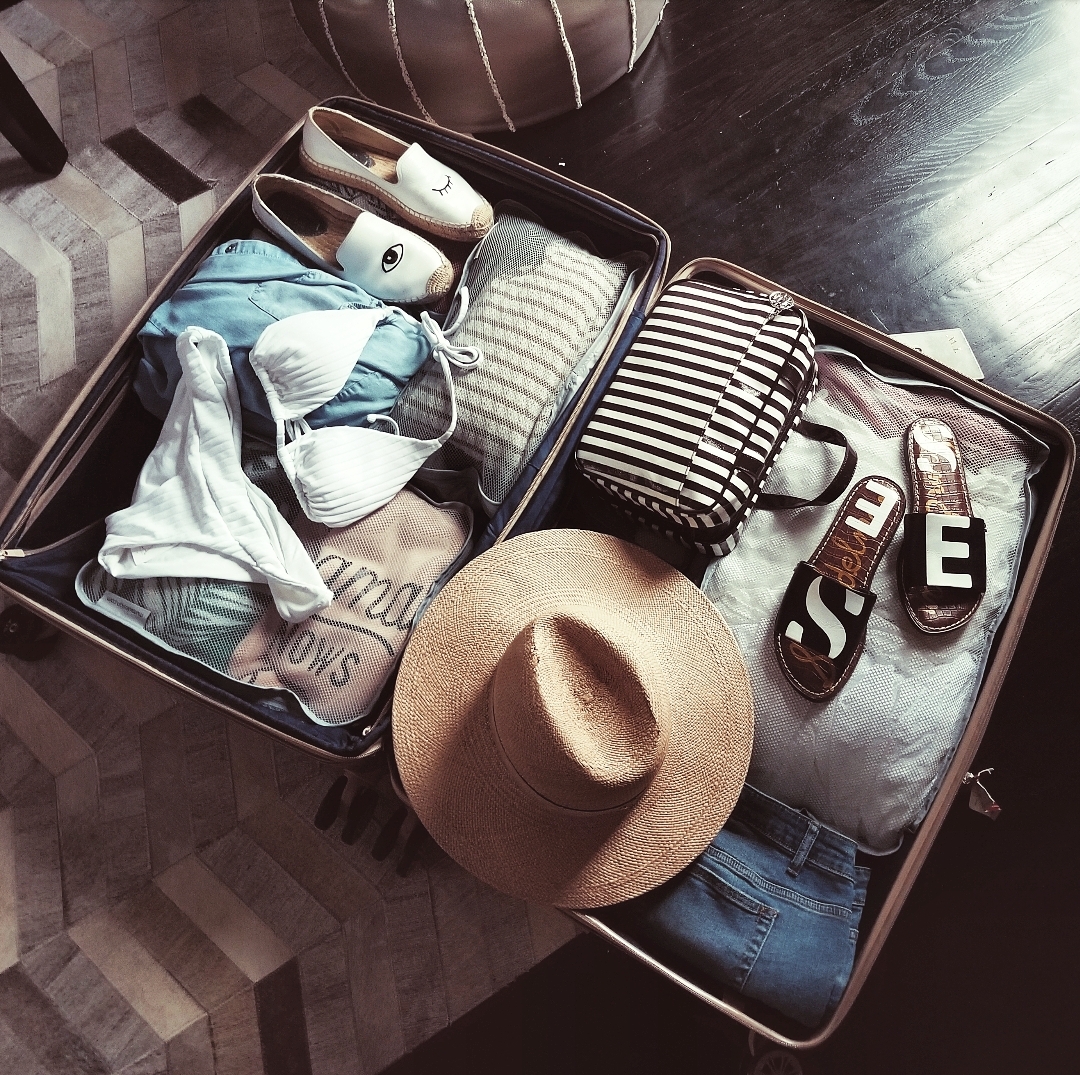 MAMA's SUITCASE CONTENTS:
Sneakers
Sunscreen
Toiletries
Snacks (mixed nuts, granola bars)
Sweaters
Dresses
Kimonos for day and swimsuits
Shorts (this pair of maternity ones)
Button-Down Shirts (I like tying them over my suits)
Beach Bag to haul all our stuff
Small handbag for daytime excursions
Hand Sanitizer
Hair Binders for beach
Sunglasses (two pairs always because I can usually break one)
Computer
Chargers
Headphones
Jacket (for the plane and once home)
Back up Charger
NOT ONE PAIR OF HEELS!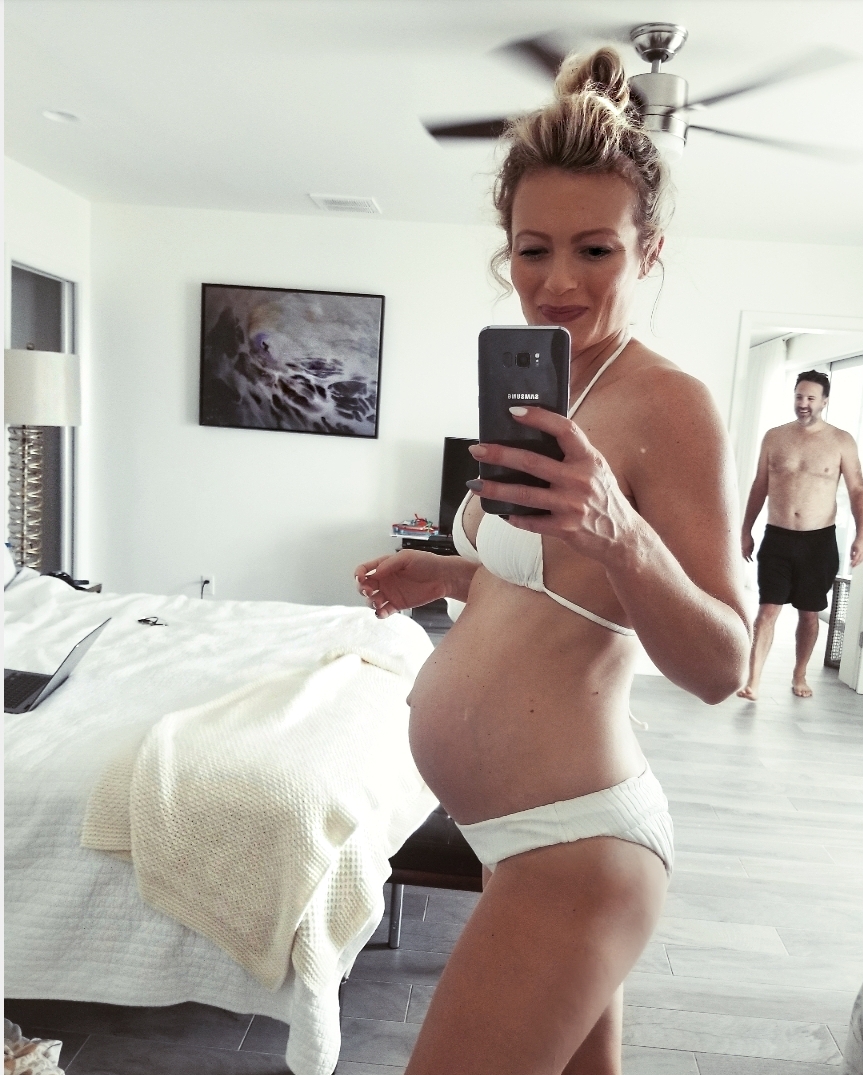 If you are coming here or planning a winter break, this is an ideal spot for families. There are quite a few rental homes up and down this beach, and we spoke with lots of locals about the area. People who have found this location keep coming back. I loved every minute of it. I truly felt relaxed. Ending the day with nowhere to be and no real agenda was a total dream.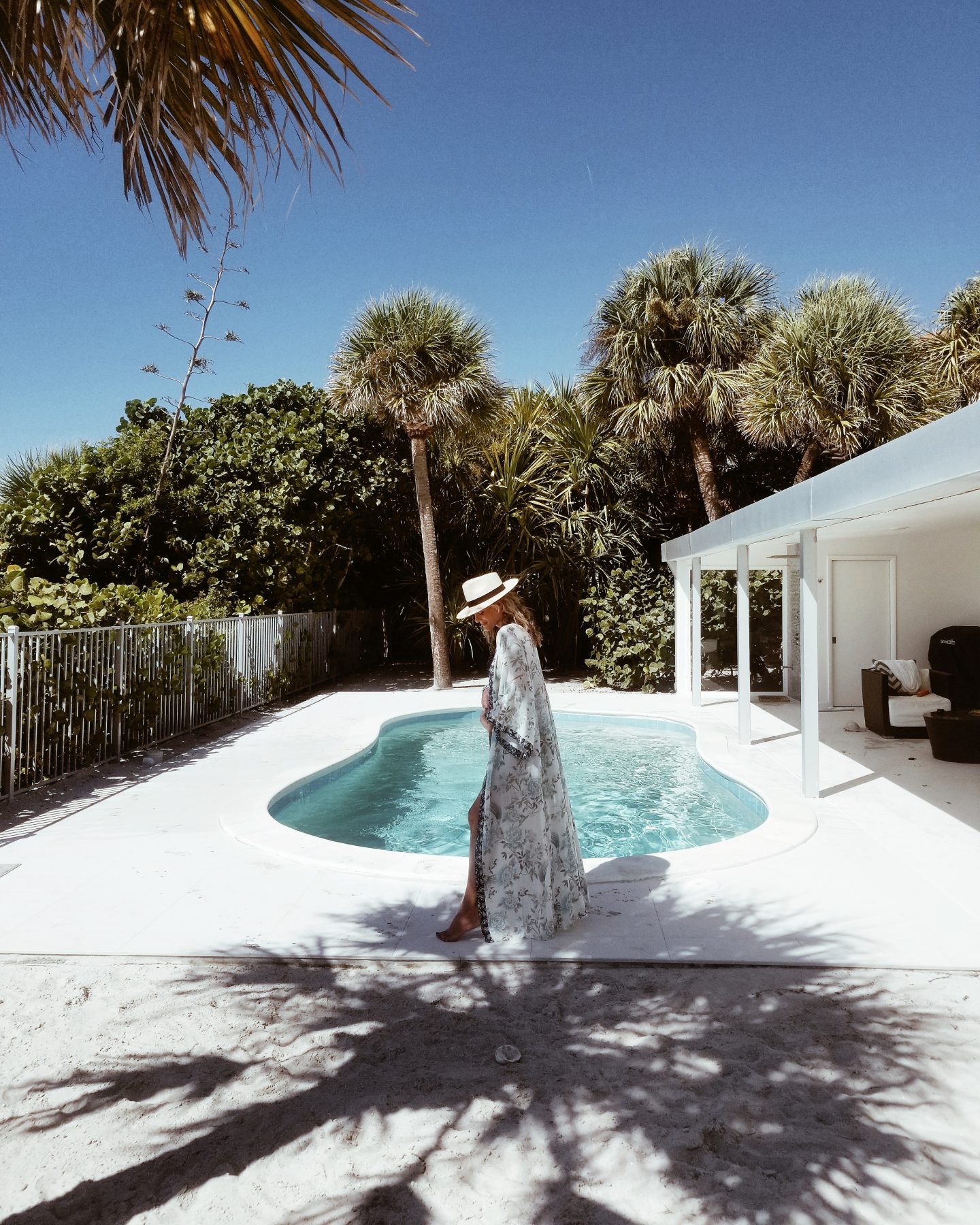 I have stayed all over Florida from Destin, Sarasota, Miami, Orlando, Marco Island, Naples, Bonita Springs, and I love this area. I can see us coming back in future years due to the ease of getting here as well as how relaxing, and enjoyable the trip felt overall!
If you have any favorite or must-see places in Florida, please tell us all below!