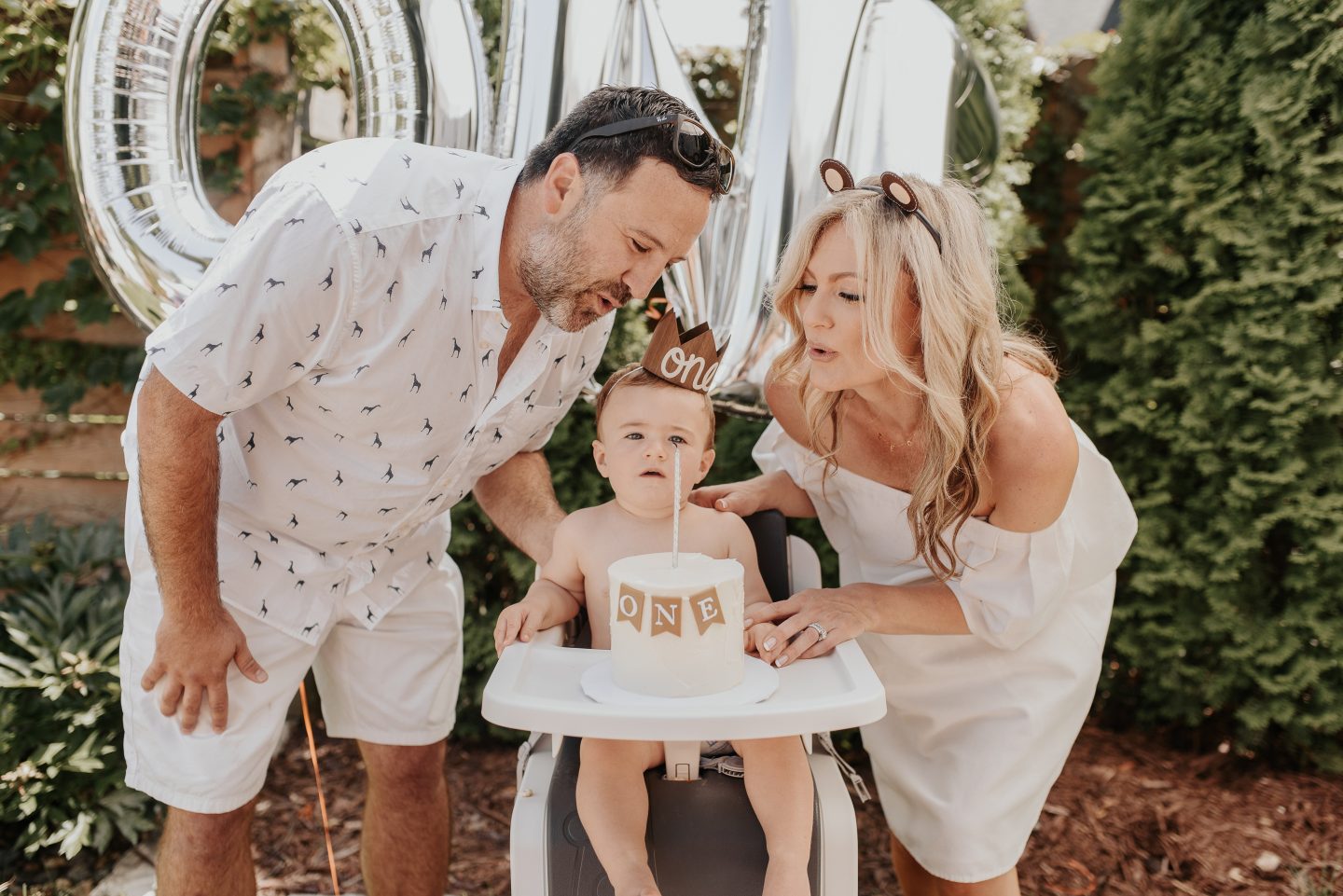 If you have been following along with us, then you know how much I love this child and how much I love a good party! This birthday was one of my all-time favorite parties to plan, and I wish we could do it all over again! The balloon garlands, animal party hats, cake, cookies, ice cream, and all of our wonderful friends and family who have lifted us through this first year made this one unforgettable day. One we will cherish forever.

I have so many wonderful vendors to thank so be sure to scroll to the very end for links to all of their fabulous sites, and if you have any questions, please feel free to leave those so I can get back to you! I love sharing my love of a good soiree, and I hope this inspires you a little because I worked my tail off to pull this all together, but it would not be hard to replicate! Thankfully Amazon, my new balloon pump, fabulous professionals, and family made this all possible!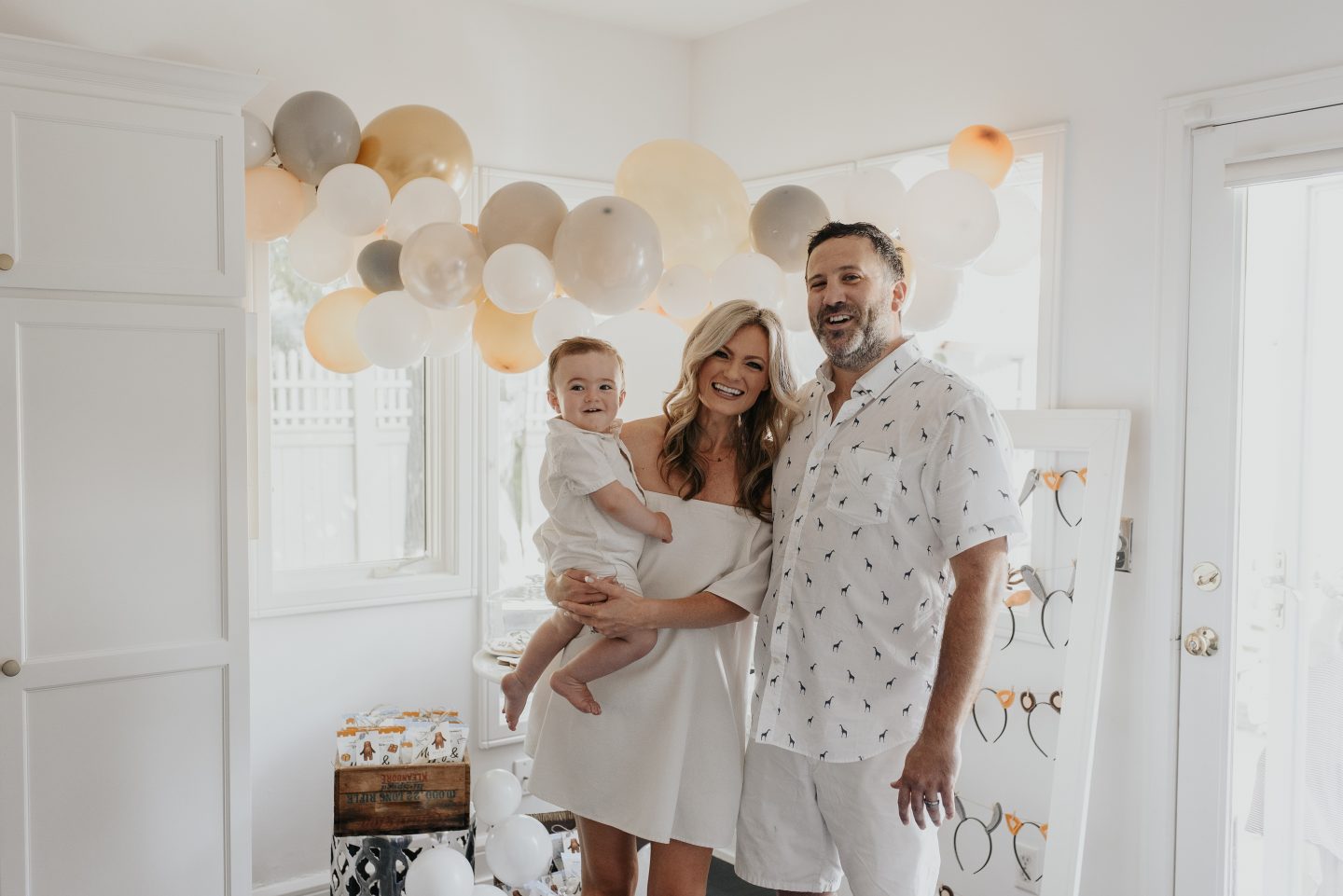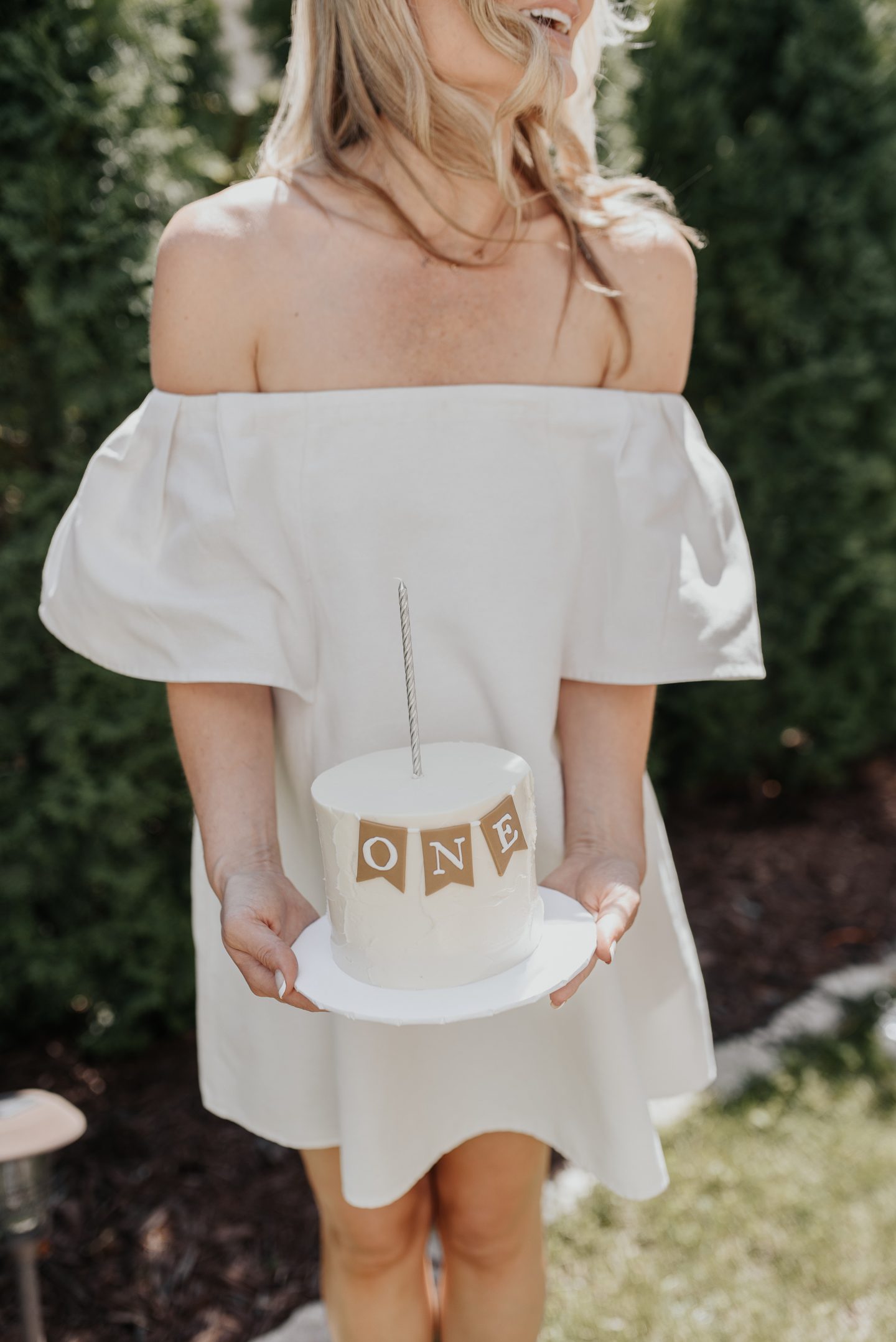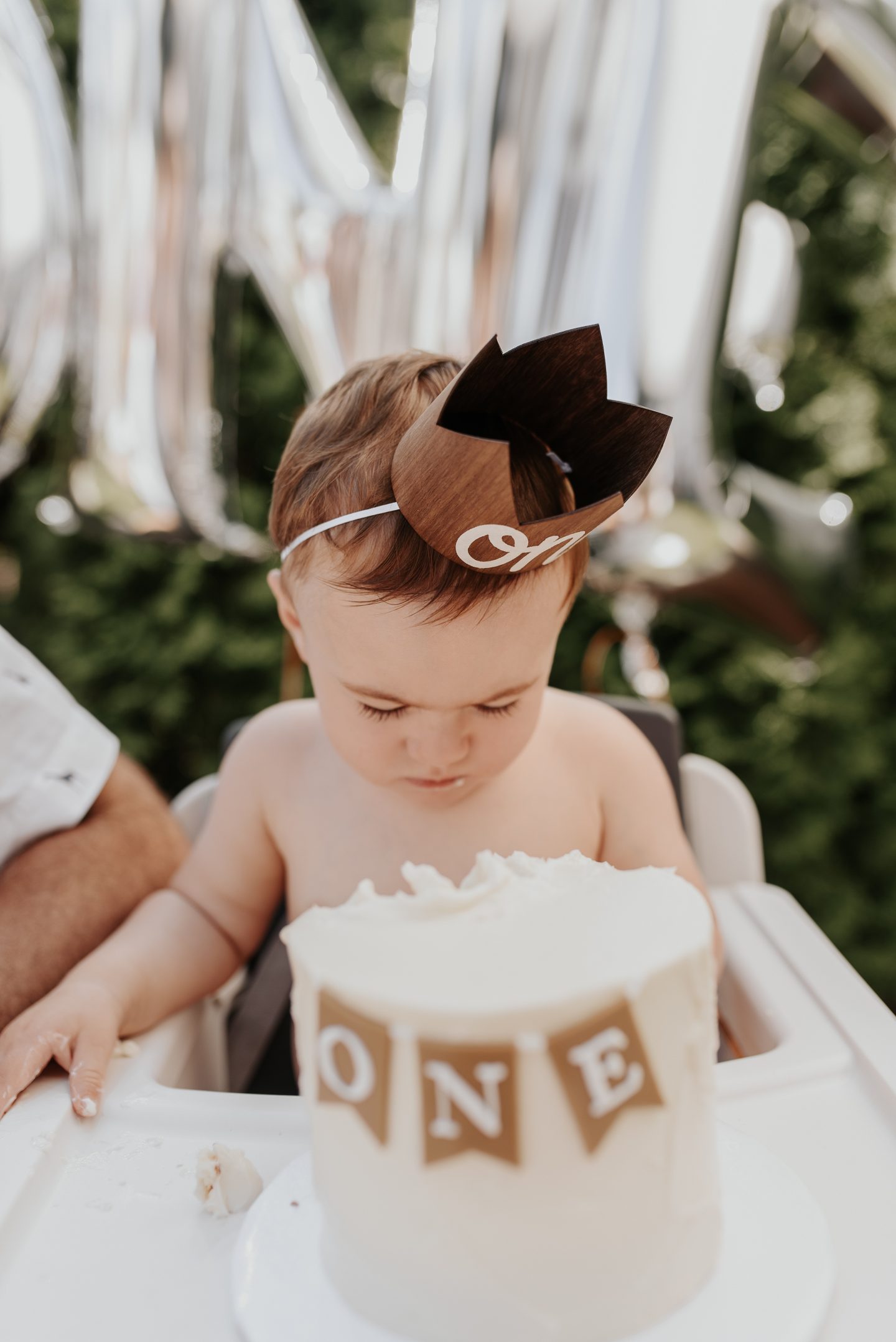 When I started working on Leo's nursery, I knew I wanted a woodland feel not overly themed, but I adore woodland animals like deer, fawn, foxes, rabbits, bears. We have called Leo our baby bear since day one, and I think we pulled it off! Fortunately, he happens also to love bears and all of his woodland friends, so it was a success.
I live for a great neutral pallet and for his party I wanted pops of color and fun feel as not to make it too grow up but still stylish and fun. I think we nailed it with Maven Events providing the rentals from the wood tables to the gorgeous rugs and the balloon garlands were the real stunners. Please look at her work everything from parties to weddings you name this girl boss can do it! She is seriously the real deal, and I am so grateful she was so willing to help! You may remember my Tulum inspired birthday party she was the mastermind! You can read that here.
For the balloon garlands, I started ordering balloons on Amazon well in advance and let me tell you I could have made about 20 of them they were so fun. I way overordered white balloons, but I wanted to have options on hand.
Overall they are straightforward to do, but you need some time and some help. If you have a friend or your mama nearby, then start a few days in advance pumping up the balloons. I ordered this balloon pump and these balloon strips that made all the difference! Some balloon garland packs come with these strips already, but it never hurts to have a few extra on hand!
The key to creating these garlands is to fill your balloons all different sizes. I ordered a few packs of the extra-large balloons, so it gave the garlands more dimension, and I also ended up going on a wild hunt around town to find more sherbert orange and brown balloons with no luck. My advice is to preorder them. Specific colors are just not as standard as they used to be and Amazon Prime and free shipping save you so much time, and if you have a one-year-old, I know you don't have a lot of extra time on your hands!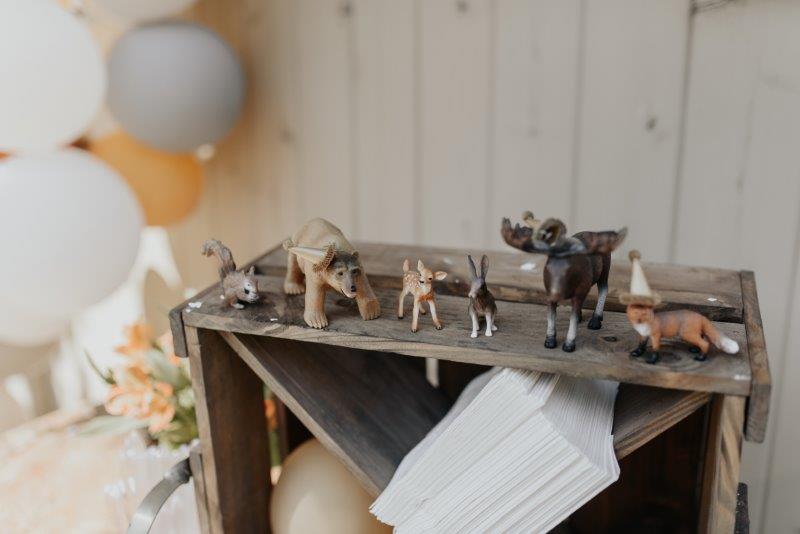 The most requested question was hot do you attach the garlands? I would say using a structure like a tent, wall, arch, definitely help. We used twine inside and a tiny nail to attach the string to otherwise outside in the back we used a command hook and tape. I love how they turned out. They are affordable and add so much to the party! I saved a tutorial on my Instagram stories if you are interested with links as well!
It happened to be a hot day on the day of his party, so the larger, more filled balloons started popping! My sweet dad was running around with a water sprayer trying to keep them cool it was all a little hilarious, but in the end, they lasted, and some of the garlands lasted weeks inside in the cool air conditioning!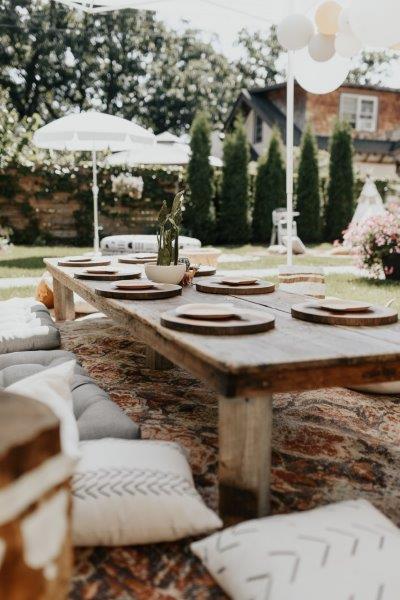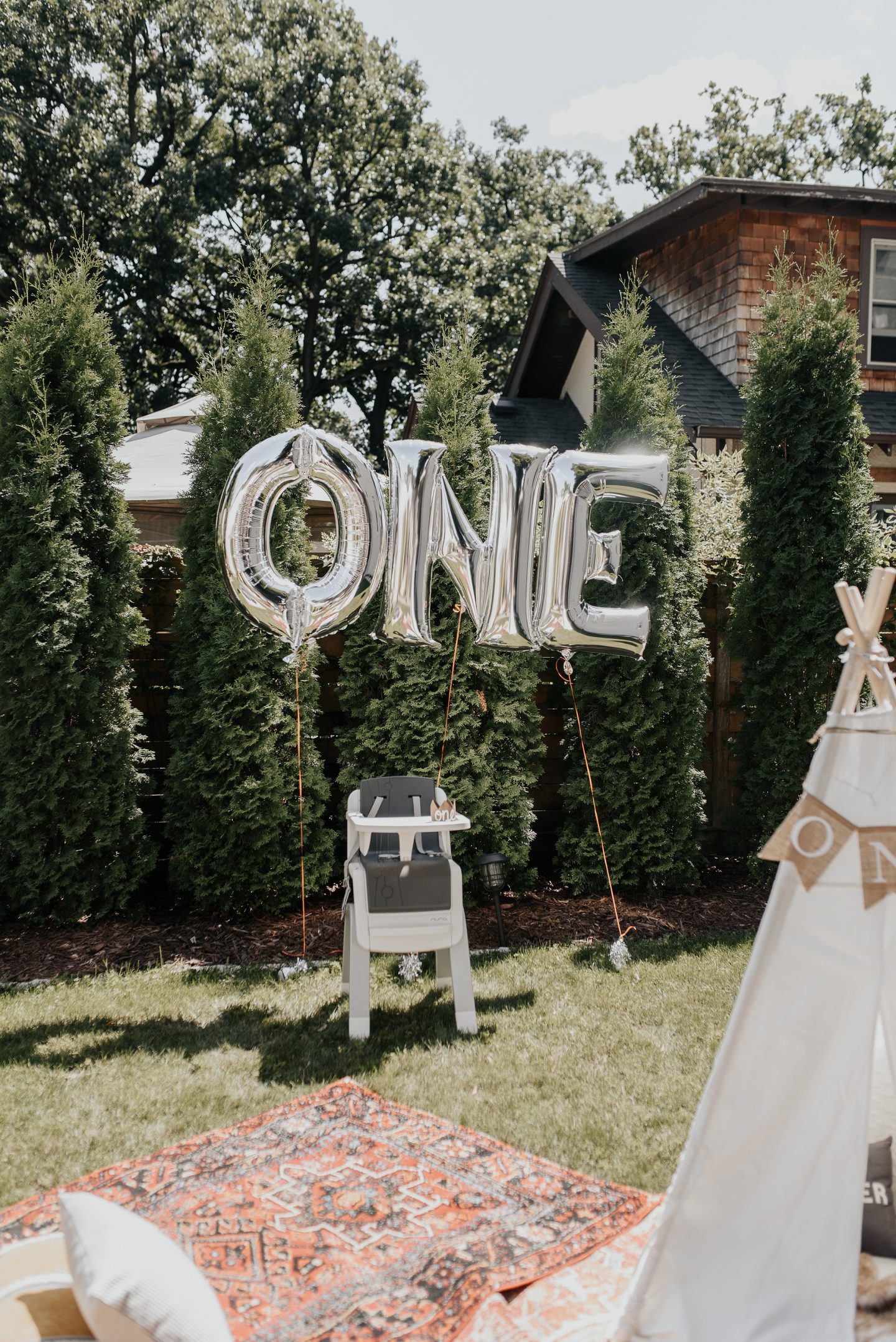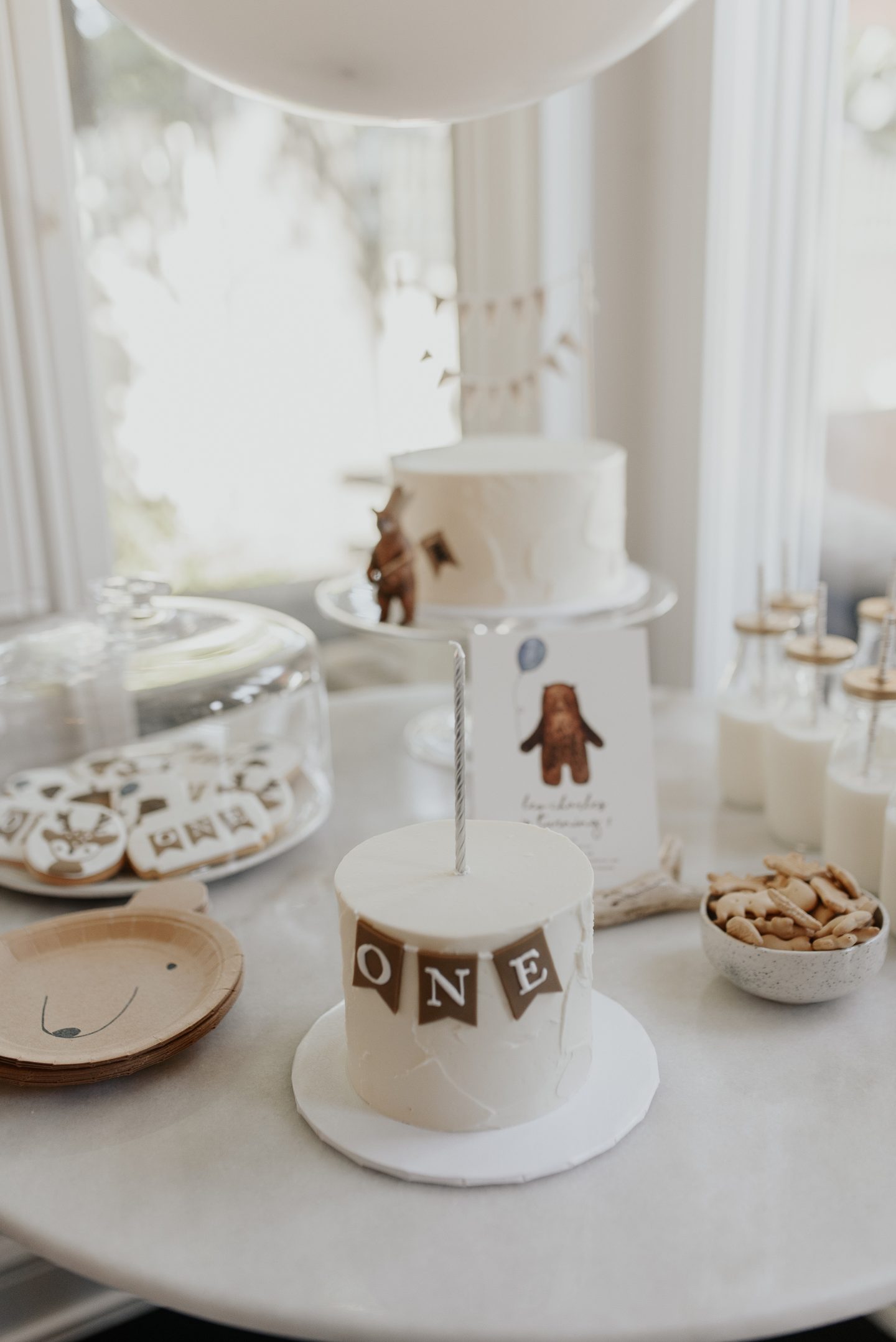 Food is always the biggest stress, but we did not cook or make one thing. That was the plan because I wanted to enjoy and not be stuck in the kitchen or make the house smell like a bunch of food, so we picked up everything.
I used as much of my serving pieces as possible. Lots of natural wood elements to go with the woodland theme, and kept the food to a brunch theme since we had an eleven a.m. start time! Figuring out when to throw the party was wild with nap schedules, and I knew if we went with the morning, everyone would be fresh!
We ordered Breakfast Burritos from Agra Culture; my mother-in-law helped with the fruit and veggies, chocolate glazed donuts, fresh coffee, mimosas, trail mix, nuts, and the most beautiful cookies and cake by Farina Baking Company! Overall we had way too much food, but it sure looked cute!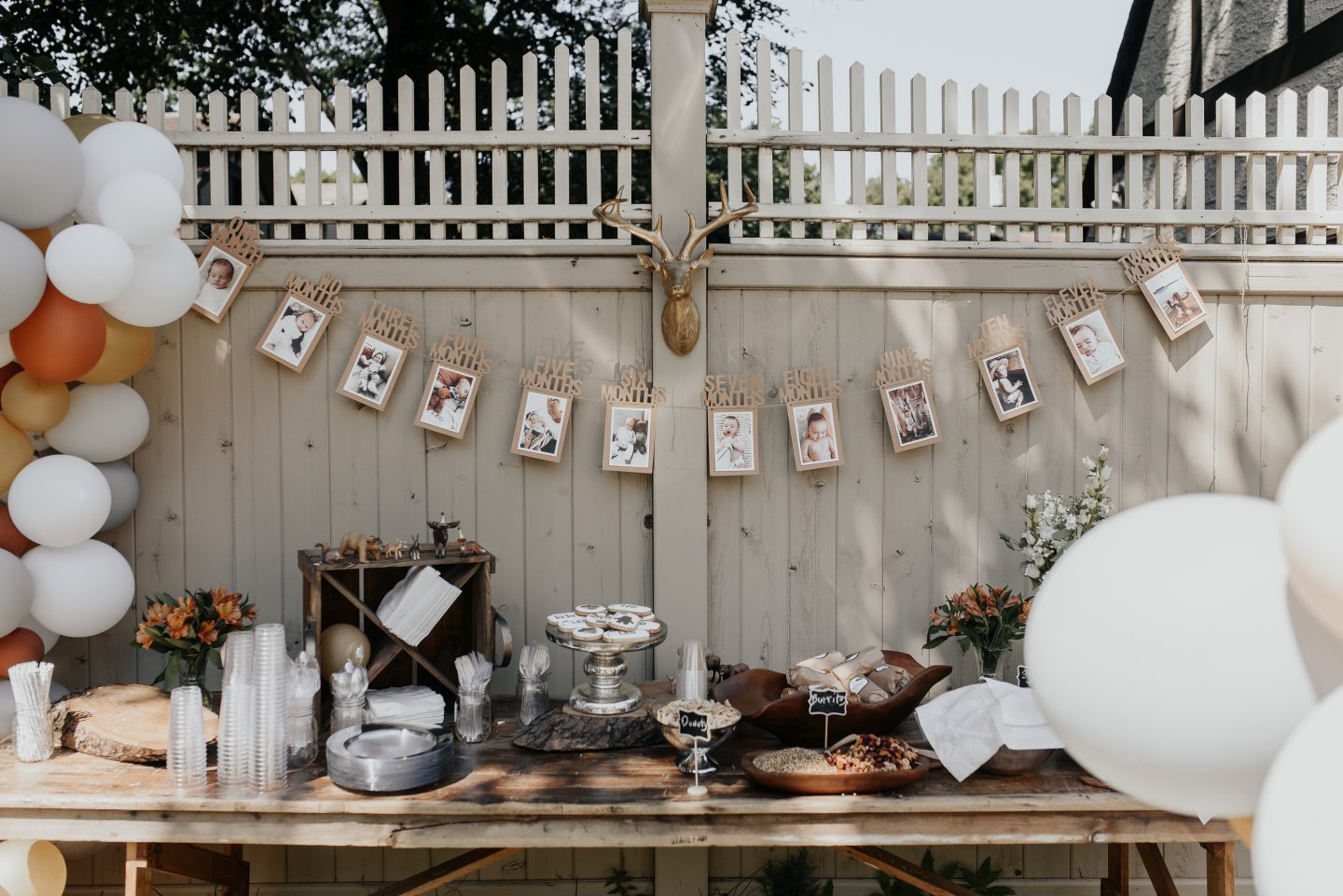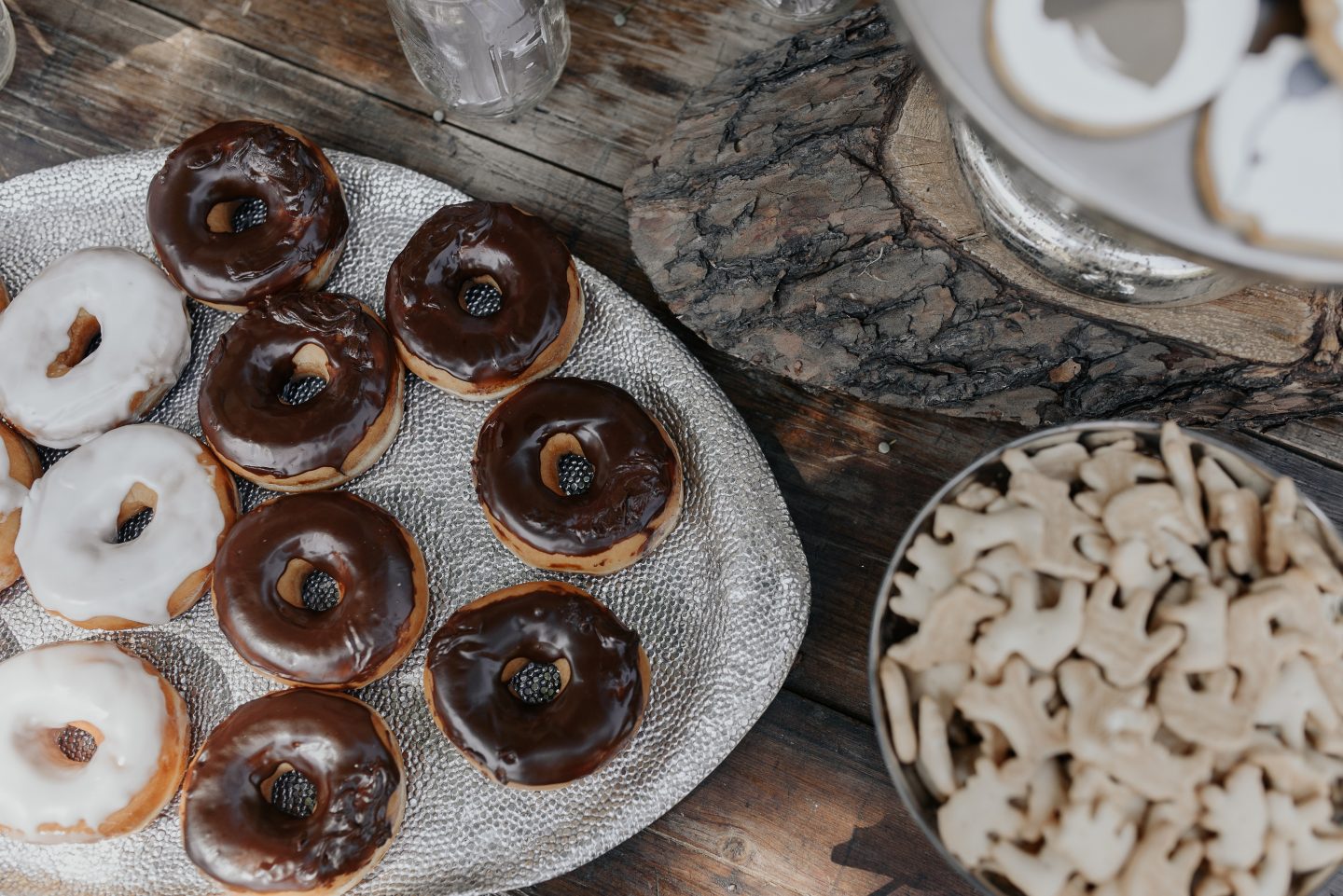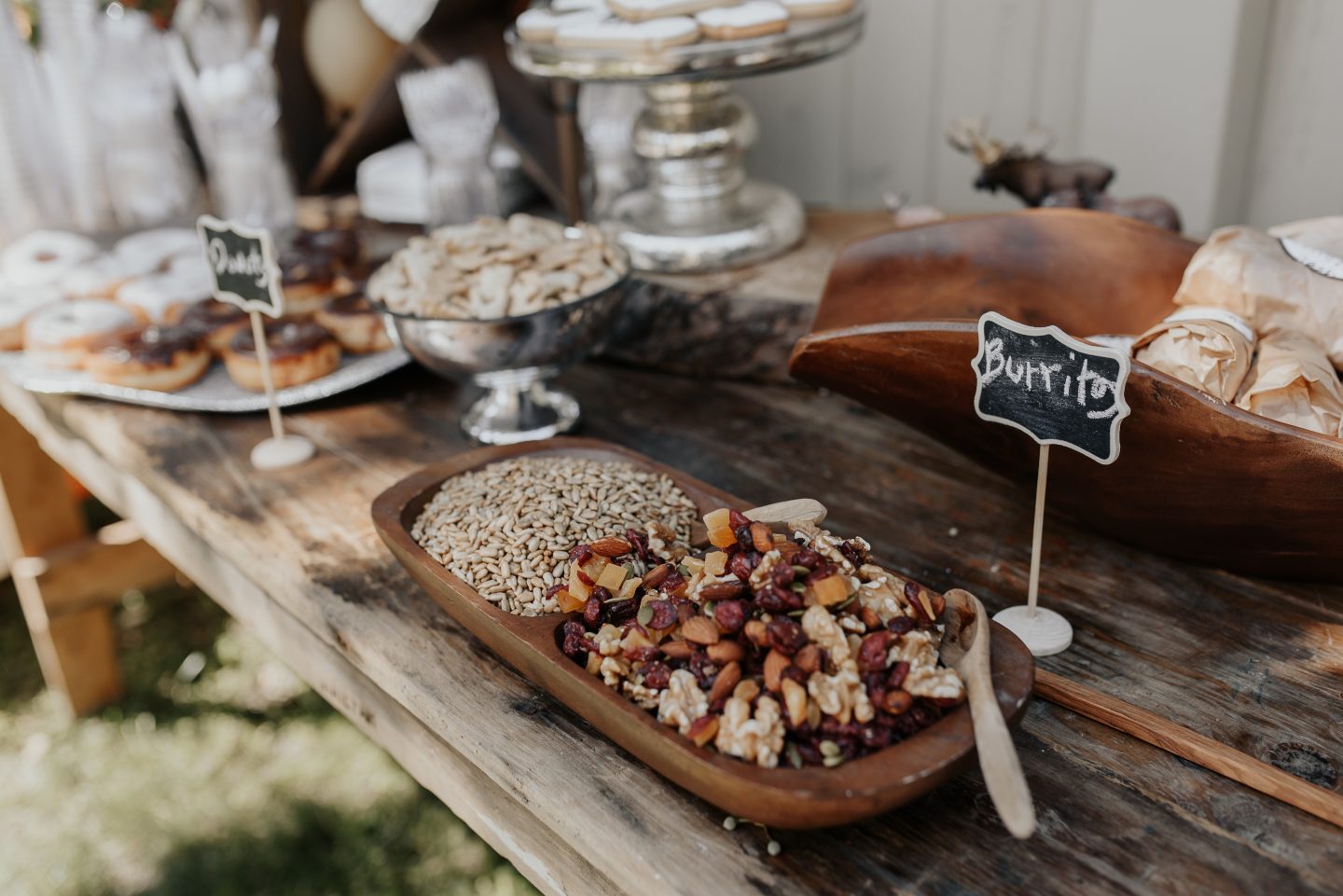 I spotted these adorable mini party hats for the animal figurines when I was up late one night on Pinterest, and I knew I had to have them! I found them here, and almost all of these sweet companies will customize to match your color or theme! I think they are just the world's cutest things! The figurines are also a favorite around here. I started collecting them well in advance, and Leo loves playing with them!

Leo was not into smashing his cake, and I was so hoping he would go crazy! I adore how Farina tied in the overall theme not only into the cookies, but she matched the bear from the invitations and the exact garland on his smash cake! It was all so beautiful and just what I wanted! After we watched Leo poke around at his little cake and he wore the most precious crown, we served everyone Sebastian Joe's ice cream! I wanted very little mess and they will pre-scoop the flavors for you, and you pick it up the morning of the event! We served Nicollet Pot Hole, Oreo, Salted Caramel, and Vanilla!
I wanted a cute area for the kiddos to run around, so we created this adorable little kid zone with Leo's infamous tent, and I set up an adoption center for all the children to take home their very own stuffed animals – all woodland-themed of course! I found them here. I made a small sign out of brown paper, and they were a hit. I also used our kid pool and filled it with plastic balls so the kids could jump around without the fear of any water! I did not need that stress! Maven Events provided the gorgeous rugs and pillows to keep it fun and comfortable!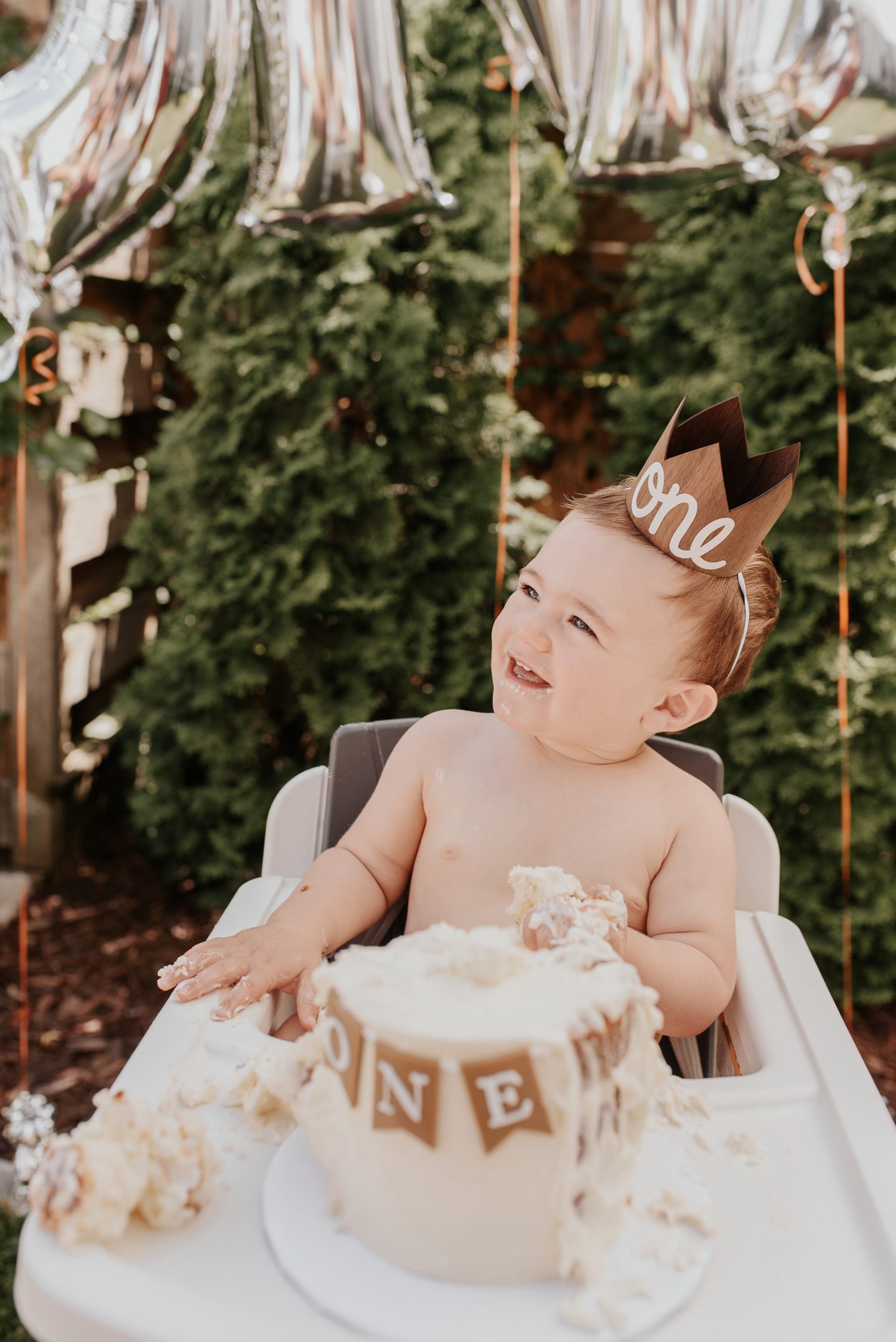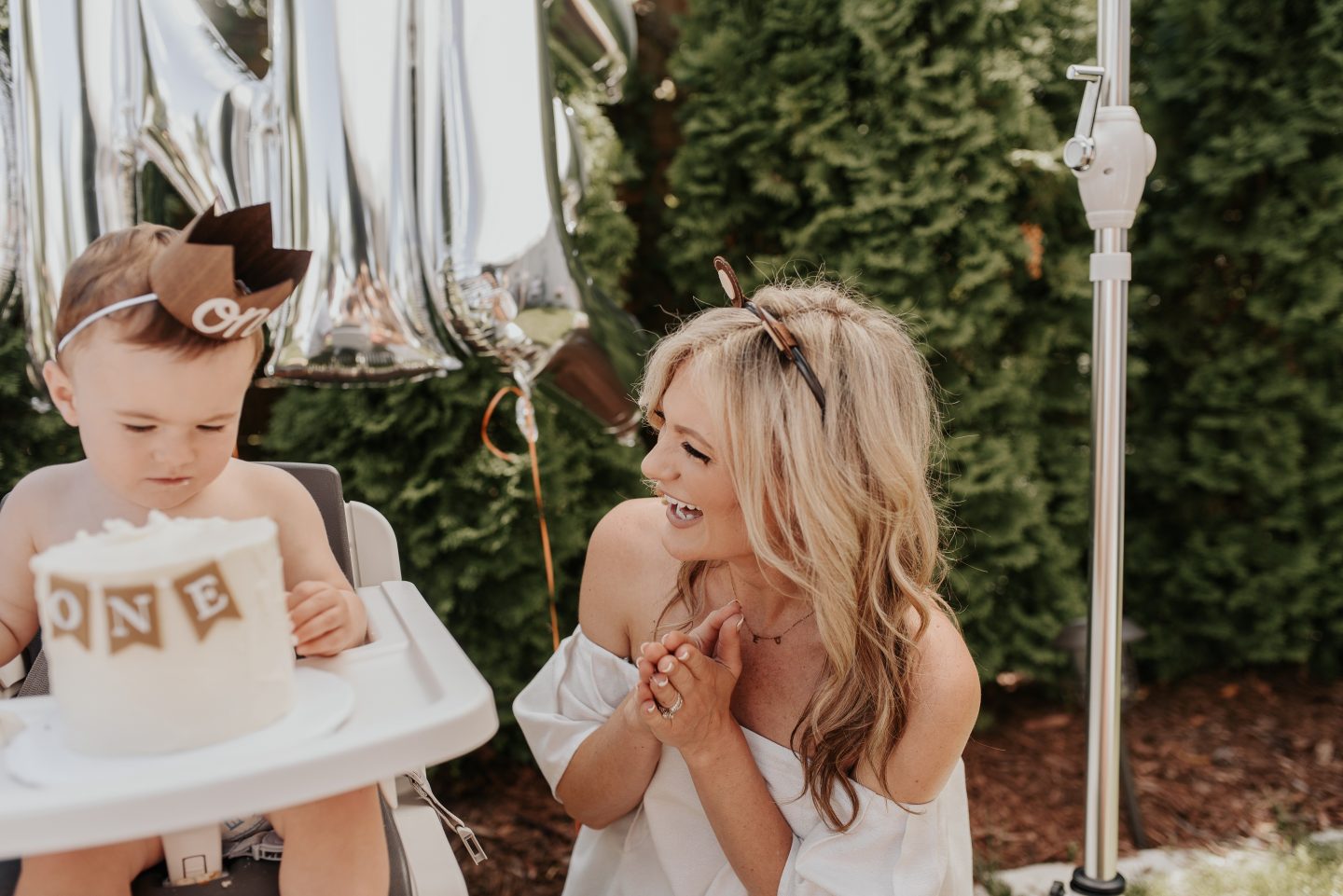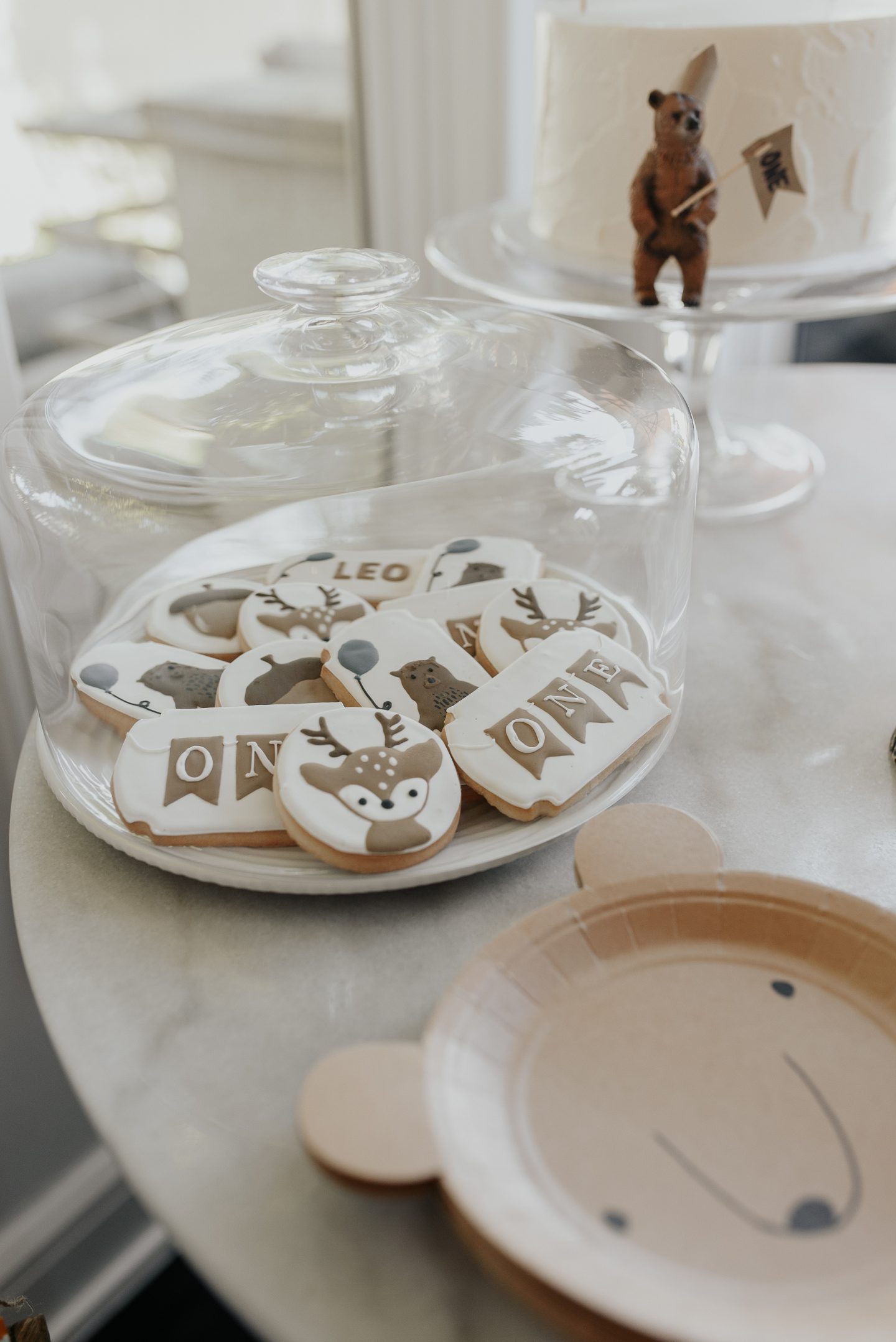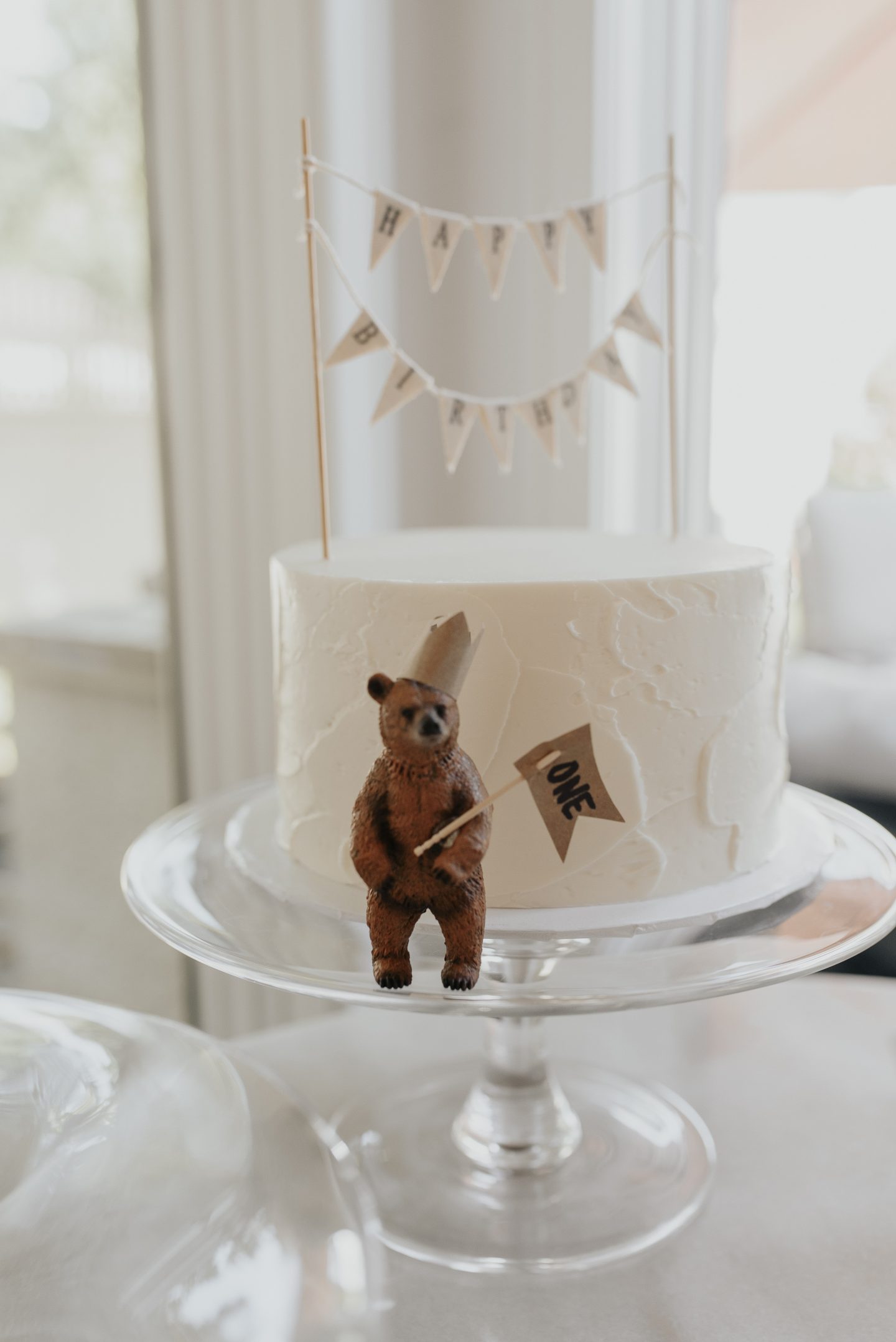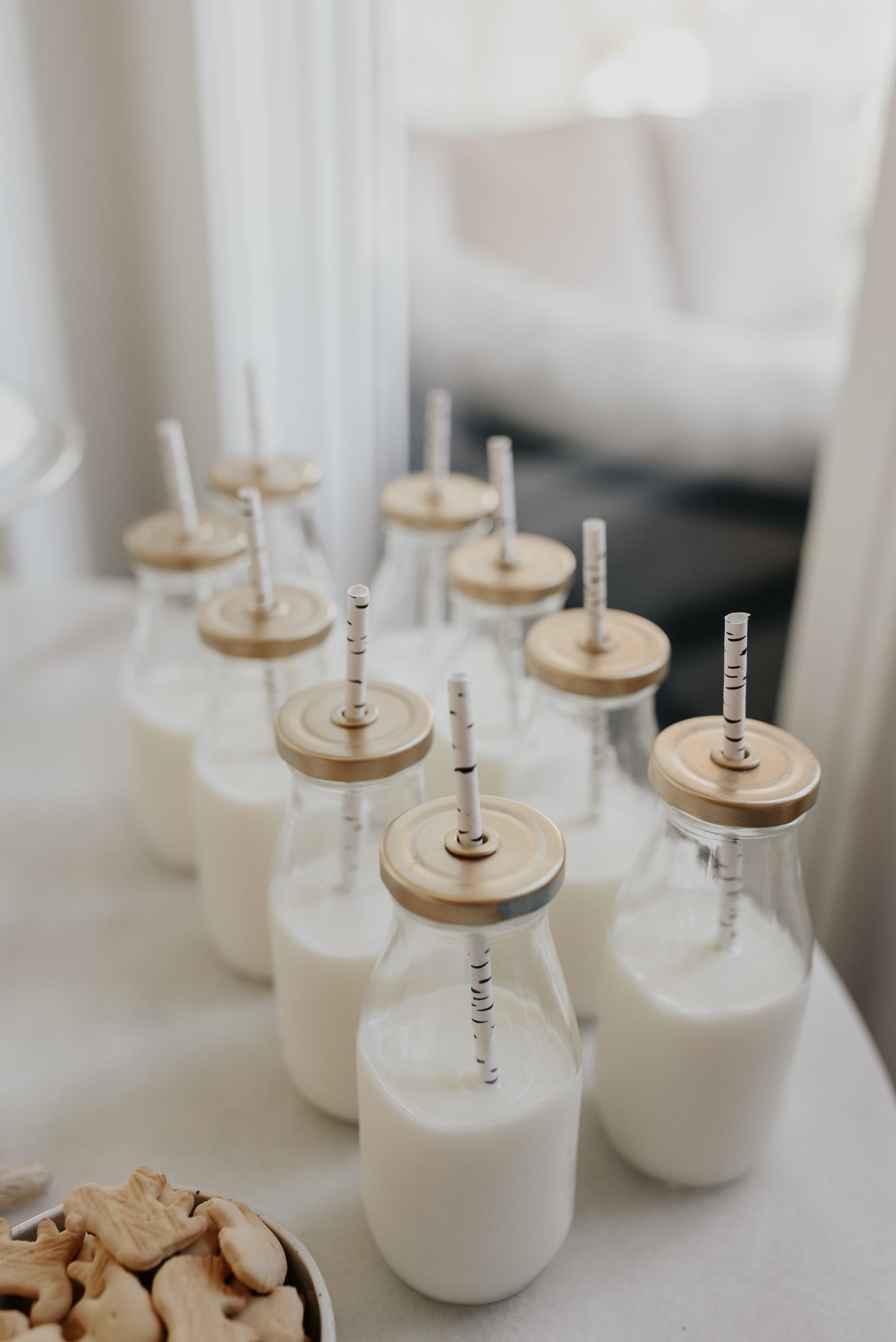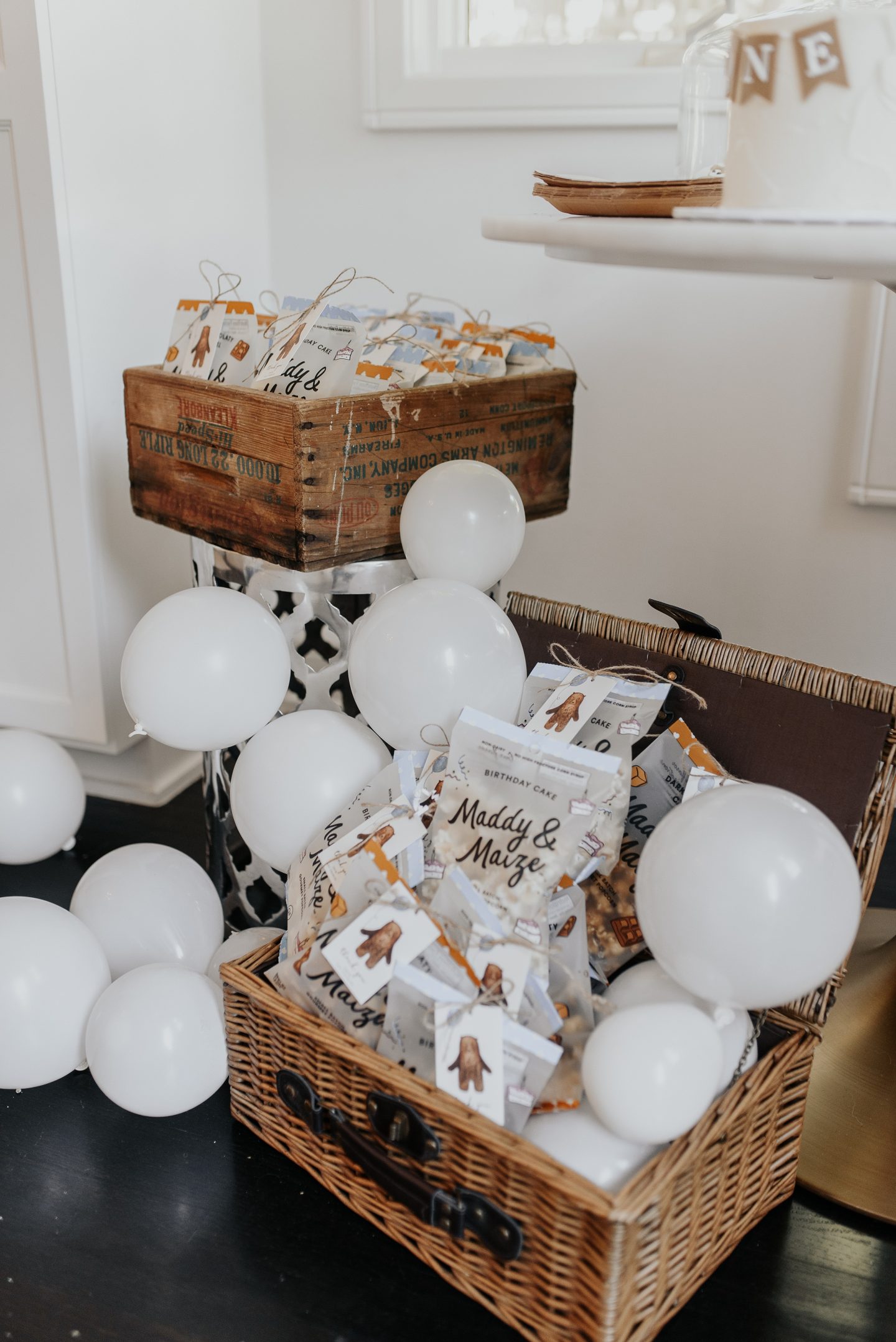 Due to the heat, I kept the sweets inside, and this might have been my most favorite little set up of all! Our kitchen nook made the perfect set up for the cookies and cake + the cutest little woodland headbands for everyone to wear during the party! I love seeing what everyone chose! I strung them using brown twine and mini wood clips. Looked so cute and a fun take home too! And what is a sweets table without ice-cold milk! I loved serving these old fashioned milk bottles with a matching birchwood straw!
As guests were leaving, we passed around Maddy & Maize gourmet popcorn with the cutest favor tags from Minted! I adore an excellent party favor, especially as people were giving up their busy Saturday mornings to spend time celebrating with us! This Minnesota based company sells at Target and online, and they have the cutest packaging and flavors, they even have Birthday Cake!
The invitations were the calling card for the party and could not have been a better match! The baby bear and the balloons just fit our theme, so perfectly I knew the minute I saw them they were the ones. Everything from the stamps to the thank you notes coordinated, and there is nothing that makes me happier than good old fashioned snail mail! Minted has been a long-time partner of Champagne + Macaroons and I am forever grateful for all the love they have shown us since the day Leo arrived.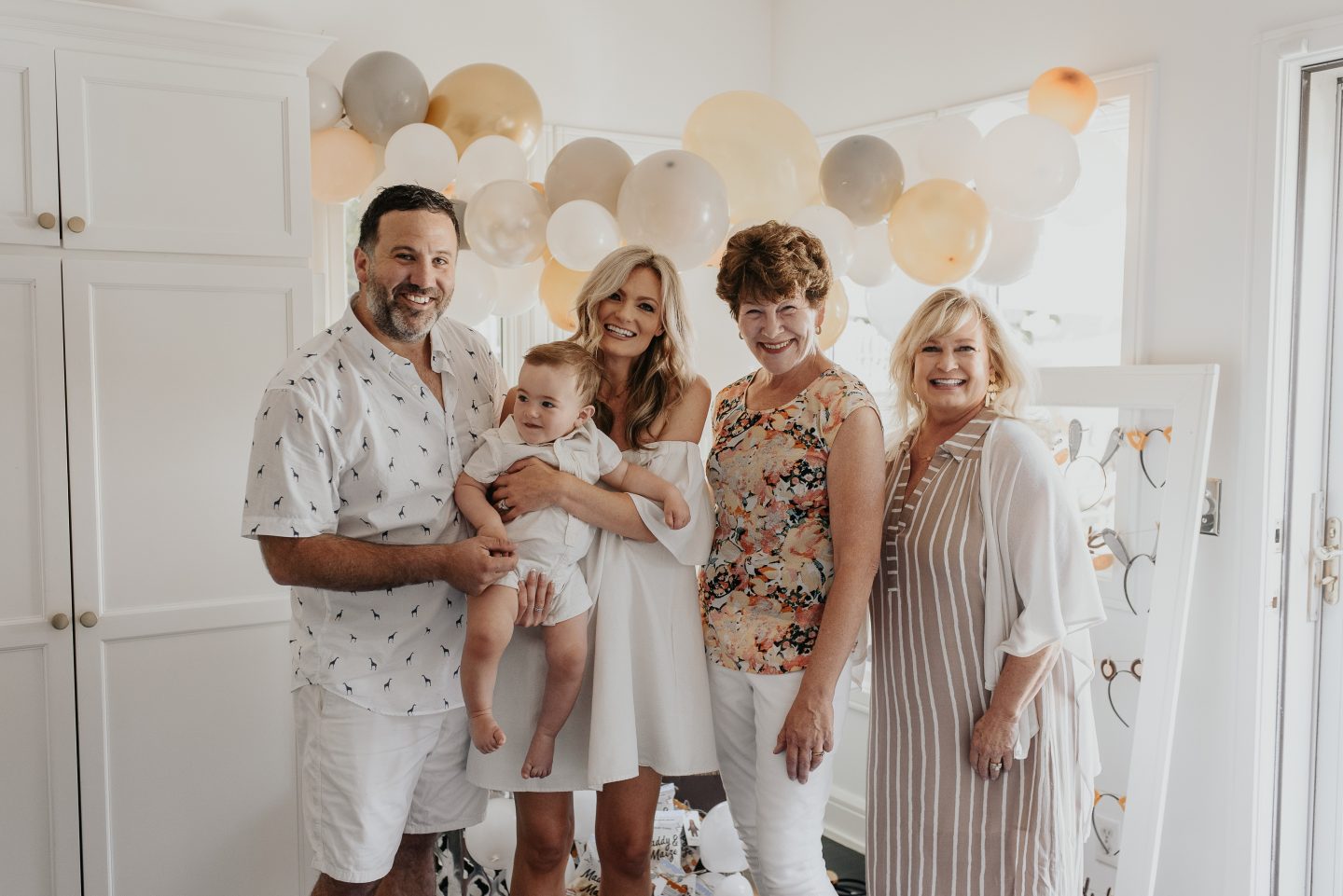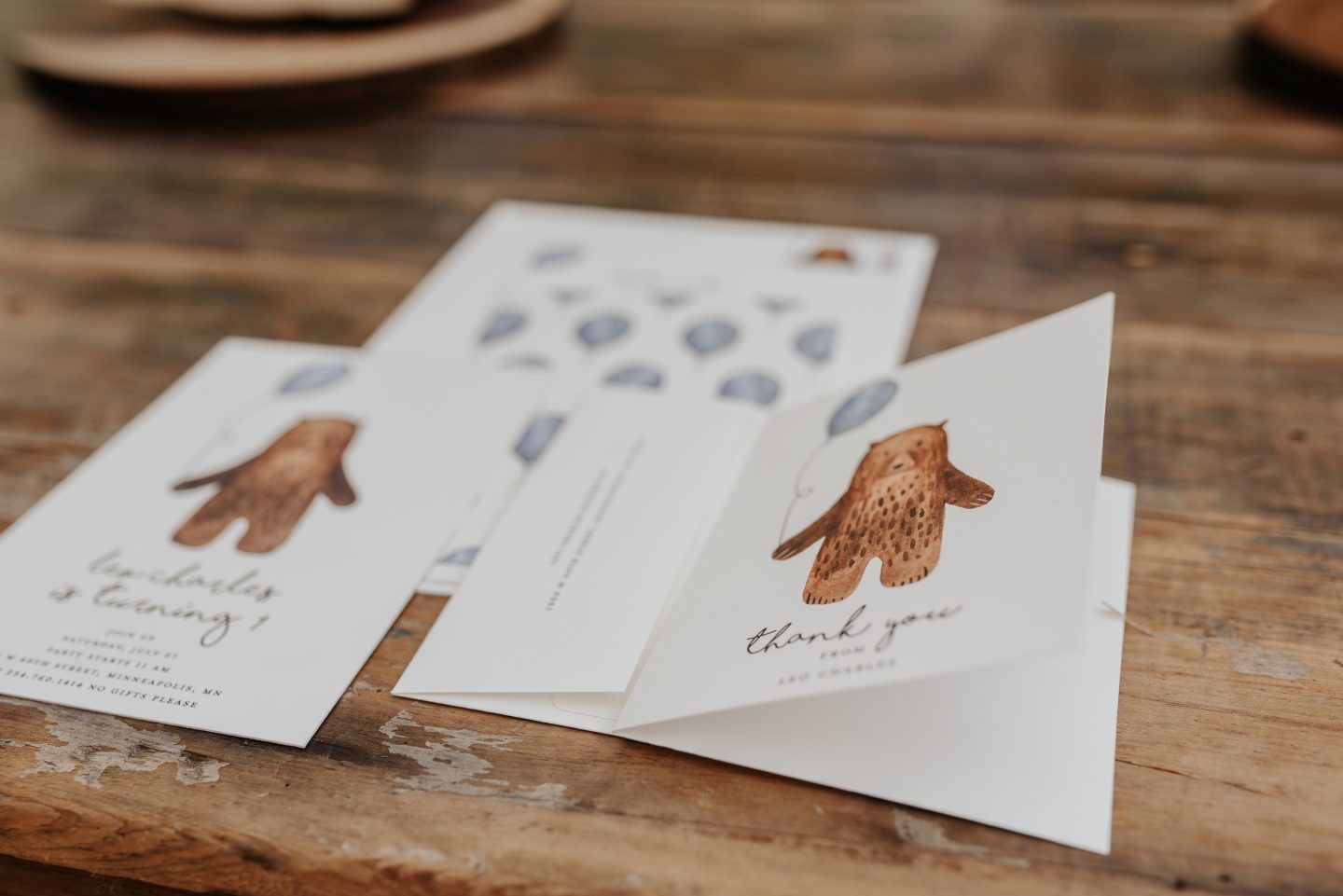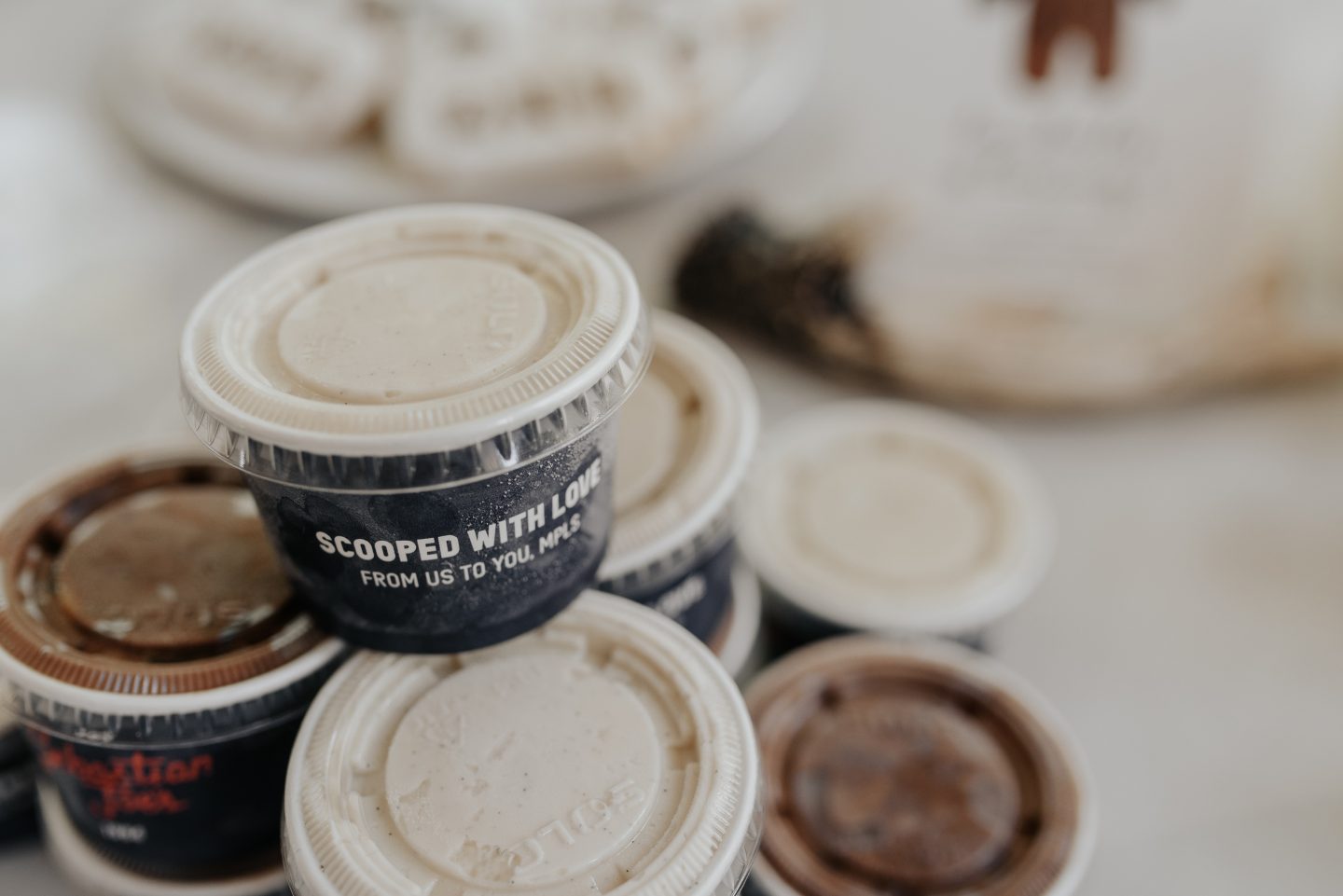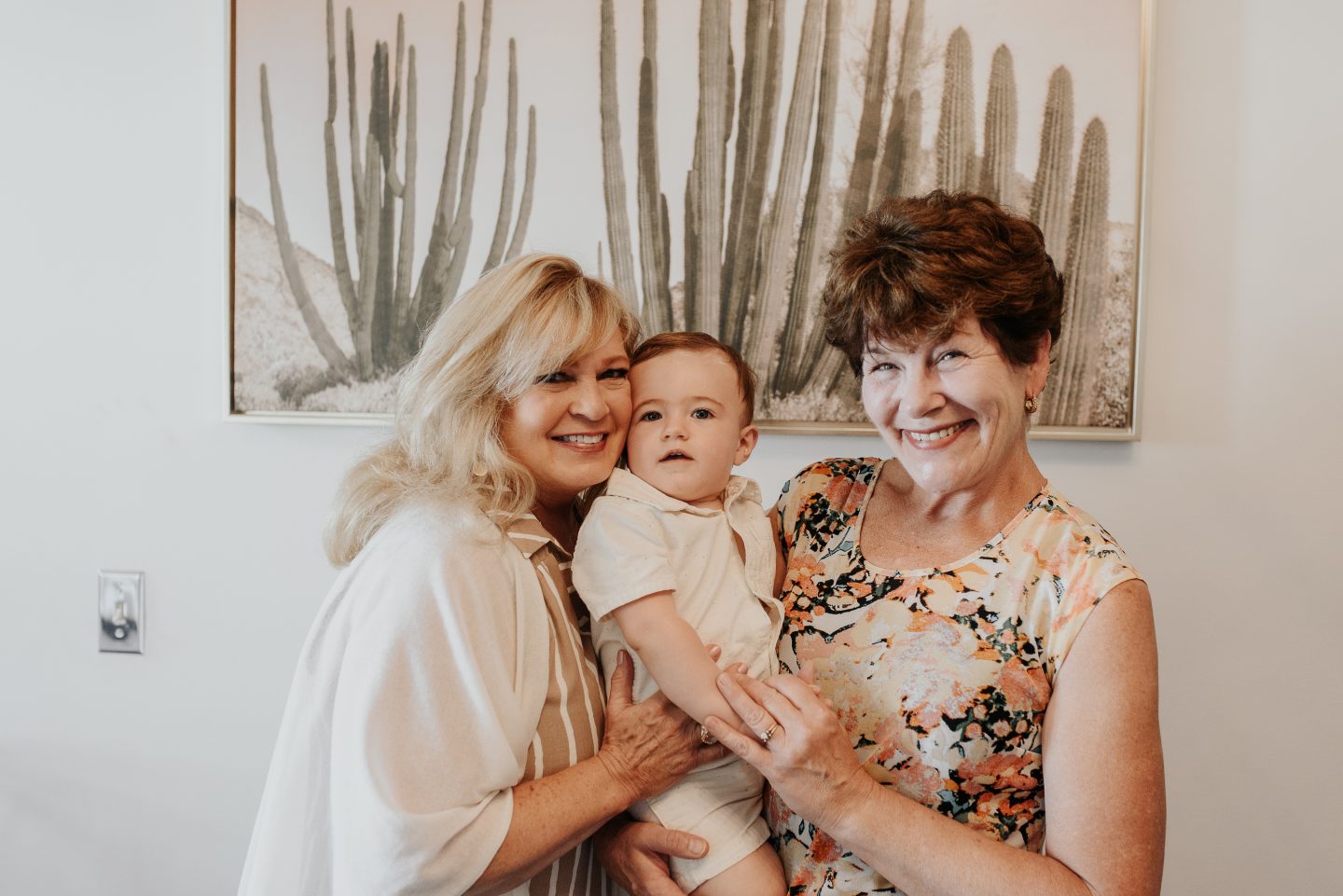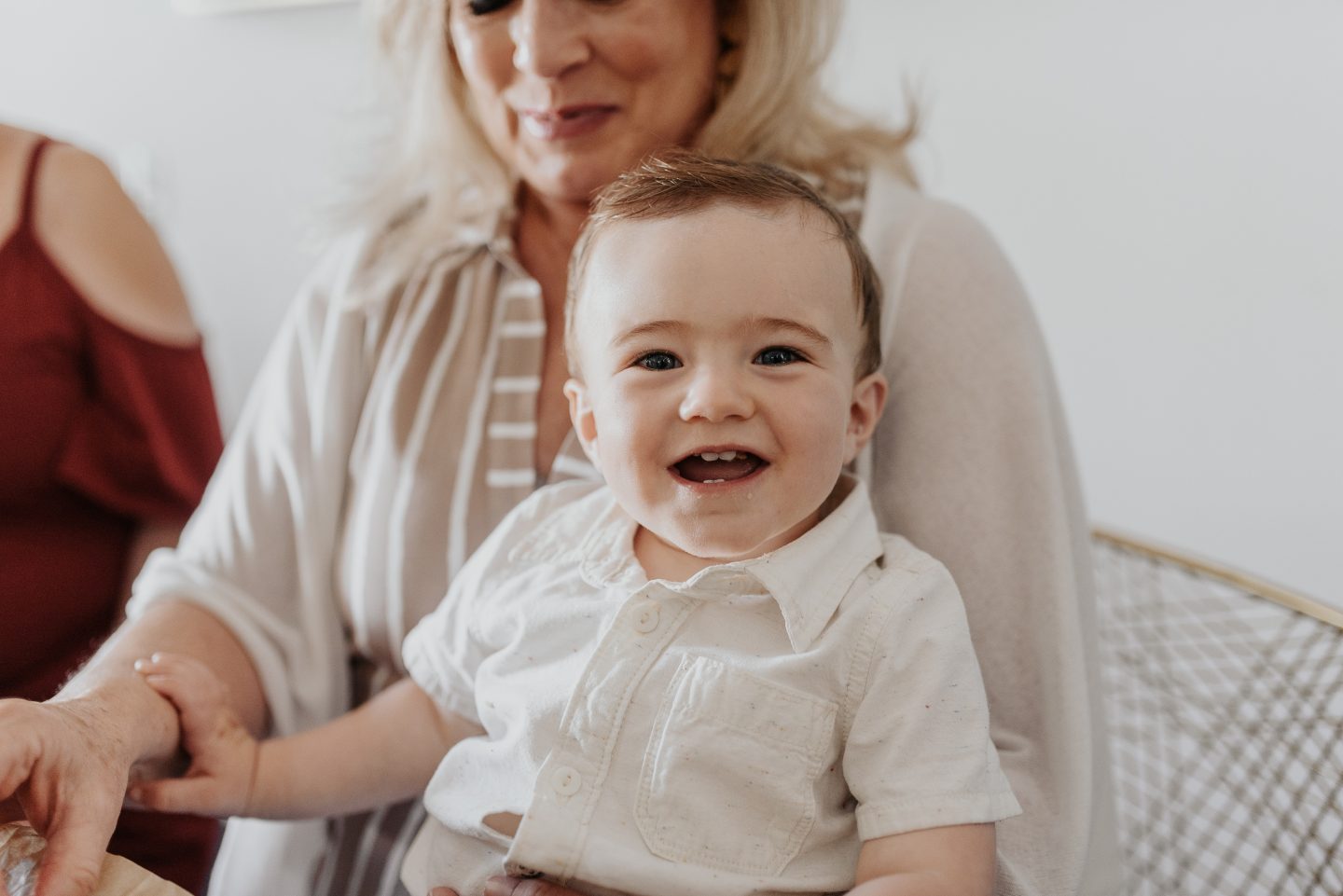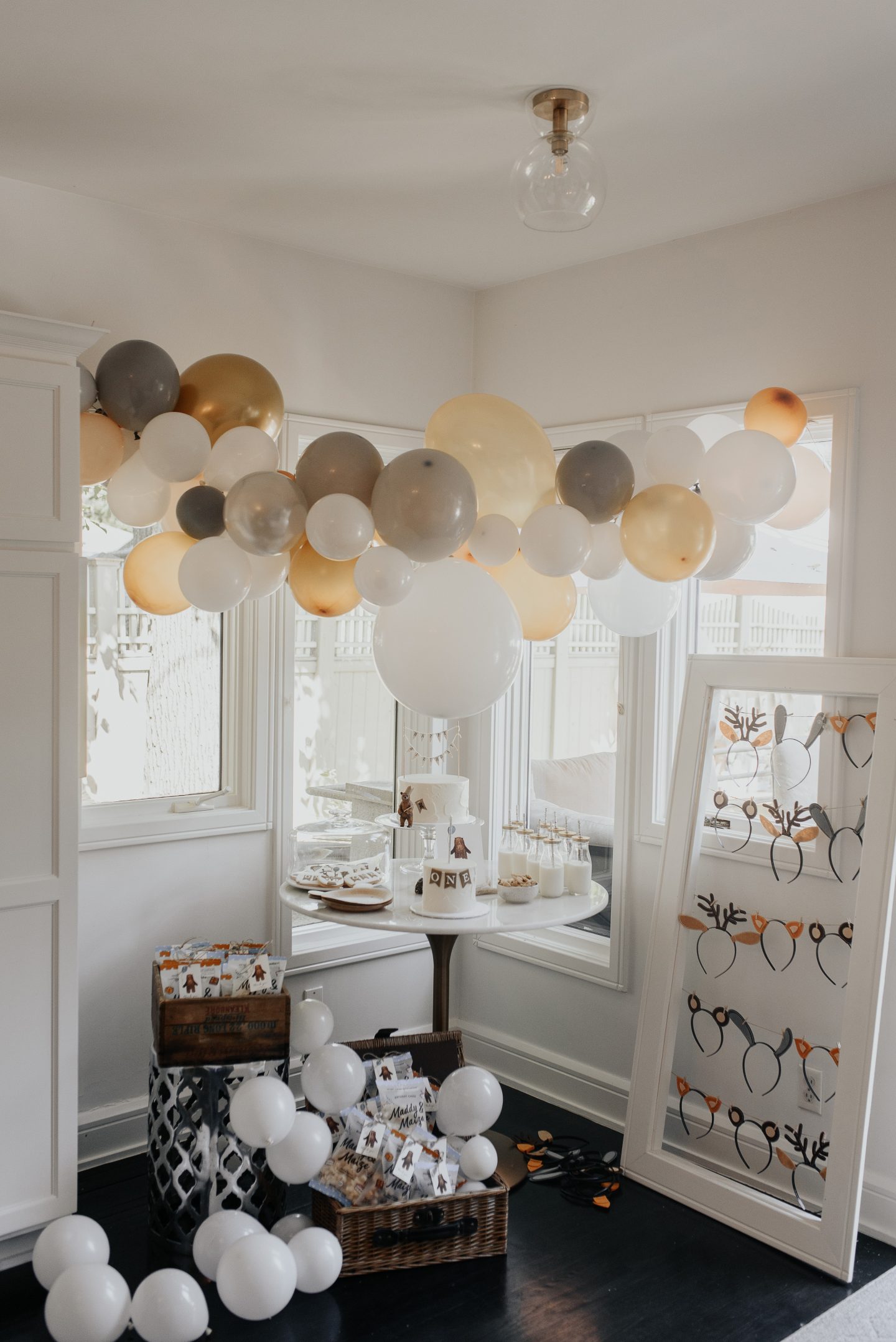 Also, I was swamped and had zero time to look for anything to wear, and I cannot tell you how much of a lifesaver Rent the Runway has been these past few years. Another long-running partner of mine, I have rented this dress now twice! Hey, if it works, rent it again! I love how it is easy and off the shoulder, and it was perfect for a hot day in July! It would be adorable for a bachelorette party or a bride to be too! You can rent it visit this link here and use my code TWATERSTONPERK25 for 25% off your first Reserve order at Rent the Runway!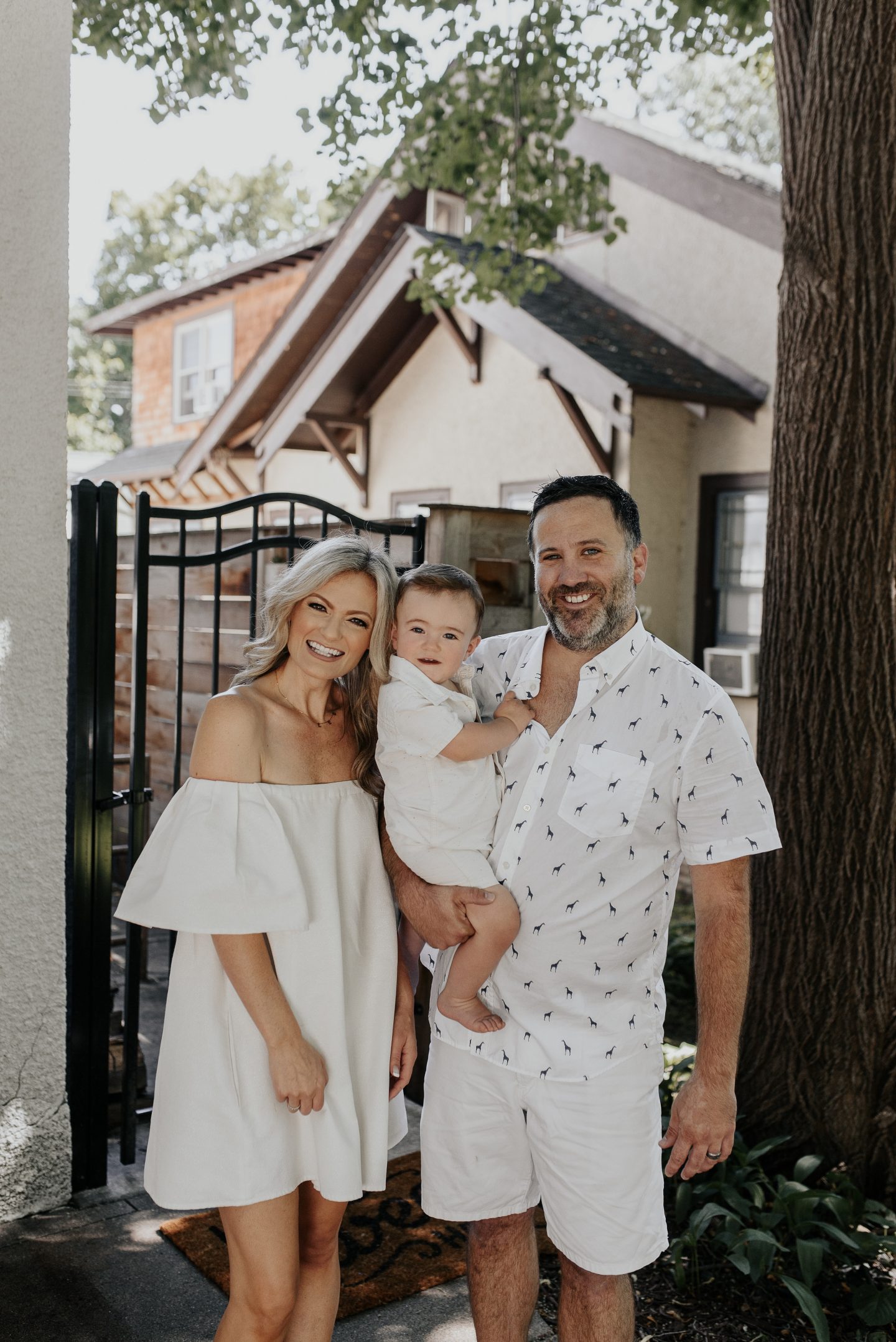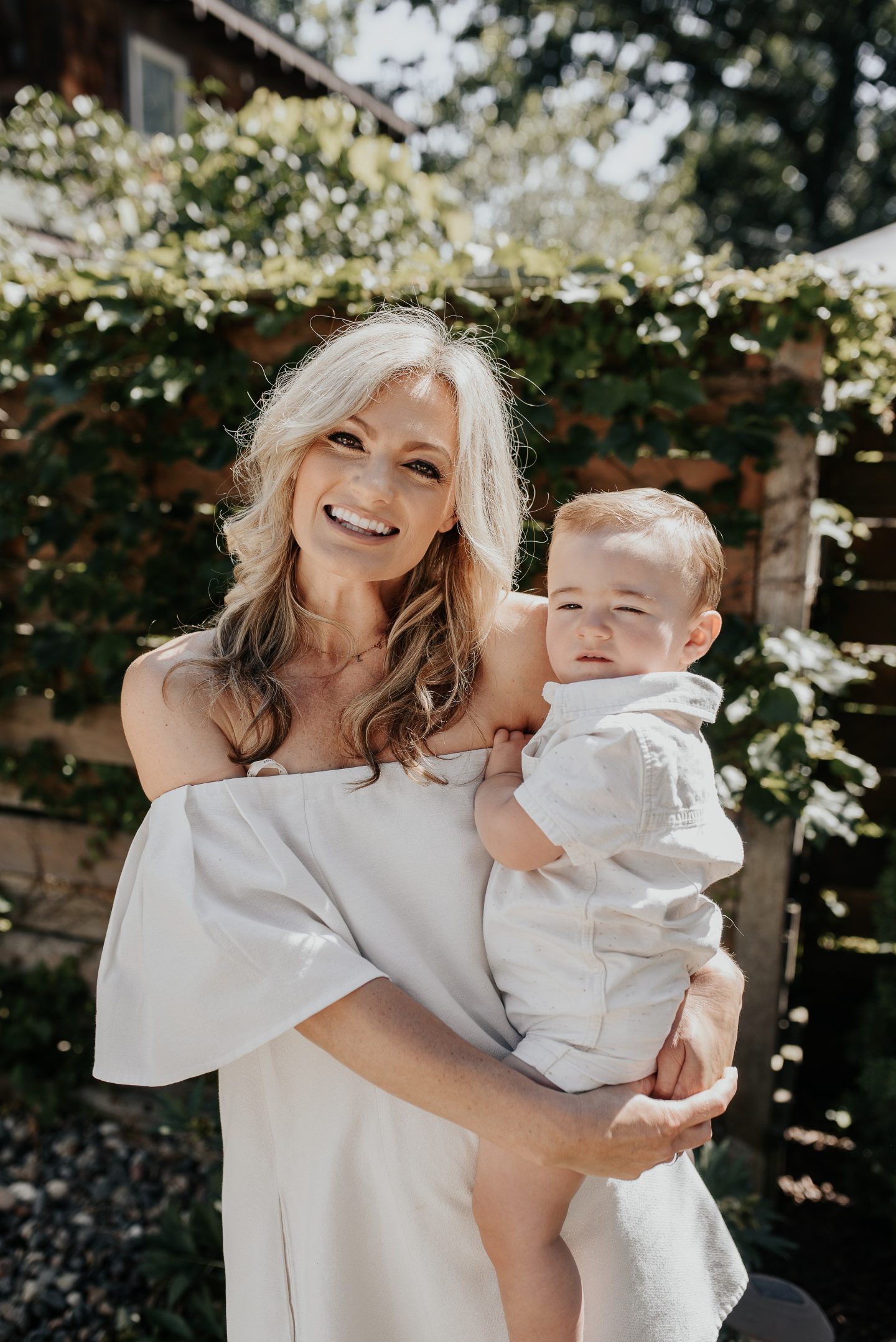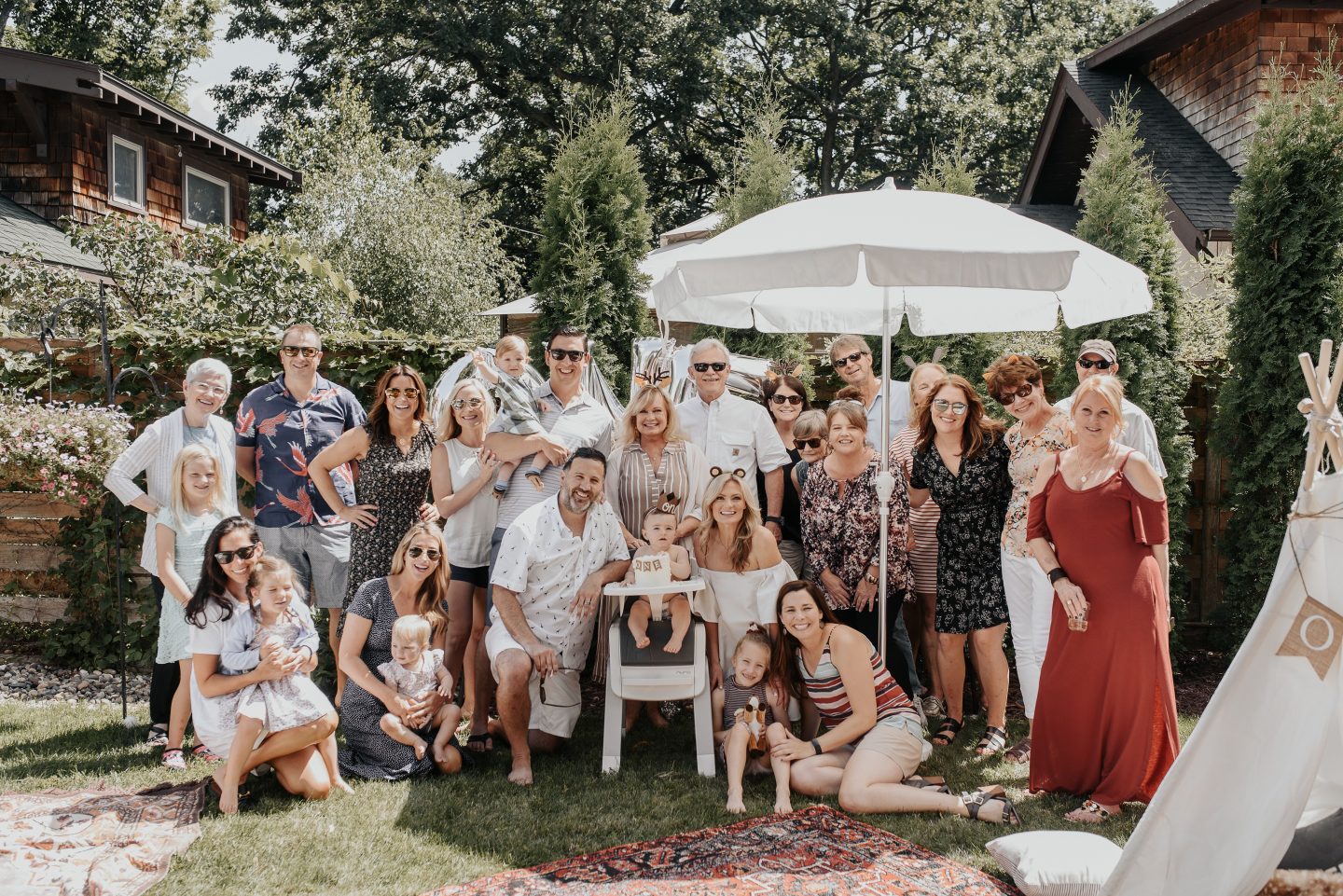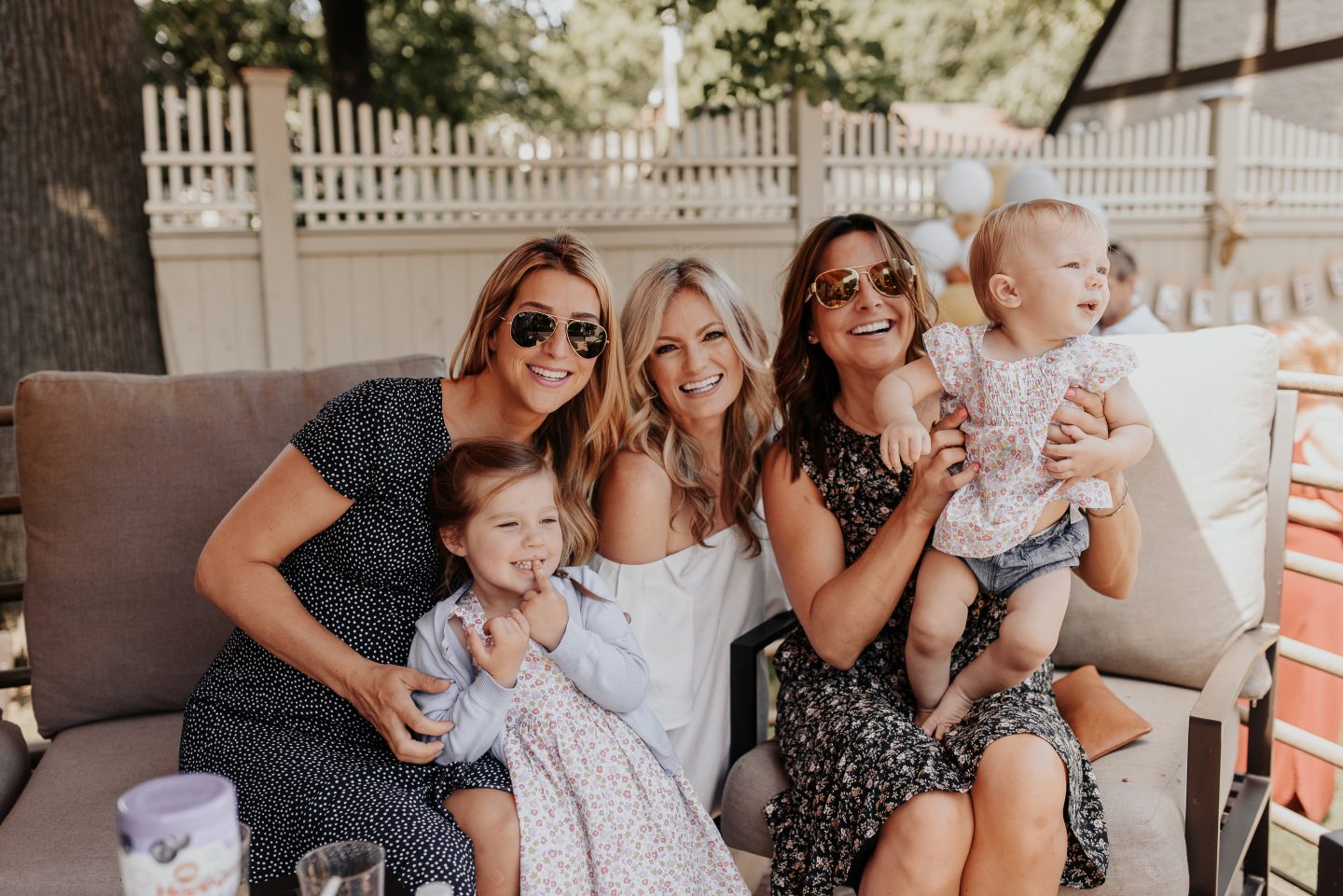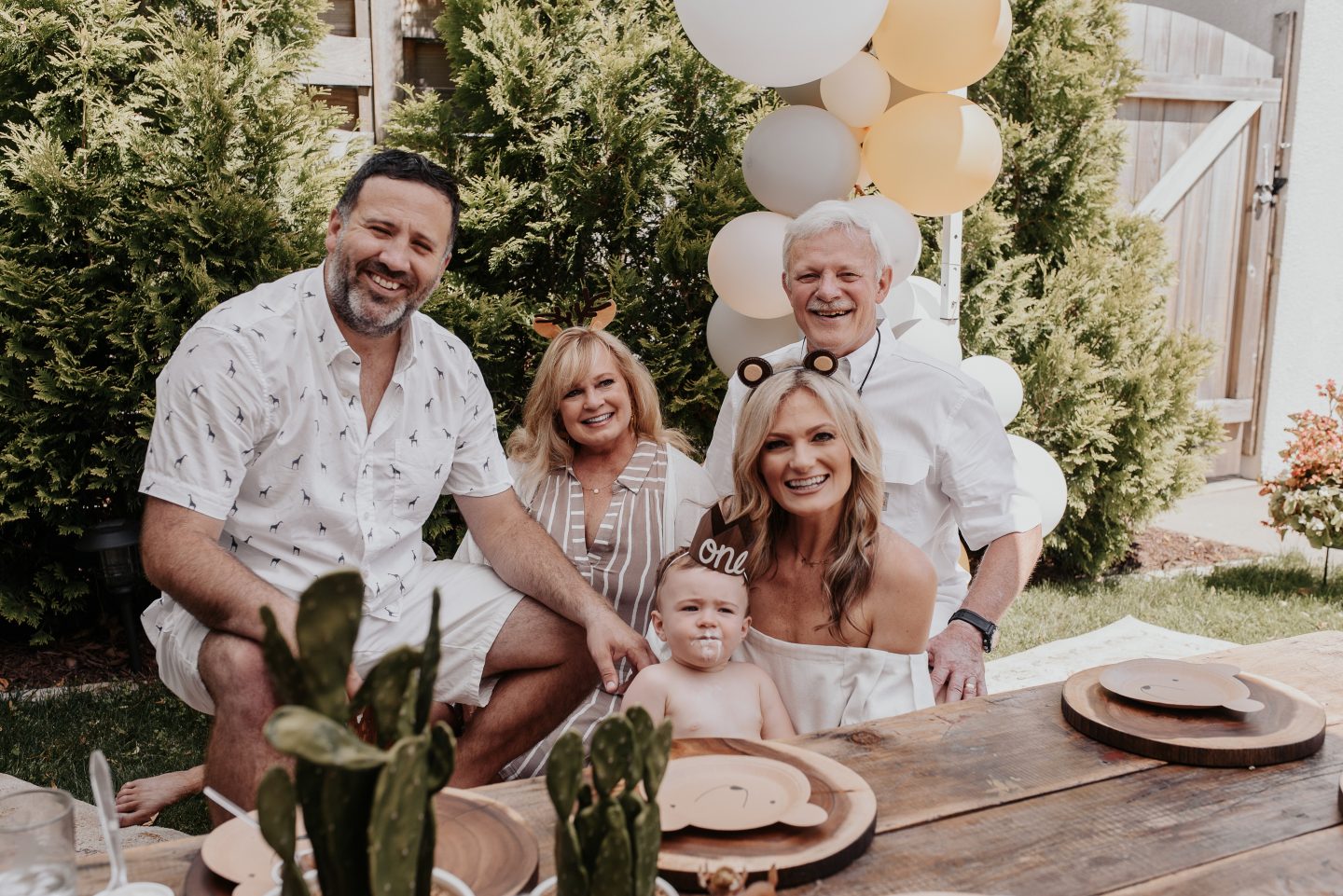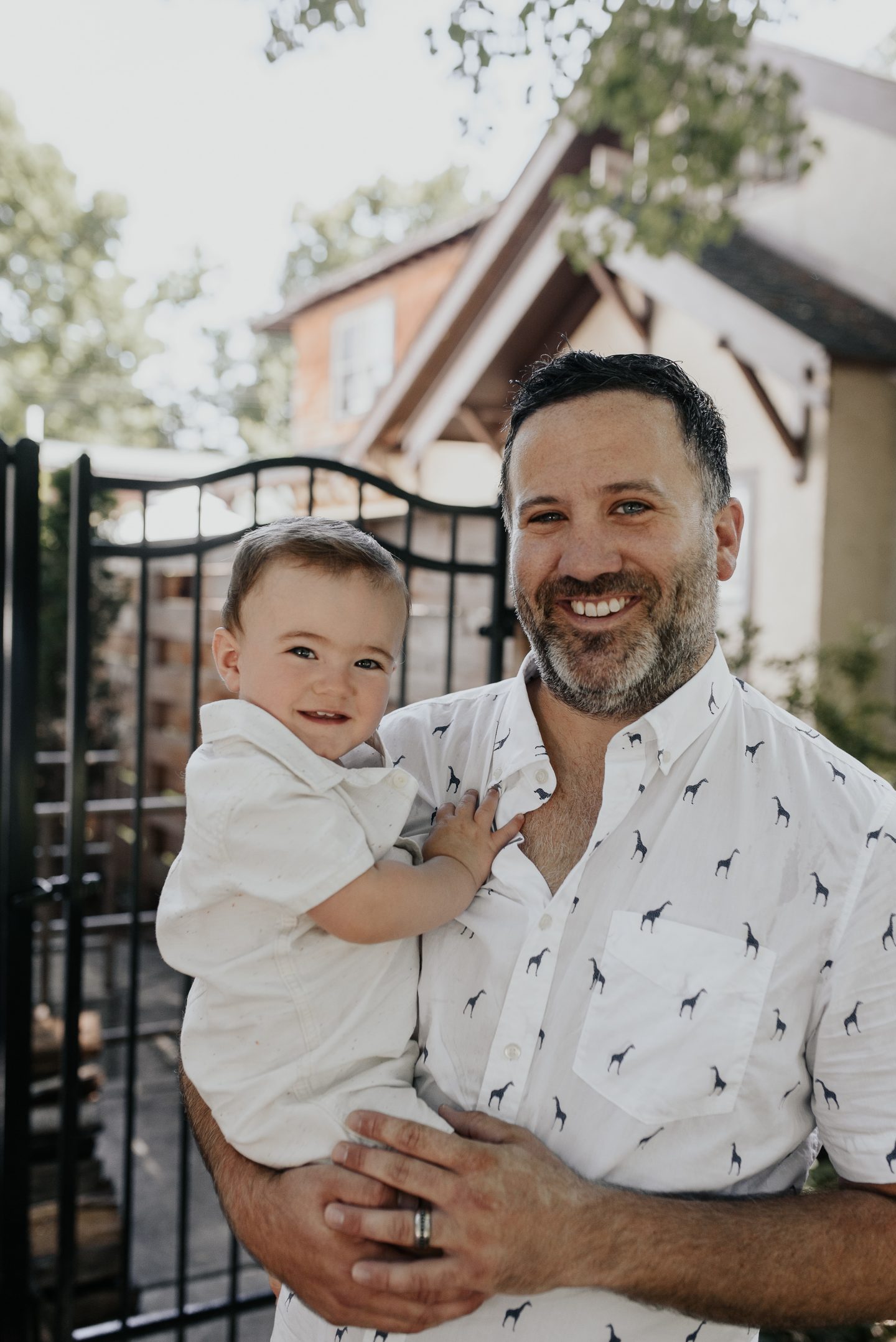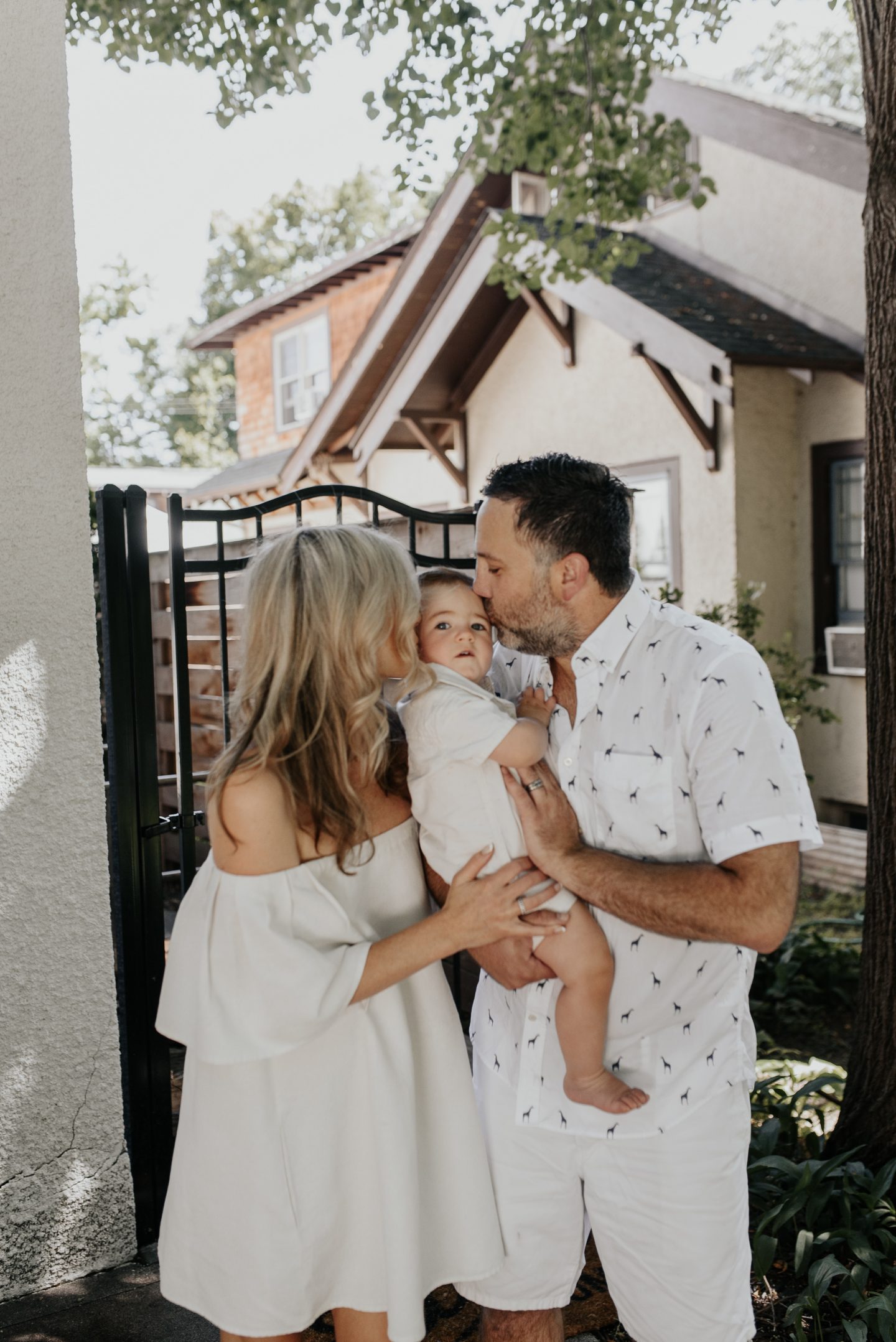 A huge thank you to Melissa LeeAnn Photography for capturing all of these images! I took three photos on the day of the party! It all happened so fast. I am so grateful to have these forever. Also a huge thank you to my sweet family and John's for helping us as well as all of the vendors, and our dear friends who made this day one we will never forget. We are blessed.
We told everyone we were pregnant at the party and it was an absolute blast surprising everyone with our big news! Seventeen months between these two boys and I know it is all going to fly by so fast! Thanks for celebrating so much with us these past few months. We have so much love for everyone who lets us in their lives and on their screens.
Love Tamara, John, Leo and Baby W