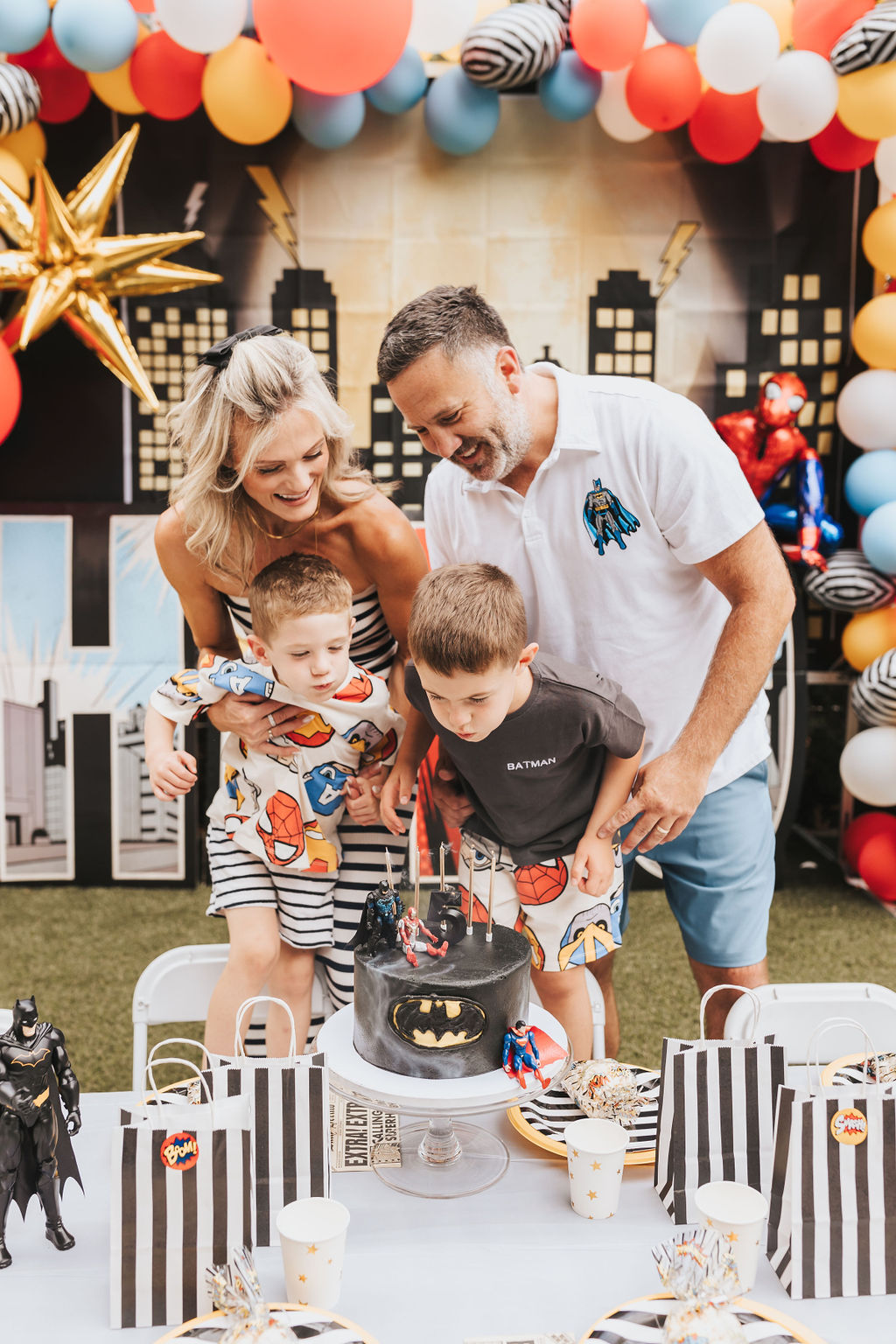 Who knew planning a superhero birthday party could be so fun? I have to say, the minute we landed on the superhero theme, I had to stop myself from going crazy with the decor. Not only is this one of the most colorful, bright, and fun parties, but superheroes are wildly popular. I loved the planning and the decorating, and officially took the top spot as my favorite party to date!
Initially, Leo and I discussed Batman as the overall theme, so we ensured he had a powerful presence, as you can see! I wanted the background to be the party's focus, and we were significant with balloons and cutout words. I can say it turned out better than I imagined!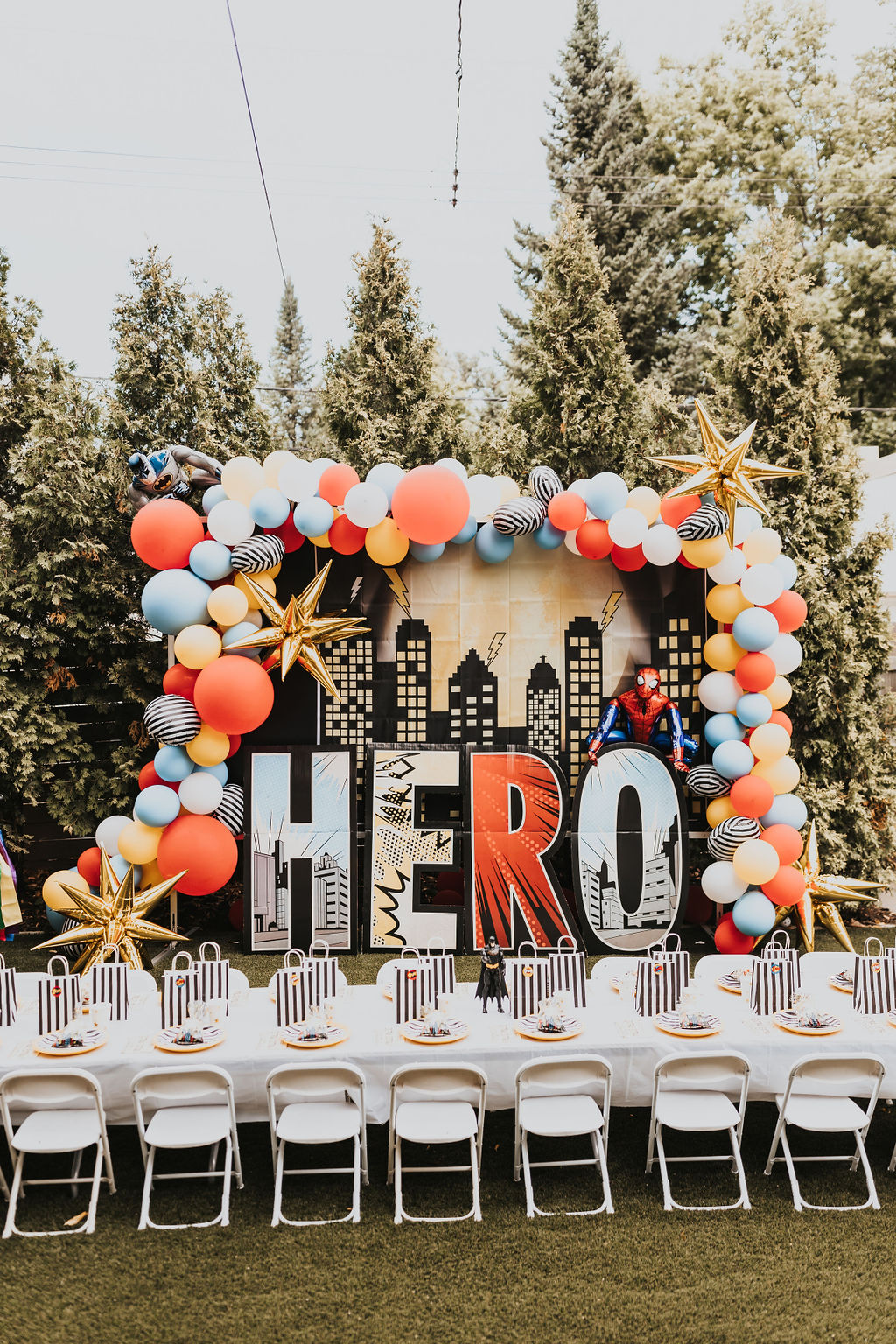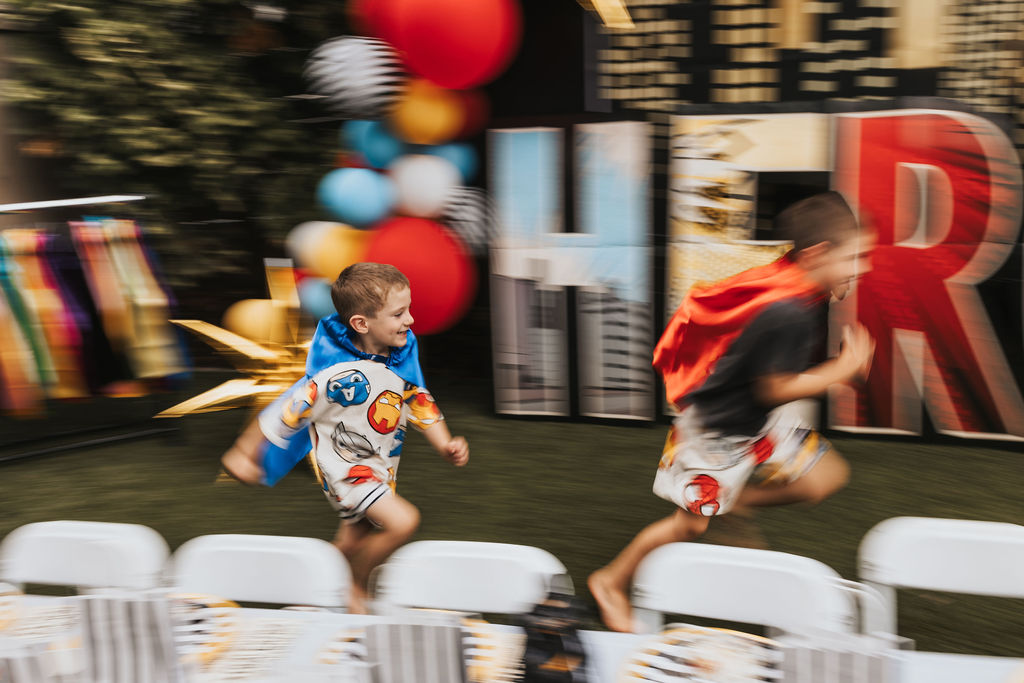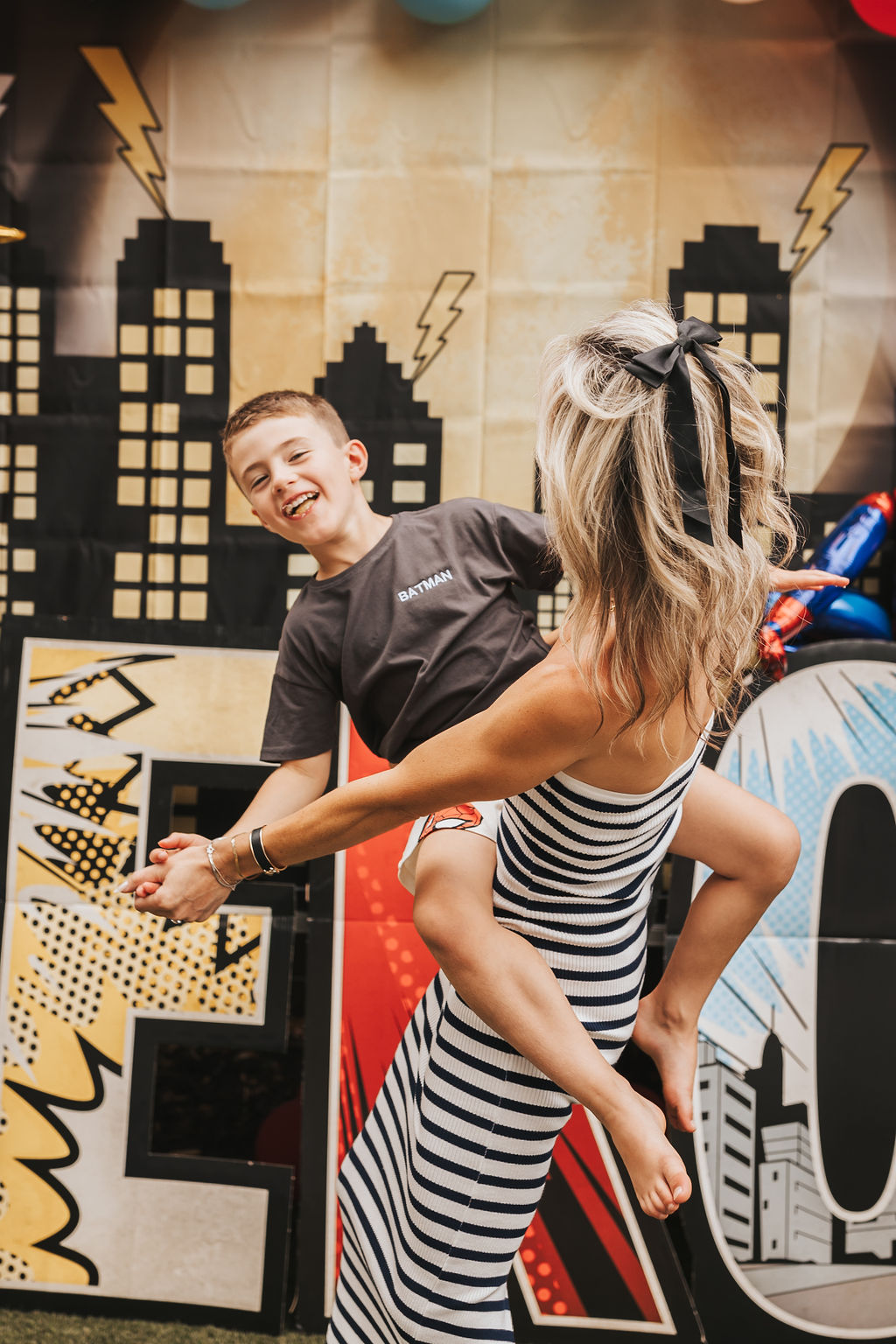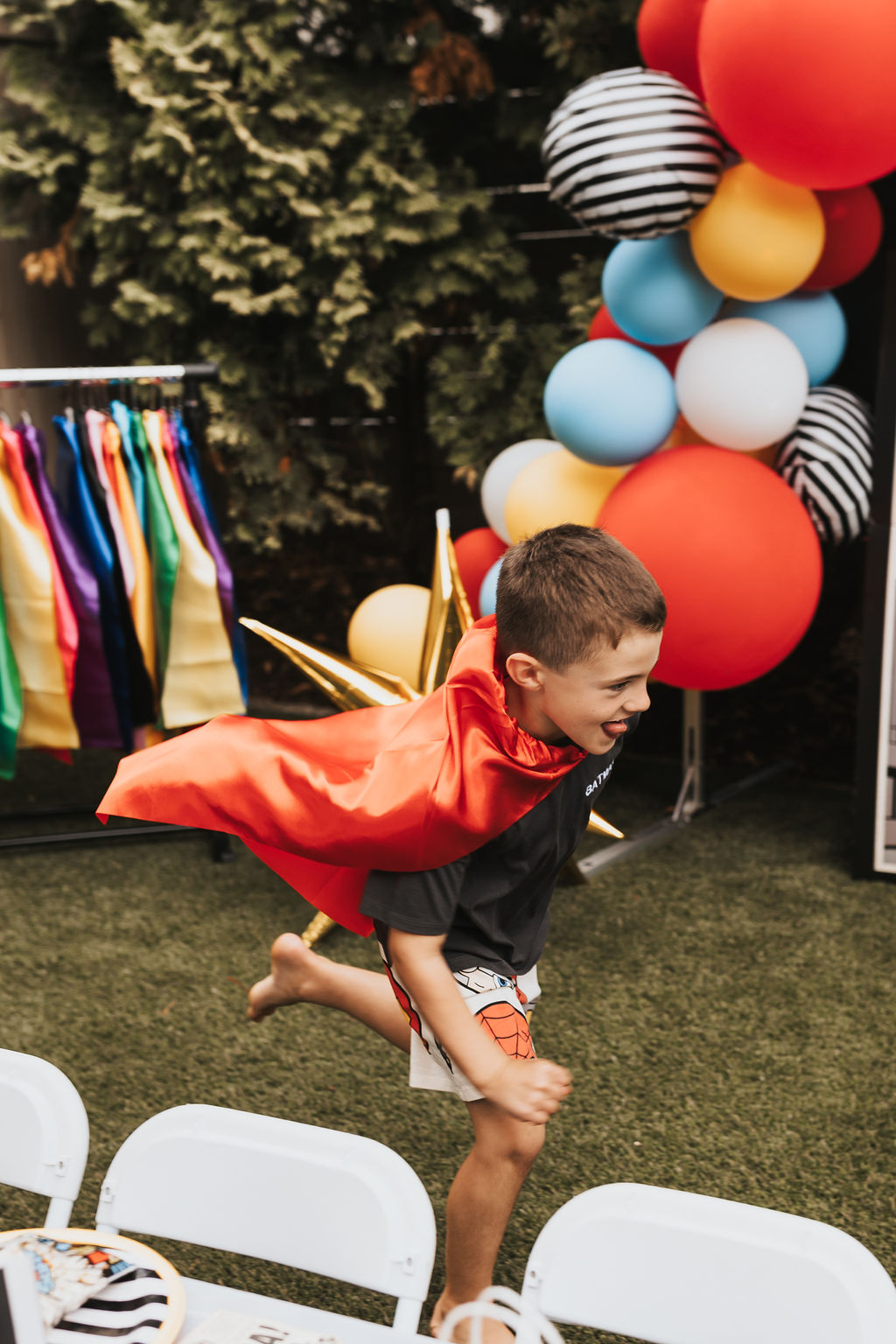 There were loads of questions on what we used and where the decor came from, so let me share all of it with you in case you have a superhero party of your own to be hosting soon.
Choosing one decor element I love the most is hard, but the stripes are probably it! And there were plenty of stripes to be found!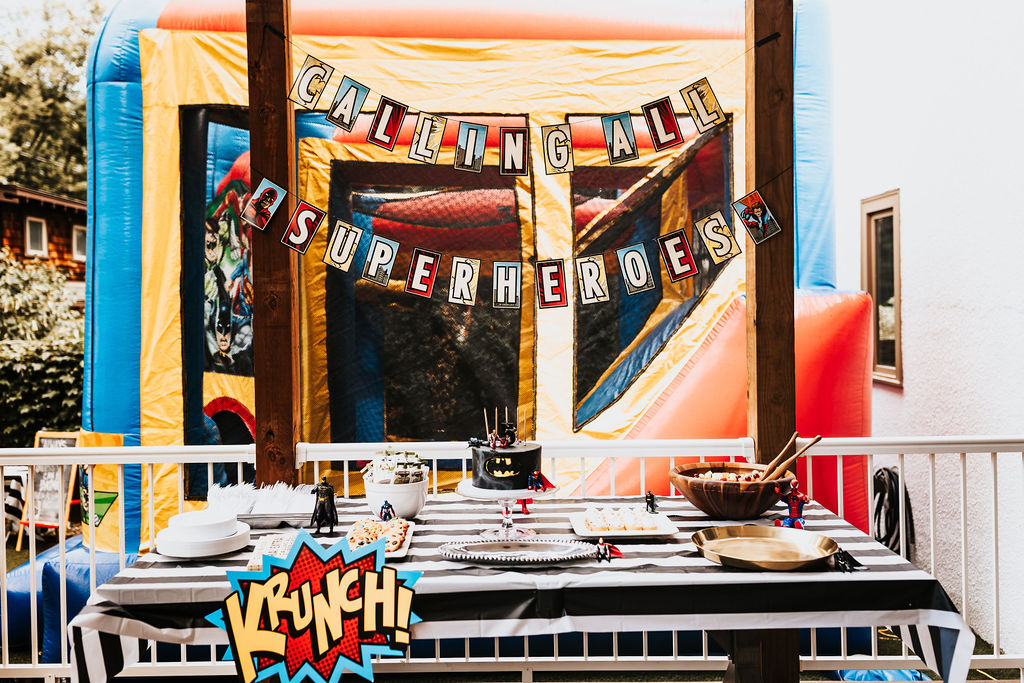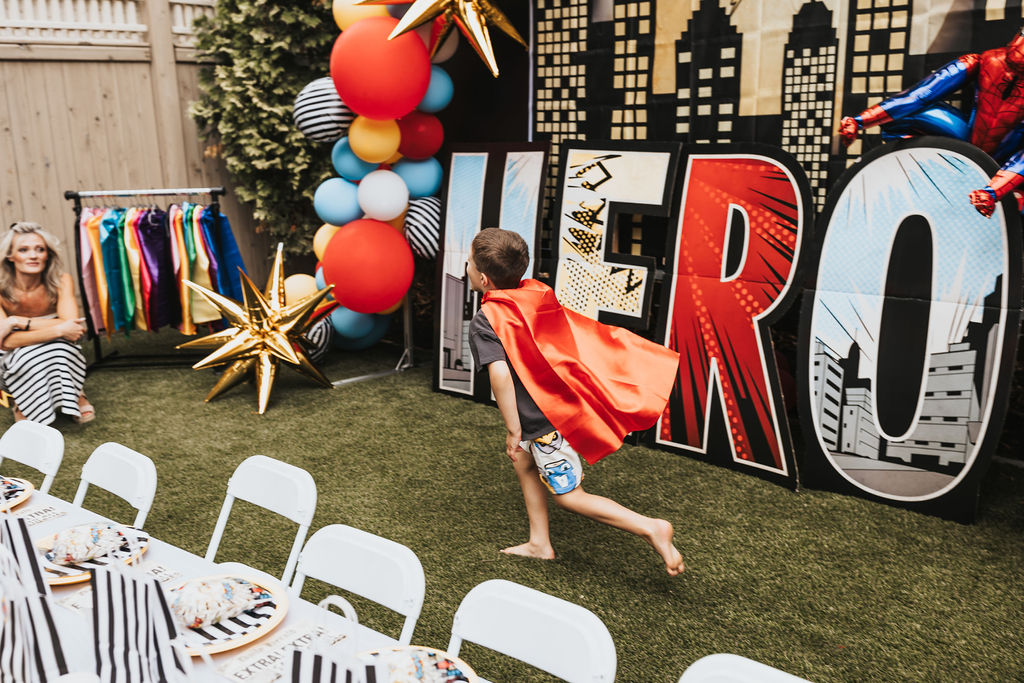 Twenty-seven special friends called for kid-sized seating. We ended up renting these tables and chairs from Broadway Event Rentals. Finding kid tables and chairs was surprisingly a challenge. Broadway had a very affordable selection and multiple color options, too.
Thank goodness for Amazon and quick shipping because I under-ordered and was opening plates and capes about twenty minutes before guests entered the door!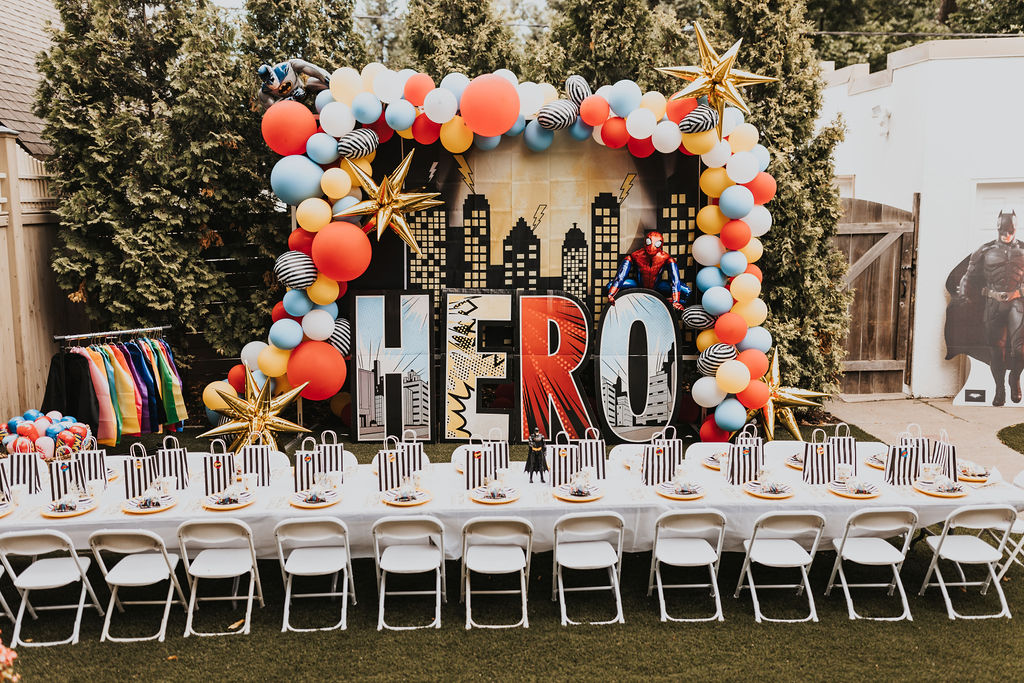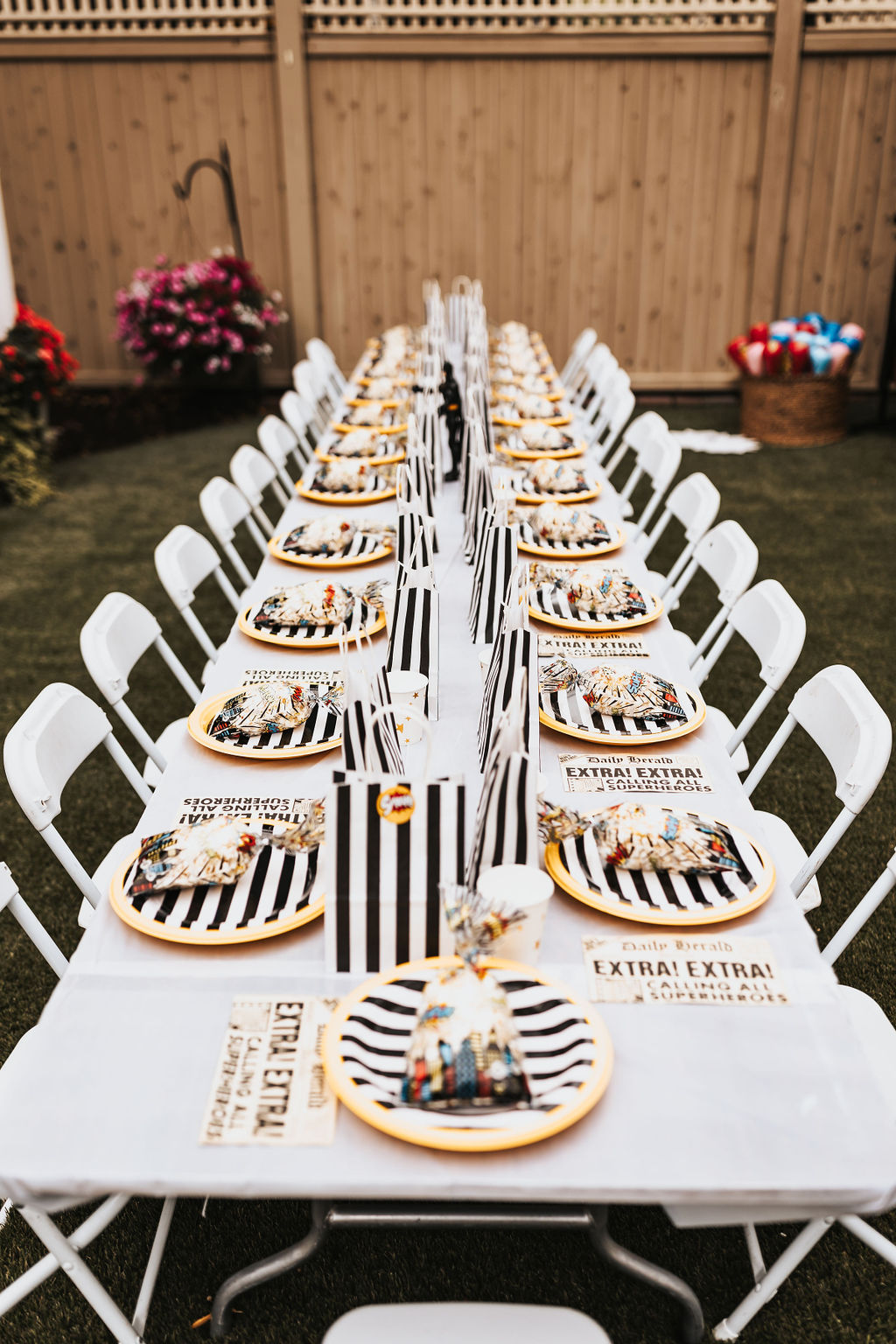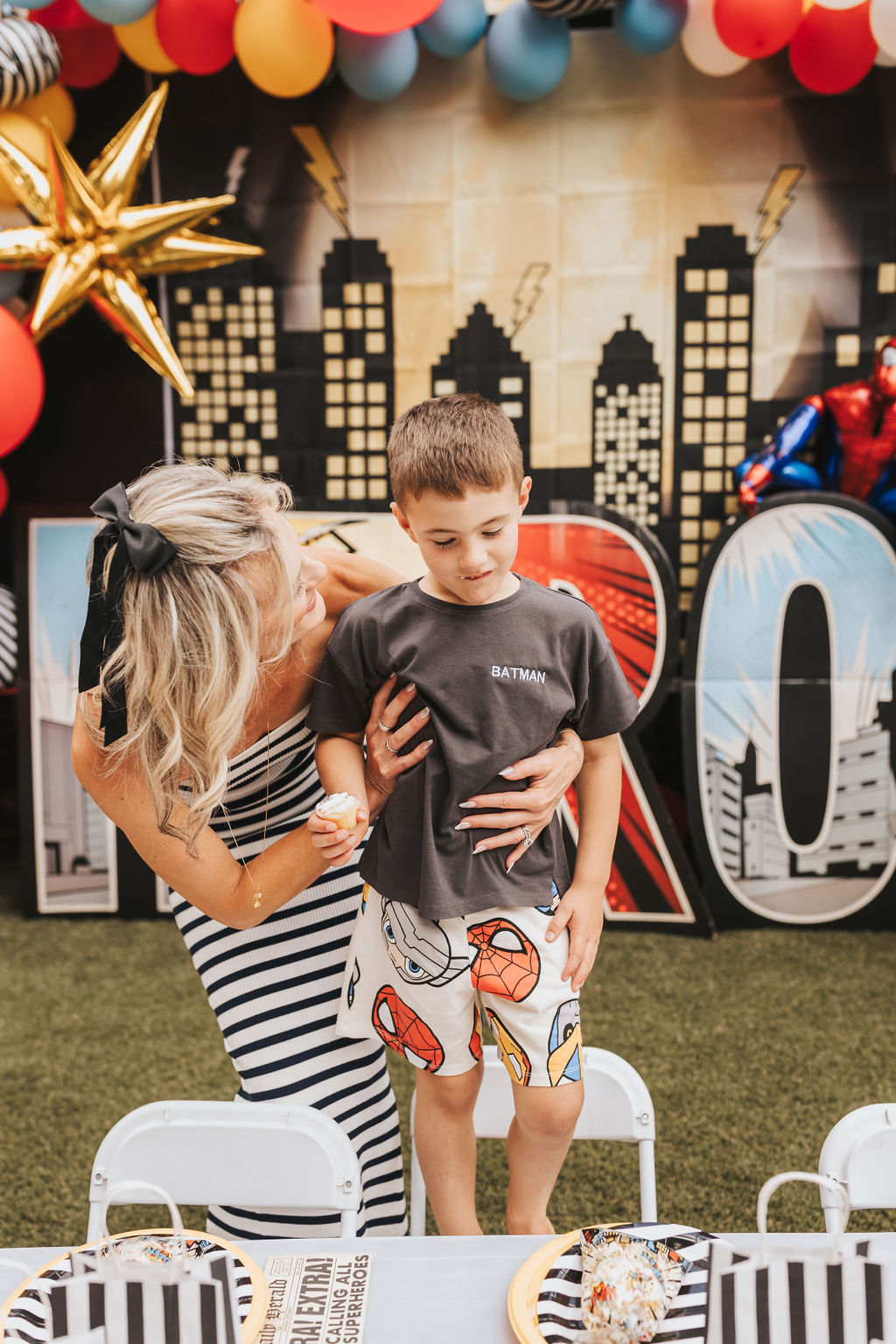 So let's talk about the details!
The table looked so adorable and set for the kiddos. I started by layering the plates with stripes on top and a golden yellow below to give the table a pop of color, and did I mention that stripes are my kryptonite?
The napkins were so cute, looking like old-fashioned comic books. I didn't want to get too heavy on the theme, so I tried to incorporate it but not overdo it! But can we all agree the colors are so great! Star cups and a cute little treat bag for friends to take home.

I filled cellophane bags with popcorn and used them at the tables as decor, and each kid had a favor bag waiting with superhero-themed items. Leo insisted on punchy balls, lollipops, tattoos, stickers, and a superhero Rubix cube.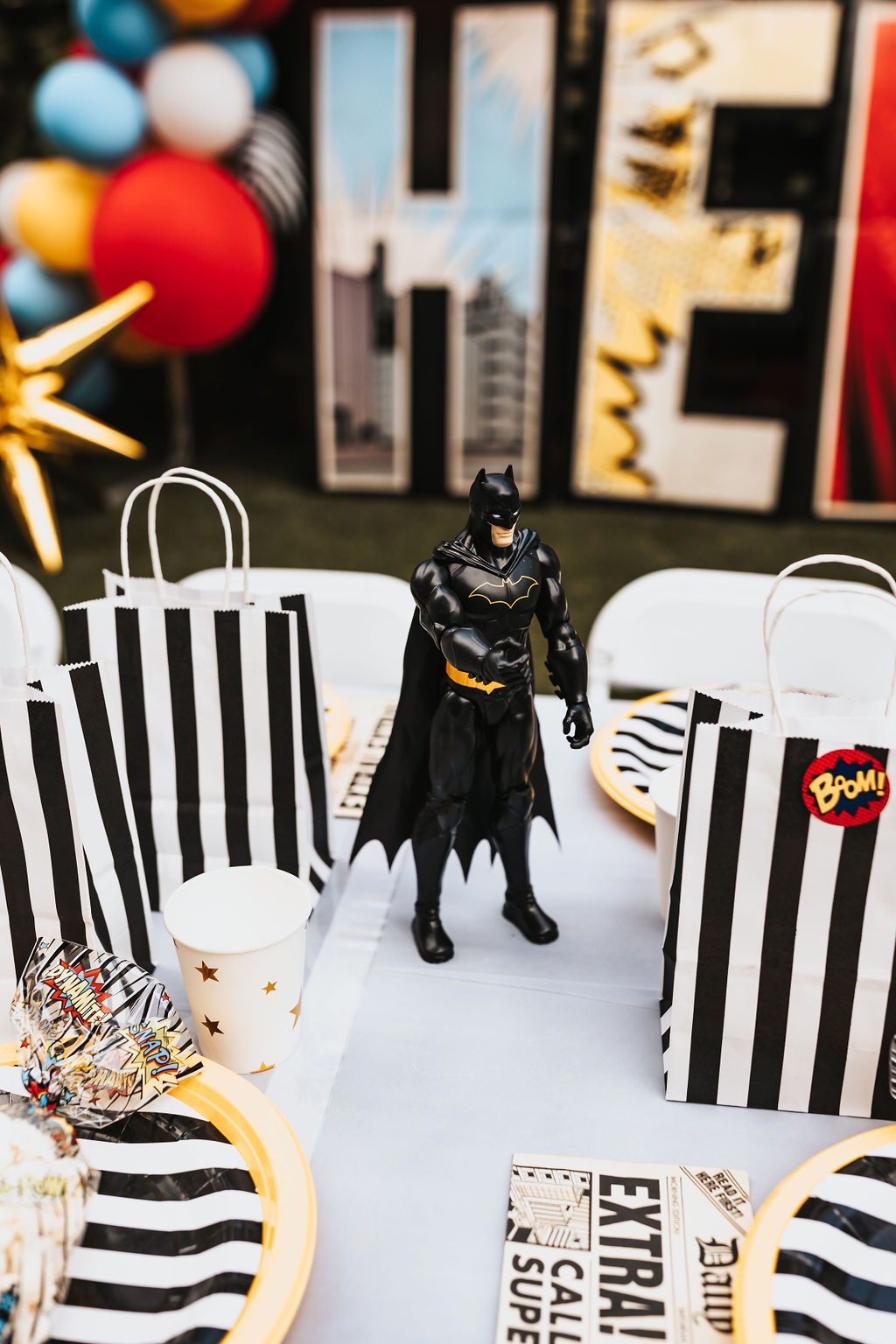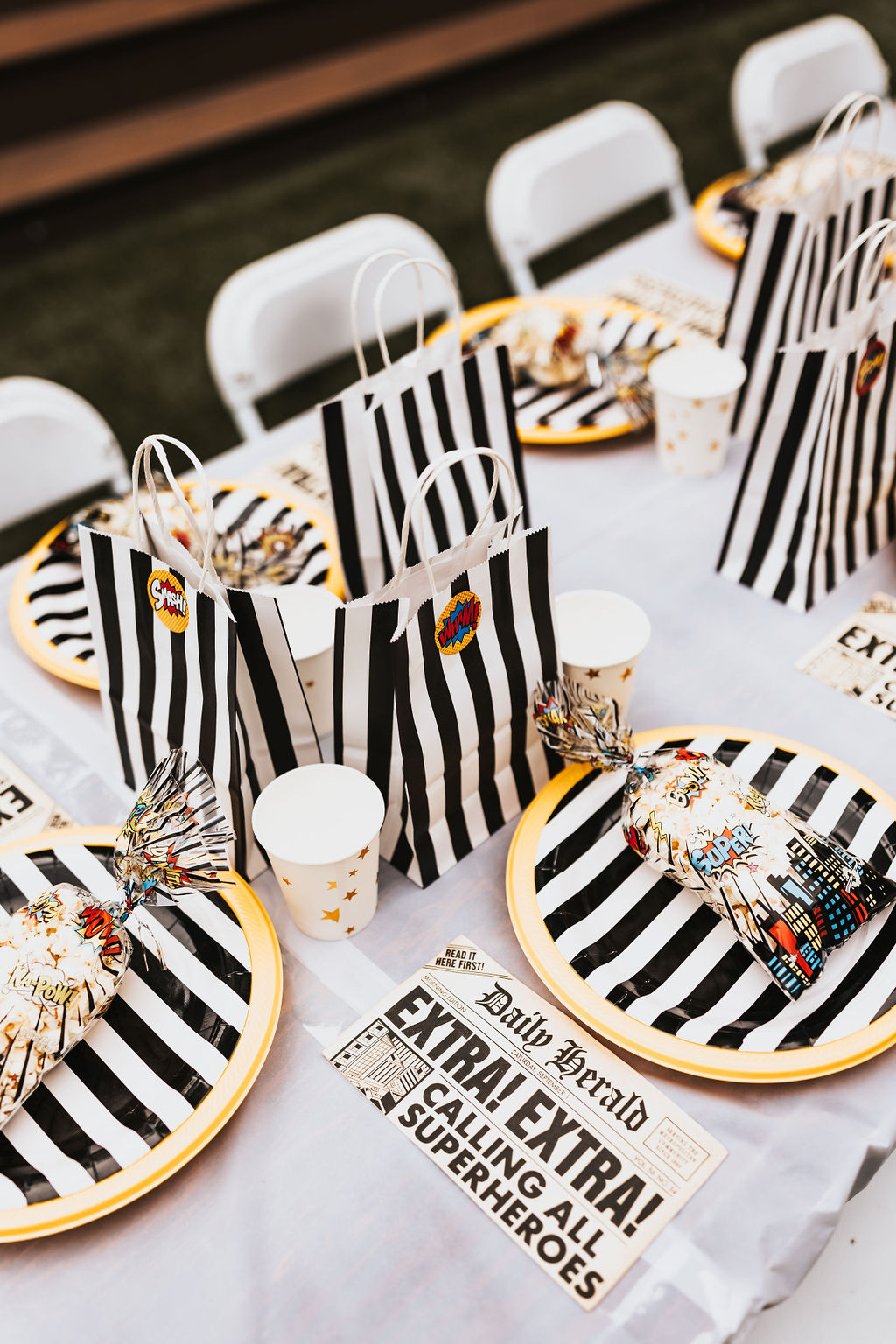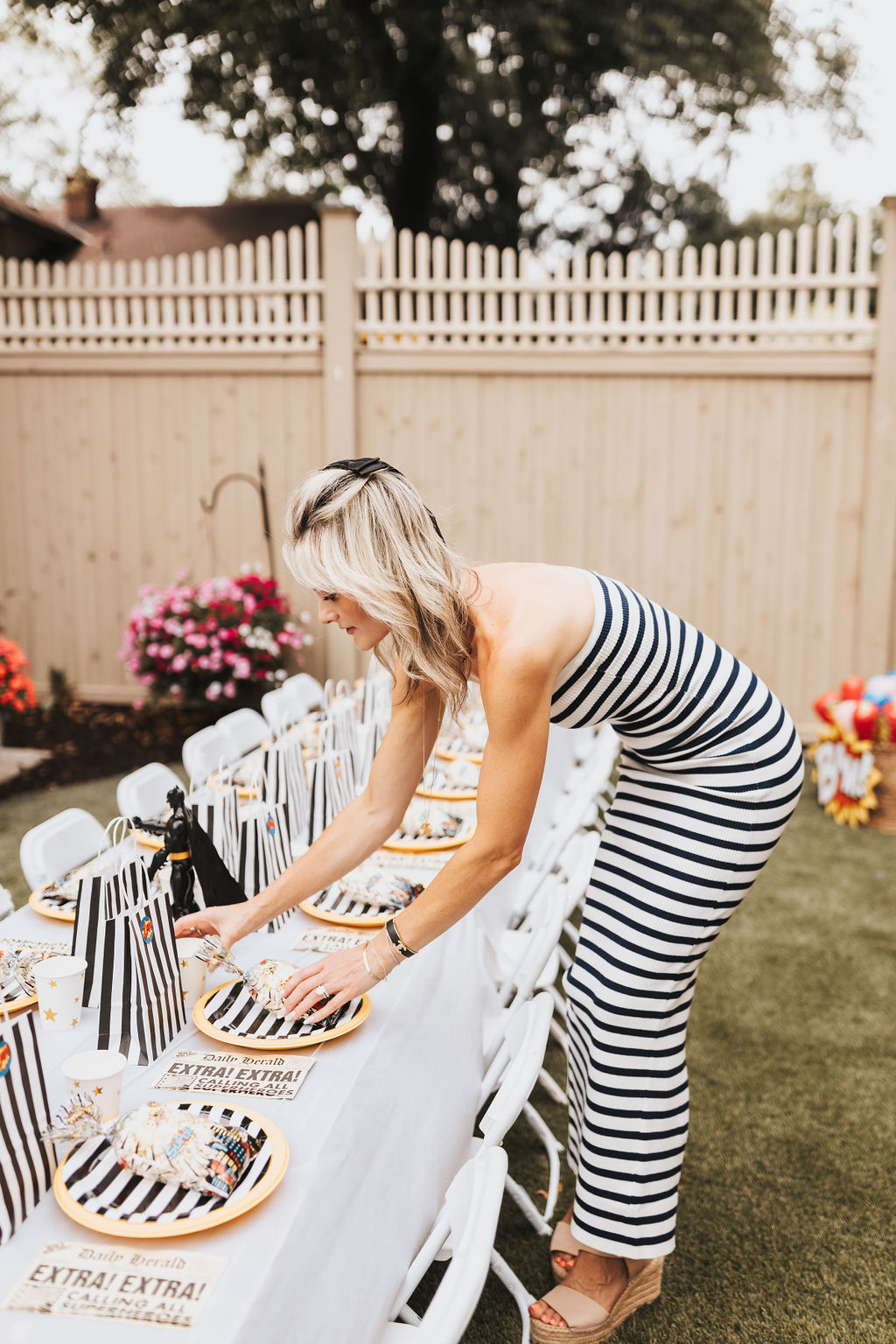 My favorite decor element was the superhero rack, where kids could pick out a cape and a coordinating mask and decorate them. Such fun party favors for all. We also had a face painter present so every child could channel their inner superhero!
The balloon garland was a mixture of a few different sets I found online, but the real showstopper was the 3D Spiderman and Batman balloons. I also loved the giant Batman cutout. He gave me a good scare multiple times, but it was perfect for the party. As I mentioned, Batman is the birthday boy's favorite, so we ensured his presence was felt!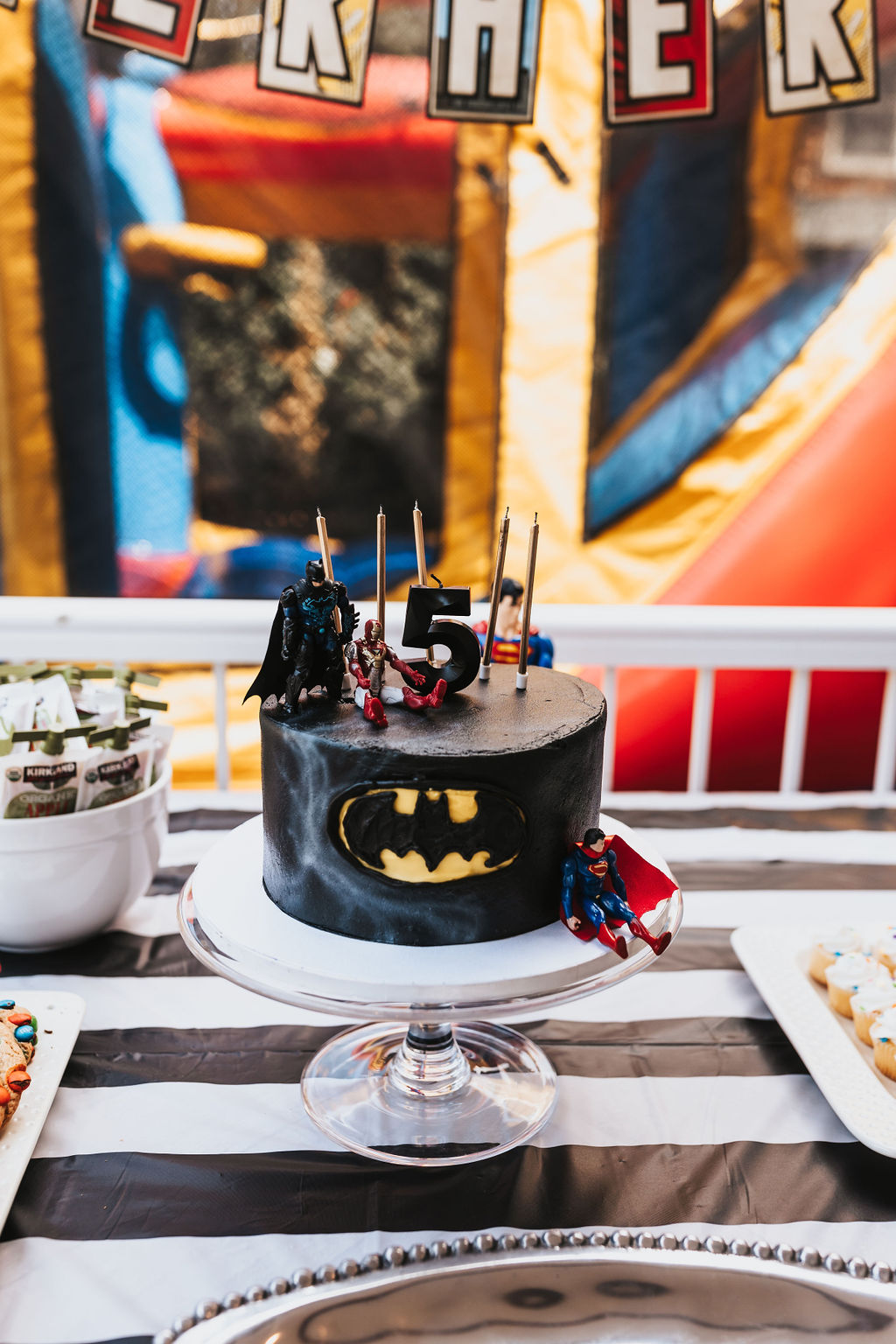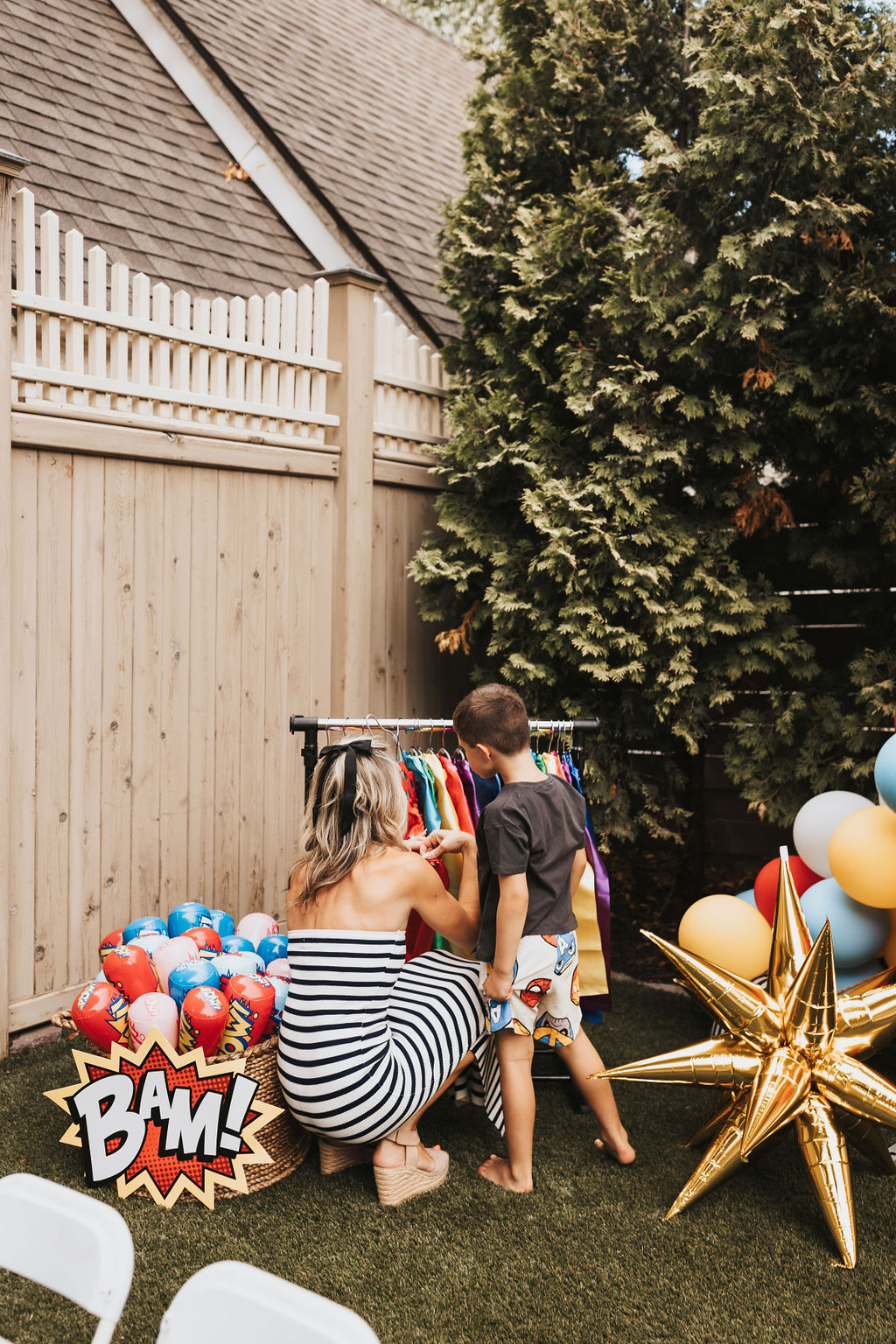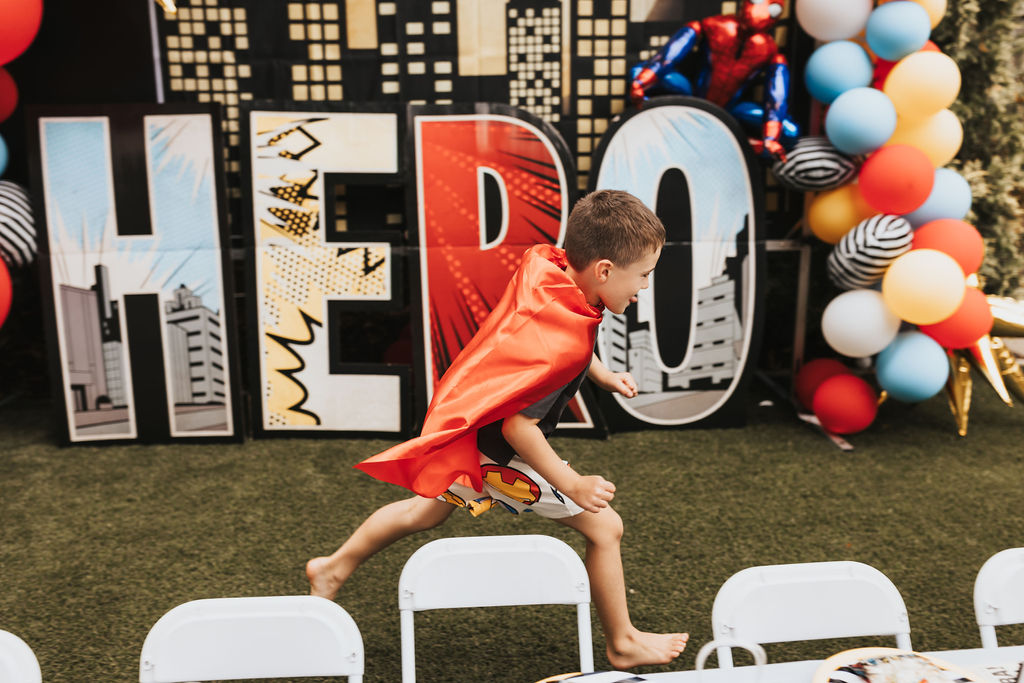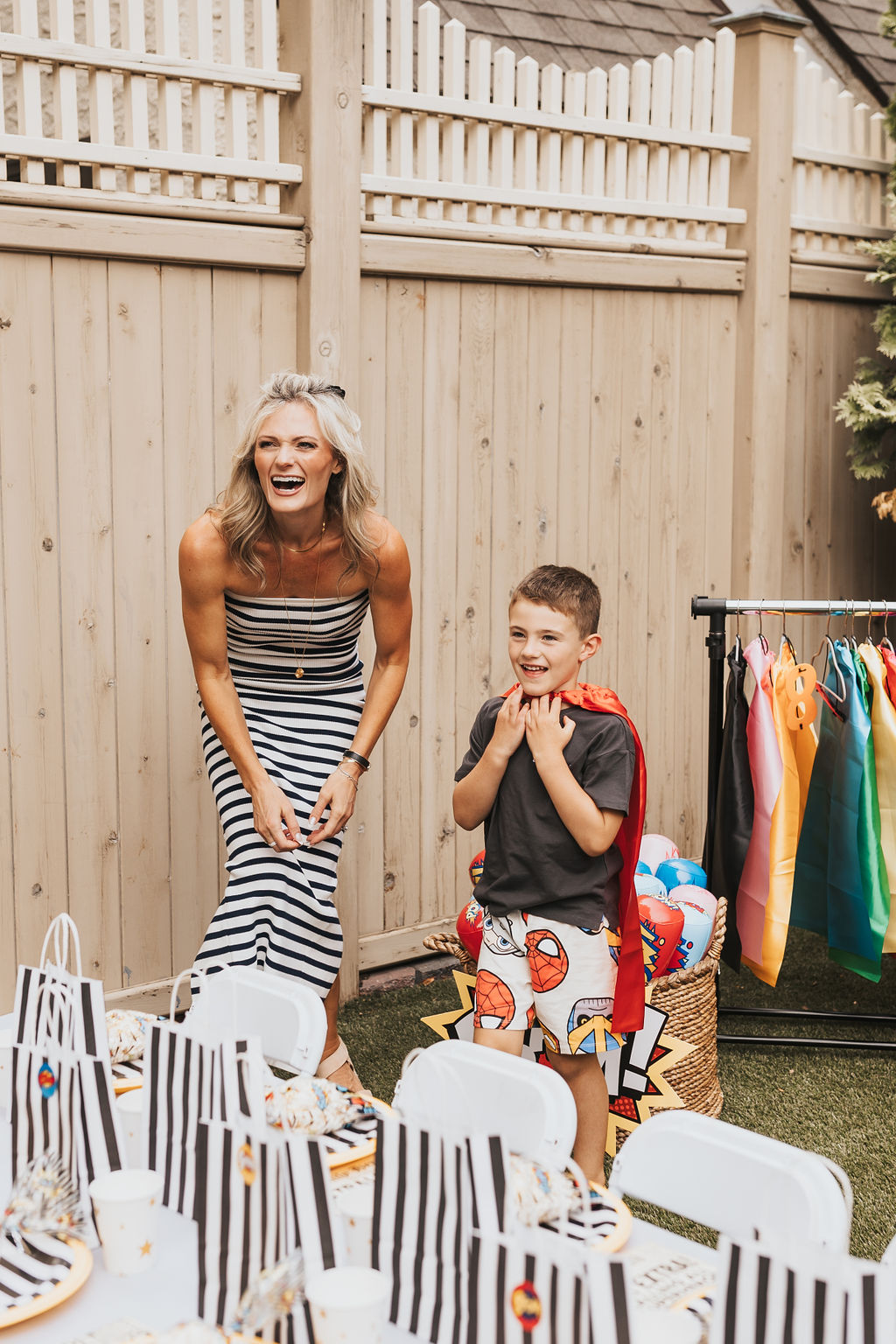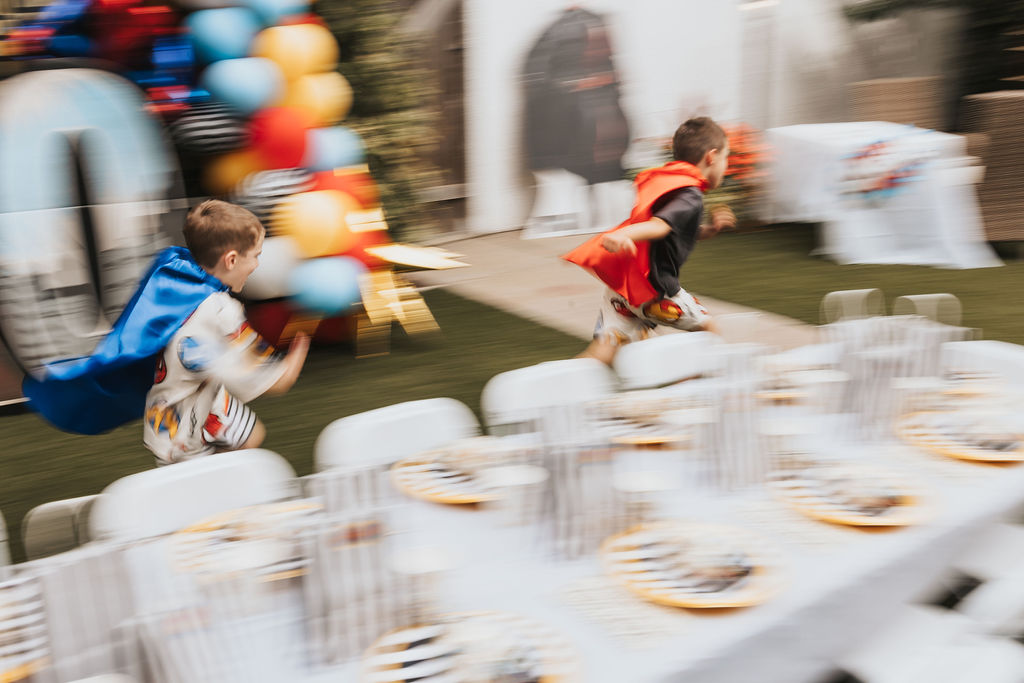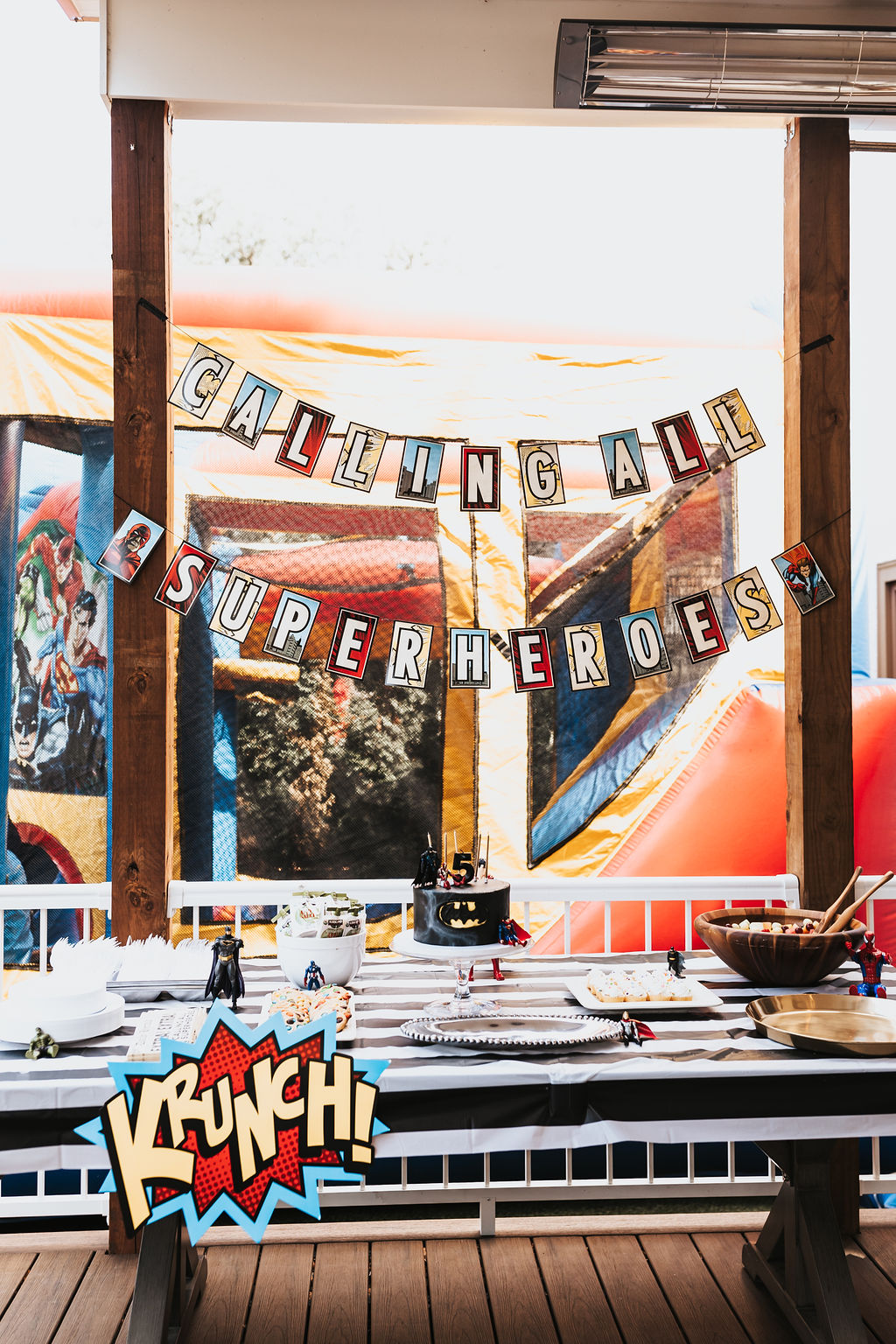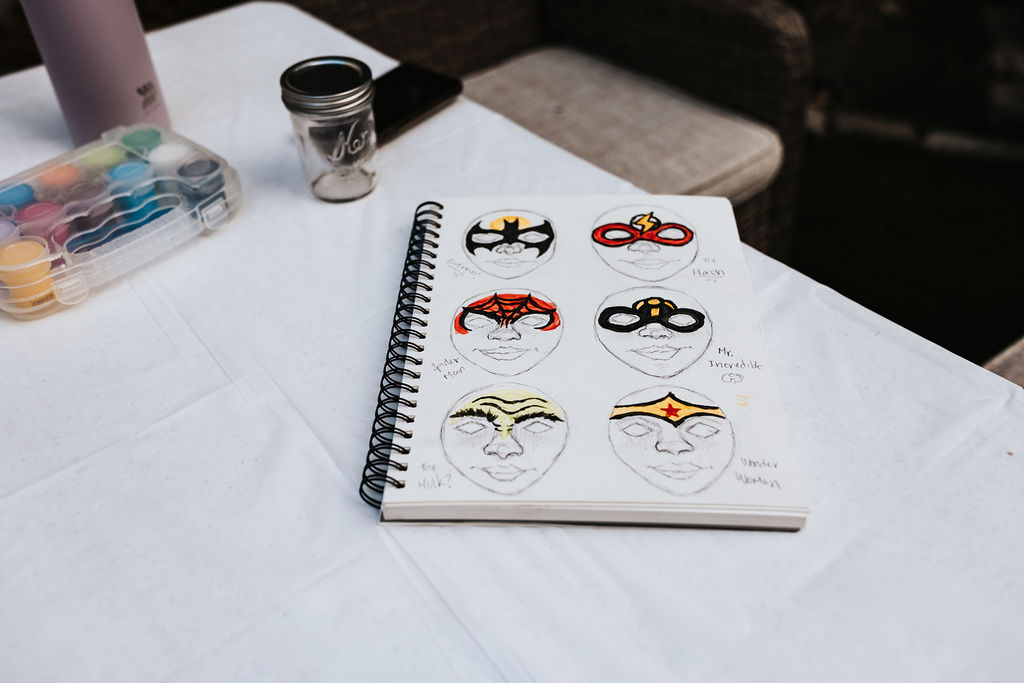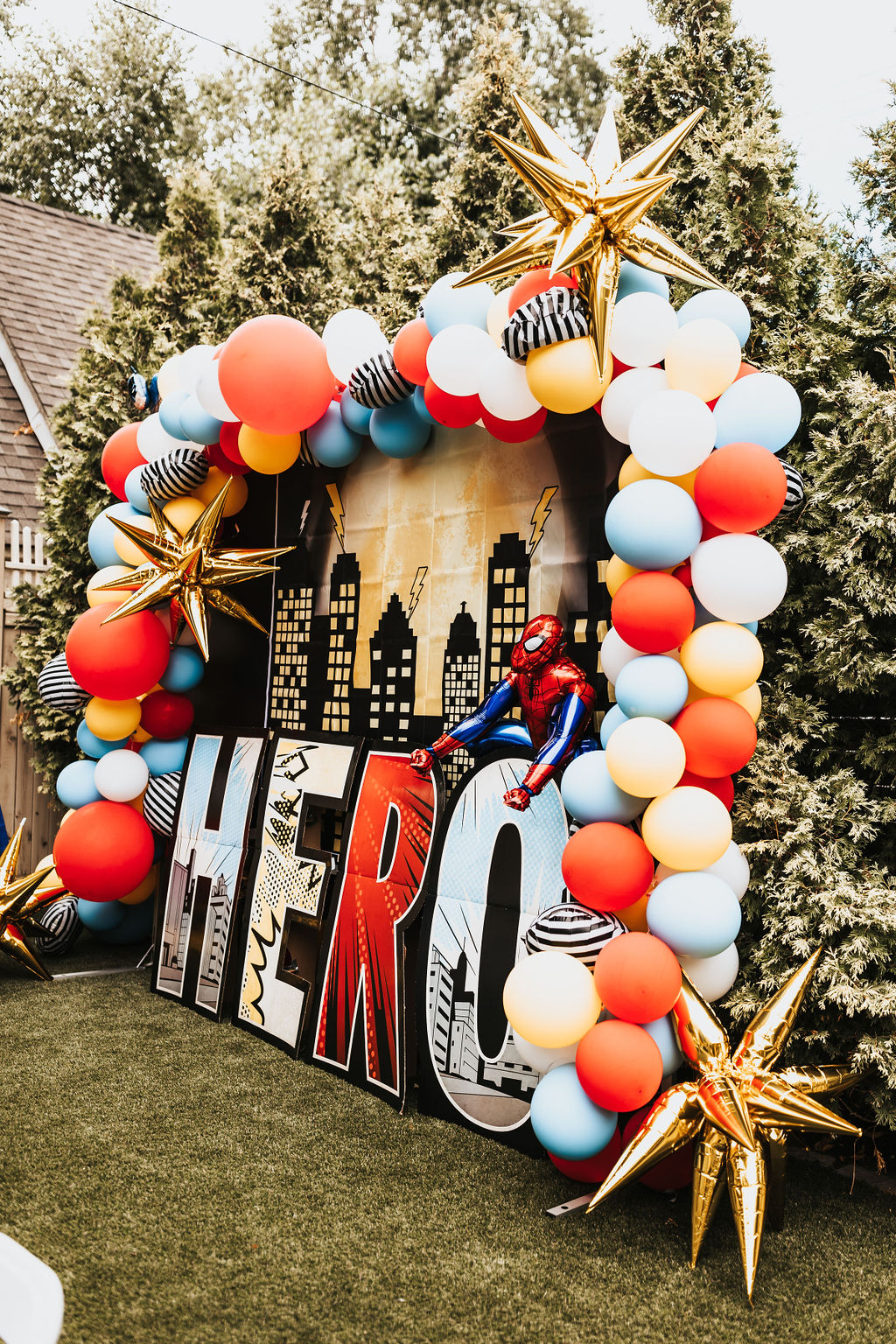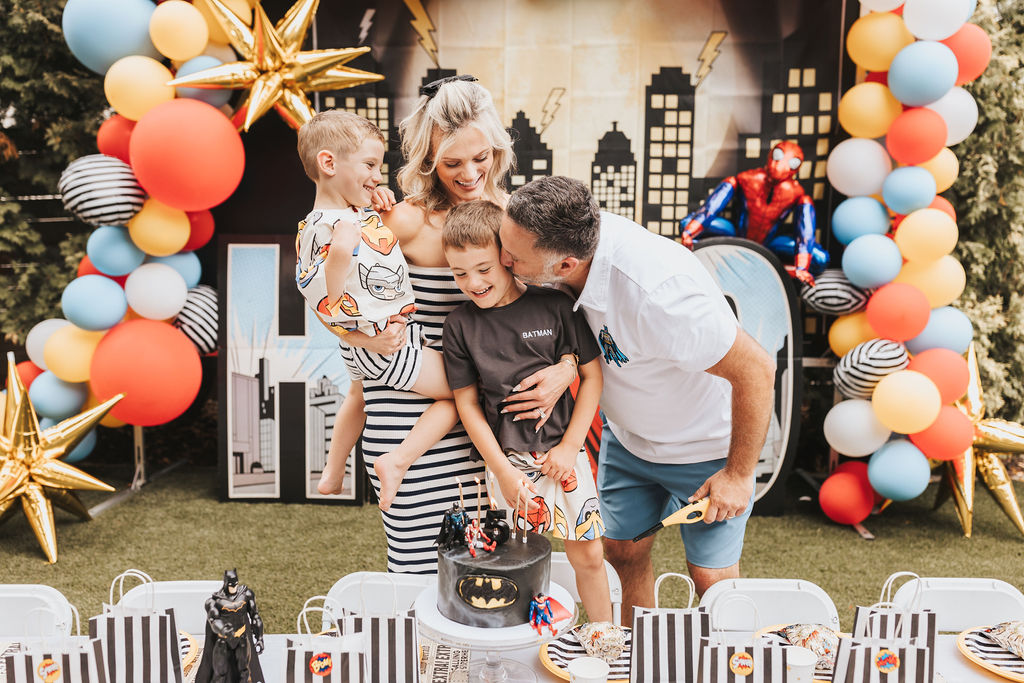 We used my husband's projector screen as the backdrop, and I ordered the city scene online and taped it to the backside of the screen so we didn't damage it. Since they blew over, I tied the balloons and taped the HERO cutouts to the screen. It was the perfect anchor and created a stunning backdrop for the party!
Oh, I love reliving this party. I wish we could do it all again!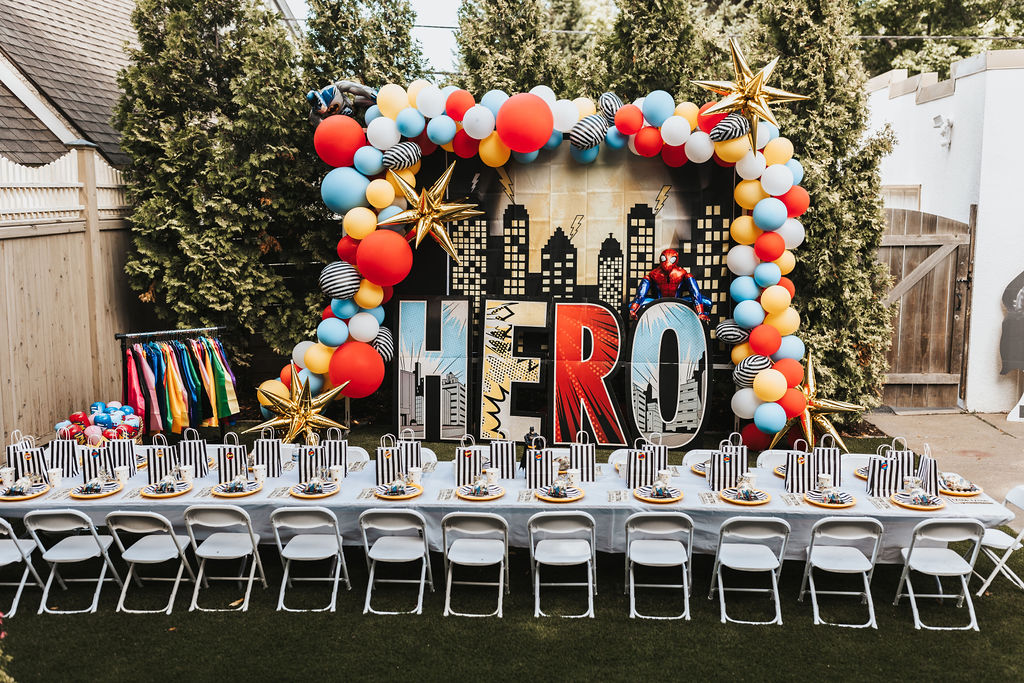 The bounce house was from USA Inflatables, and it was the only superhero-themed bounce house I could locate in MN, so book it early if this is your theme! This was the party, and the kids were exhausted and happy!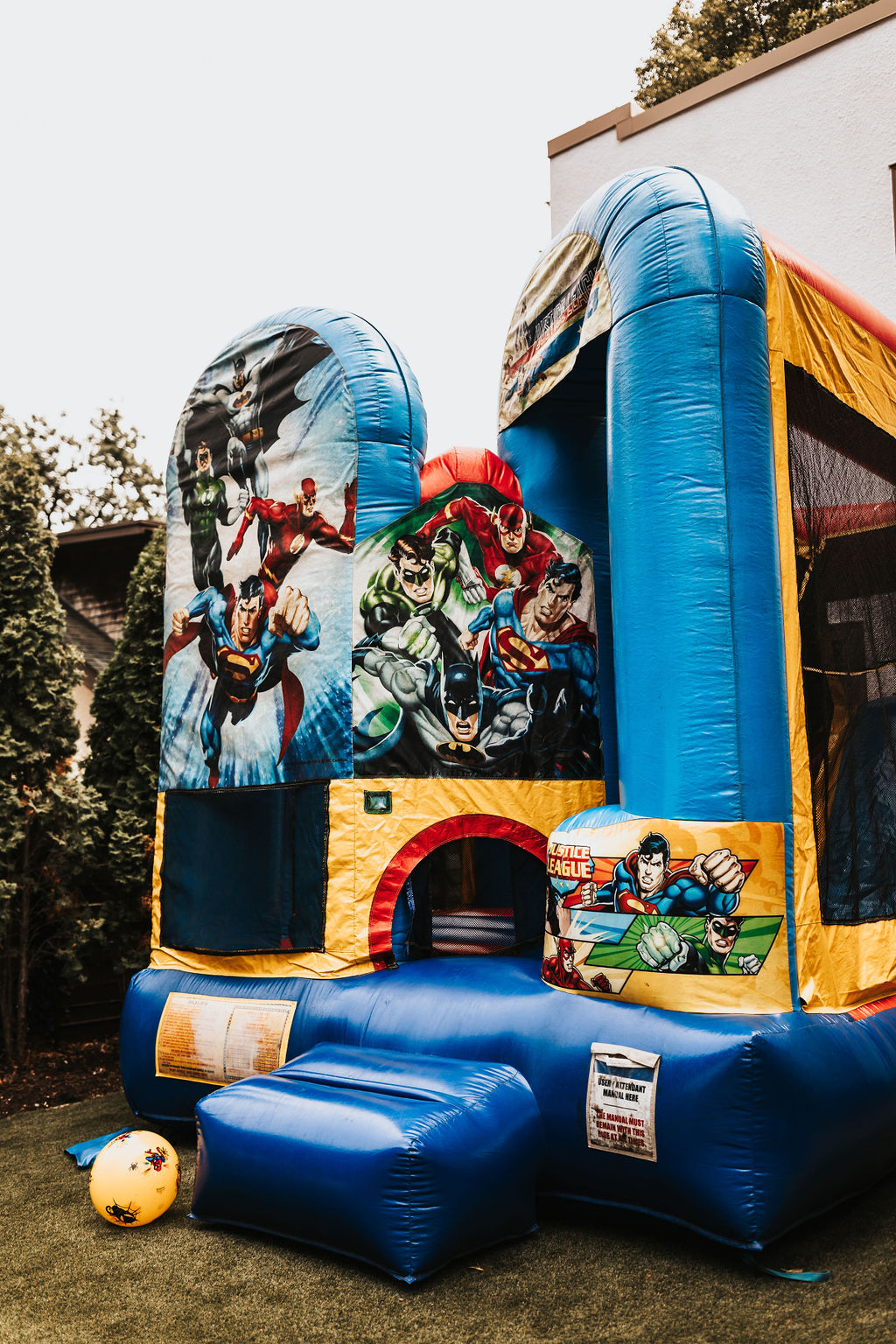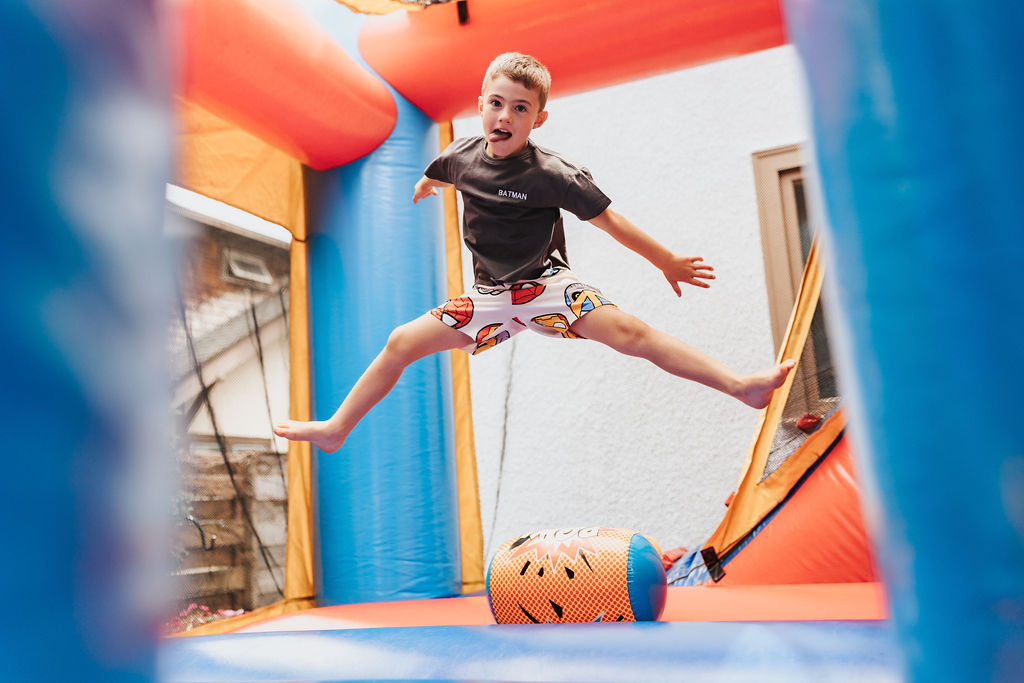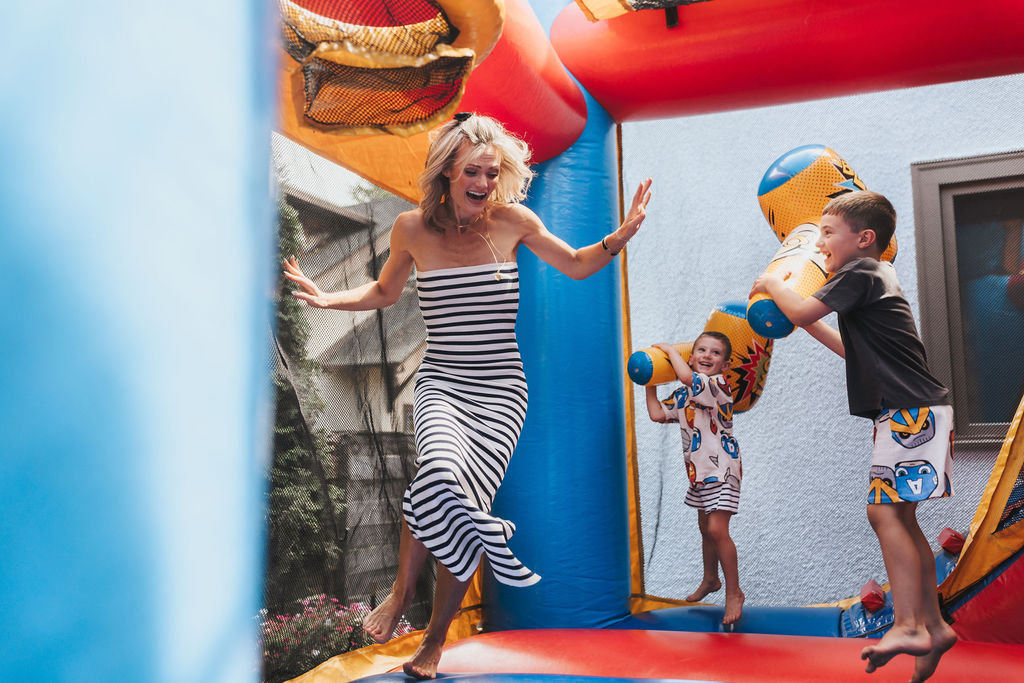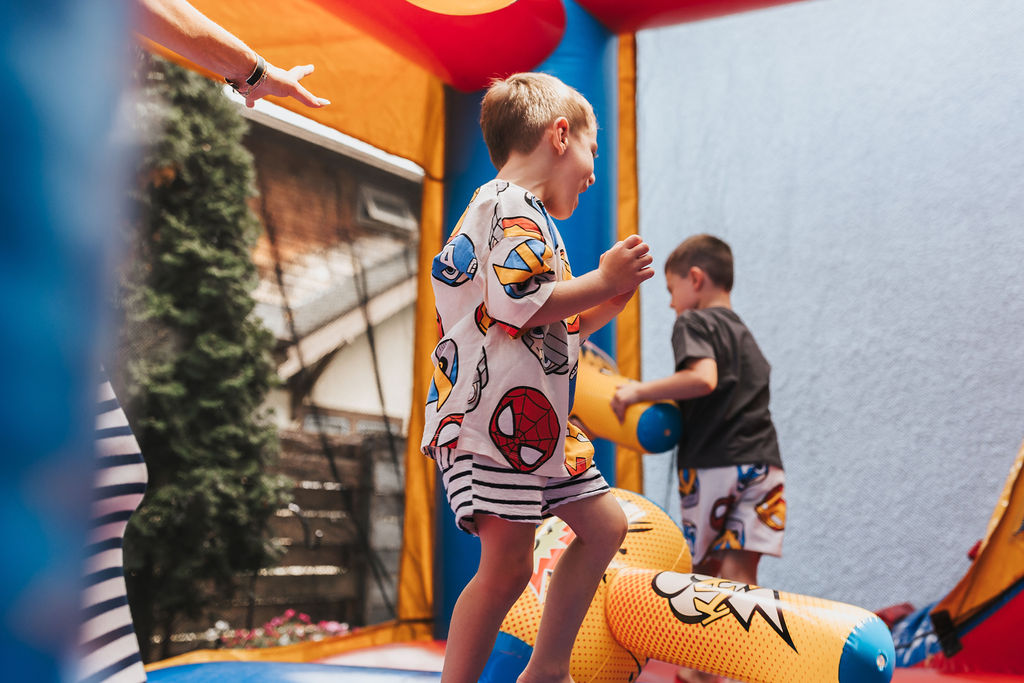 Our beautiful cake was from Wuollet Bakery. I appreciate all the love they have shown these kiddos through the years! I found these cake-size superheroes, and they fit perfectly! As I mentioned, there is a plethora of superhero decor online! It was hard to stop!
We kept food simple with pizza and fruit and had a bar set up for the moms and dads! It was a memory, and I wish it didn't have to end.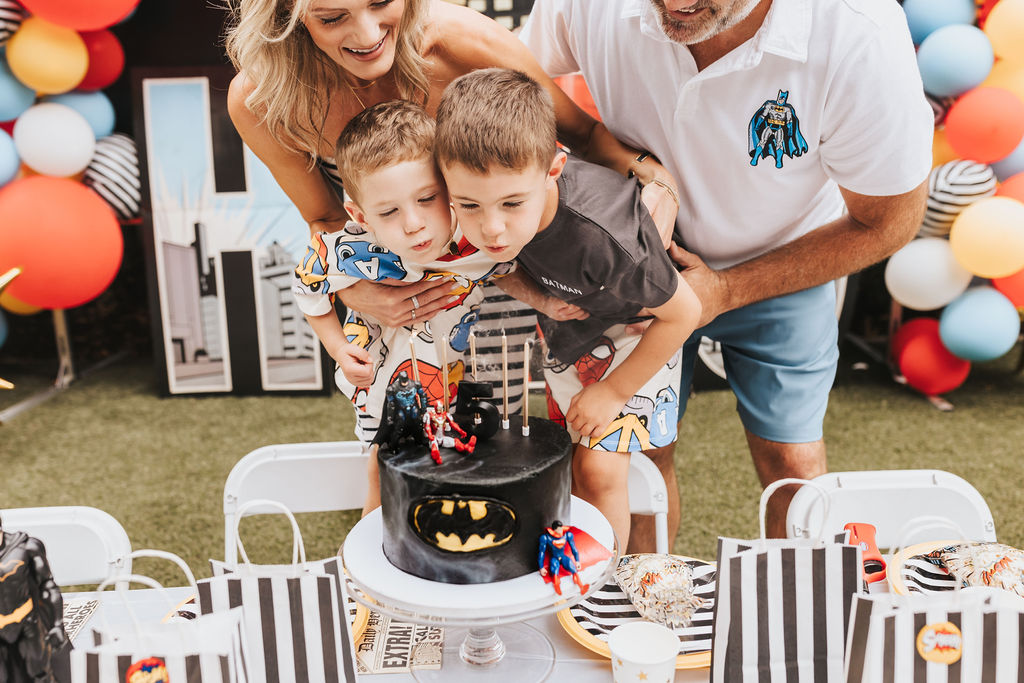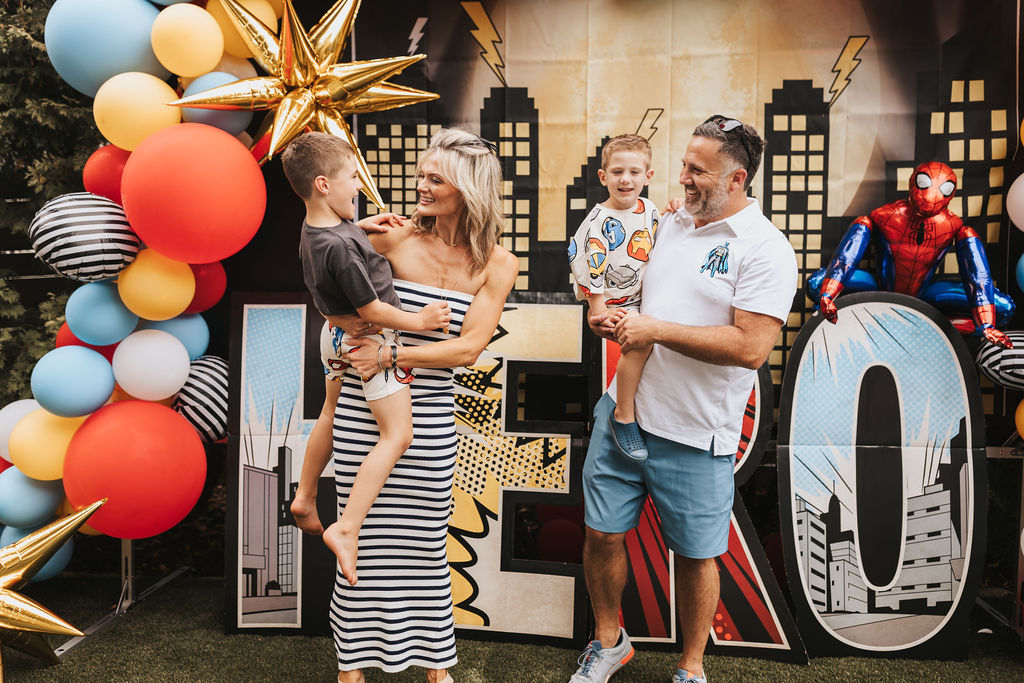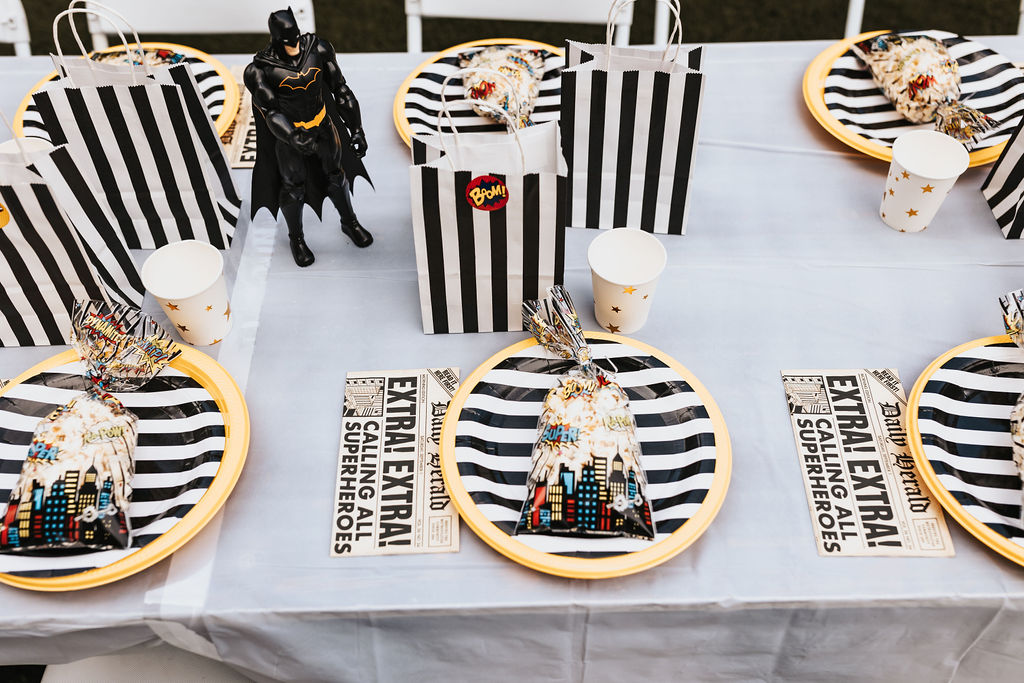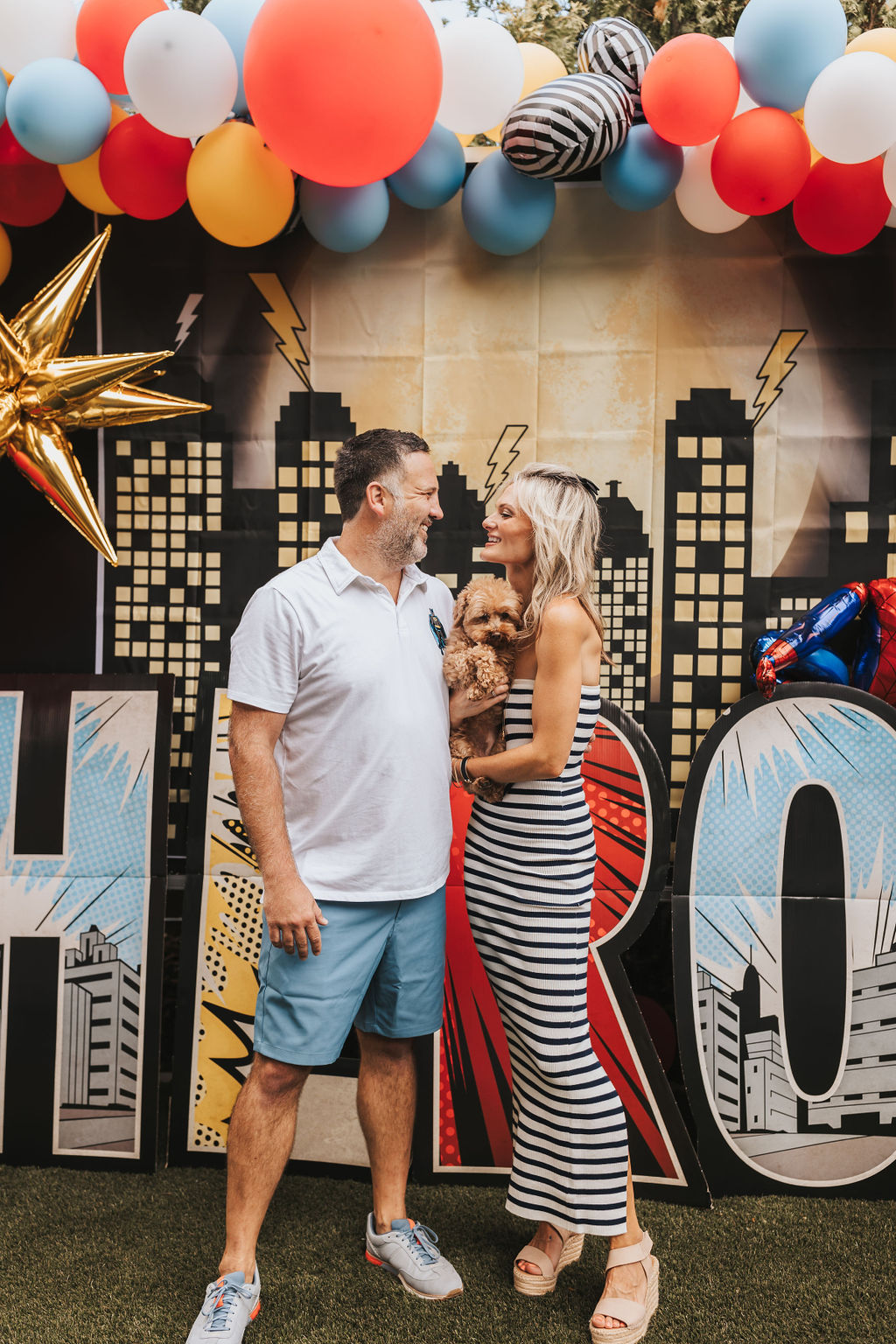 It was such a wonderful evening. We are so blessed to have such amazing friends and family to help us celebrate our big five-year-old. It feels like time is flying by faster than ever before. Morgan Manney, thank you for capturing these so beautifully for me. I will forever cherish these images.
Thanks for being here!
Love – Tamara