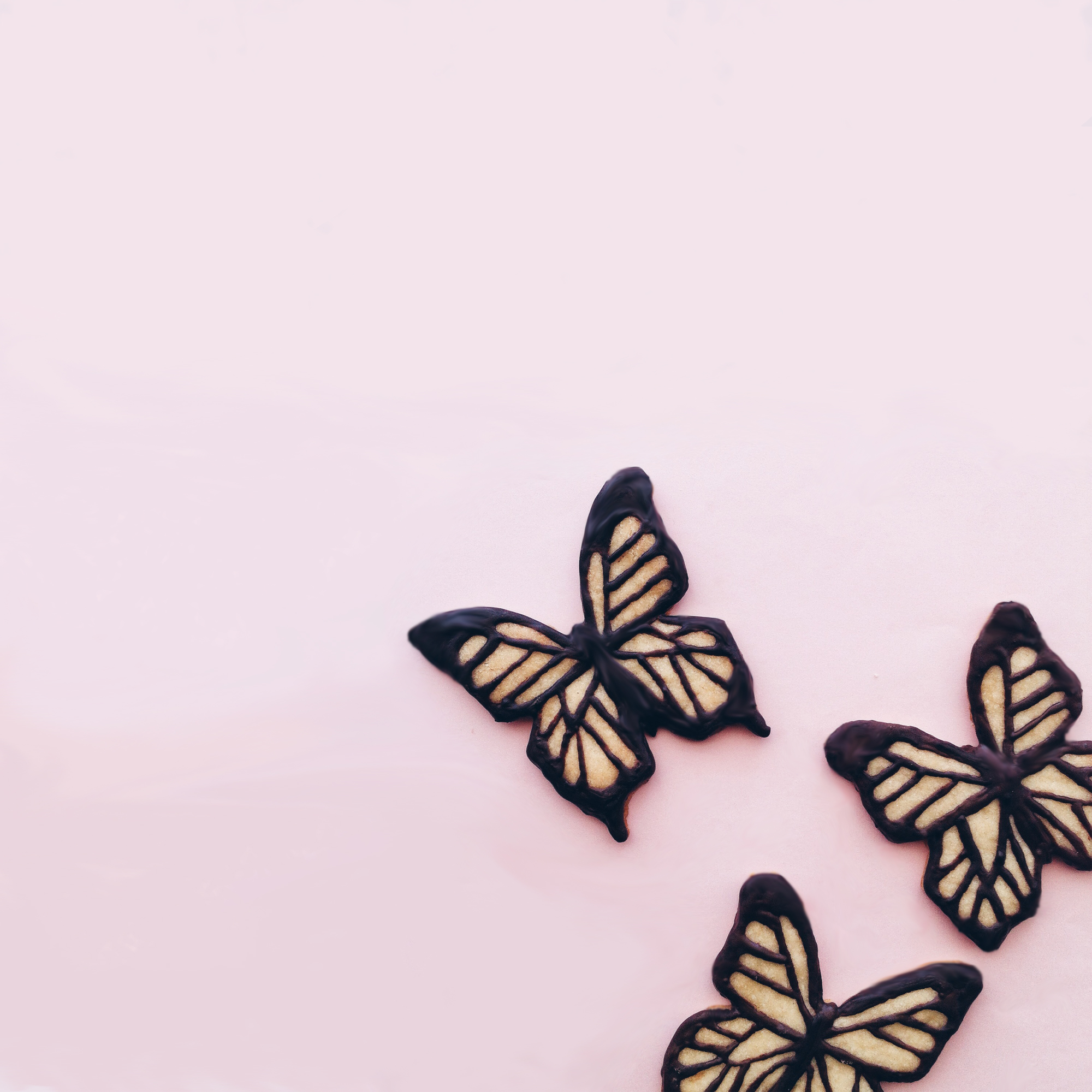 Our guest blogger this month is no joke! Meet Samantha the extremely talented handmade pie and cookie maker behind the instagram feed @elleventy (get ready to be very jealous).  I thought I liked to bake, but she takes it to a whole other level with her clever designs, simple ingredients, and honestly, her feed just makes me plain happy. Read this article featured on Delish.com,  she doesn't mess around when it comes to baked goods.
Best news as you kick off this Mother's Day weekend? Samantha is sharing her cookie recipe so you can make these crowd pleasing butterfly cookies just in time for the weekend.  I personally love butterflies but I love a good cookie recipe even more. I asked Samantha if she had any inspiration or a quote she would like to share as our guest, and she said these butterflies were inspired by this quote from the book/movie Still Alice , which just made me love her more:
"She liked being reminded of butterflies. She remembered being six or seven and crying over the fates of the butterflies in her yard after learning that they lived for only a few days. Her mother had comforted her and told her not to be sad for the butterflies, that just because their lives were short didn't mean they were tragic. Watching them flying in the warm sun among the daisies in their garden, her mother had said to her, see, they have a beautiful life. Alice liked remembering that." – Lisa Genova, Still Alice 
Please let me know if you try this because I want to know how yours turn out. Enjoy!
Butterfly cookies
Recipe
Ingredients for cookie
* 2 cups flour
* 1 cup butter
* 1/2 cup sugar
* 1 teaspoons vanilla extract
Materials for decorating
* Chocolate
* Toothpick
* Rolling pin * Butterfly cookie cutter or Butterfly template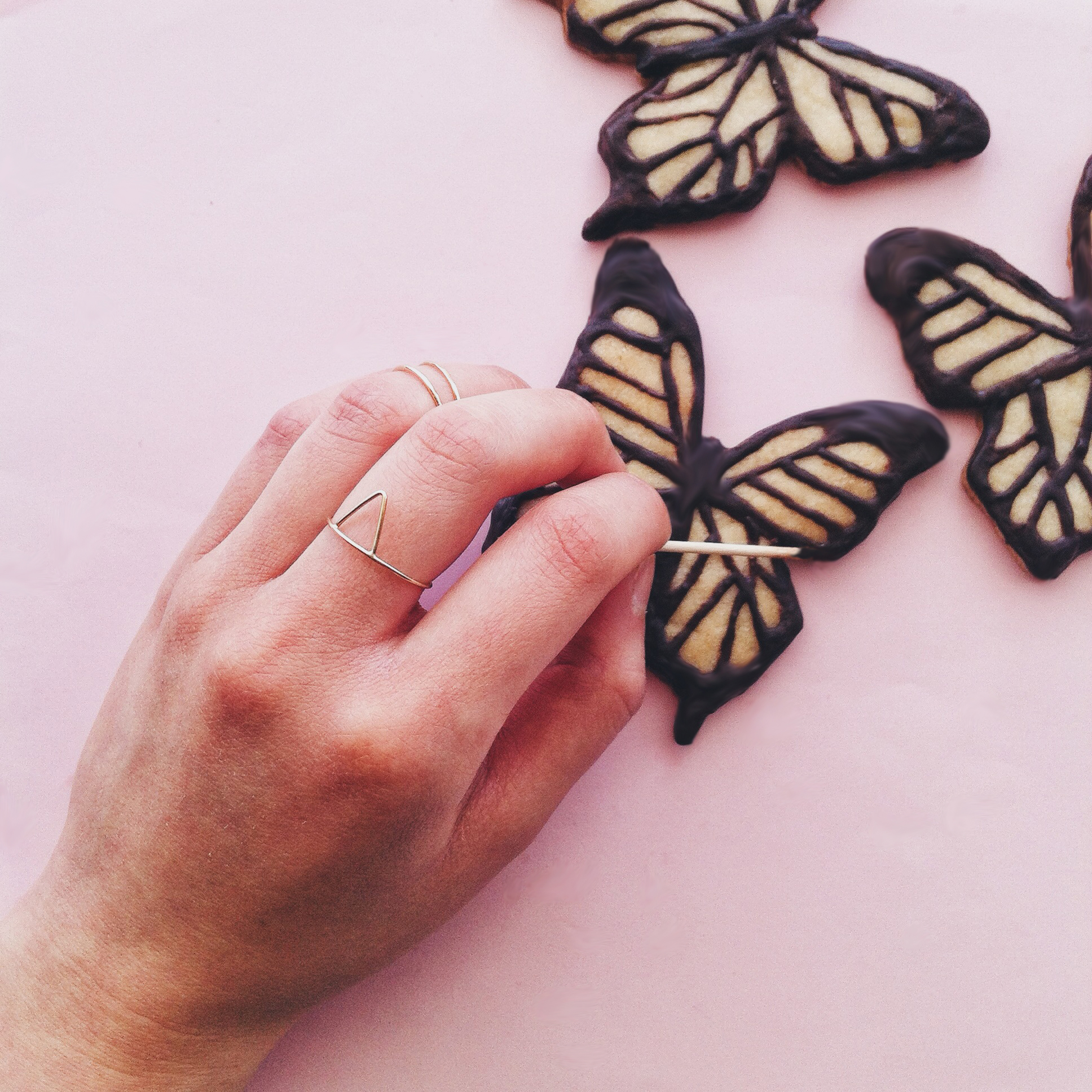 Instructions:
1. Cream together room temperature butter and sugar in a bowl. Once the butter sugar mixture is done, add vanilla extract.
2. Mix in the flour until a dough-like consistency starts to form.
3. On a well floured surface, roll the cookie dough with a rolling pin until it is 1/8 inches thick.
4. Using either a butterfly cookie cutter or a paper cut out of a butterfly template, cut out shapes in the cookie dough.
5. Place the cookies on parchment paper 2" apart.
6. Bake in preheated oven at 300ºF for 10 to 15 minutes or until bottoms are lightly golden. Remove cookies from baking sheet and cool on wire racks.
7. Start melting chocolate as the cookies start to cool. Bring about an inch of water to a simmer in your saucepan. Set the heatproof bowl in the mouth of the pot, making sure the water doesn't touch the bottom of the bowl. Stir chocolate occasionally as it softens. When you have just a few small unmelted chunks, remove bowl from heat.
8. With a toothpick as a paintbrush, use the chocolate as paint to decorate the cookie in the desired butterfly pattern.
9. Let chocolate set at room temperature before serving. Yields 2 dozen cookies.
All images and recipe courtesy of Elleventy 
If you are interested in being a guest blogger send an email hello@champagnemacaroons.com