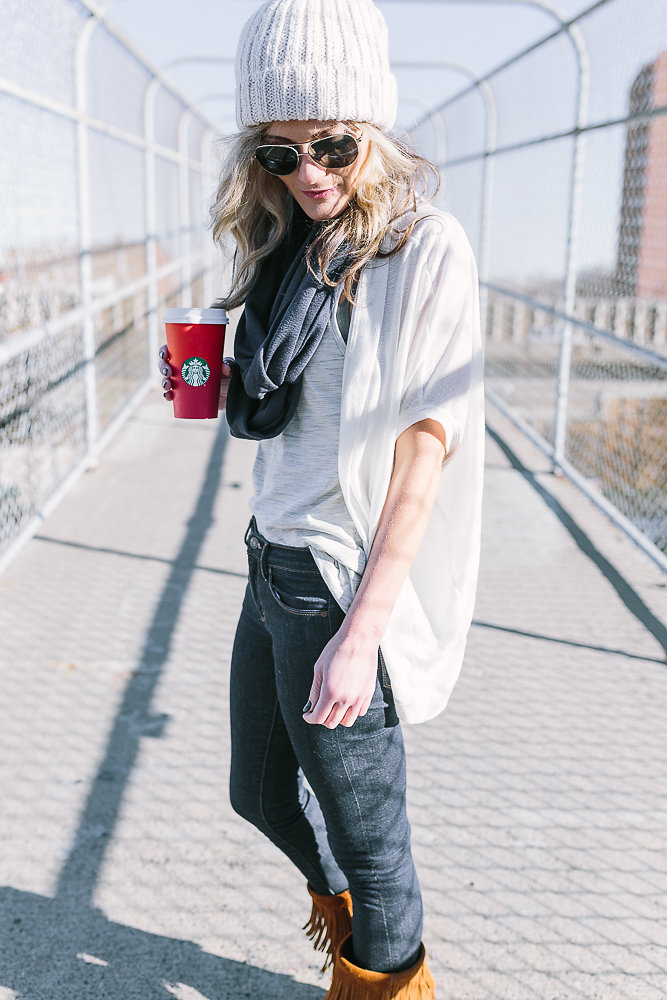 It's the most wonderful time of the year and we are in the holiday spirit! Which means we are doing a giveaway just because we love you! I am so thrilled to be joining Tonic Lifestyle Apparel for Motivate Monday's and what more motivation do you need other than free goodies? This is the time of year where stress can come into play with so many parties, obligations, and lists to tackle, so we wanted to do something nice and say thank you just for being you.
We are giving away not one, not two, but three items! Everything I am wearing on the top half is straight from Tonic's 2015 Lifestyle Collection and over a $150 value: The Holly Cardigan in Cream, The Julienne Tank in Frost Bite, and the Millennium Scarf in Navy. Pictured below see how you can easily pair these three items with everyday wardrobe pieces you already have in your closet. Not only are these everyday items but they can be used for getting active at the gym or your life after sweat.
To enter follow me on instagram, leave a comment on the photo related to this post telling me why you should win these fabulous pieces and be sure to tag a girlfriend you think would enjoy knowing about Tonic or needs a little workout swag in her life. You can get started by clicking here: @CHAMPAGNEANDMACAROONS  Good luck!
As always I have linked all the items I am wearing below for you so be sure to check them out! lots of great Tonic items and my favorite pair of Moccasins + jeans. Happy Shopping! Any questions feel free to send my way.
XO Tamara
Images – Ellen Ashton Photography
Cardigan, Tank, Scarf – c/o Tonic Lifestyle Apparel
Aviators – c/o Warby Parker