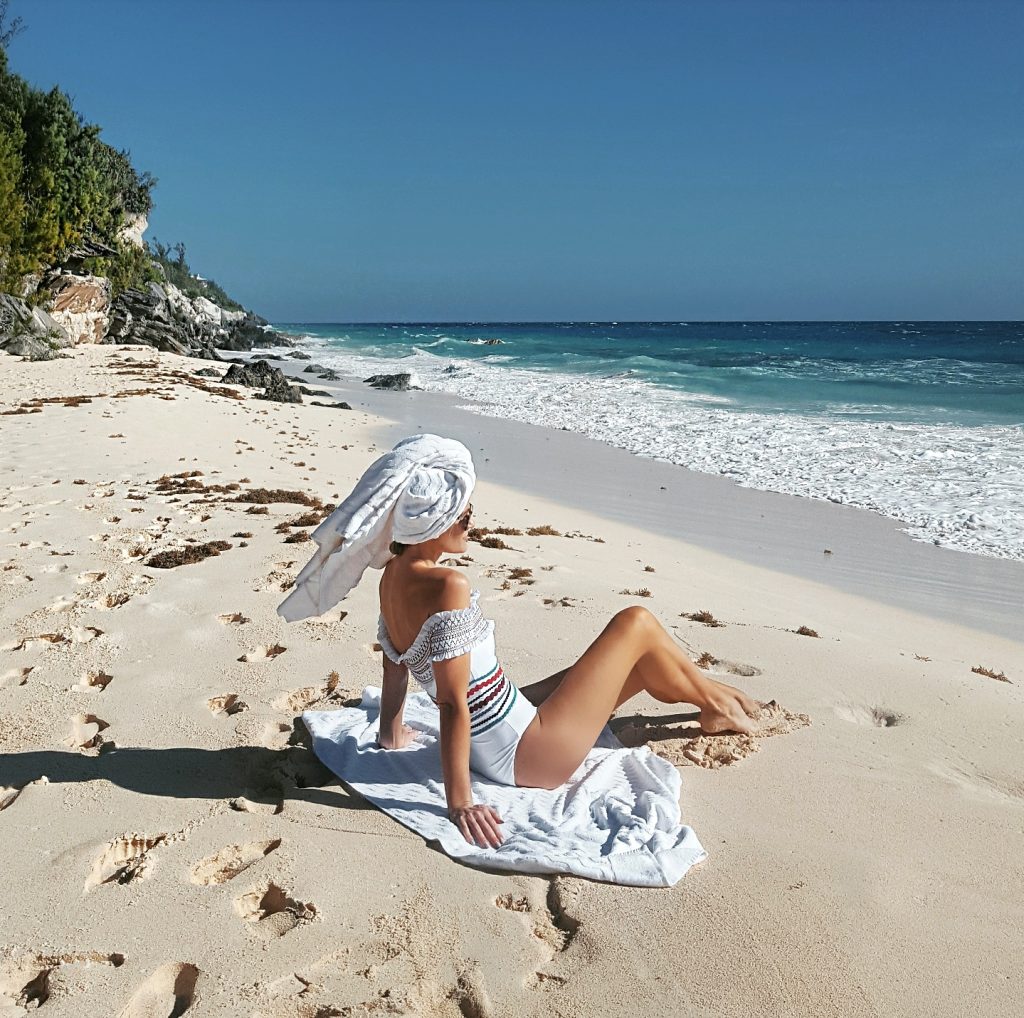 When it comes to frigid winter temps the only thing keeping me sane is planning our upcoming travels. I love a good beach, sand in my toes, and the sound of crashing waves in the distance. So look no further if you need a good dose of Vitamin D, I am your expert on all warm weather-related travel!
A lot of our friends hit the slopes this time of year but heading somewhere with more snow, and freezing temperatures is not my cup of tea! Ideal travel for us involves a carry-on jam-packed with bikinis and flip-flops. Those chunky layers can stay stacked neatly in Minnesota where they belong!
So just where do you need to jet off to this chilly winter?
I have a few places in mind for you! Last year was our travel year; this one is also off to a good start so stay tuned for more in this series. I am planning a winter travel roundup for you guys and take you back through a few of my favorite destinations visited in 2017 (Santorini, Croatia, Sonoma)!
First up is Bermuda!
This little island turned out to be a colorful surprise! We fell in love with the people, culture, and brightly painted houses dotting the city streets. Flying over the Atlantic Ocean, you can't miss the bright blue waters of these tiny islands.
Getting there was pretty easy, and that is true for just about everyone. Situated 900 miles north of the Caribbean, Hamilton is only a few hours from the U.S. Our journey was MSP to Atlanta, to Hamilton. We were checking into our hotel room by 2 pm the same day! That is my kind of travel day!
We stayed at the Hamilton Princess & Beach Club, a beautiful pink property that sits just on the harbor. A lovely sailboat filled view awaits you along with delicious food. Our breakfast came with the booking and a great way to fuel up for the days we spent out adventuring the many cotton candy kissed sandy beaches.
The hotel offers a private beach that they will transport you to and from for free and it is utterly breathtaking! Hammocks in the water and on land, a pristine beach and clean restrooms and a shaded area to sit and relax. This secluded beach is where we spent most of our time almost all alone too!
December is notoriously known as being downtime on the island. And it happened to be unseasonably warm this time of year, so we took our pale skin and suits and soaked up the sunshine while it lasted.
Fresh fish and stacked sandwiches are a few specialties on the island along with the free-flowing Rum. With Christmas in full swing, the island was decorated and hosting evening events and open late for the holidays. It was very relaxing and comfortable to walk to the city center from our hotel property.
A few of the restaurants I would recommend:  Marcus for dinner their bread and burrata appetizer is to die for, and they have a great ambiance at the bar. The islands most famous Swizzle Inn, their fish sandwich is legendary! And one that we happened to stumble into was the best we ate on the island – Devil's Isle Cafe! I cannot rave about this place enough. Everything tastes so fresh and worth a visit!
One of my favorite parts of the trip was having coffee on our terrace at sunrise. Birds were chirping, and the palm trees are swaying it is entirely peaceful and comforting. If you had no desire to leave the hotel, the property offers two pools, hot tubs and plenty of dining options for total relaxation!
My favorite day was when we rented the Twizy, a small tandem style car that is electric and one of the easiest ways to explore the island. Probably not for the faint of heart (they also drive on the opposite side of the road), it is a tight fit, under four feet wide, and the streets are equally as small and winding! But overall a blast, I couldn't have driven so thankful for John being the brave roadmaster!
There are over 34 beaches, and 75 miles of coastline and the beaches are pink! Horseshoe Beach is the most famous of all! A beautiful stretch with loads to do and people watching, also the sunset here is quite lovely.
There are loads of cute shops to pop into and historical museums to visit but I would say kicking back and relaxing should be highest on your list of priorities!
Sharing loads of images below! Enjoy!