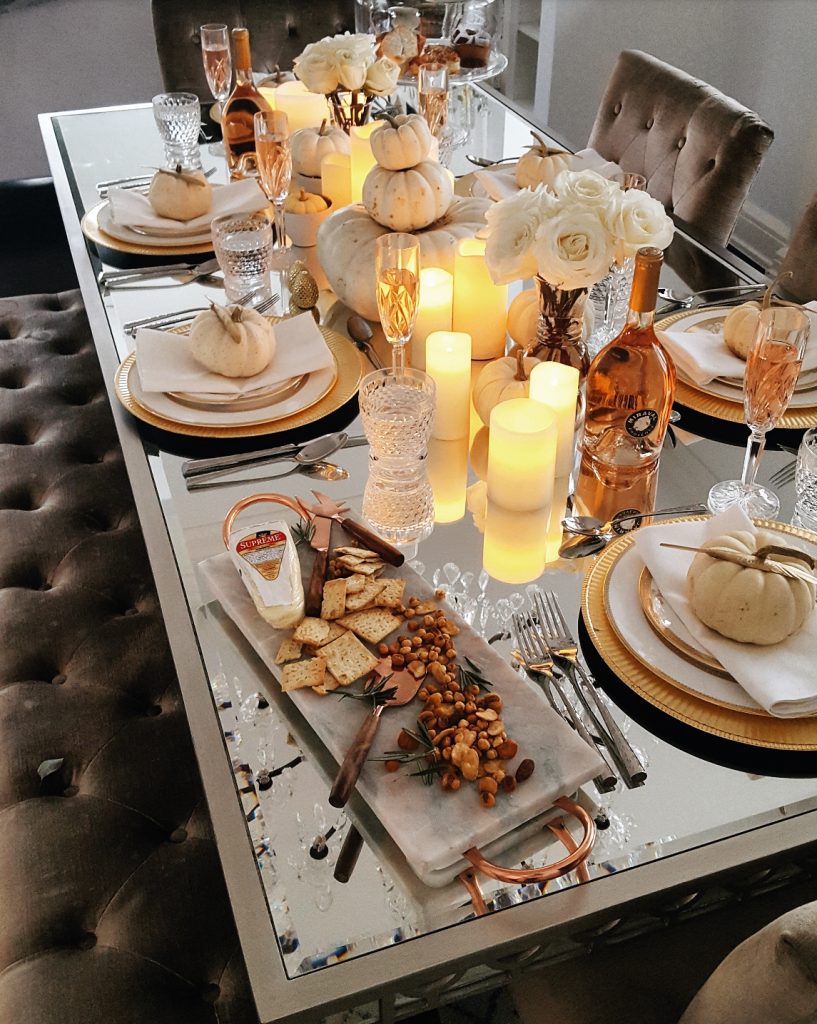 Entertaining doesn't need to be hard; it also doesn't need to cost you an arm and a leg! Hosting our friends and family during the holiday season is a highlight of our year. John and I love opening our hearts and home to welcome our loved ones over a tasty meal and give thanks for another beautiful year behind us.
I'm sharing ten quick and easy tips that will not only give you a beautiful setting but also be easy to repeat for any holiday or celebration you might be hosting. Let's be honest with so many resources around us be it social media or Pinterest; there are plenty of places to go for inspiration!  But thinking outside the box will give a beautiful table that will be elegant, easy, and keep your guests raving all night long, (alcohol also helps!).
PICK A COLOR SCHEME AND ROLL WITH IT (ALL YEAR LONG)! My tablescape is entirely neutral. I like neutrals because it's a perfect base to add any color to no matter the season, plus it is naturally appealing to the eye. Monotoning packs a punch, even if you went with an all evergreen, rose or light orange theme, it looks lovely on any table. Just think ahead and try to re-purpose anything you end up purchasing, that way you get the most out of it all year long!
USE WHAT YOU HAVE! Listen the holiday season already takes a significant hit on your bank account so hosting shouldn't have to do the same. Are you going to spend money, yes, but think of ways to be creative if that is a concern? I have used our wedding china over and over for parties. Everyone told me not to register for it, but it is the best decision I ever made. It is pretty with a pop of gold that is timeless and always makes the table feel a little extra special, no matter the occasion.
FOOD IS DECOR! If Whole Foods can make a beautiful pastry and I am going to spend money on it, then you better believe I am going to showcase that little thing in a big way. I love adding donuts or big decorated sugar cookies as a decor element or place setting. It adds a little something special and creates dimension. Add a pretty cake stand or marble platter for extra texture and height.
CHEESE IT UP – bust out the brie, throw some nuts on the side, and sprinkle a little rosemary around and you look like Martha Stewart. So simple and so beautiful. Homegoods has so many beautiful platters that are affordable. Macy's does too, and this one is half off. I love the rose gold handles and marble detailing! Such a pretty addition to the table that you will be pulling out again and again.
MIX IT UP! No matter what the party holds, it probably will involve something red, white or bubbly. I love using a pretty champagne flute at dinner because events like these deserve an excellent toast. It also creates a friendly atmosphere when everyone feels happy and elated. Bring in different heights and sized glasses for your guests.
LESS IS MORE! Thanksgiving, Christmas, New Years, Valentines, there is always something to be decorating and hosting throughout the year. The pumpkins on my table were all picked up at Trader Joes, and they are the best price around, and I like the white tone best. I had these scattered around the house during the fall season and pulled them all in to create a pretty monochromatic table. So lovely to re-purpose something that's going in the garbage on Nov 24, (Christmas goes up immediately after the last guest says goodbye, so move over pumpkin.)
SIGNATURE COCKTAILS ARE IN! Serve one main beverage to keep costs down. A crowd-pleasing punch like the Rose Sangria I shared last week is super easy. Good idea to keep rose or red on hand to enjoy anyway. I like having a signature cocktail because it feels extra special, makes an excellent conversation piece, adds decor to the table, and people usually love the extra touch. You can even give it a unique name!
CANDLES, CANDLES, CANDLES! Electric candles are my jam. We have them scattered around the house, and I love seeing them pop on in the evenings. I grabbed a few smaller ones here because I wanted a little more drama and dimension. I also like that I can leave them going and no one is burning down the house! The soft glow brings another element, and who doesn' love a dreamy, glowing table at night.
CUSTOMIZE IT! In the south, we put our names on everything, license plates, cups, cars, ranches, lunchboxes so naturally, I love a good name card. I save them from weddings we attend because I know the time that goes into them. I ended up purchasing a box of dipped gold feathers and thought this would be a fun way to present everyone's names. There are a million ideas, but this is a cute way to say I am thankful for you. You could even add a little space for everyone to write something they are grateful for or at NYE something they want to accomplish be it a goal or dream.
HAVE FUN! Remember there are no rules, just enjoy yourself. I pop on Billy Holiday or Frank Sinatra while I am decorating and I always feel like I am in my happy zone. Holidays are stressful and joyful, but they should still be fun!
Can't wait to hear how you all decorate your homes! Wishing you all a beautiful holiday season! Enjoy! Links to all my decor can be found below and on the Home Inspo shop page as well!