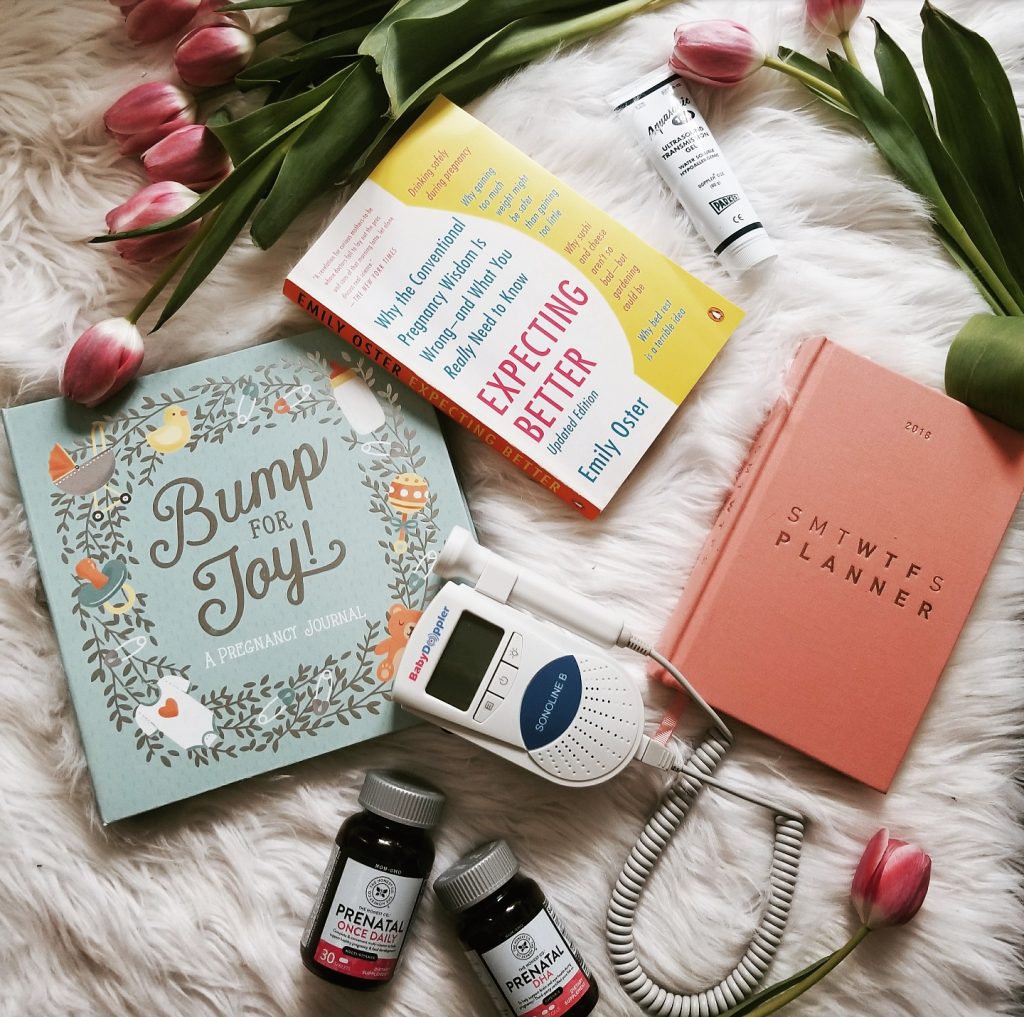 There is a lot of mystery behind the whole world of pregnancy. One topic I didn't know much about either, nor did I previously care until I was in it! But, when I started researching the idea of being pregnant, it was a lot of details and information that I wanted to skim over. Hello, can someone get me to the excellent parts already!
When sharing a few of the items I have been using on my stories, so many of you had interest and feedback! I love hearing from you, mammas! All of your stories on what has worked and what you enjoyed while pregnant. And it seems Amazon reviews do not lie! Where would we be without all this information today? I often wonder how our moms must have felt! Probably just nervous all the time?
My priority with reading is to educate my self. There is a lot of advice that comes at you when you announce you are pregnant. I would have to say about half of it is right and the other half not so good.  I think someone should post a what not to say to pregnant women guidebook (come on Emily Post)! Our moms and grandmothers have all been there but so much has changed since then.
The one book that I enjoyed reading before I was pregnant was "Expecting Better." The best part is the book was not written by an OBGYN or a doctor, just a highly educated economist who wanted answers. A girlfriend of mine suggested it, and the beginning part of the book is all about getting pregnant. There are a lot of old wives tales debunked and great advice like if you want to have a glass of wine you actually can or don't, she says it is all your choice. What fish to stay away from and all the facts, stats, and all backed up by actual data! It is great.

Below is my list of favorites in early pregnancy and above is a scrolling bar with images to take you straight to each one!
Prenatal Vitamins –  Find a highly rated prenatal vitamin and start taking it now. If you want to get pregnant or you want to start thinking about it, never hurts to start early! I was super nauseated in the beginning, and this was a challenge. Honestly, everything was a challenge those first three months. Smells, food, cutting up the dog food made me run to the toilet. But the truth be told not all prenatal vitamins are created equal. I would recommend doing some research here because there are so many opinions but the one I found and felt confident using was by the Honest Company. They have a one a day prenatal and a flavored DHA (take with your prenatal once pregnant) with no fishy aftertaste! I also adore the bundle program because they automatically ship the vitamins to you so when you are running out the next one is arriving, and with pregnancy brain, you will love this arrangement.
Baby Doppler – When you are pregnant, you have this whole crazy period of waiting. Remember that scene from friends where Rachel starts crying because she can't see the baby on the sonograms? That is pretty much accurate, and they make you wait about four months until you see the baby again. It is complete agony! You aren't showing yet, you can't feel anything, and all you have is a lot of waiting. Enter the baby doppler!  We had heard from a few parents that this was a fabulous idea and it is a lot of fun to use. I spoke to the nurse and the doctor about it beforehand, and it is entirely safe for the baby, just know that there are times when you may have a harder time finding the heartbeat so do not freak out. The doppler is not for everyone. I have felt peace and comfort from having it on hand.
Pregnancy Journal – We have loved having a beautiful baby book to document all of our joys along this journey. We picked up this journal the minute we found out we were pregnant. I like the questions and the style of the book. I shared this a few weeks ago and had quite a bit of interest in it. There are a lot of options out there, but the cover on this one is pretty too not cheesy like a lot of them! Also, there are places for photos and questions you can write down to remember all of your emotions during this journey. I love the idea of reading back through it because parts of it are already a blur!
Educational Books – There are three books that I have in rotation currently: "The Happiest Baby on the Block," "Baby Wise," and "Bringing up Bebe." I shared these a few weeks ago, and there was such a fantastic response to them, I wanted to be sure and add them here for anyone looking for suitable reading material. I am very deep in "Bringing up Bebe" now and love the philosophy and information in it. Again reading and taking bits of pieces from each but mostly want to learn about sleep and what has worked as that seems to be the biggest issue I am gathering from moms and dads.
Planner – I do not know about you guys but my head, in the beginning, felt like it was going in a million directions. I was exhausted and trying to keep life on track was a huge task. I wanted to have something other than my phone calendar to write out ideas, things I needed to remember, grocery lists, etc.! All in all, this planner was a huge help!
Sound Machine – I do not sleep well. I mean ever. Sleeping has never been a champion sport of mine. Long flights are my worst enemy, cars, long travel times because I watch others snoring away and I am beyond envious. Now that I am pregnant sleeping has never been more of a challenge. I adore my sleep machine. I even have the small travel version because with it I can sleep like a champion. I have one for guests, one for the baby's room and I have one for us in our master. It has been my saving grace!
Maeband – We all know the rubber band trick works in a pinch early on in pregnancy. I was a little late to the belly band party, but I did order the Maeband, and it felt so much more comfortable than a rubber band! This band was recommended to me by a follower who swears by it! I think it would come in handy for second-time mammas since they say the bump pops out sooner than with the first baby. A few color options and sizes to pick from, plus it can keep you out of maternity a little longer!  When your belly starts to pop, you are going to want to ditch those bands and go straight to the maternity jeans! My first pair is still on the way, couldn't be more excited for them to arrive!
Pajamas – Not sure if it is all the whole hormonal changes happening to the body but the first three months of being pregnant all I wanted was silky pajamas. Everything felt tough on my skin so having a soft, comforting pajama to climb into every night was quite possibly the best feeling in the world. I shared this pair right after Christmas, a gift from my mom, at the time she didn't know I was pregnant but they are my absolute favorite thing ever!

I am beginning my registry journey, and I would love to know what you can't live without items. I feel completely overwhelmed by this task; it is one of the most critical lists I will ever make. In the end, I do not do well with junk so please comment below on what this soon to be mama cannot live without in the nursery!
Thanks for reading!