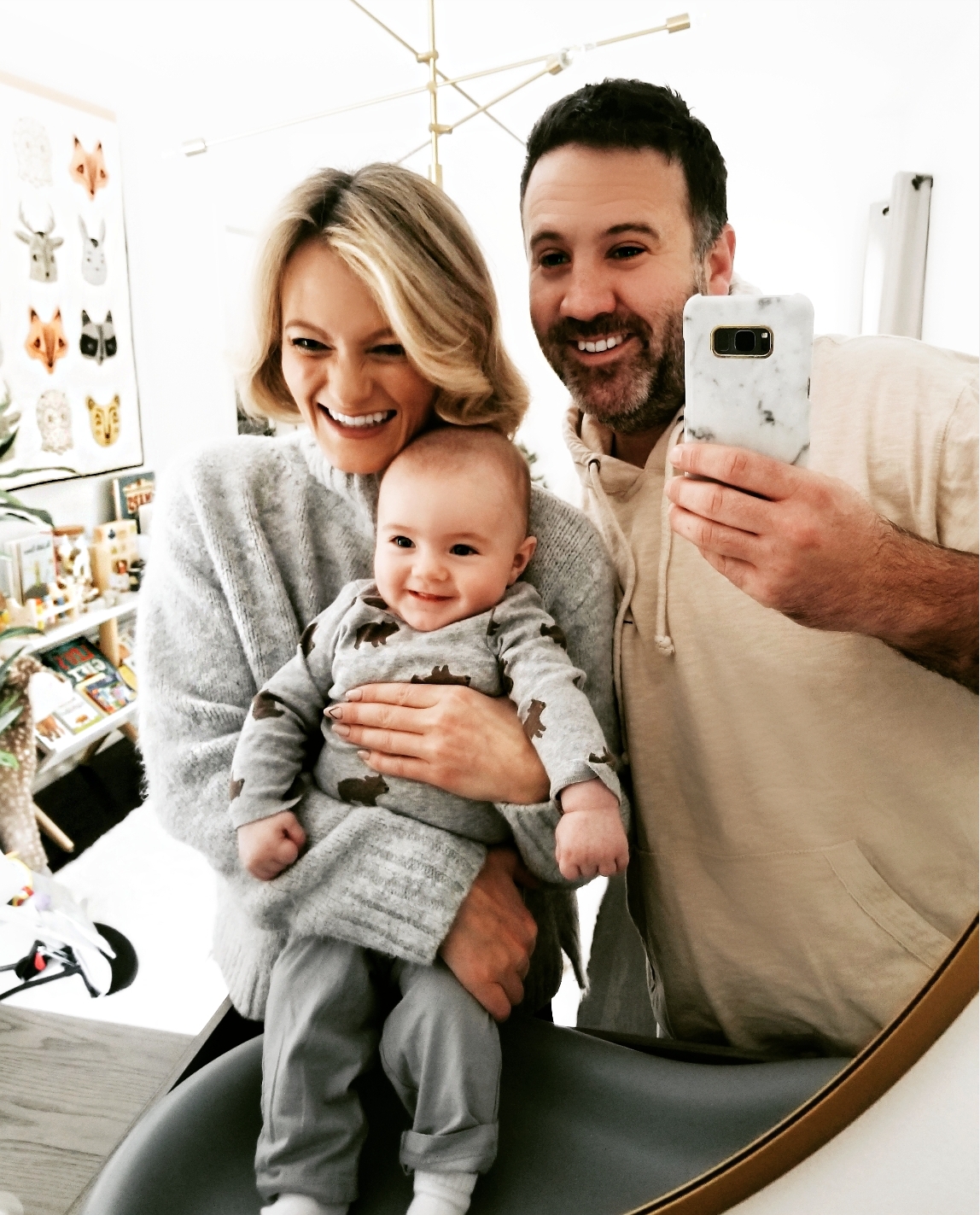 Wow. You guys, wow. I knew all of this was going to be a lot. The worry, the doubt, free-flowing advice (invited or not), and learning to adjust to our new lives and lifestyle with a three-month-old. Our days and nights are different, but we couldn't love this kid more. This weekend marks one whole year since becoming officially pregnant. Just three hundred and sixty-five days ago and my heart can't even deal with it! Crazy what a difference a year can make.
When we brought Leo home from the hospital, I was utterly thrilled. But that doesn't mean there weren't struggles and challenges to overcome. There is a whole world of them, and I honestly had thought very little about life with a baby until we were in it. Deep in it! I will say outside of all those things learning to trust your instincts is one of the hardest and most valuable things you will ever do.
I shared a candid and somewhat emotional post called, "What I wish I knew before bringing baby home from the hospital" and it was a favorite post. I wrote it two weeks into the parenthood journey. I am so grateful it has helped so many who are also navigating that same path. I still see messages or emails come through from that post and I hope it never stops.
My goal in sharing that post, in particular, was not to forget how I felt. To have a real and raw message for others who were about to head into those choppy waters.
What have I learned from the last three months?
A whole heck of a lot but more than anything else this season of life has taught me more humility than I ever knew possible. Life is super messy like there is milk and spit up on everything and pee on the walls and I have now been pooped and peed on multiple times. It is all a wee bit messy, and the glamour has hitchhiked out the window so fast it isn't even funny.
I find myself scrolling through photos from last year. How does it only take such a short amount of time to bring a tiny person into this world? Our one year of conception is here, and I still have to pinch myself that this is all real. Trust me the six am wake up is a gentle reminder that it is so real, but I am beyond grateful.
It is possible to feel like your heart is walking outside your body. I shared a video of Leo laughing on my Instagram this last week because it was, of course, amazing and I cried over and over when he was making those sweet faces. I will look at his little face and clenched fists and think wow that is my little man. The baby I prayed over in the shower,  on plane rides, early in the morning rocking unable to sleep. The baby I longed to meet after nine long months, and he is here.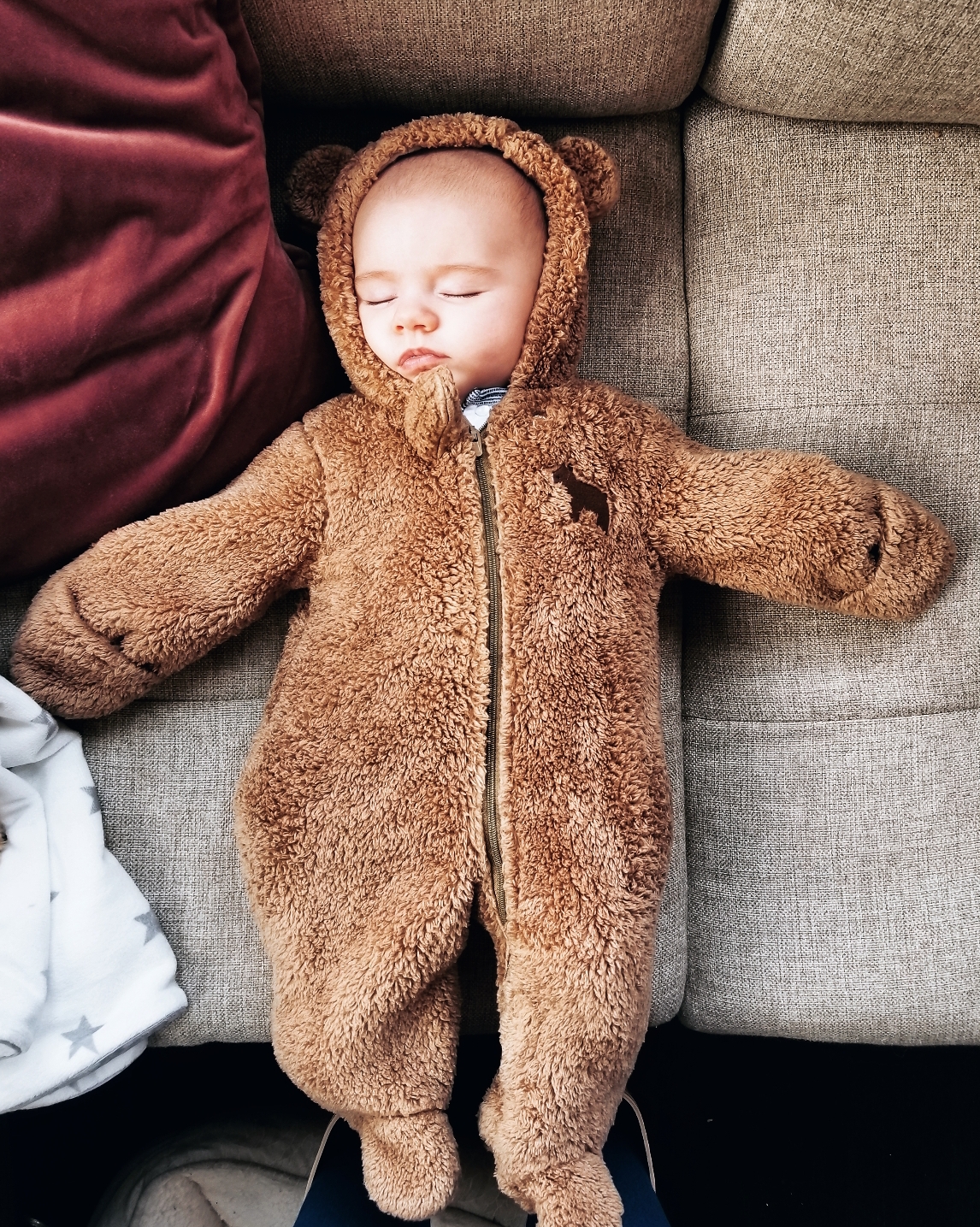 I have also struggled a bit with adjusting. My body feels and looks different; I have zero time to do the things I once enjoyed (like writing for you guys), and knowing my place in this big world is another thing. I no longer have moments to take photos or have a steady fluid thought. Feeling social is usually one of the last things I want to attempt or even think about at the end of a long day, but I know it is a needed part of parenting.
For the most part, we are getting our groove down. We have somewhat established a schedule and nightly routine, but there are plenty of tough days too. Fourteen full weeks of learning Leo's sounds, cries, and cues, we are so much better than we were in those first two weeks. It is night and day different, and I am so very grateful for that, possibly more than anything else.
The first big outing we had as a couple after having Leo was a wedding. It was a huge mental challenge for me to leave when he was only six weeks. I knew I needed to do it. I did. It was tough; he, of course, was terrific!
I have been reading other blogs about mom guilt, anxiety and how hard it is to separate yourself, but the one thing all these posts have in common is that all the moms say they wish they had worried less. Something I know yet I need to put into practice. I'm giving myself time for that one!
The second outing we attended was a sporting event, and I had crippling anxiety. Days and weeks of being home with a newborn then suddenly surrounded by screaming fans. Talk about total sensory overload.  I was unable to move. I stood frozen at the top of the stairs, and I say this only to tell you that it is ok not to be ok.
I am sure many of you can relate. My mind kept going back to Leo thinking how is he doing? Does he need me? Why am I here? This outing was a dumb decision! My shirt was getting tighter and tighter as my milk started coming in and fast. Not to mention everyone kindly wants to ask how the baby is doing so then it makes the whole "separating" yourself even harder!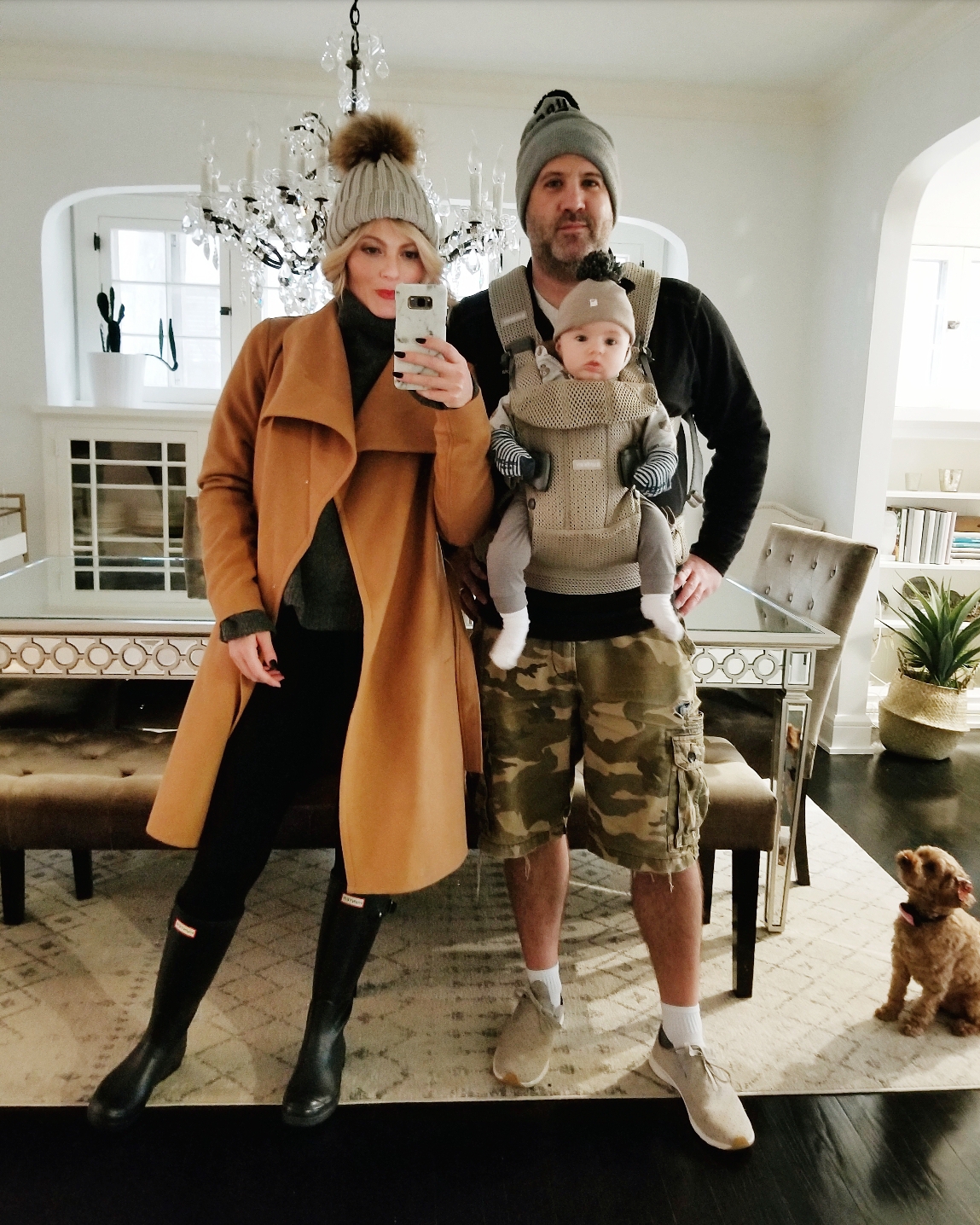 But the best news? It does get easier. We now have a date night and enjoy being just the two of us once every week.
I still find myself feeling overwhelmed. Every day brings a little something new, and you are not alone in this. There are so many moms, friends, parents who have trailblazed ahead of you so reach out, ask them, and if you need help get it. I have had so much support and still need it regularly. John has been fantastic, and so has our family.
I try to find one tiny task or goal to accomplish each day and some days it takes me until John arrives home from work. Other days I get through it like a lightning flash. There is no wrong way of doing whatever you need to do to get through the day.
I said this before but hello emotions. I was already a serial crier before the baby, but now I am a total waterfall that can't quit gushing. I find myself crying when we conquer a new milestone like giggling, rolling, or grabbing his stuffed animal. But then there are the days where the poop has crept so hard I'm wearing gloves and running his onesie down the hall to the trash and thinking what the hell did I get myself into with all of this?
And you will never be able to answer that question because you love them more than you knew humanly possible and you are tired, probably a little dirty, and you smell like milk. You will learn to shower like it is an Olympic sport, drink coffee at room temperature, google everything you didn't even know you needed to know, eat left-handed, allow a tiny human to sleep on top of you making your hand go numb and waste countless hours because you left your phone, computer, and book upstairs! But all you care about is being in this moment because in four or five years they won't sleep on top of you and you will look back and wish they would.
My biggest piece of advice and something I still have to tell myself is not to compare yourself. I was watching a new mom on Instagram showing off her stomach just a week post-baby, and it looked great. I started to think why does mine not look like that and I am three months out! This role seems different on all of us and no matter what do not compare your pregnancy, postpartum journey, or new baby to others. This new adventure is yours.
Below I am sharing our most ordered and re-ordered items! Diapers, wet-wipes, paci's, onesies, and storage bags! I have so many drafts and posts waiting to be published so keep an eye out as those are hopefully not too far away! As always send me any messages I am still here to help with whatever I can!