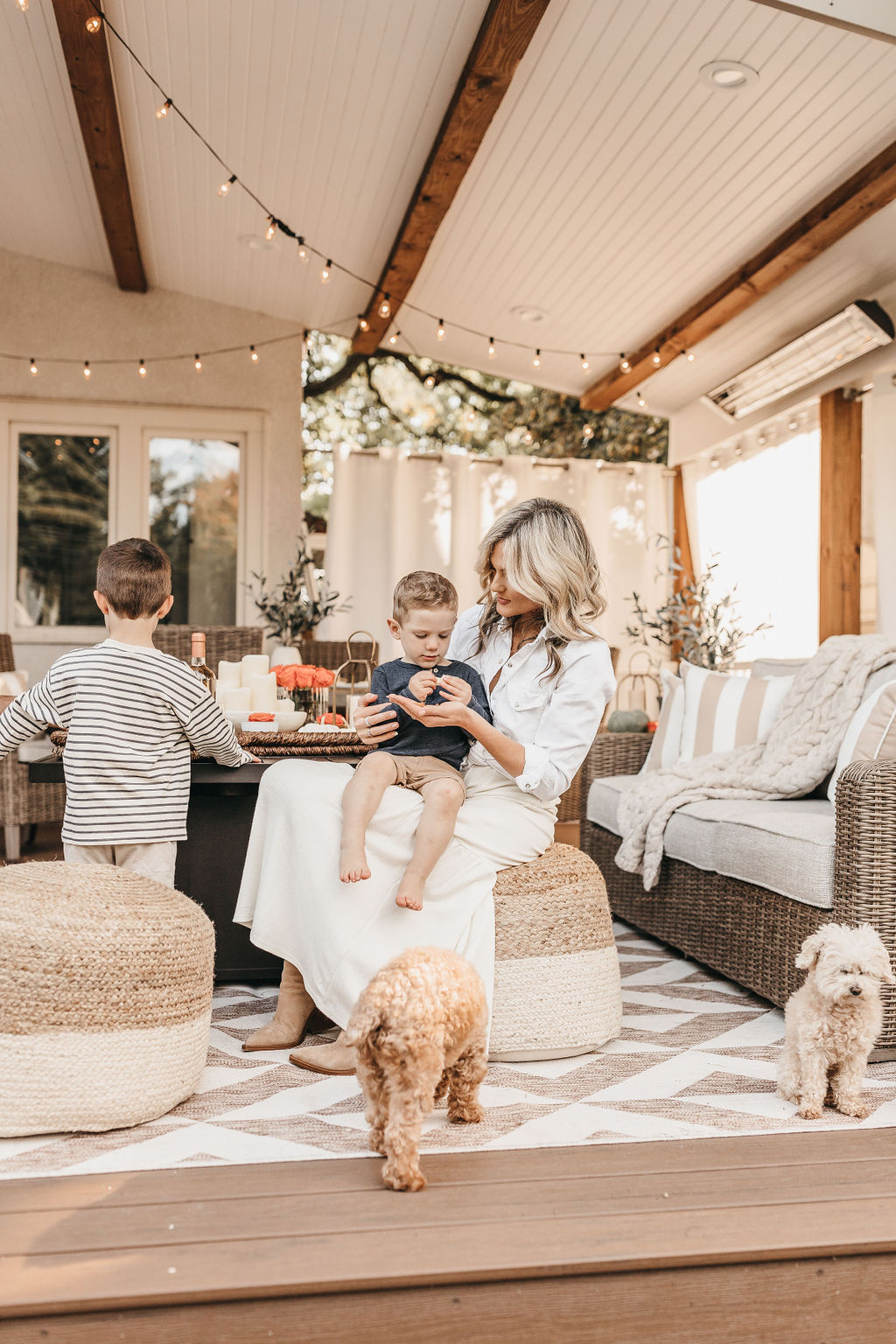 Where do I begin with this long-awaited post! I have been sharing snippets of our back patio along the way with you, and it turned out even better than I could have imagined! Grab your water or wine and sit down while I share it all with you.

We love a project! This one, in particular, is thrilling for us as a family because we had met with many contractors and looked at many different options for giving this patio space an upgrade.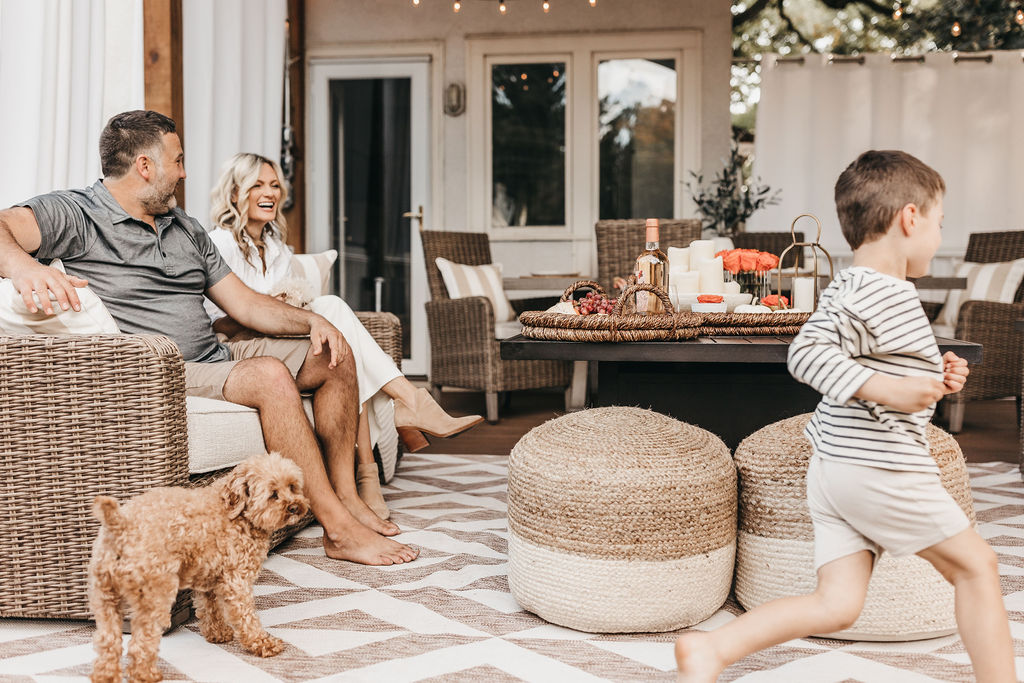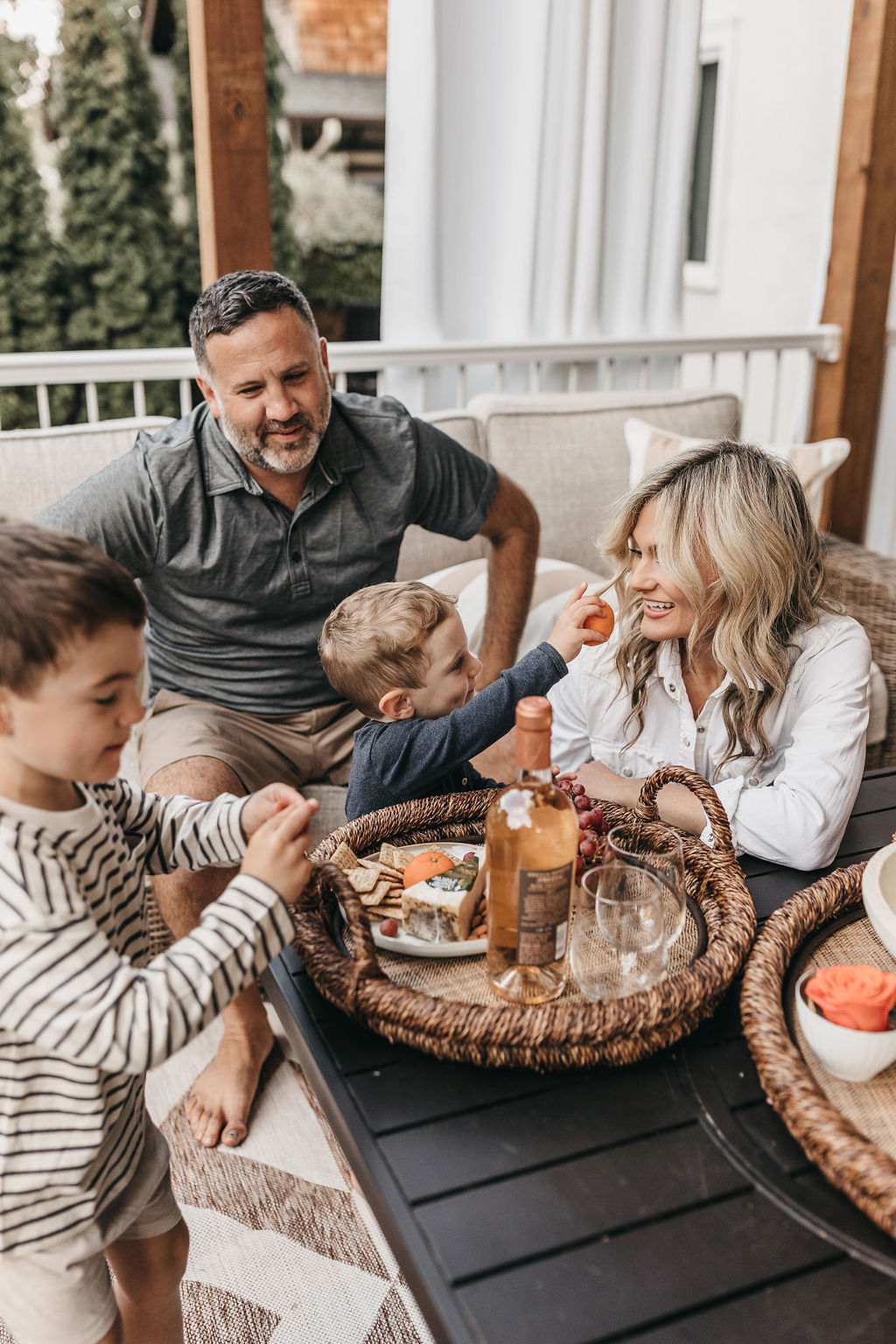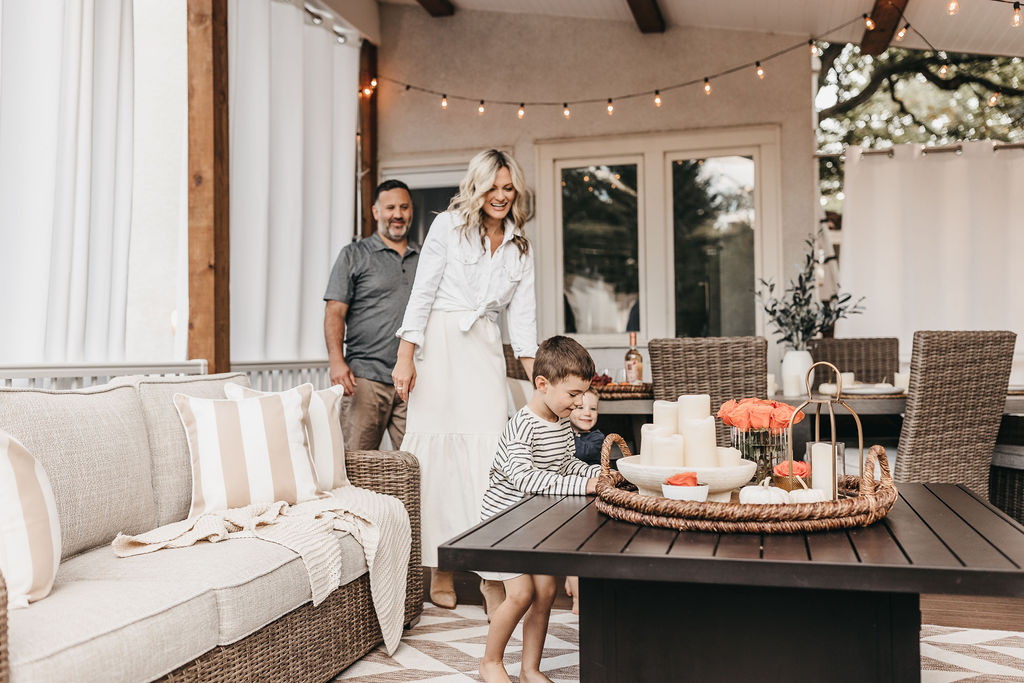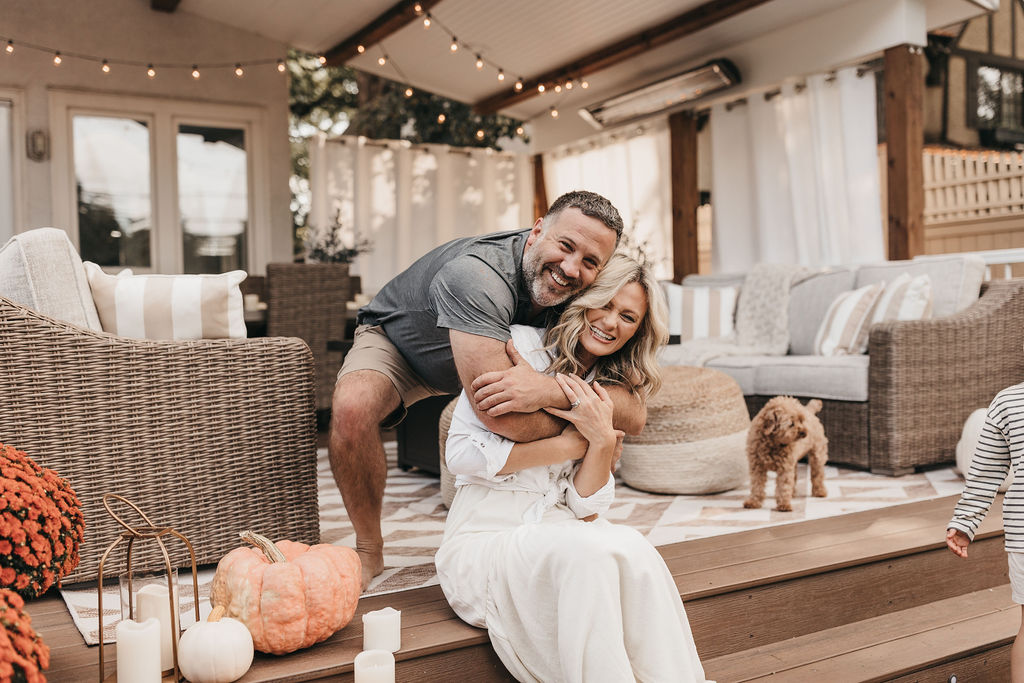 It took two kiddos and a foot through a 4×4 last summer, and we decided it was time. Finally, time to make this space one would love for years to come.
I wanted to share a few before images to have a better understanding of where we started.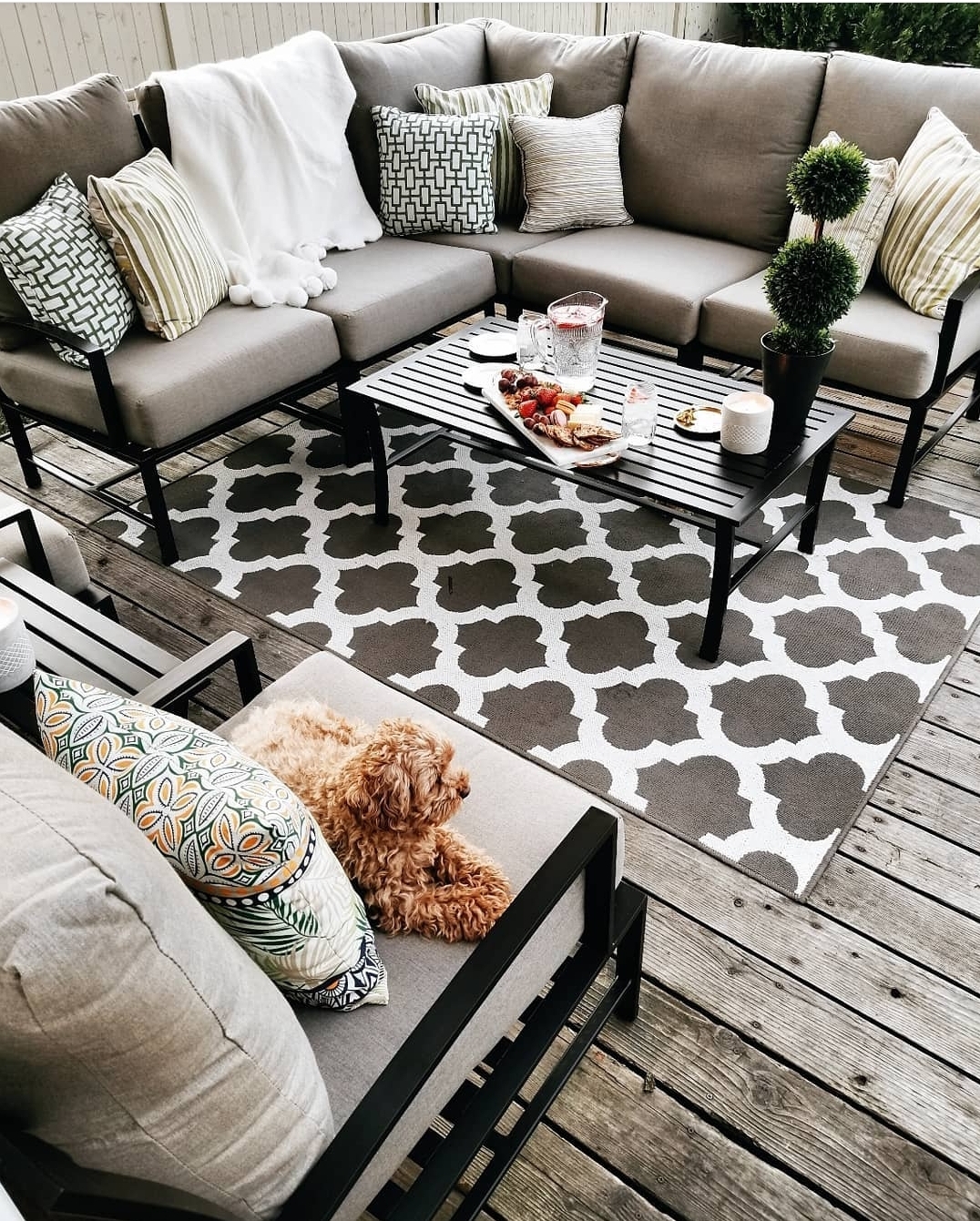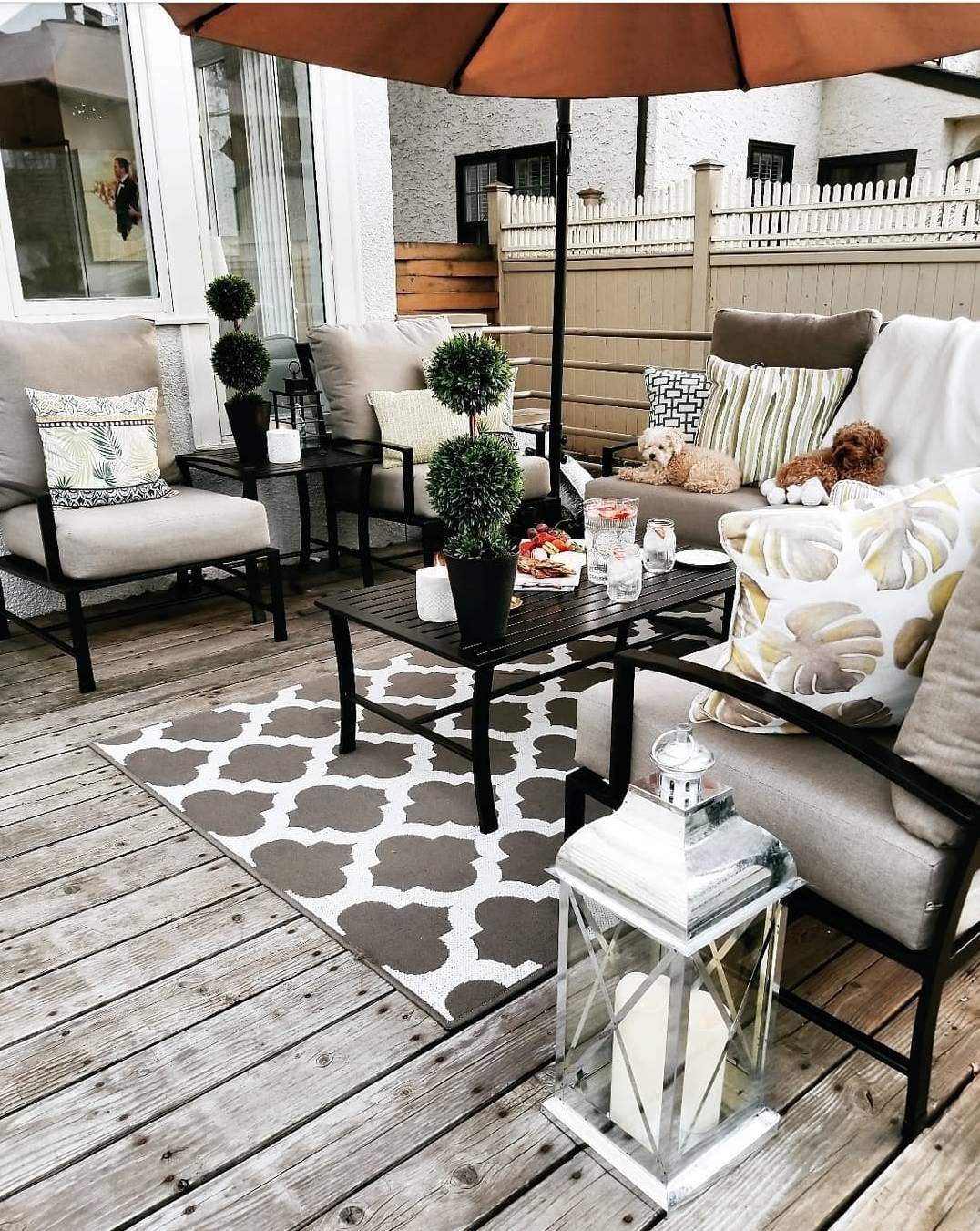 We spent many days and nights discussing plenty of napkin drawings and Pinterest, dreaming of what could be. Trust me; this decision took a lot of time and energy!
But when we watched the crew demo and cleared the space that first day we all jumped up and down. It was beginning!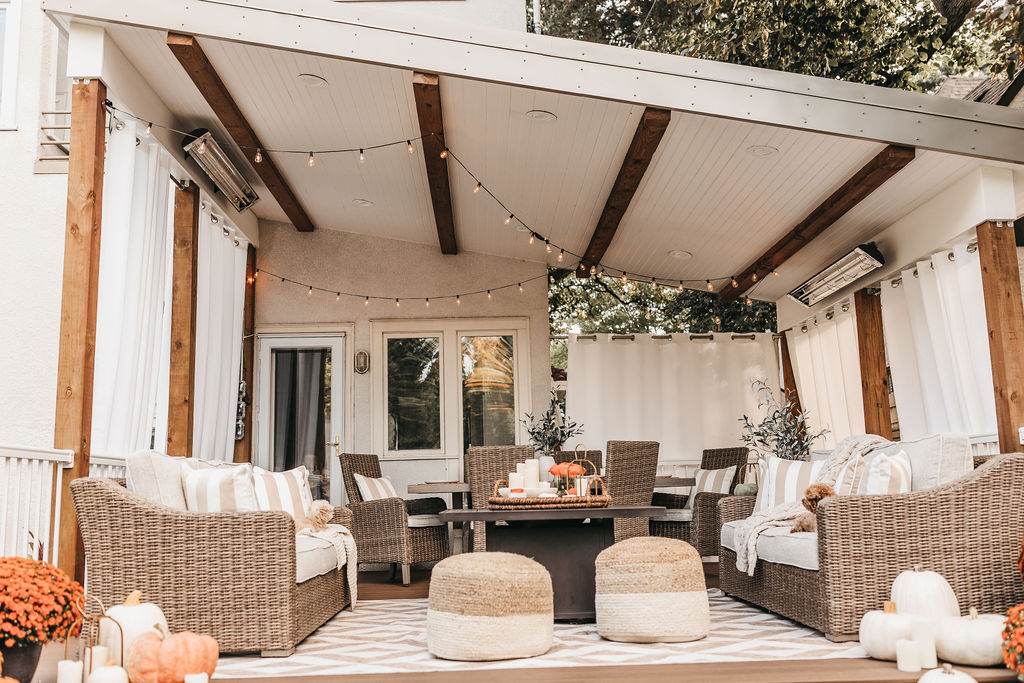 The craziest part of all is that the backyard feels bigger now that we have the new space. Thanks to covid, this Patio has quickly become our second living room with two spirited toddlers and spending more time home than ever before.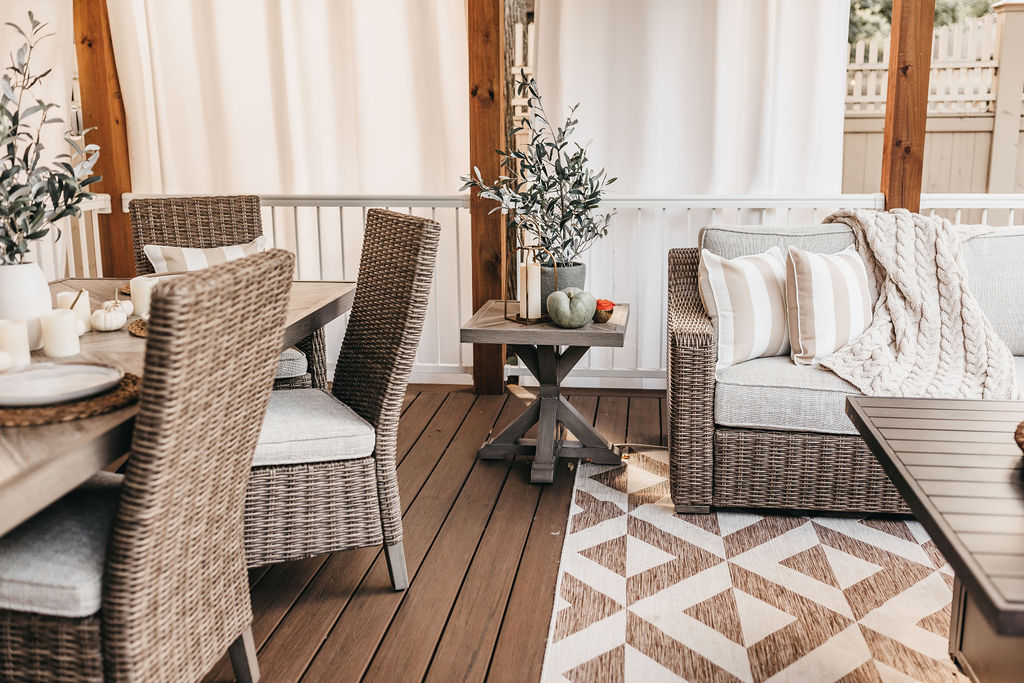 The overhead cover is everything because I cannot tell you how many times I have run outside to throw every cushion in the garage previously, and now we push the couch over slightly! It is a total game-changer.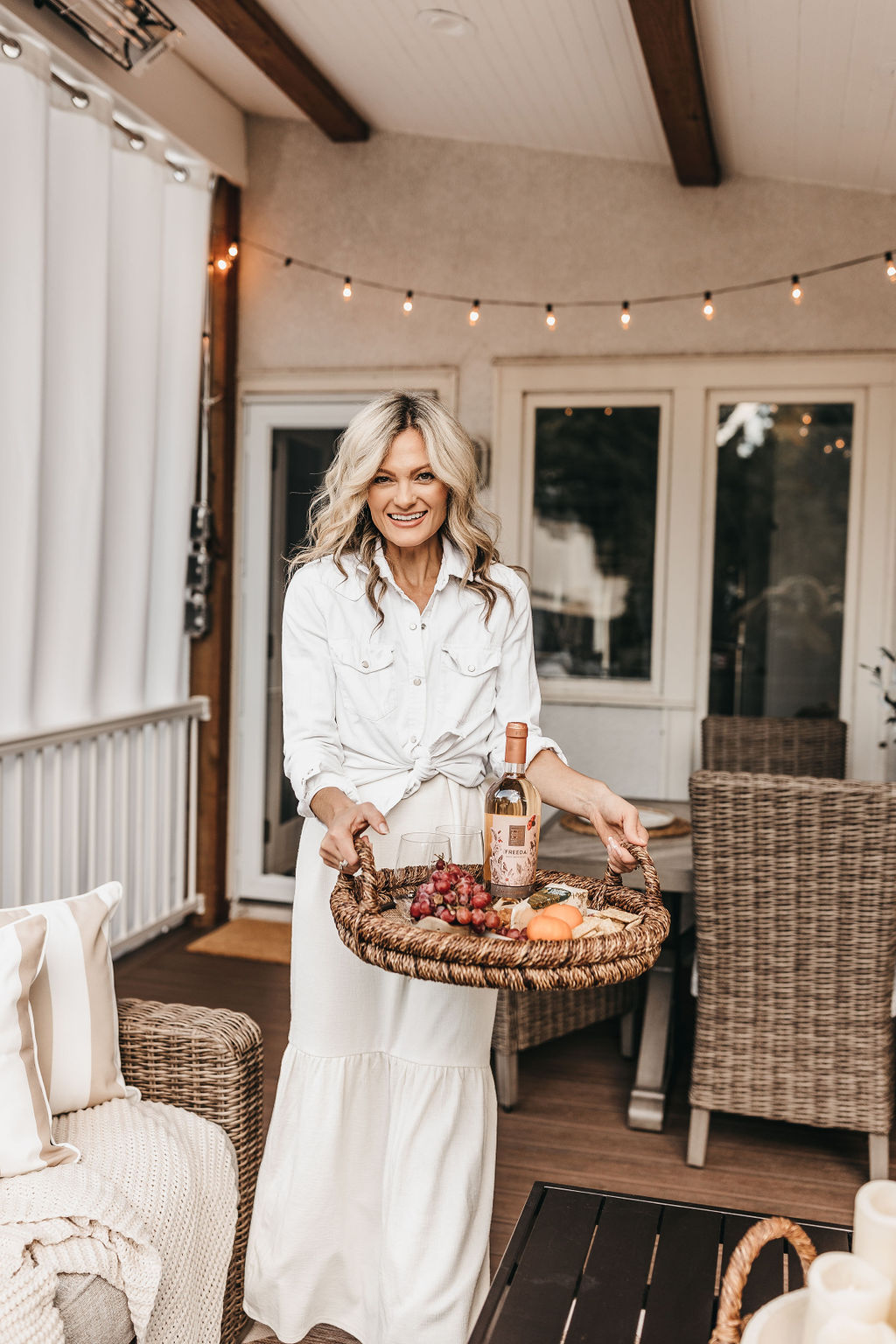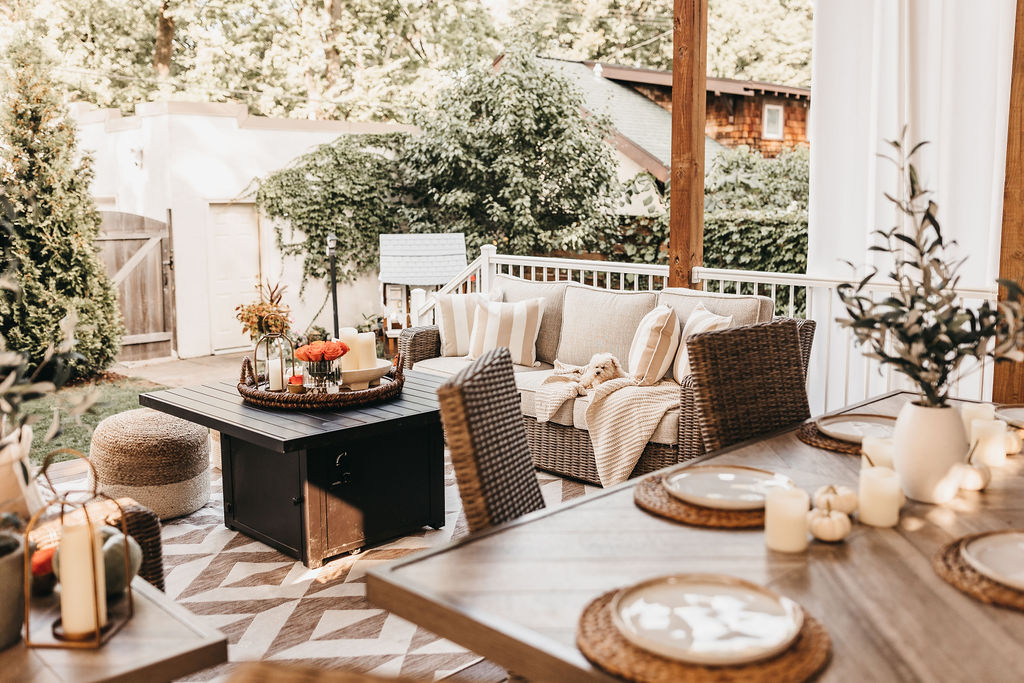 We have only had the space fully ours and finished with furniture for a few months now, and it is a dream. I hope the feeling of newness lasts for a very long time because I am beyond grateful for this significant upgrade.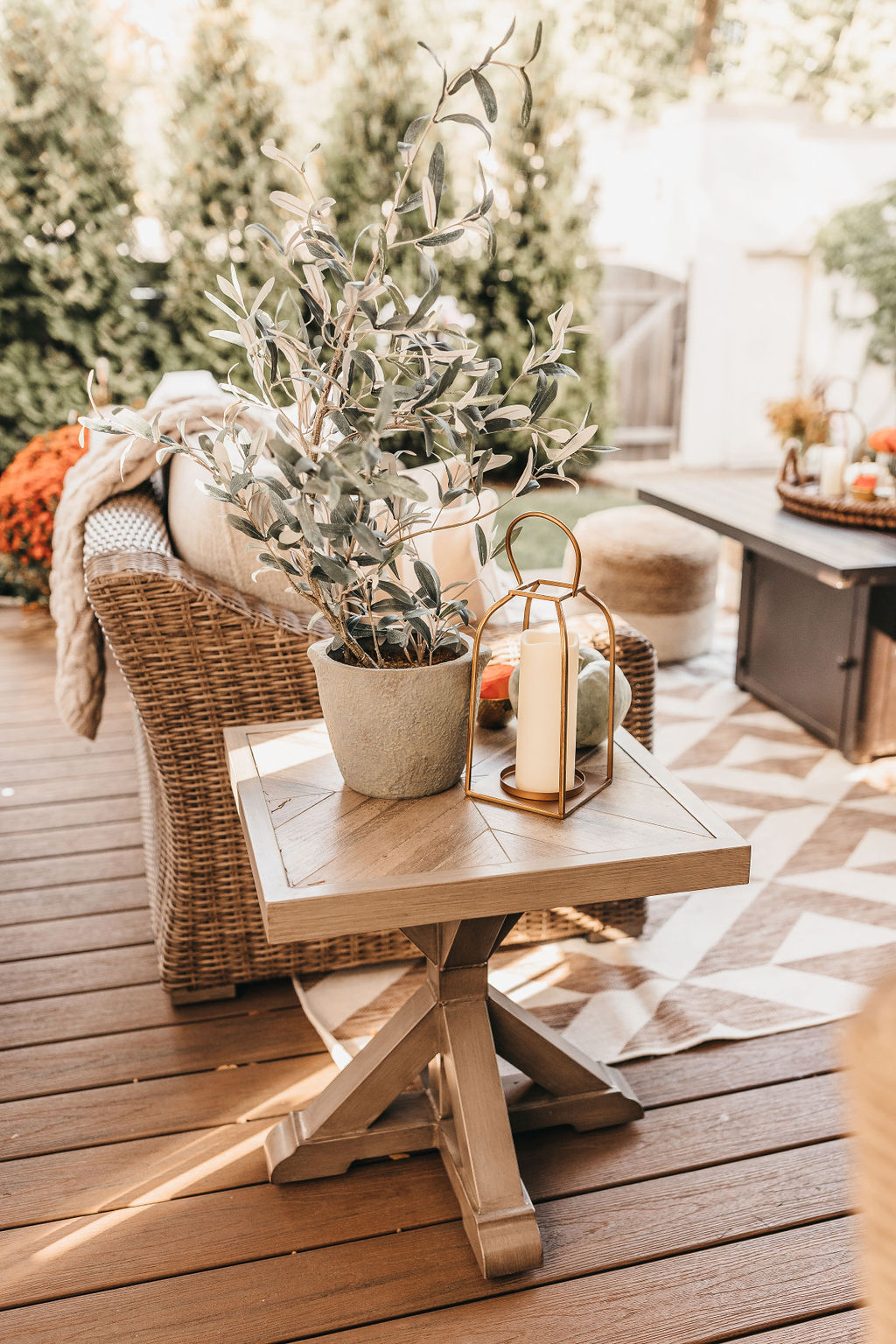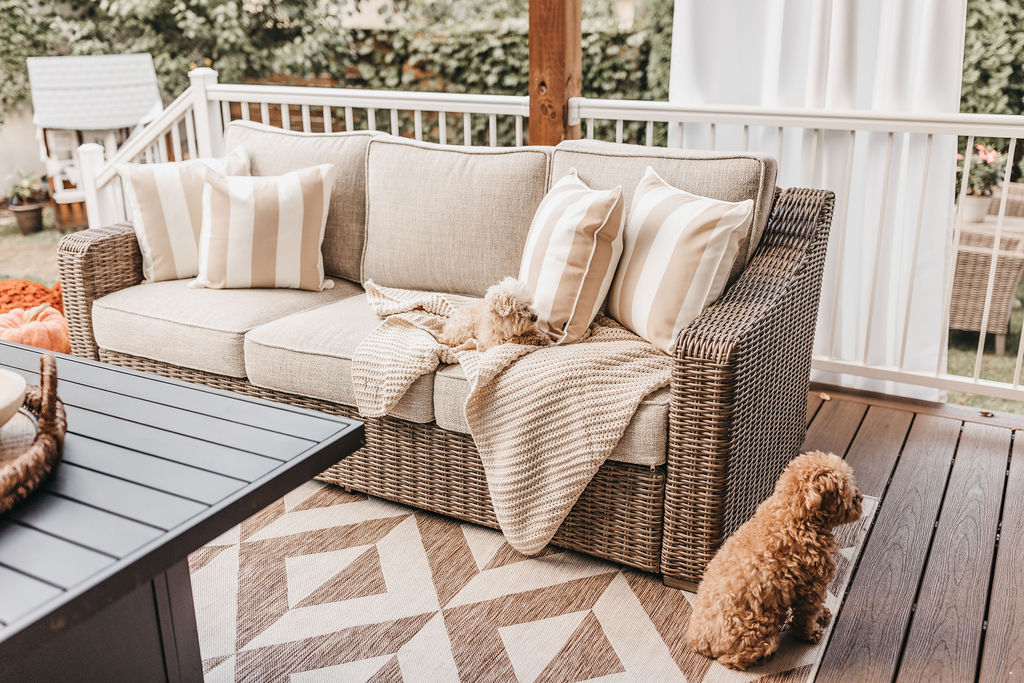 Slumberland Furniture came along as a wonderful partner to make this space look like a cozy and stylish outdoor living space.
Can you even handle those couches?
Comfortable and stylish, we live out here, and this furniture holds up to the toddler spills and jumps better than I ever imagined! It almost feels like a bit of vacation when the curtains are closed, and the lights are glowing.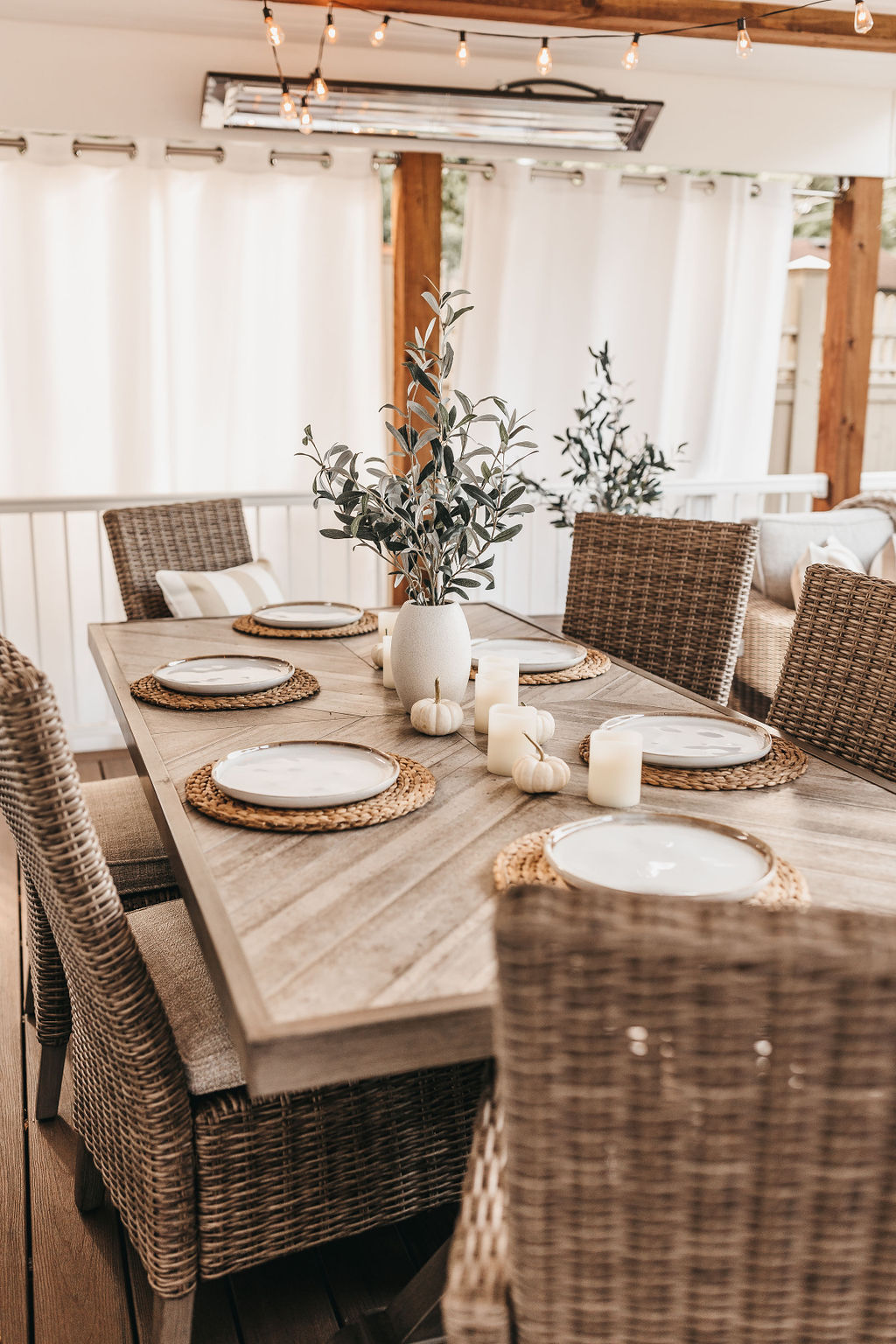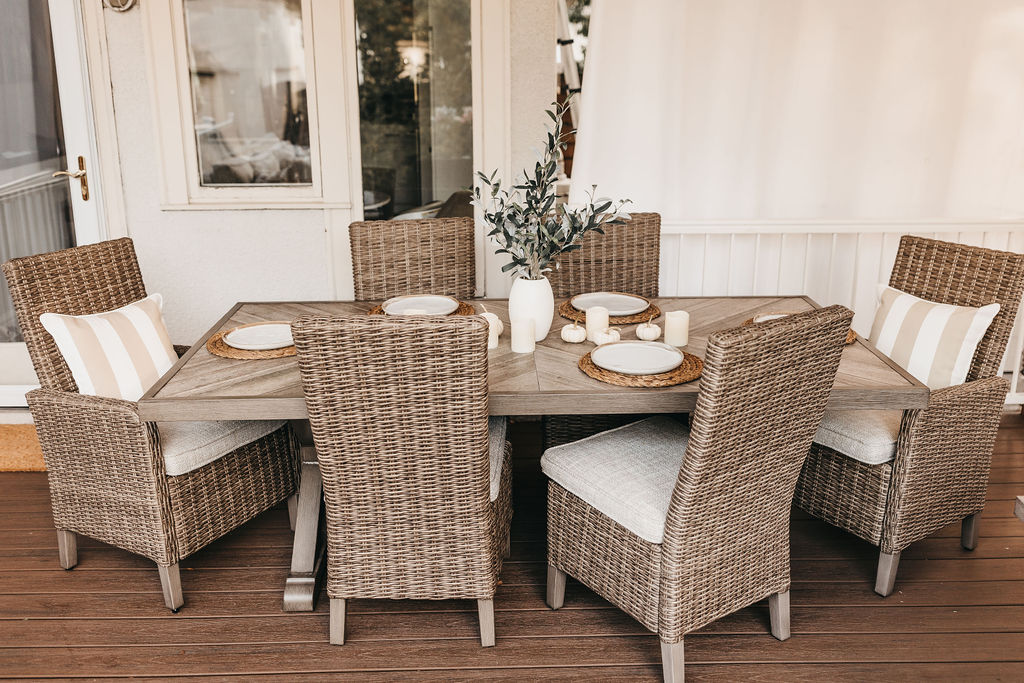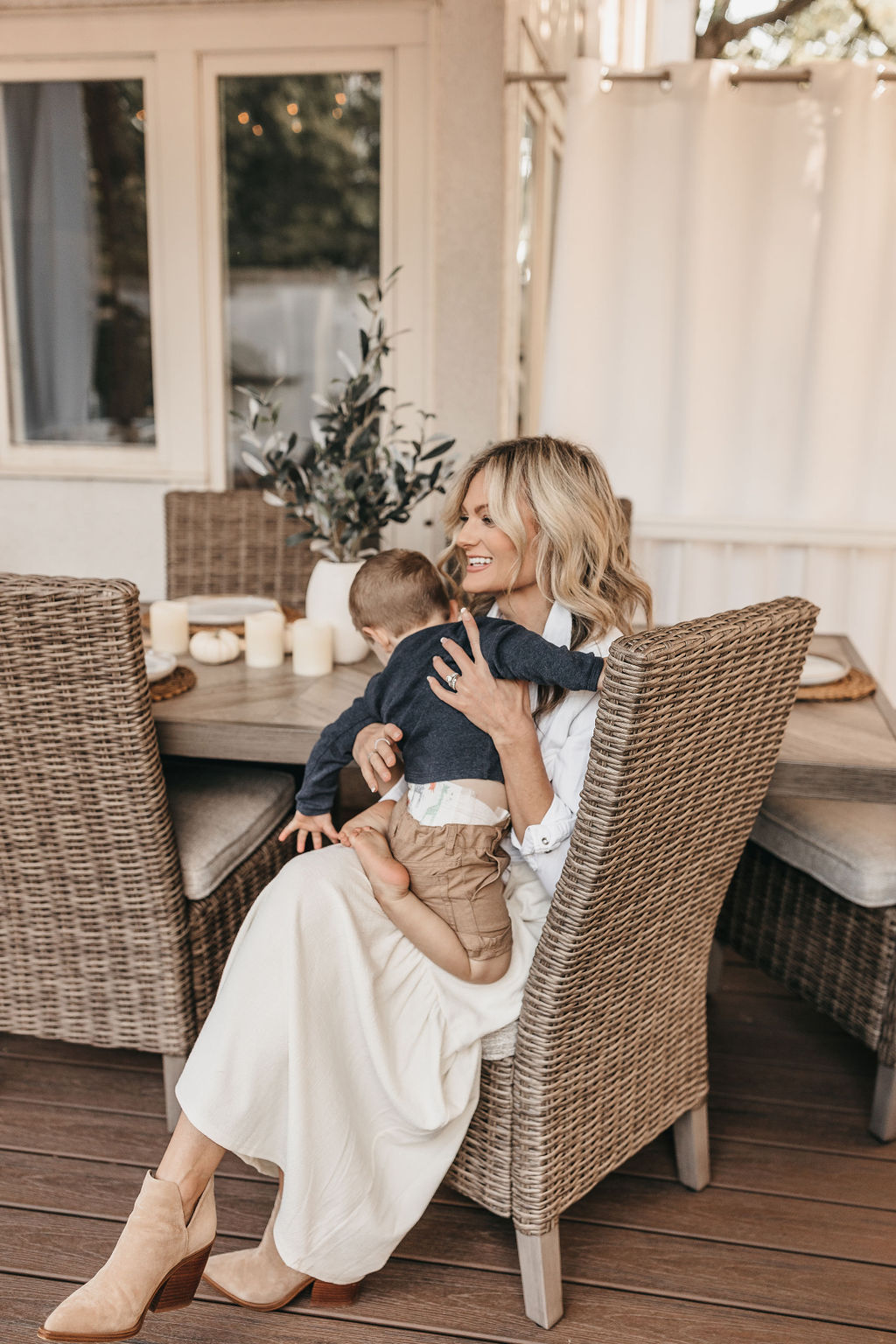 Did you see we now have a six-person dining table for all of our entertaining and everyday meals! A six-person seating option!
The table alone has been one of the top highlights for our family. The kids love eating outside as a family, and I love being able to offer grandparents and friends a proper seat for eating.
I have to say the furniture blew me away. It is comfortable, easy to clean, and I love having two couches for everyone to snuggle up and relax together, just in time for a cozy season.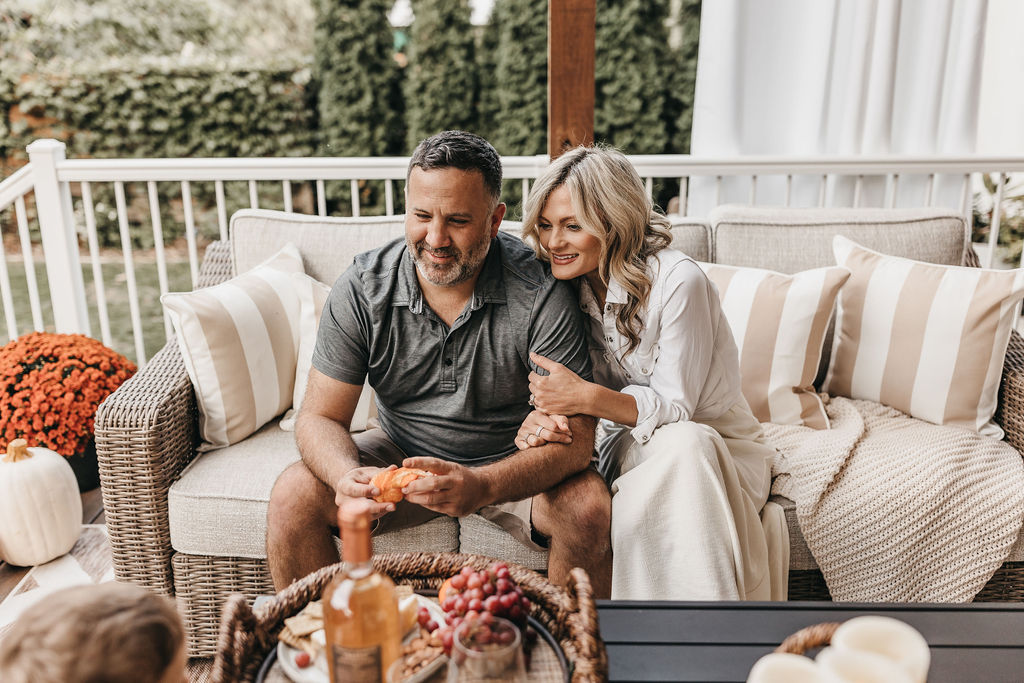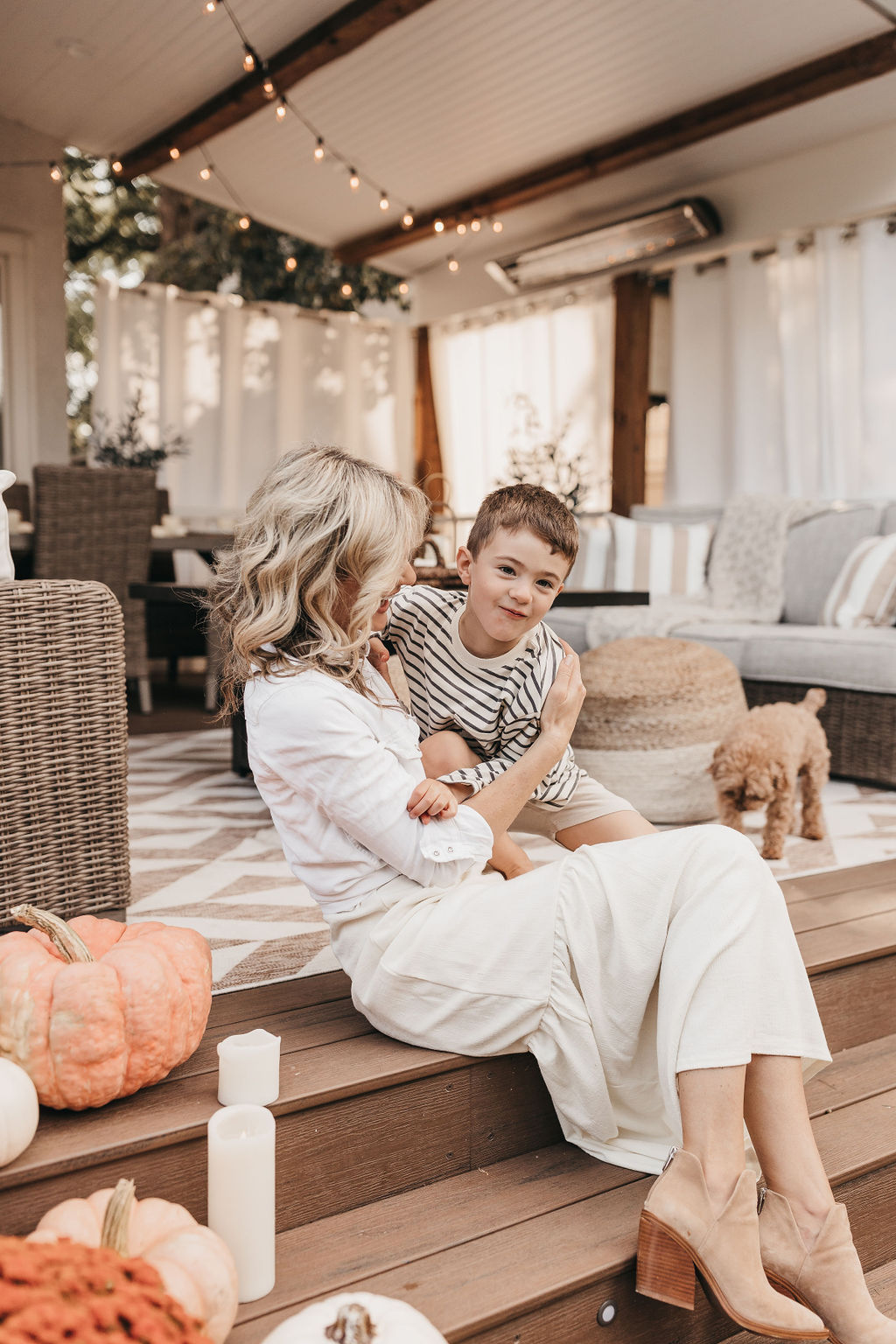 Overall the Patio feels welcoming and like an extension of our home. Lately, we have been enjoying outdoor movies for date night, and it is so fun to be outdoors at home relaxing.
Minnesota has one of the prettiest fall seasons, and I plan on sitting back and watching every leaf fall from this view.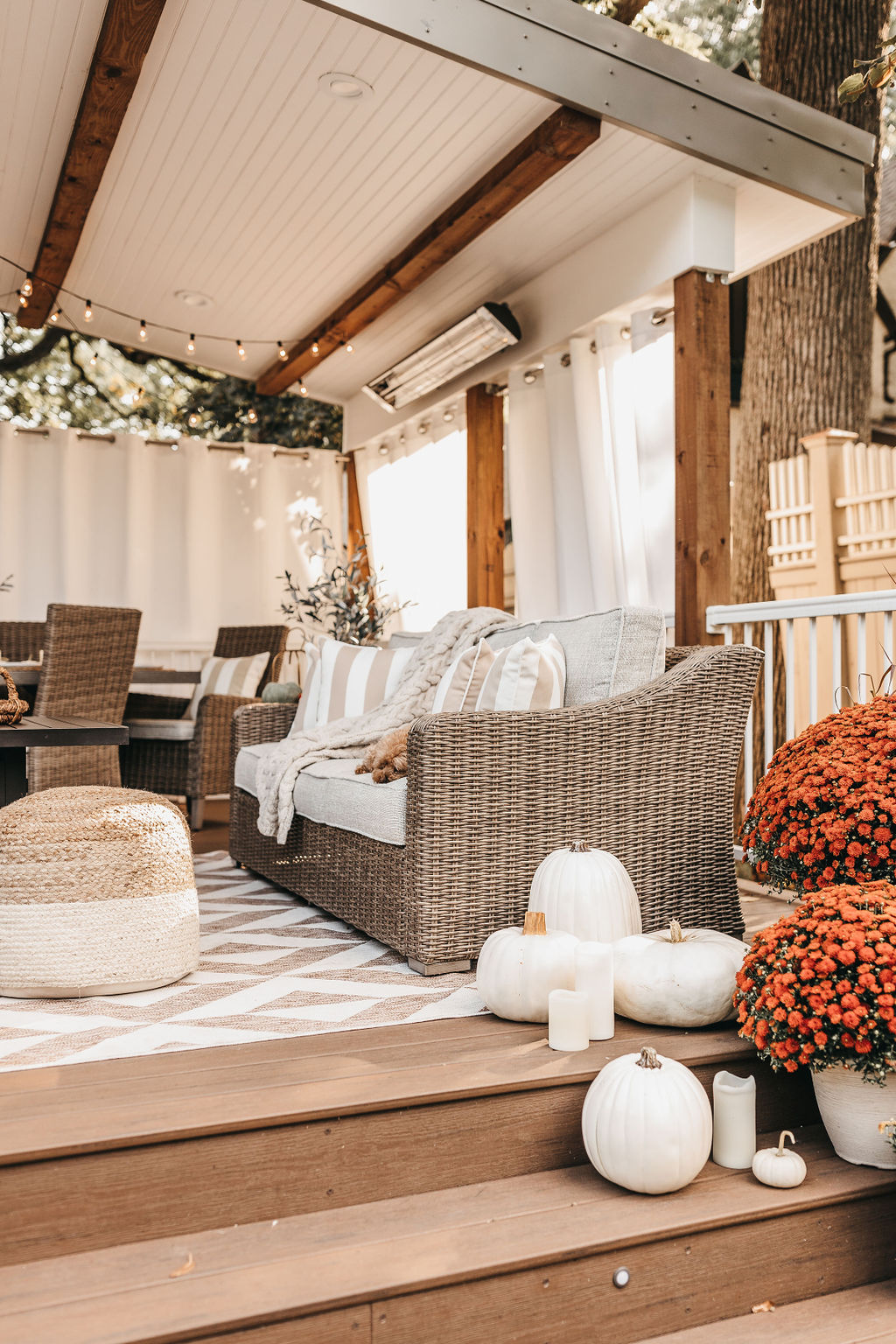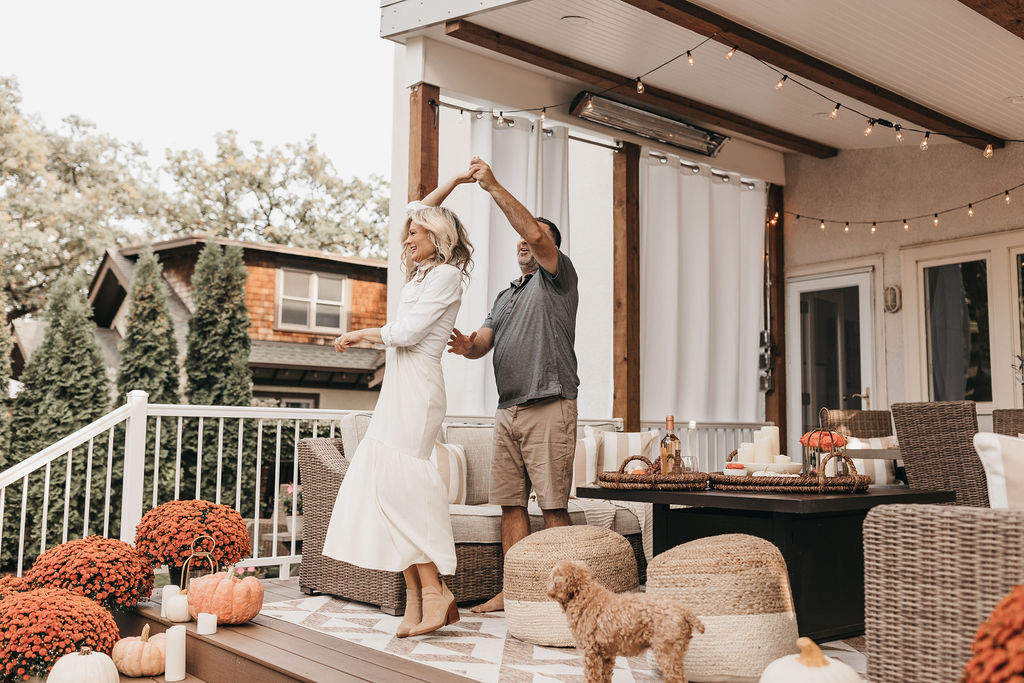 I know many of you will want to know who we used to build our deck. We worked with Home Pro America. The crew was terrific and did a fabulous job cleaning up every day so the kids could play in the back and made this space look fantastic.
The timing, like any project in the middle of a pandemic, took longer than we anticipated. But I have to say the finished project was worth the wait.
We worked with their home office to create this space and make it feel like it was always here. I think we nailed it. The exposed beams and tongue and groove ceiling are two of my favorite touches.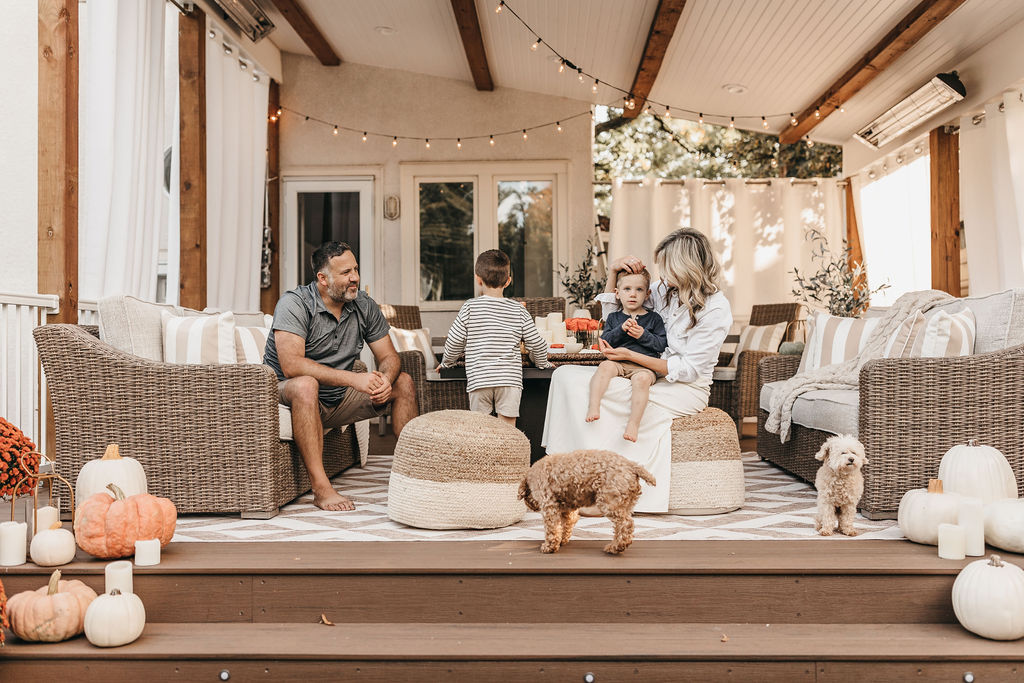 The flooring has been one of my most requested topics. We used the Timber Tech Legacy Reserve in Mocha. I love how easy this flooring is to clean and how quickly it dries since we live in a state that offers all four seasons.
We have had plenty of cloudy and wet days to give it a test. Nothing a nice spray of the hose can't handle. I also love that it does not get too hot in the summer and is not too slick when it rains. So now we wait for winter to arrive and I will check back in with you!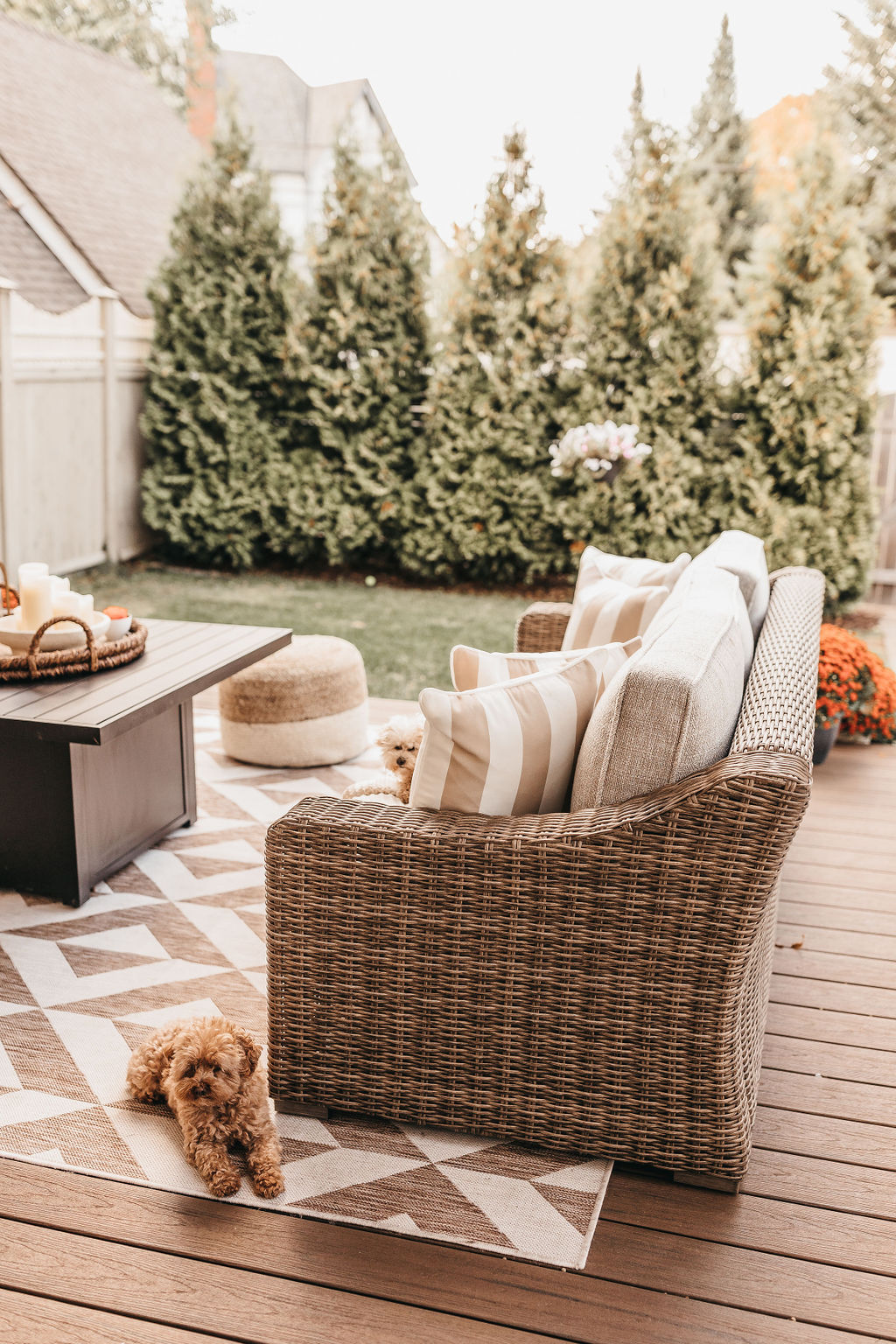 We decided to install heaters while the electrical was open and available, and we have already fired them up multiple times. Another game-changer, in my opinion!
The outdoor curtains have been another excellent addition, and the white made me nervous initially, but they clean up like a dream. We have sprayed them down multiple times, and they dry quickly and have been ideal at blocking the bright morning sun and the rain.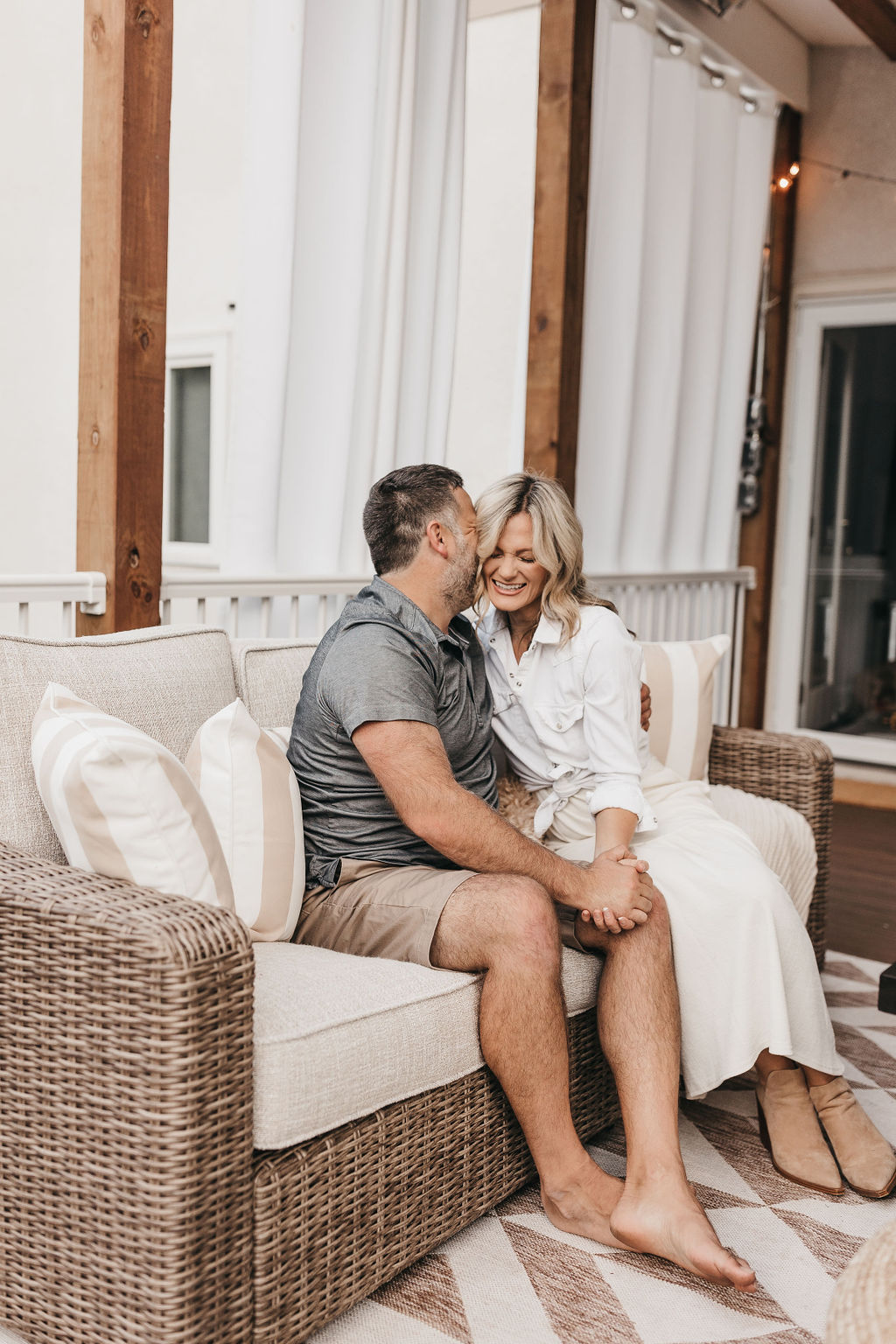 I've included links to the decor, such as the rug, pillows, and plants. I truly love how this space has turned out, and don't you doubt I have plans for decorating all the seasons. Thinking a Christmas tree will be happening out here this year.
A big shout out to Morgan for always helping me capture these special moments and work projects so beautifully. Also, to Jill Zarin Home for the gorgeous outdoor rug. I searched for a very long time, and this 9 x 12 rug is the perfect fit for our space. Easy to clean too!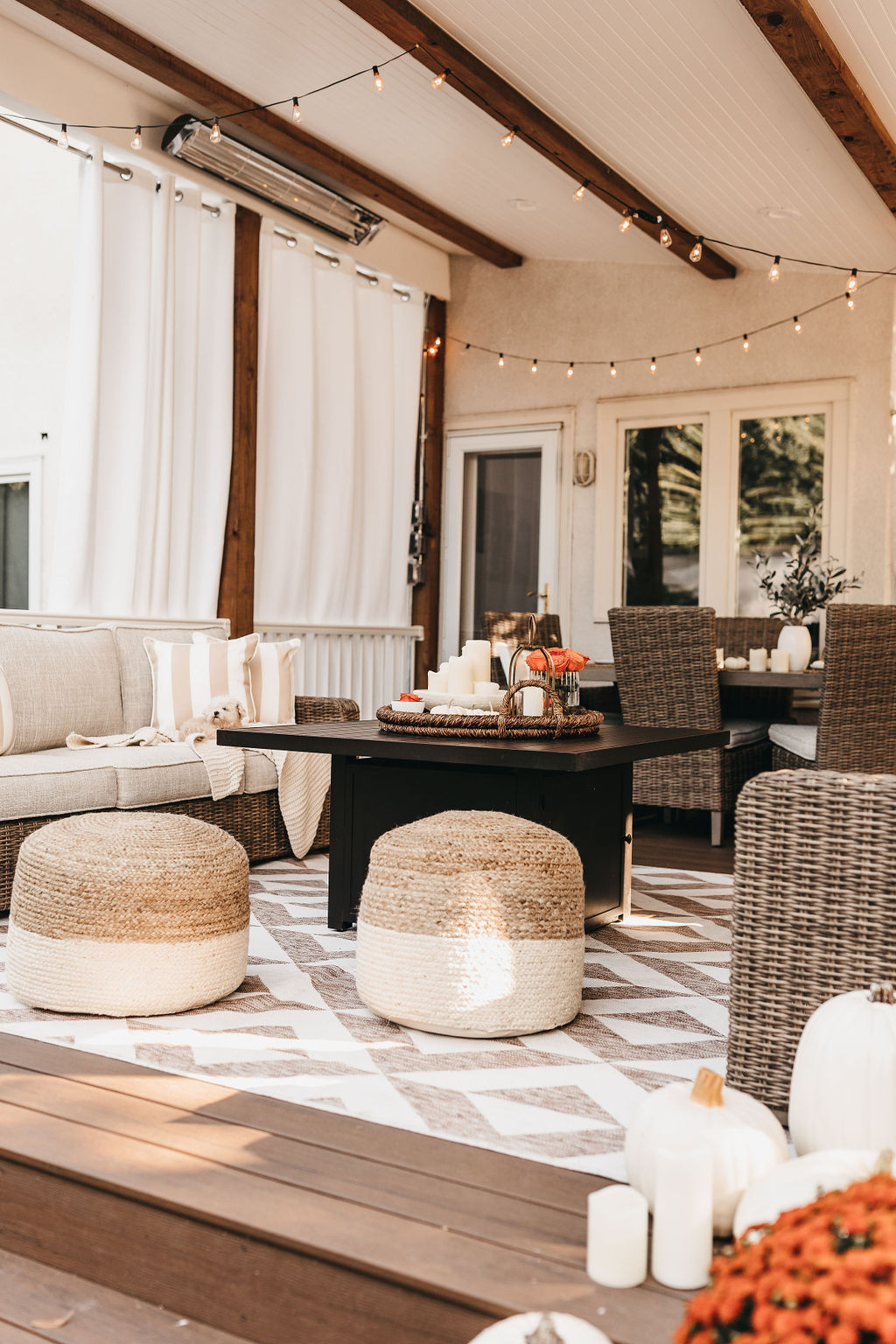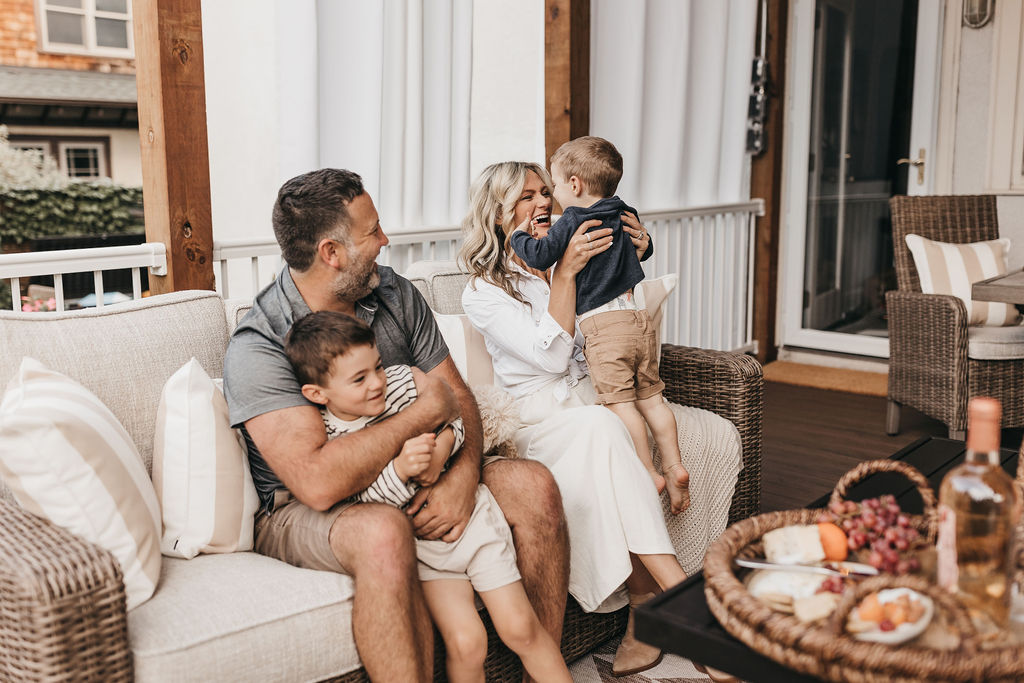 If you are unfamiliar with Slumberland, please give them a visit. The Beachcroft Patio set is a web exclusive, and they offer their customers prices that are unbeatable. I wish you could all come over and try out our furniture because I know you would fall in love.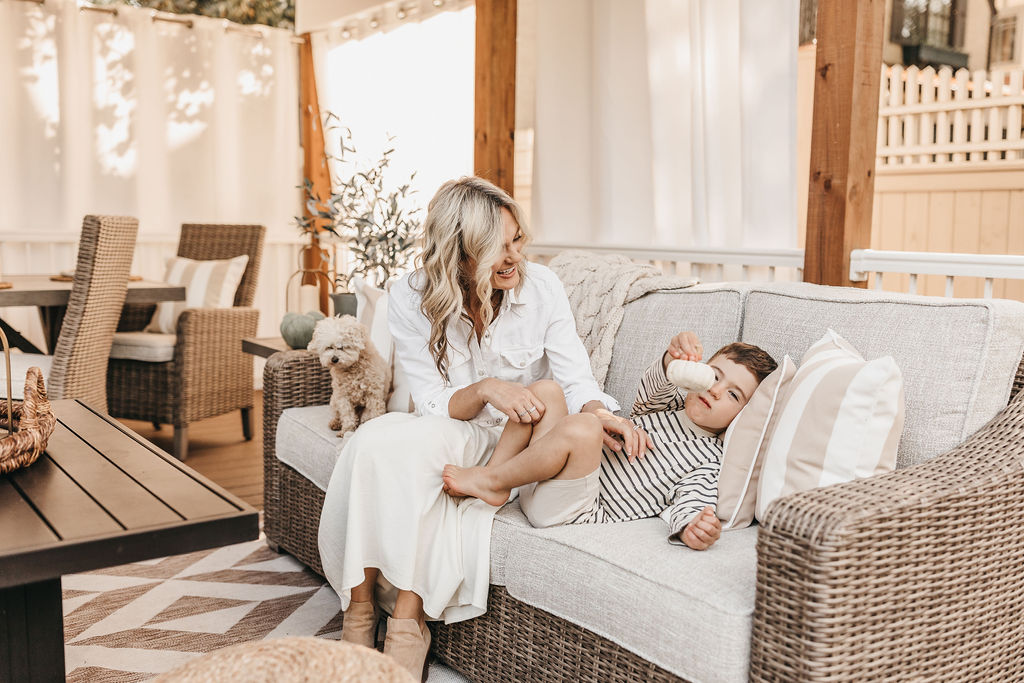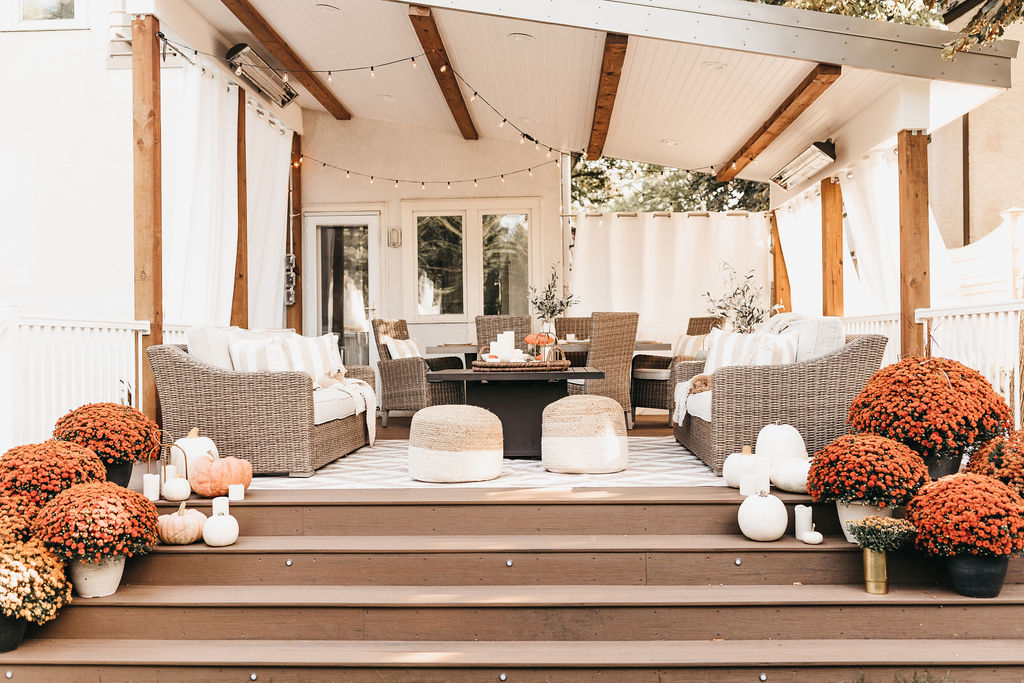 This past spring, we worked with Slumberland to give our basement guest room a big makeover. You can see more here, but we have been so thrilled, and now our Backyard Patio is a little dream space.
I am always happy to answer your questions about our furniture and patio process, so please send or leave them below, and I will do my best to answer.
A big thank you for being here and following along with us.
Thank you,
Tamara