You've set your table how many times for dinner, lunch and party time? We all get in that rut where nothing seems to look different but how can you make your table pop? I'm here to give you a few simple tricks that will keep your guests coming back impressed! Just in time for the first day of Summer!
Let's get right down to it, shall we?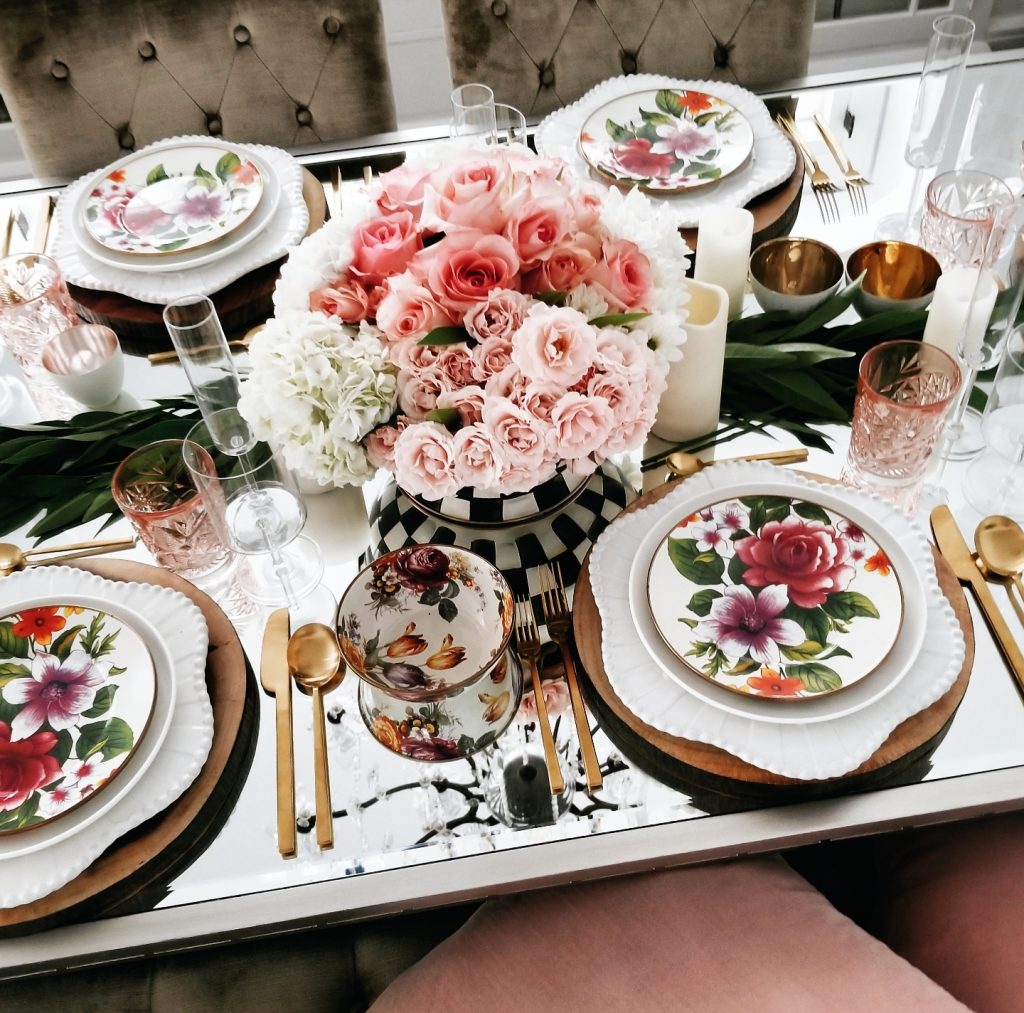 First, imagine the guests that will be arriving at your home. Picture them all sitting around your table enjoying good food, wine, and conversation and start setting the table with each in mind.
Second, what will be on the menu and what is the overall feel of the evening. We love to grill and be outdoors most of the summer, so we find ourselves dining al fresco most of the time. Anything that requires easy clean up is a win in my book!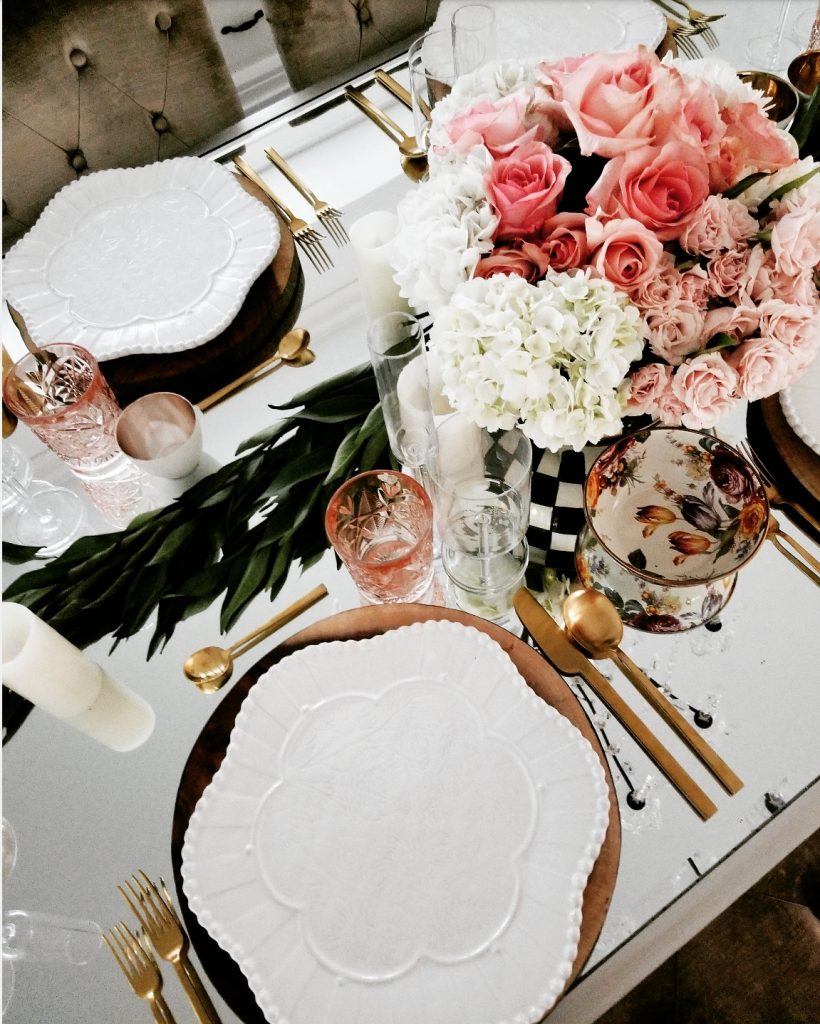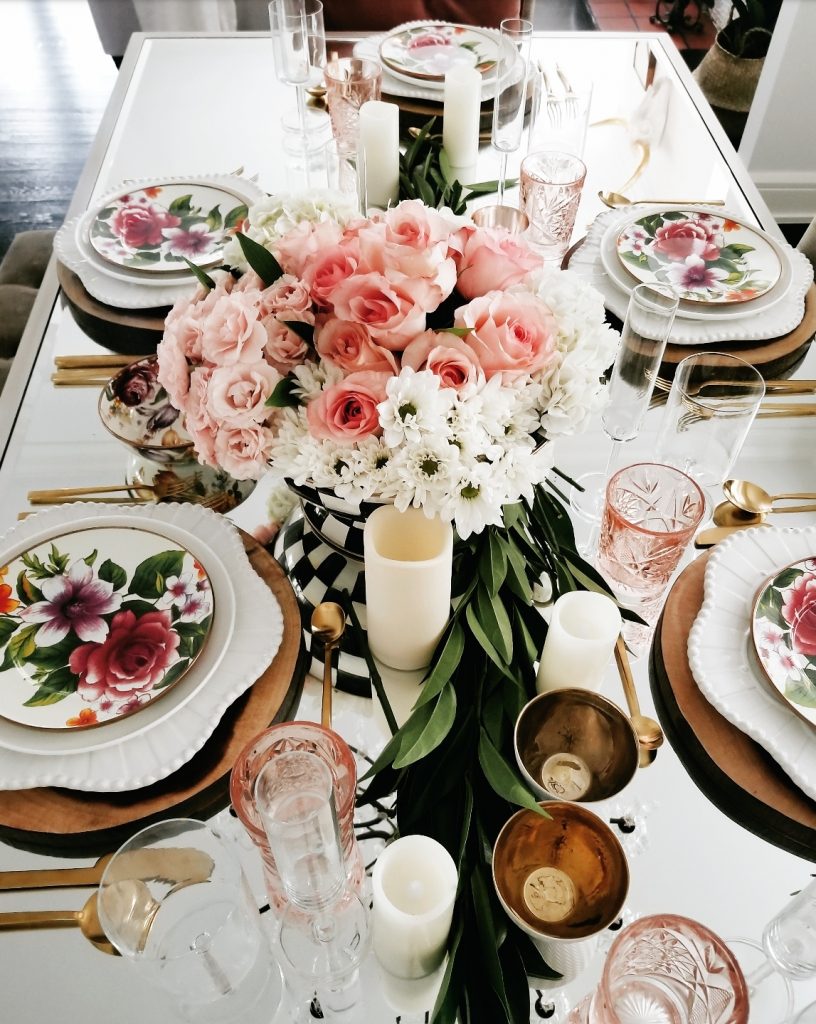 Third, mix and match everything. When it comes to my tablescapes, I adore mixing and matching. MacKenzie-Childs is notorious for adding a pop of color and dimension to any table, and the Flower Market Collection is my favorite! These flower plates mix beautifully with my everyday dinnerware. You can truly appreciate the craftsmanship that goes into each one of these white chargers when you touch and feel them in person. Do you remember my previous feature highlighting my trip to the MacKenzie-Childs headquarters? See it here. Watching these chargers hand-dipped one by one was amazing. I have a deep love for the craftsmanship and quality behind the products! Not to mention, they are drop dead gorgeous for layering and a perfect white base upon which you can start to build your party decor. I have a love for layering, and these add the perfect conversation piece to any tablescape.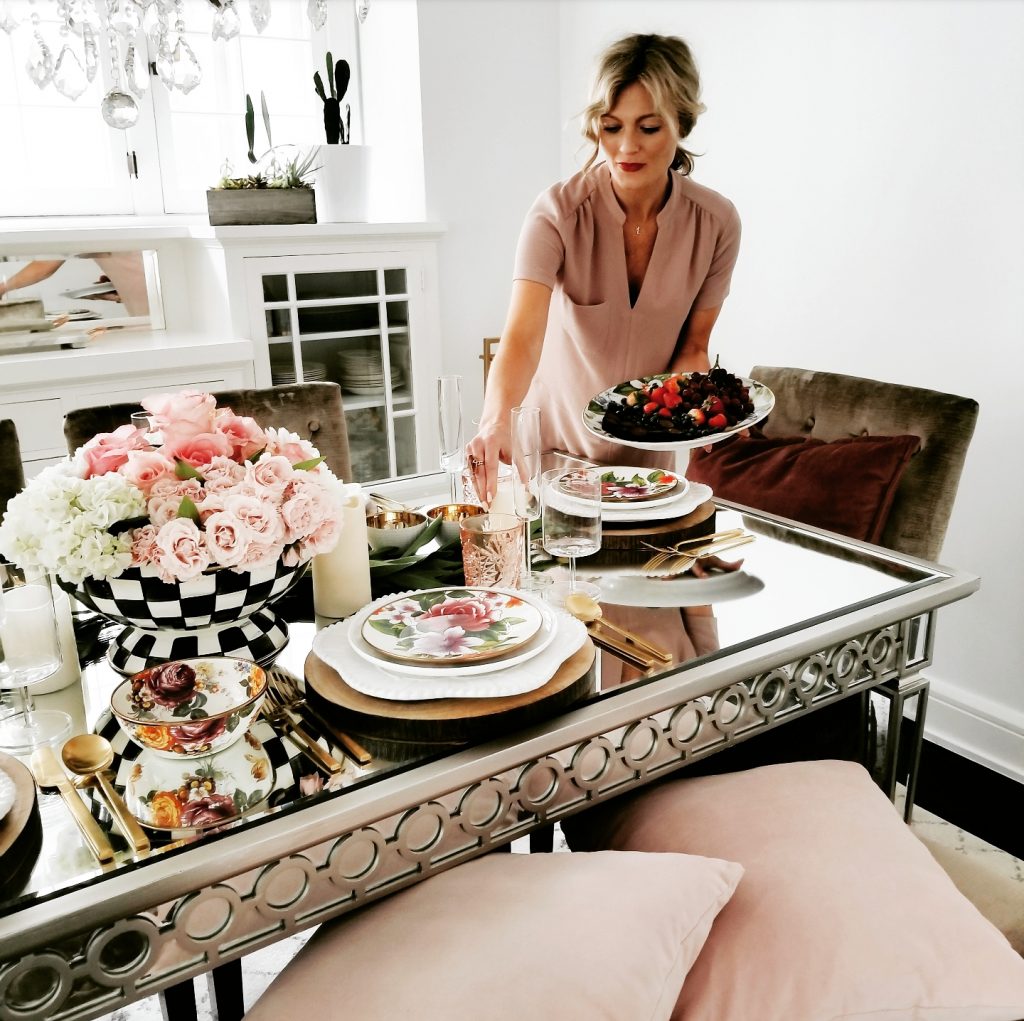 Fourth, glassware can make or break a tabletop. I love mixing in all kinds of glasses. And trust me we have too many options at our house. I am always buying glassware and John is always telling me to stop, but I can't! It is one item that's not too expensive, and you can find all sorts of unique options in some of the most surprising places. These pink old fashioned ones are one of my go-to glasses lately, and I love the touch of color. Also mixing a more traditional look with a sleek modern flute or water glass gives the table dimension and varying height.
Fith, keep the decor light and smooth. I pick one color scheme, and I let it run throughout the entire table. I like to decorate all year long, and from Easter to Christmastime, I pick one look because it's so impactful. These roses and greenery were all under $30, and I was able to enjoy them long after entertaining. Flowers were the primary focus of this tabletop. I also love that pop of black and white with the signature MacKenzie-Childs Courtly Check bowl. A piece that is unstoppable for your tabletop needs fill it with decor, fruit, vegetables, food, florals, you can't go wrong!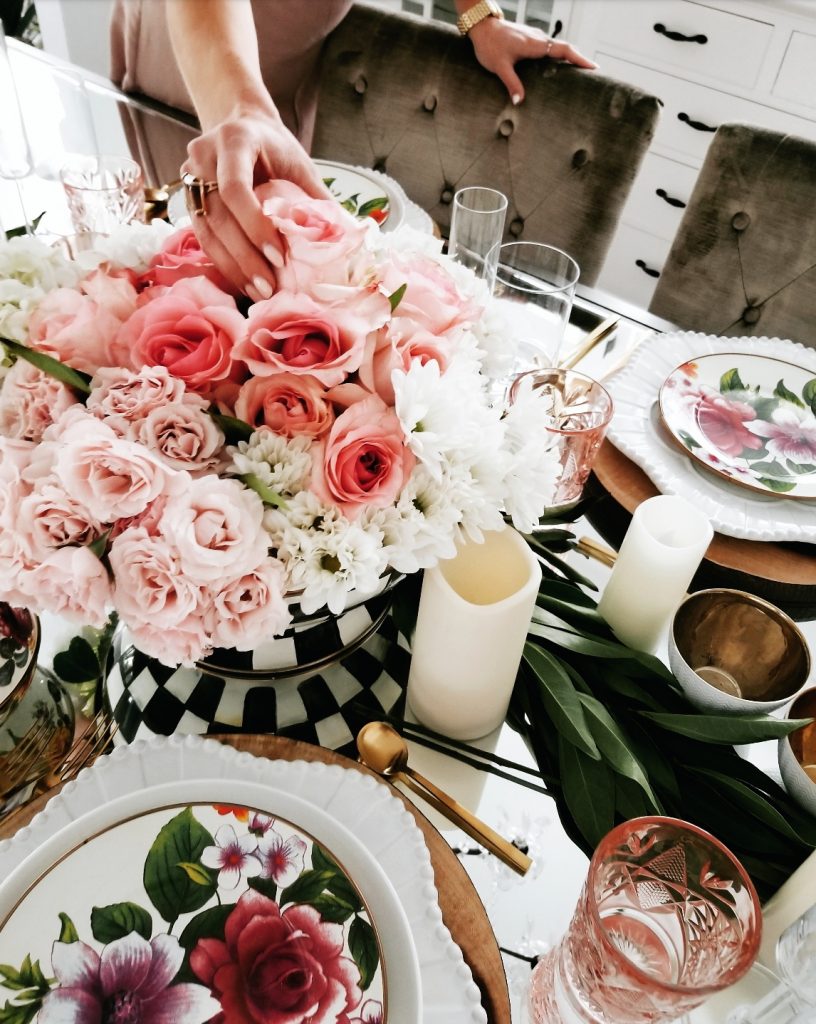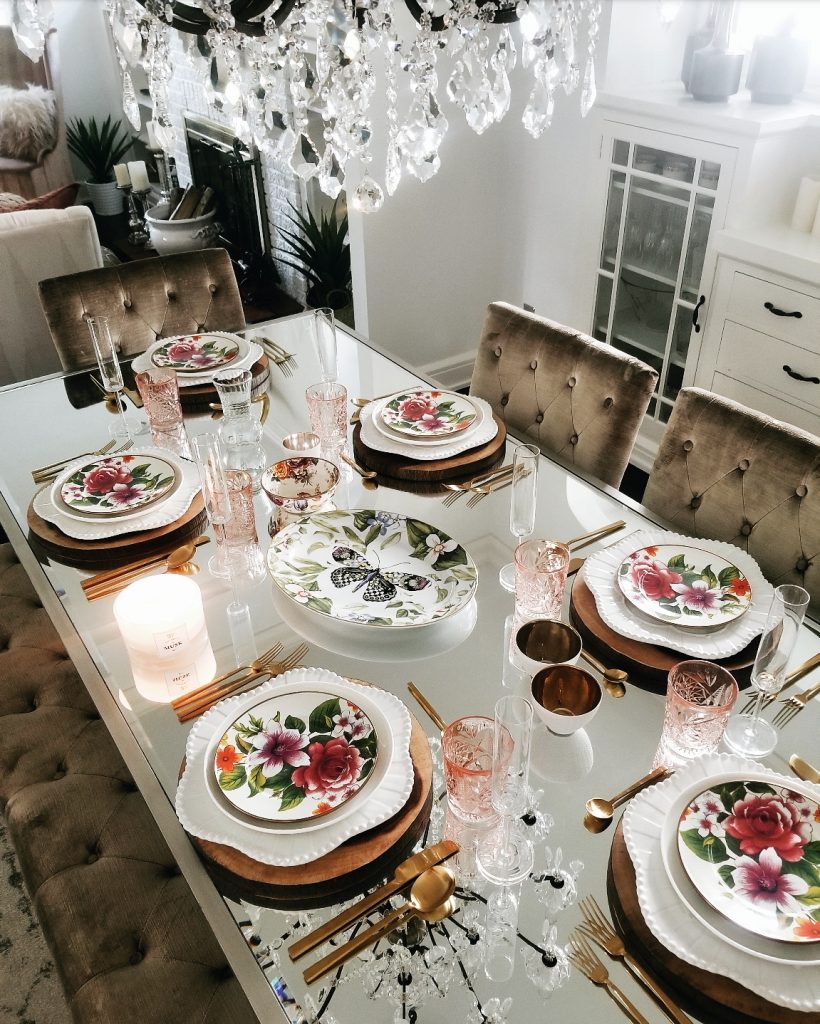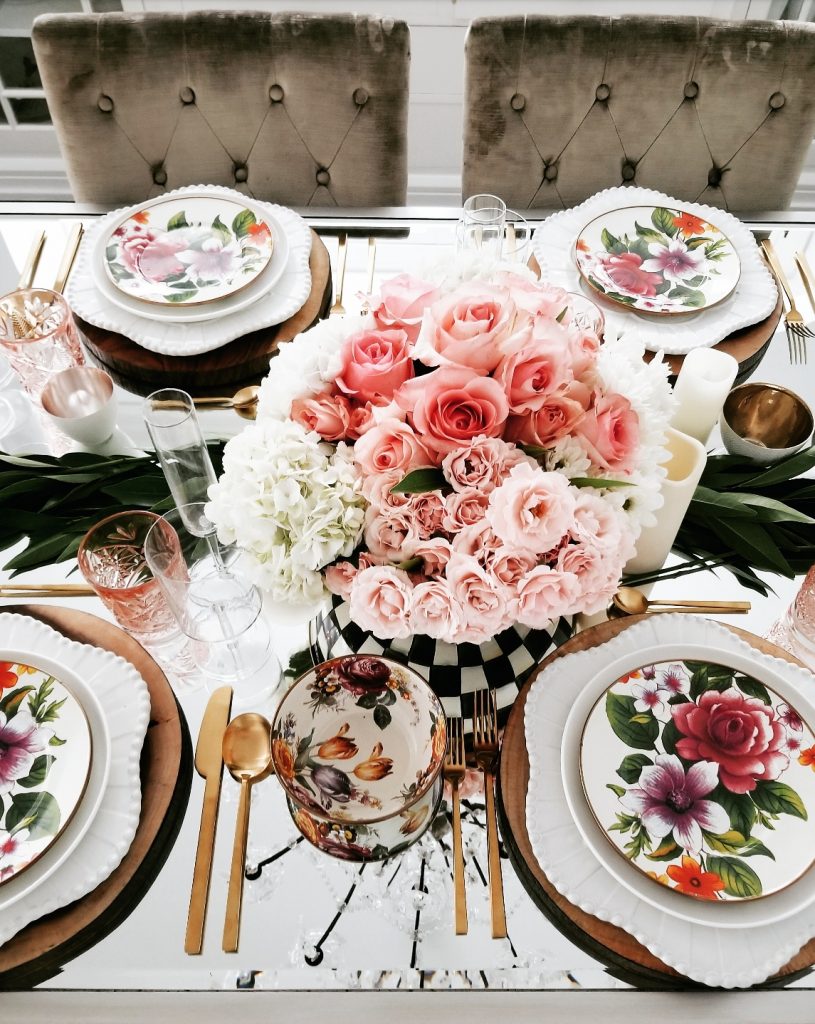 Overall keep in mind that entertaining should be fun. Your guests will love the time and energy you put into a creative and exciting tabletop and be sure to use what you have first, and then find way's to add simple changes. A new napkin, drinking glass, new flatware, perhaps it is using fruit or succulents instead of flowers for your decor. Add new chargers like these or mix and match patterns for a fun conversation piece. I love adding in our wedding china for casual evenings because it is unexpected and it makes me feel good anytime I see them out of the cabinet!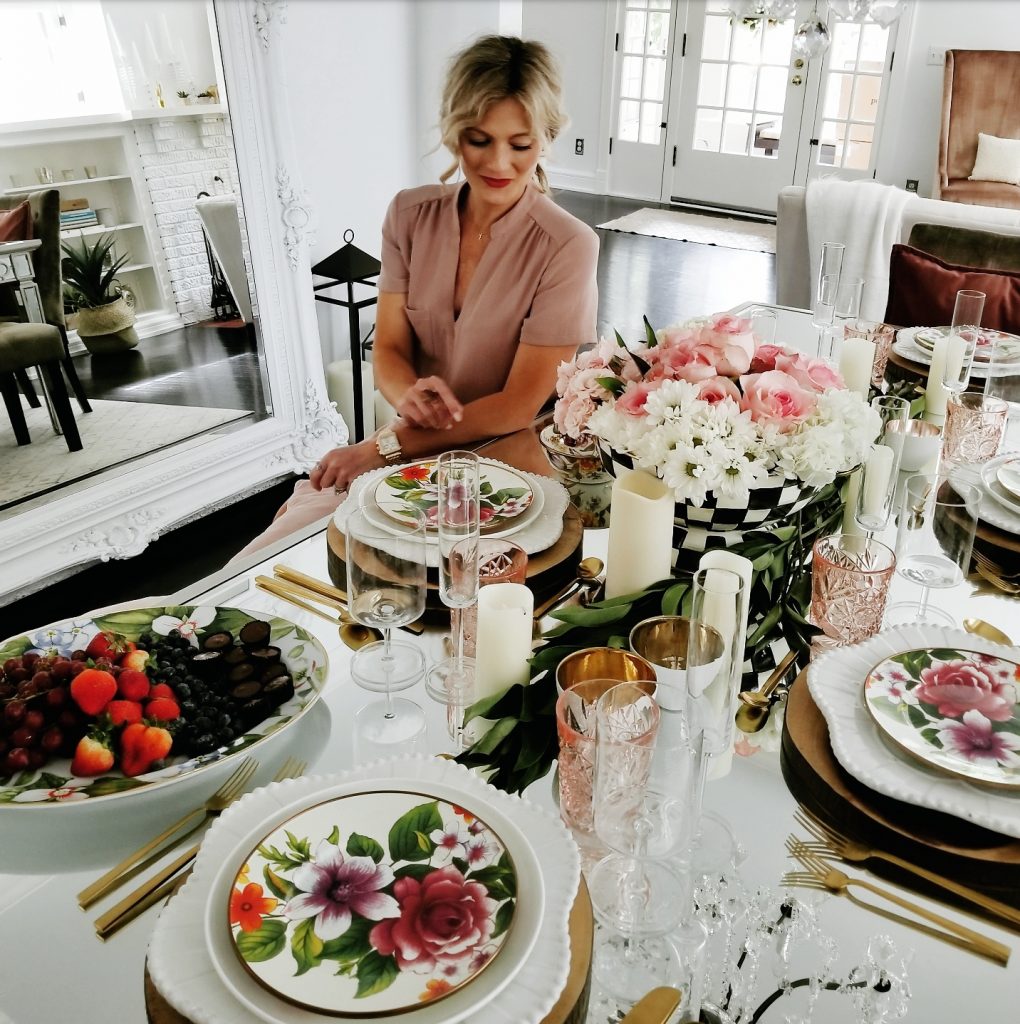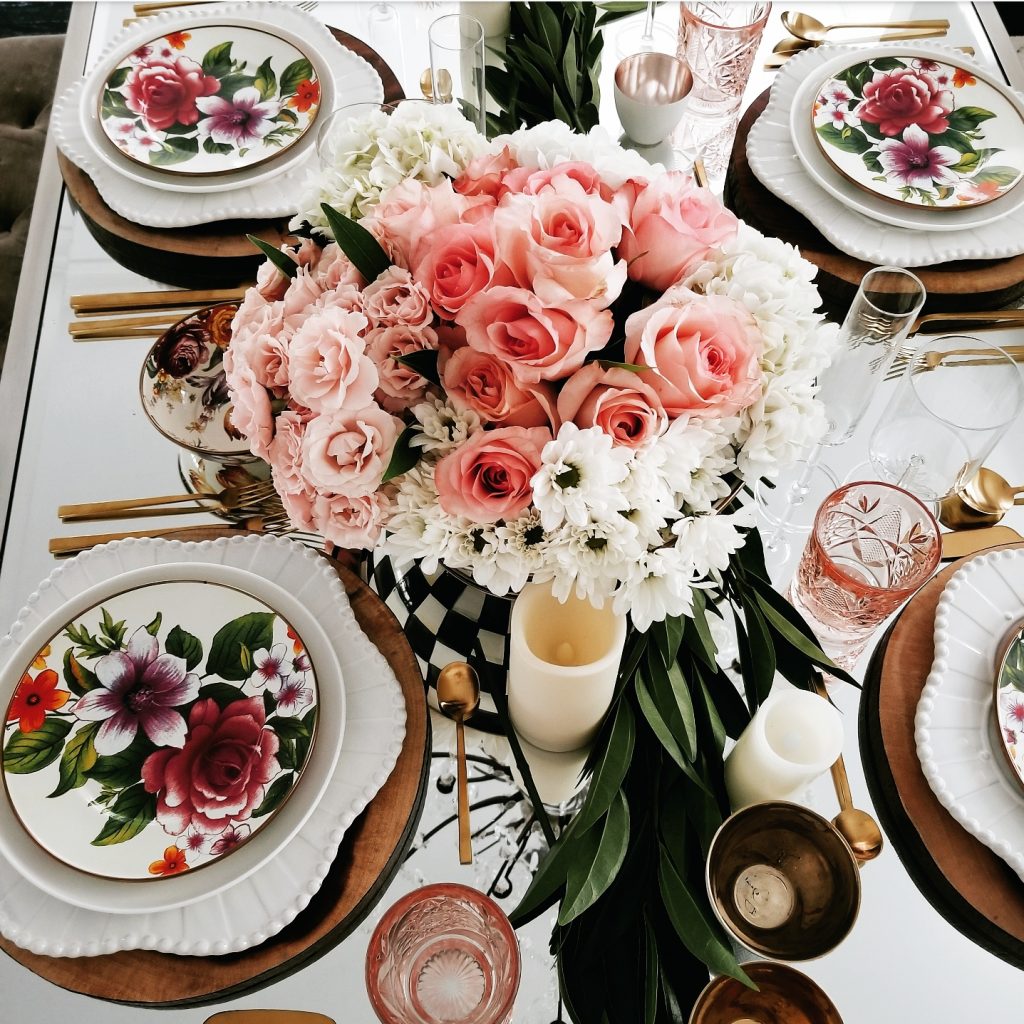 The biggest tip of all, you can't mess up! Maybe learn the basics for setting the table but then go wild from there. Make your time together fun. In Paris, France, they pride themselves on talking about food. It is a whole category of conversation because they love it and take pride in it! That's exactly how I feel about decorating. Enjoy!
FLOWER PLATE // SWEETBRIAR CHARGER // WOOD CHARGERS // COURTLY CHECK BOWL // THISTLE & BEE SERVING PLATTER // SILVERWARE // EVERYDAY FLOWER BOWL // WHITE PLATES // CHAMPAGNE FLUTE // WATER GLASS // OLD FASHIONED GLASSES
This post in collaboration with MacKenzie-Childs.