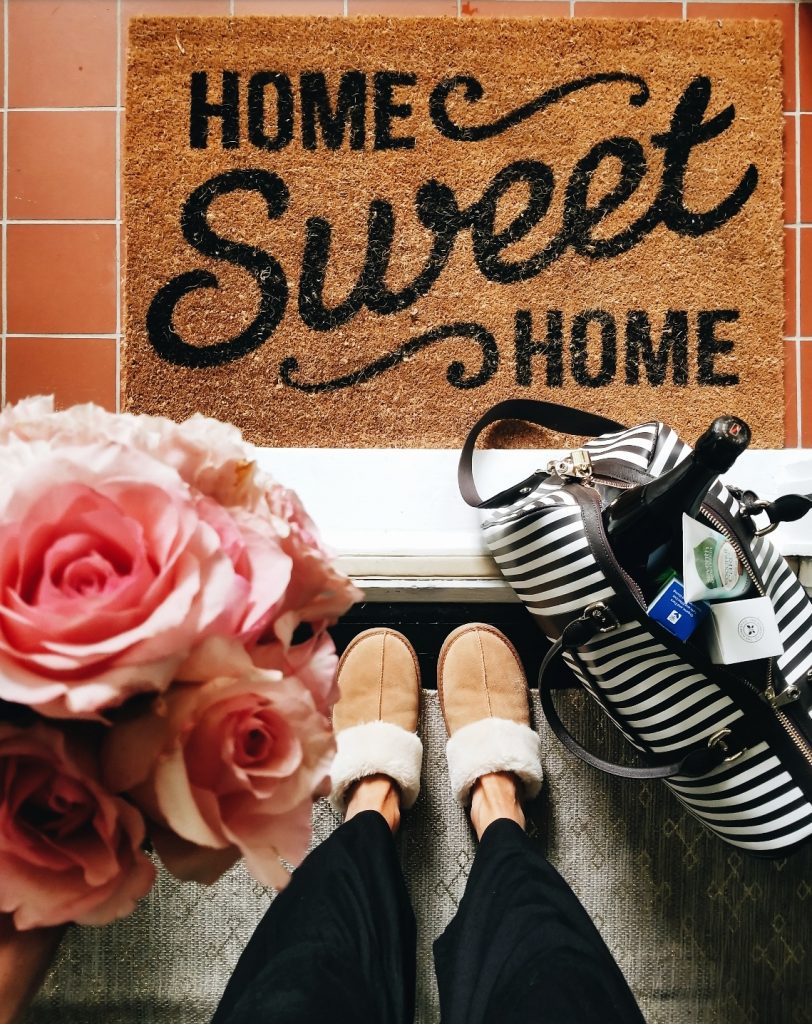 Ladies, I started researching hospital bags for all of us first-time mom's to be a while ago! I also started asking my new mom friends for their advice, scrolling on Pinterest, reaching out to fellow bloggers, and below is the result!  All the help you need to make packing the dreaded hospital bag a breeze!
I keep reading that one should have this handy bag all packed and by the door around week thirty-four. Hello, we are a little behind over here heading into week thirty-seven but working on it! And don't forget that you have to pack for baby, husband, and you!
There are lot's of blog posts previously written on this topic, but every time I would read one I felt it lacking. We all know a wallet and drivers license is necessary, but what else?
Also if people tell me to not bring makeup to the hospital that is a post I probably won't be reading! Why in the world would anyone after being labor not want their makeup? I am still scratching my head on that one!
I've spent loads of late sleepless nights scrolling through Google, and the below is my master compilation for the ultimate check-list. Most likely something is missing, but I wanted to add linkable items for you guys so you can take something away from this post!
MOM'S BAG

I will start by saying everyone keeps telling me how much blood is involved in this process. Just typing these words is utterly daunting to me. Pregnancy should come with those drug warning labels you hear on the commercials: Excessive bleeding, sleepless nights, leaking from just about everywhere and anywhere you didn't even imagine possible, aches, pains, etc.!
But we all know, and I now do (never did before) that it is the reality of the situation. All that said, I hear you! I am taking all that into account when it comes to the list below!
A good bag – Here is mine + an extra one that folds up for all the sweet gifts and all the hospital stuff you will take home like extra diapers, swaddles, cremes, mesh panties, etc.!
Driver's License + Insurance Card (sounds ridiculous but you need this to check into the hospital)
Phone Charger + Computer (I never leave home without mine! I blame it on the blogger life)
Makeup – Here are a few items I can't live without Eye Cream, CC Cream, Moisturizer, Mascara, Eyeliner, Lipstick
Toiletries – I love to travel and have a travel toiletry bag always packed. I picked up this one because I like that it coordinates with my hospital bag and has a hanging feature! I am also a huge advocate of buying the small bottles and transferring products out of their larger containers. I mean you only need a little for weekend getaways and having so many bottles and products is not cool for my carry-on loving hubby! I like the size of these containers. The essentials: hair ties, face wash, makeup wipes, contact case and glasses, toothbrush mine is electric, so I am bringing the charging cord too, toothpaste, deodorant, coconut oil, q-tips, body wash, lotion, razor.
Lip Balm – your lips get dry during labor
Nipple Cream – so many women, preach this, this one came highly recommended!
Breast Pads –These have great reviews, and they are super soft!
Milk-Saver – also has come highly suggested by our nurse at our baby classes. This item was invented by a mom who realized she was wasting so much of her milk that she wanted a resource to store and keep it versus washing it out of a washcloth. Here is the link to the one I bought and there is a video so you can learn more.
Mint Gum – (chewing gum turns down stress response, mint is also great for stamina and focus. If you have a cesarean it helps get your 'innards' moving more quickly after surgery).
Healthy Snacks – I'm not a vending machine kind of girl, so I have all my favorite Trader Joe's snacks (granola bars & raw nuts)
Special Drinks – Probably not allowed before but nice if you want something after baby arrives like bubble water or a small individual bottle of champs!
Prenatal Vitamins – I have been taking these since before we decided to get preggo! I love them.
Dark Towel
Plastic Bag or Laundry Bag's for your soiled clothes and babies soiled clothes. I use these a lot when traveling.
Oversized t-shirt or dark pajamas. I just purchased these, and they are so comfortable and love how easy the top can be lifted up for natural breastfeeding.
Black Robe – I ordered this one, and I love it! I wanted something longer if family or guests drop by so I can cover my legs. Also, hospitals are always cold.
Pretty Robe post delivery for photos – here is mine. I am so in love with it, super soft, and I can't wait to wear it post delivery!
Nursing Bra – This one comes highly recommended!
Belly Band or Body Wrap – these are great for just about any mom! These are the original versions, available in two colors!
Comfy Bra to sleep or tank top – I found this bra, and I love it! I went up a size because I can hardly sleep in anything but these work for me in a larger size!
Maxi Pads or Adult Diapers (the hospitals are massive from what I am hearing) I purchased these because a few blogs recommended them. Oh, my goodness would have never in my life have imagined ordering or even sharing such a thing as this! Trying to keep it all very real over here. I also cannot bring myself to walk into a store to buy these!
Socks – Hospital's are cold + epidural's give you the chills. Most hospitals have no skid socks for you to wear and they are sexy! Just bring your favorite – I picked up these, think they will be great for winter too!
Flip Flops – to make runs to the bathroom, showering and walking around the hospital. I am taking this affordable pair I plan to throw away post hospital!
Slip-on's or House Slippers – I recently picked up this slip-on pair from Minnetonka Moccasin, and they are $39 (go up a half-size, mine are an 8) – I think feeling comfy will make me feel human.
Button Down Shirt or easy to open front shirt – I have been living in these, and I like that they are almost wrinkle free when I travel so that will be nice when heading to the hospital.
Your Pillow – I keep hearing this because the pillows at the hospital are like pancakes! I am not sold on this only because hospitals gross me out so I might take an old one and leave it behind.
Sound machine – I have a small travel version that I take religiously on every single trip, and I do not leave home without it. The white noise on the apps does not do the same thing. Trust me you will live for this if you do not have one or use the app. We keep one of the large versions in every room for guests to help them sleep better! They are my favorite!
Heating Pad – Many moms have told me this is a lifesaver post delivery – I found one here that comes highly recommended.
Comfy outfit to wear home – I am hoping to wear this little dress, I have it in a few colors, and the black or blue seems like a good fit for August going home in the heat of summer! Most people mention that you will still look about six months pregnant when leaving the hospital to ditch the skinny jeans at home!
Cardigan or long sweater – I live in this one and wear it around all year-long. I think this one will also be nice for lounging!
One of my roommates from LA is a doula and mentioned the following might be helpful. A focal point such as an ultrasound photo or something to concentrate on during labor, massaging oil, essential oils, flameless candles, diffuser.
Handheld mirror – multiple moms have suggested a handheld mirror as it saves you the time of needing to jump up and down when visitors are stopping in to say hello!
DAD'S BAG

Laptop
Pen and notebook to write notes and tips from doctors & nurses
Book or magazine to pass the time
Camera or go pro to take photos
Spare memory cards (bring extra)
Button-down shirt to open for skin to skin
An additional outlet for all the charging cords you will need
Thank you to the nurses or a Starbucks run as I hear that is appreciated!
Bluetooth speaker and playlist
Blanket + pillow
Air Mattress – check with your hospital these can be considered a fire hazard depending on room size, John is going to try to bring ours!
Spare change for the vending machine
Wallet + ID
List of people to notify once the baby arrives
Paperwork for baby's birth certificate, social security, and insurance
BABIES BAG or DIAPER BAG

Going Home Outfit
Baby Bib
Sleepers – 2 sizes
Socks (2 pairs)
Hats + Mittens
Car seat (adequately installed beforehand)
Pre-wash all your baby clothes in a gentle detergent like this one.
HOW CAN MY FAMILY HELP?
How can I help? Is always a question that pops up no matter the situation, wedding or babies; everyone wants to help! I have spoken with a few girlfriends, and they have given some pretty helpful tips on how to make the most of these kind offers!
Help stock your fridge
Let the dogs out while staying at the hospital or babysit them for you
Mow the lawn or shovel the sidewalk
Run miscellaneous errands
Pick up lunch while at the hospital or bring dinner to the house
Help wash the babies clothes
Help Organize the Nursery
Check the mail and bring in any packages
Help clean the house
Babysit other children if there are more kids at home
OTHER IMPORTANT DETAILS 
Pre-Register at your Hospital. We were able to do this on our hospital tour and send in all our information ahead of time.
OBGYN's Contact information
Pediatrician's Information
Copy of Social Security Card
Copy of Insurance Card
Copy of Driver's License
Birth Plan if you have one
Baby book – the nurse can add your babies footprints to the book
I realize that this post holds a lot of information! Print it out, cross off items as you get them, send to your spouse, or use it however it can help you the most!
I sat down to write this so many times and kept getting distracted! I think it was the idea of having to write this post and knowing I needed to pack a bag and get organized that felt the most overwhelming.
I also know you would be just fine if you had to run out the door without all of these items too! Just a modern-day luxury to prepare if you can!
Please feel free to send any information along that you think would be helpful to have along! I am trying to keep us from looking as if we are checking into a hotel for a week, but I think it never hurts to be over prepared!
Thank you to Henri Bendel for the beautiful hospital bags, Plum Pretty Sugar for the robe and Minnetonka Moccasin for the slippers!