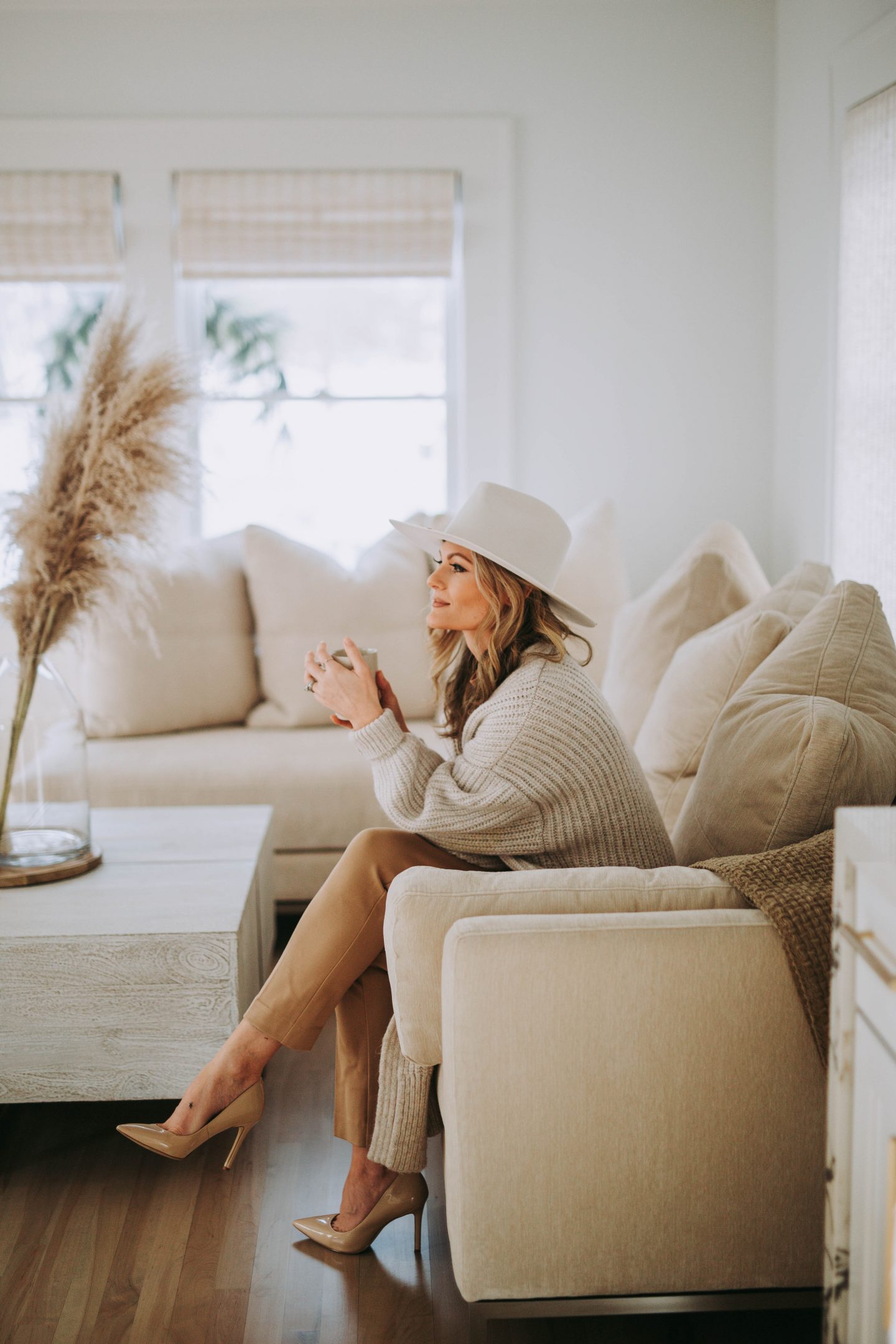 What a year 2020 was for several reasons! The year we welcomed a new baby, launched a full renovation project, and the whole world shut down. I would not have in my wildest dreams thought this would be the reality, nor did I ever think we would actually own and rent an Airbnb. Like I preach all the time, never say never! This little golden gem of a home was by far one of the most enjoyable projects. The team, the process, the results were all a dream come true. Today, I want to share more of that with you and thank a few people along the way.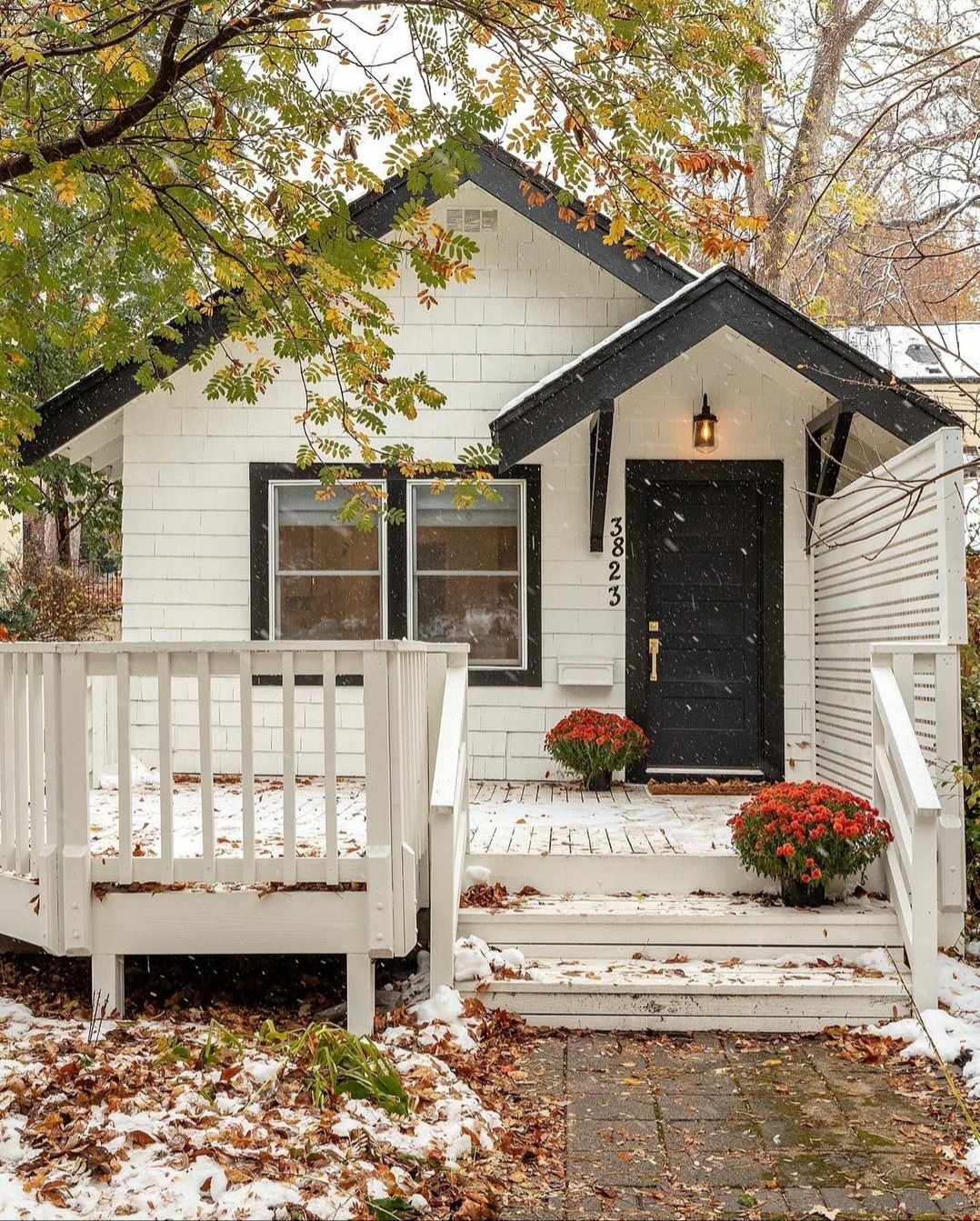 If you were to drive up to the Bungalow, you might whip right by it because it is truly a little hidden gem tucked away in one of my favorite neighborhoods, Linden Hills. When we first walked into this home, I had an overwhelming feeling this was meant to be ours, and we were meant to share it with all of you. John and I have discussed a possible project like this before, but it just happened, and of course, I was eight months pregnant at the time!
I remember at our final closing, the seller's realtor handed me the key and said, don't touch it; that place is rent ready! John and I both smiled, and I took a sledgehammer to the cabinets approximately four months later and haven't looked back since.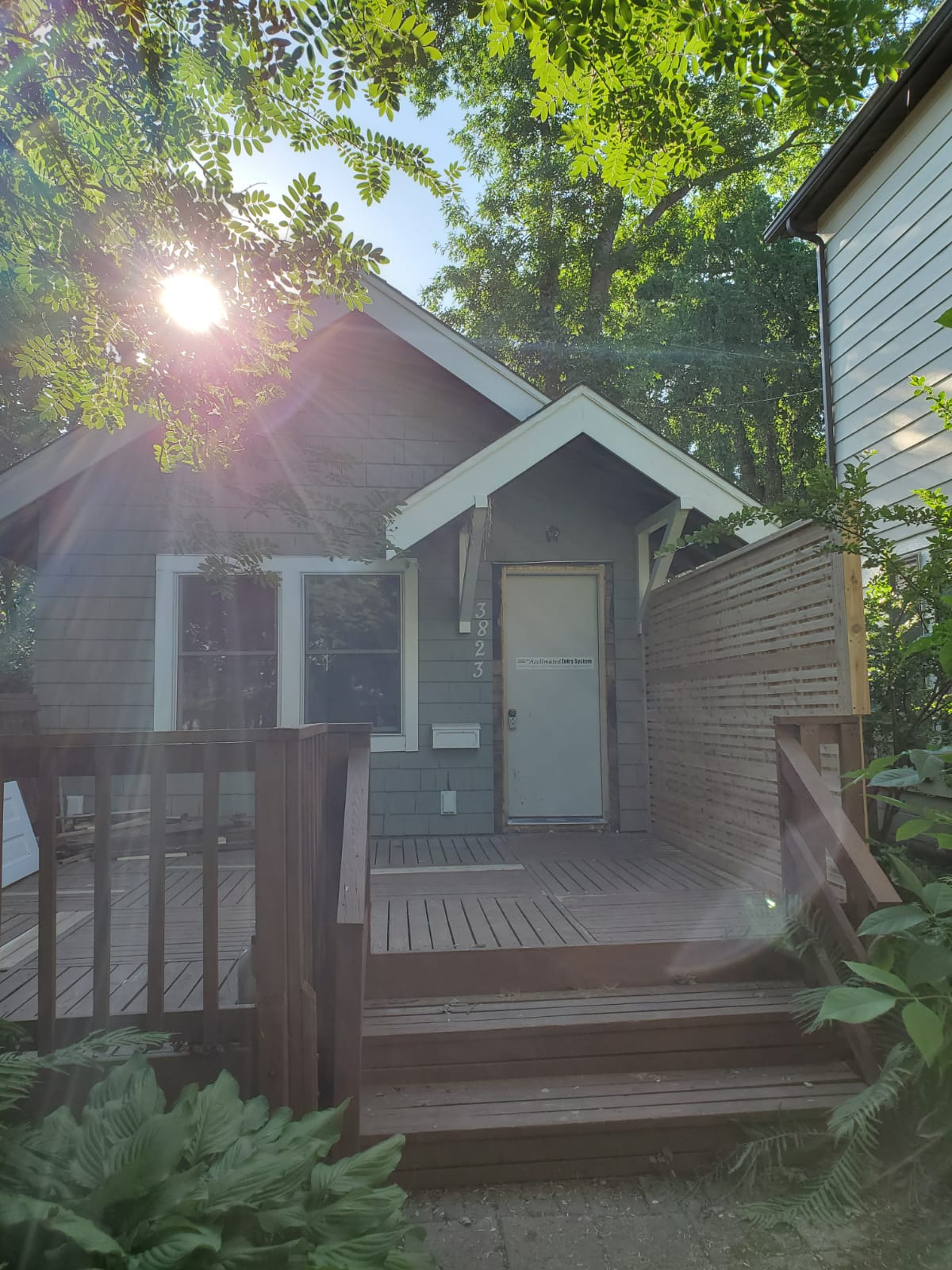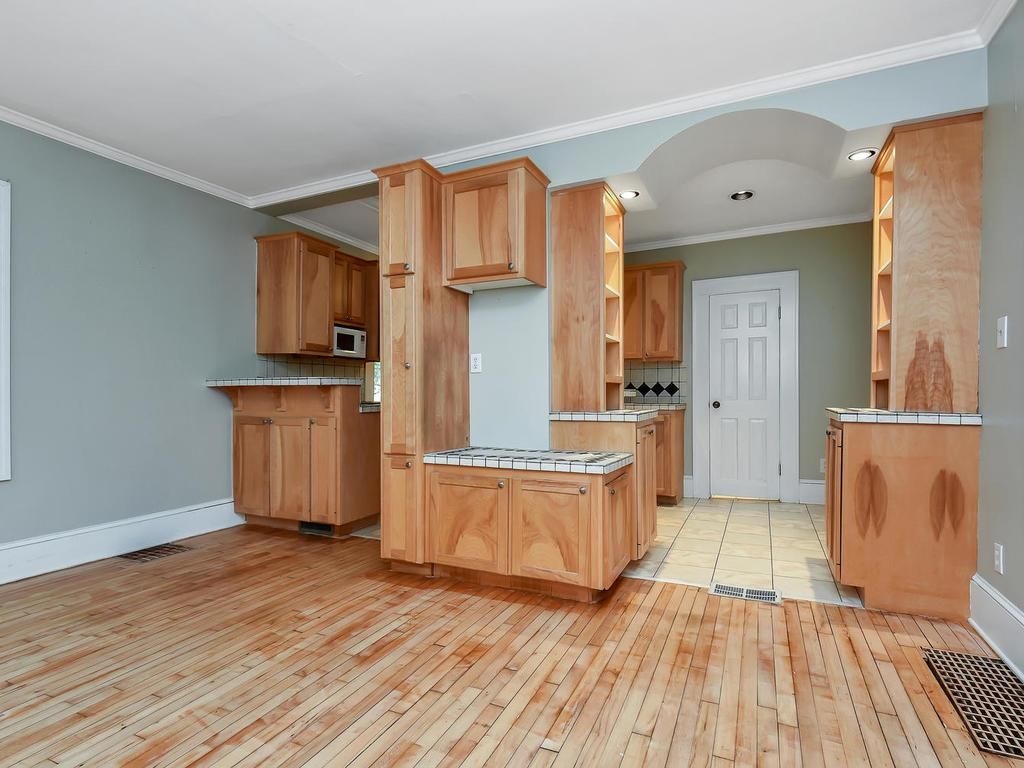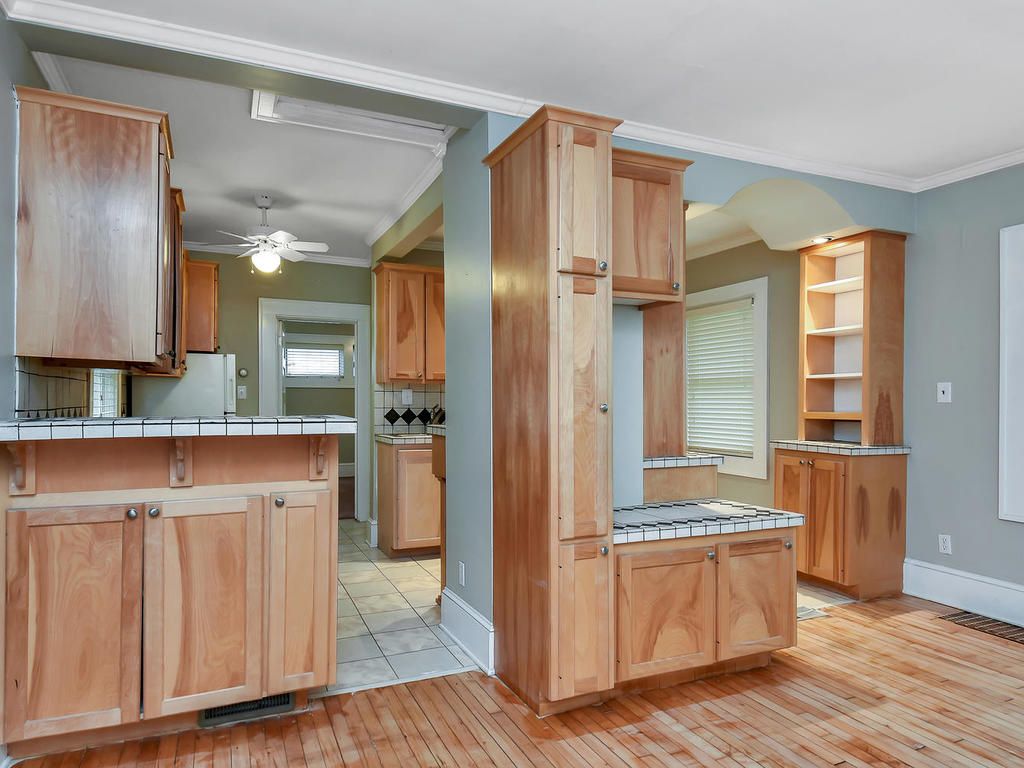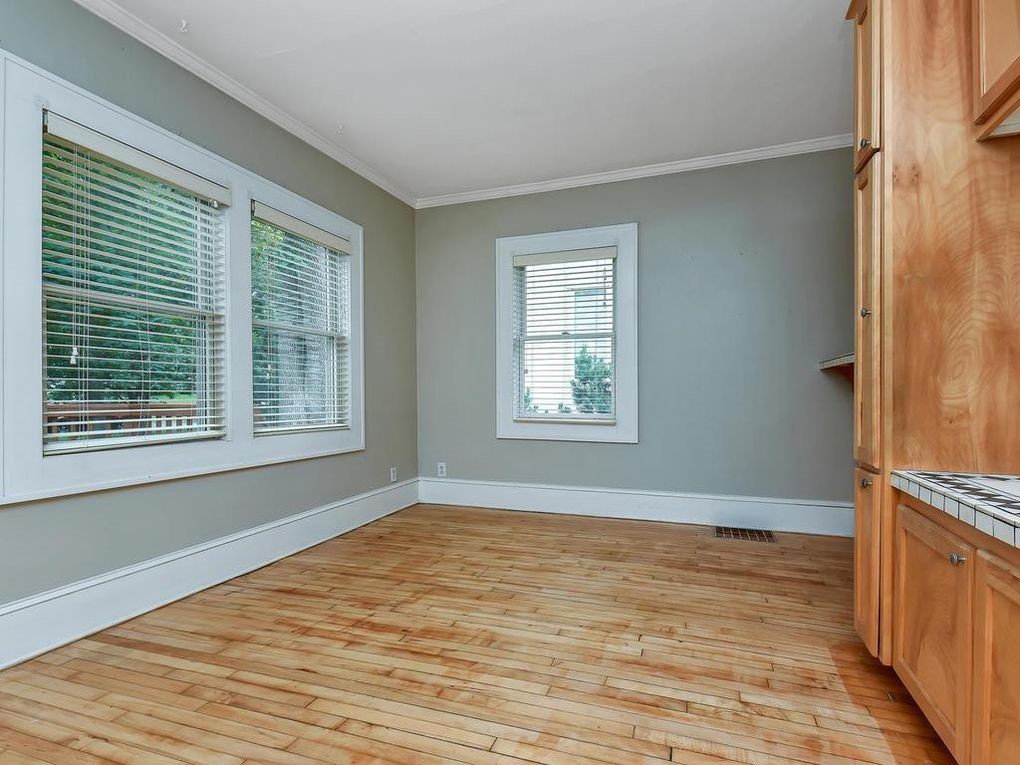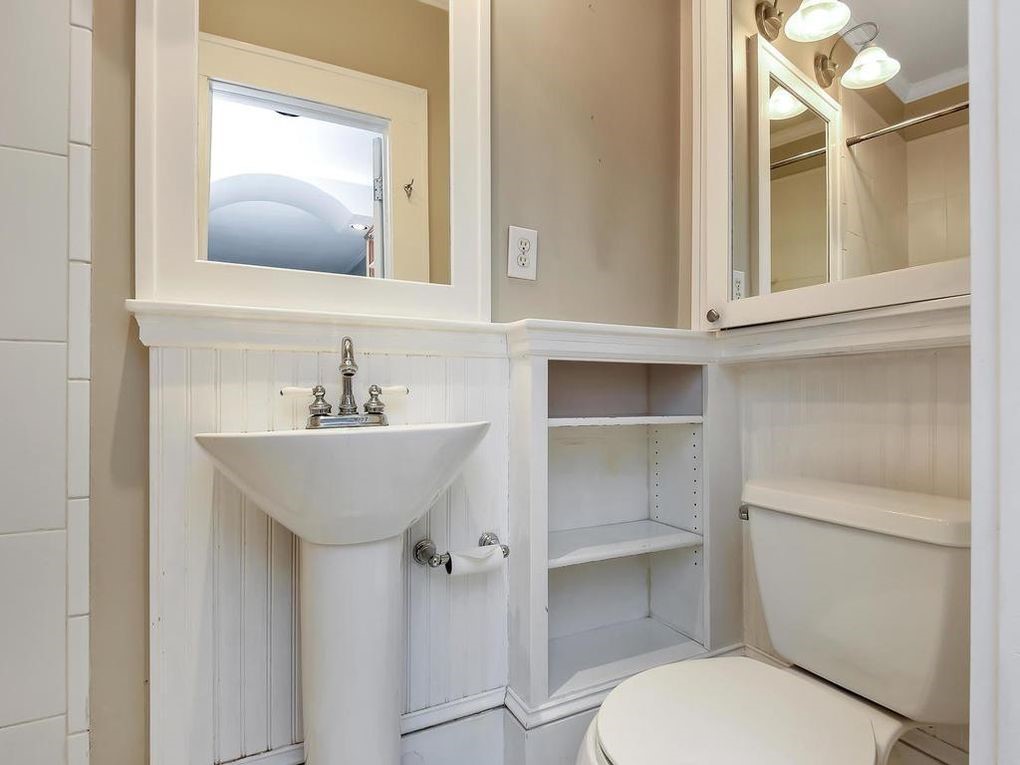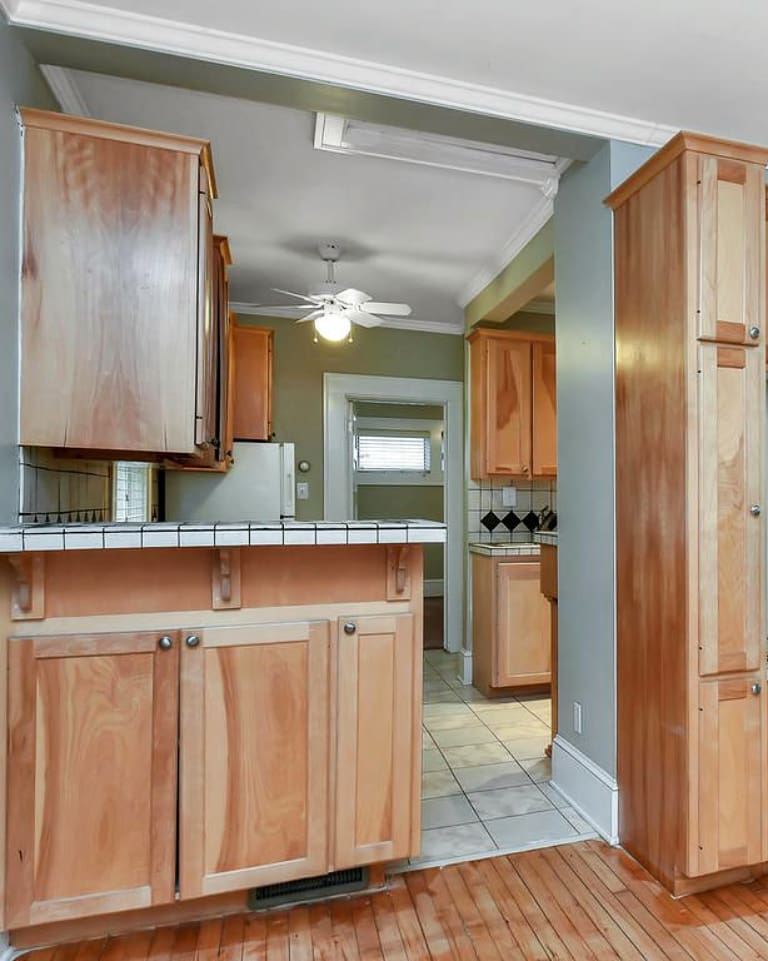 The Little Bungalow is charming, quaint, and a whopping 560 square feet! My biggest challenge was utilizing the space. Appeal to our renters and make it feel open and airy. I tend to choose more neutral pallets for decorating, and I absolutely love how this space turned out. My favorite features are the porcelain countertops and backsplash, the herringbone tile in the bathroom that goes floor to ceiling, and the tongue and groove ceilings.
When we first walked in, I knew the kitchen would be the first to go, and then, well, it all just disappeared. The original floors were salvaged as much as possible, and we ended up needing to replace quite a bit of them but matched the new floors to the old, so they appear to be fluid and flow throughout the house. We also demoed the cabinetry around the original chimney. I love that we have the exposed brick, and it is such a nod to this 1908 charmer!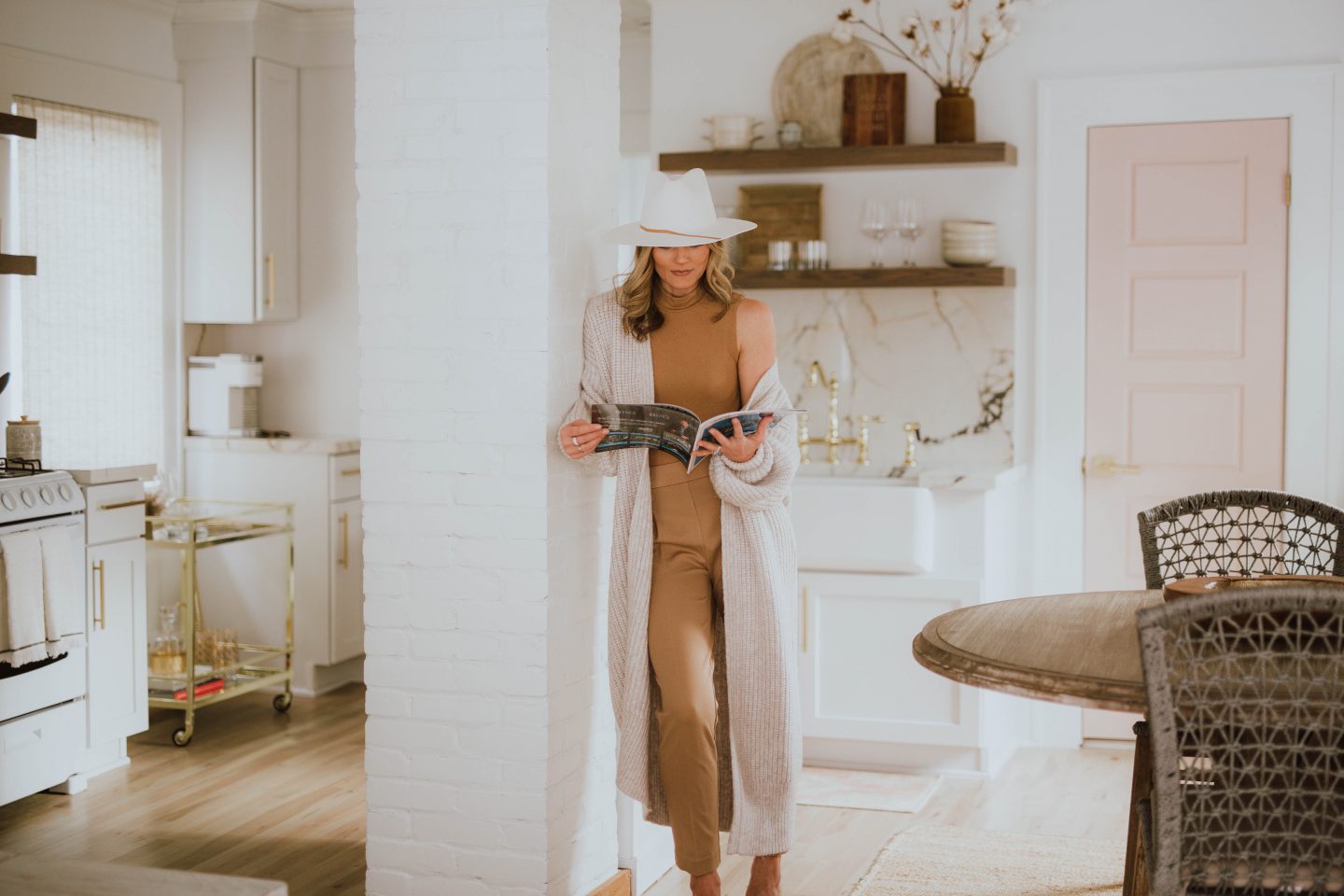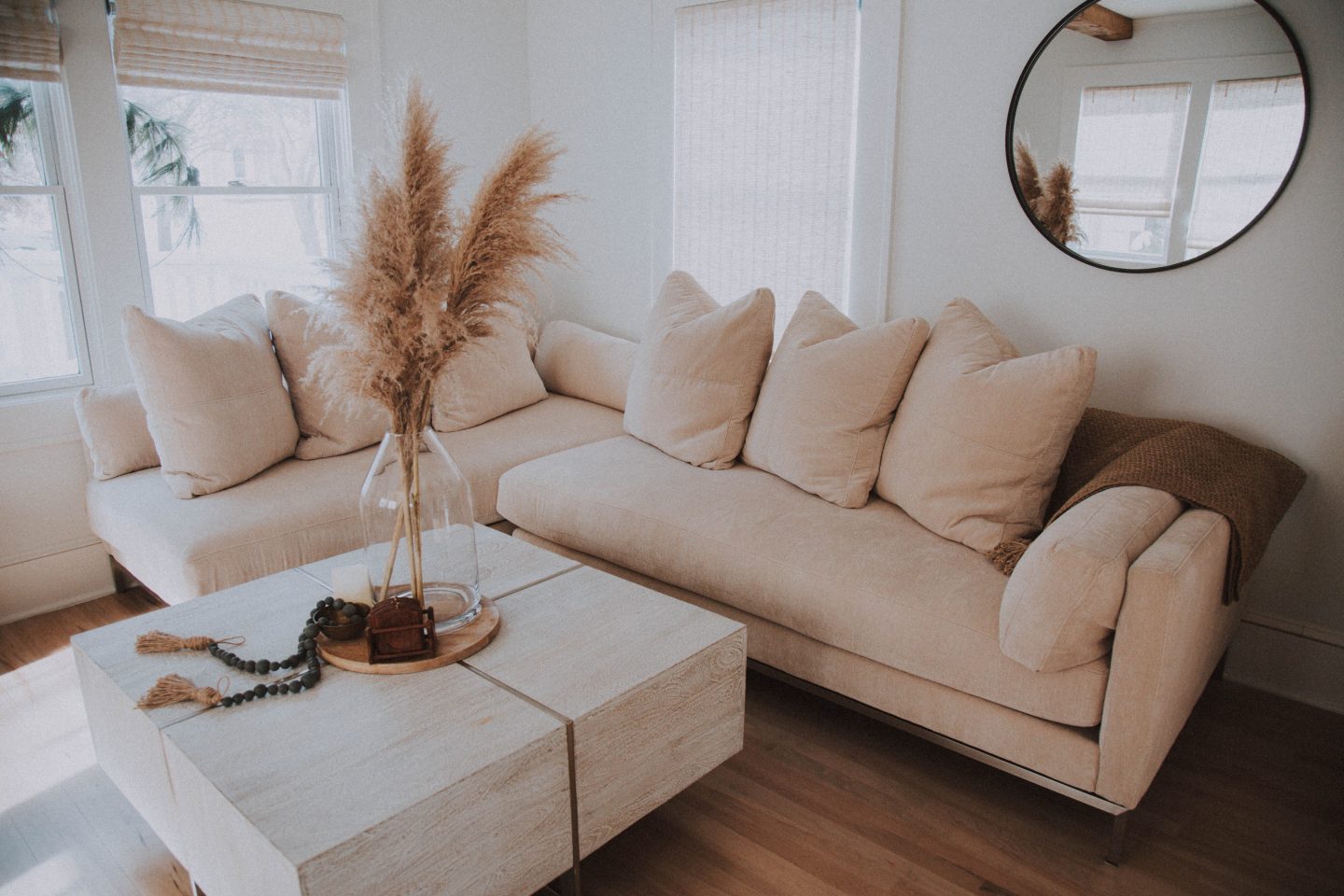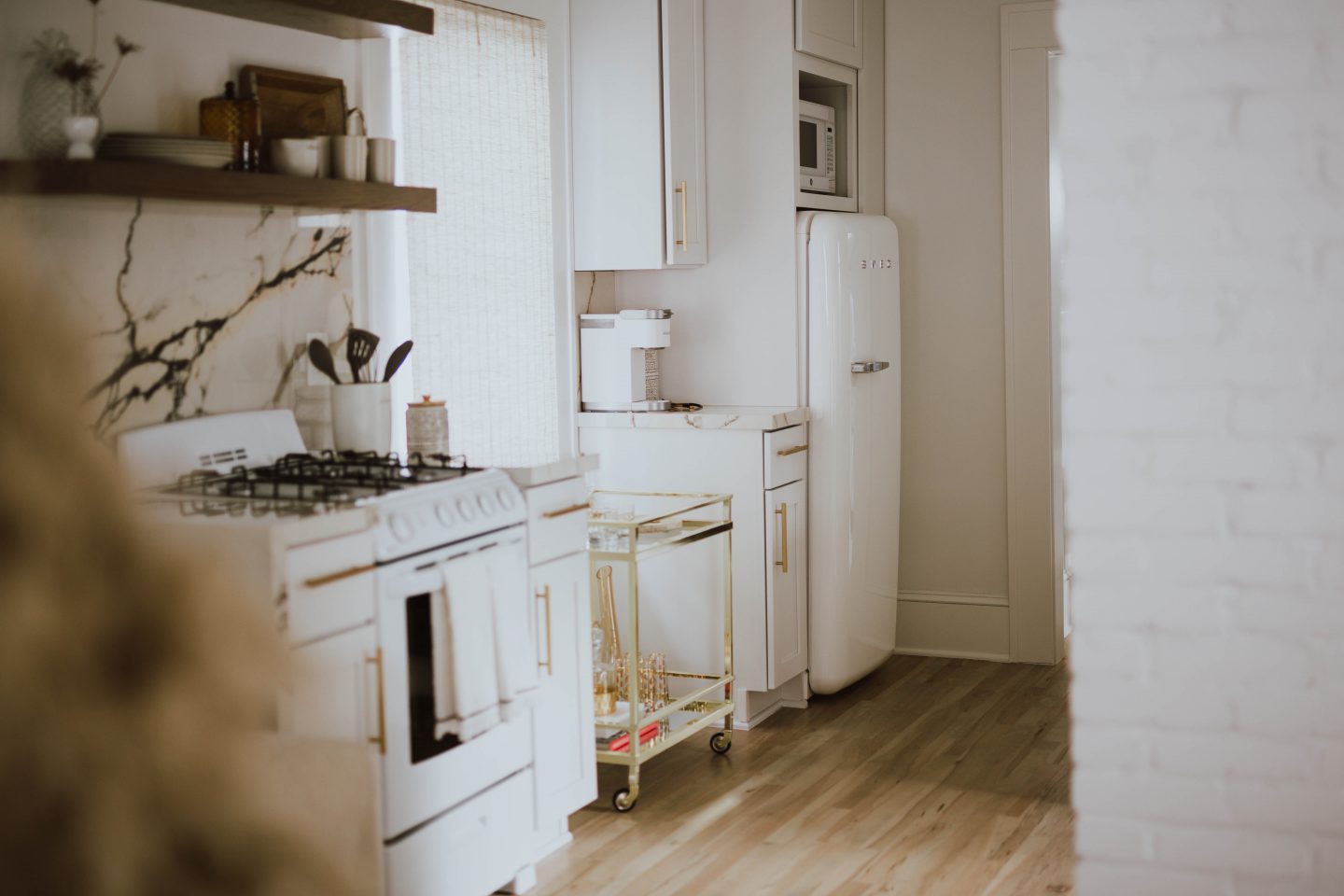 Above are a few images of the before spaces I am referencing. I feel like the flow is much more liveable and much more inviting overall. Every single time I walk inside, I say out loud, I want to live here! I truly love its ambiance, and I have had so much fun connecting with our guests.
We have been so lucky to have some of the sweetest people stay for some much-needed rest! The perfect little getaway if you live in Minnesota. We have celebrated birthdays, anniversaries, welcomed tired mamas who need a little break, especially right now. With all of us being stuck home, it is a perfect escape. We absolutely love it!
The bathroom was by far our biggest challenge in the entire house! The space is quite snug, and we kept all of the plumbing original! So hello, making the most of tiny spaces, which our friends at Refined Custom Homes were able to do, and I would say quite beautifully! I do not know where we would be without this company.
I had a vision, and they not only brought it to life, but they also made it fun and seriously kept my booty in line. You can imagine starting a project like this with a newborn was not the most ideal of all timing then enter a full-blown worldwide shutdown, and thankfully, we had already met with all the showrooms and locked in our decisions before the stay at home order.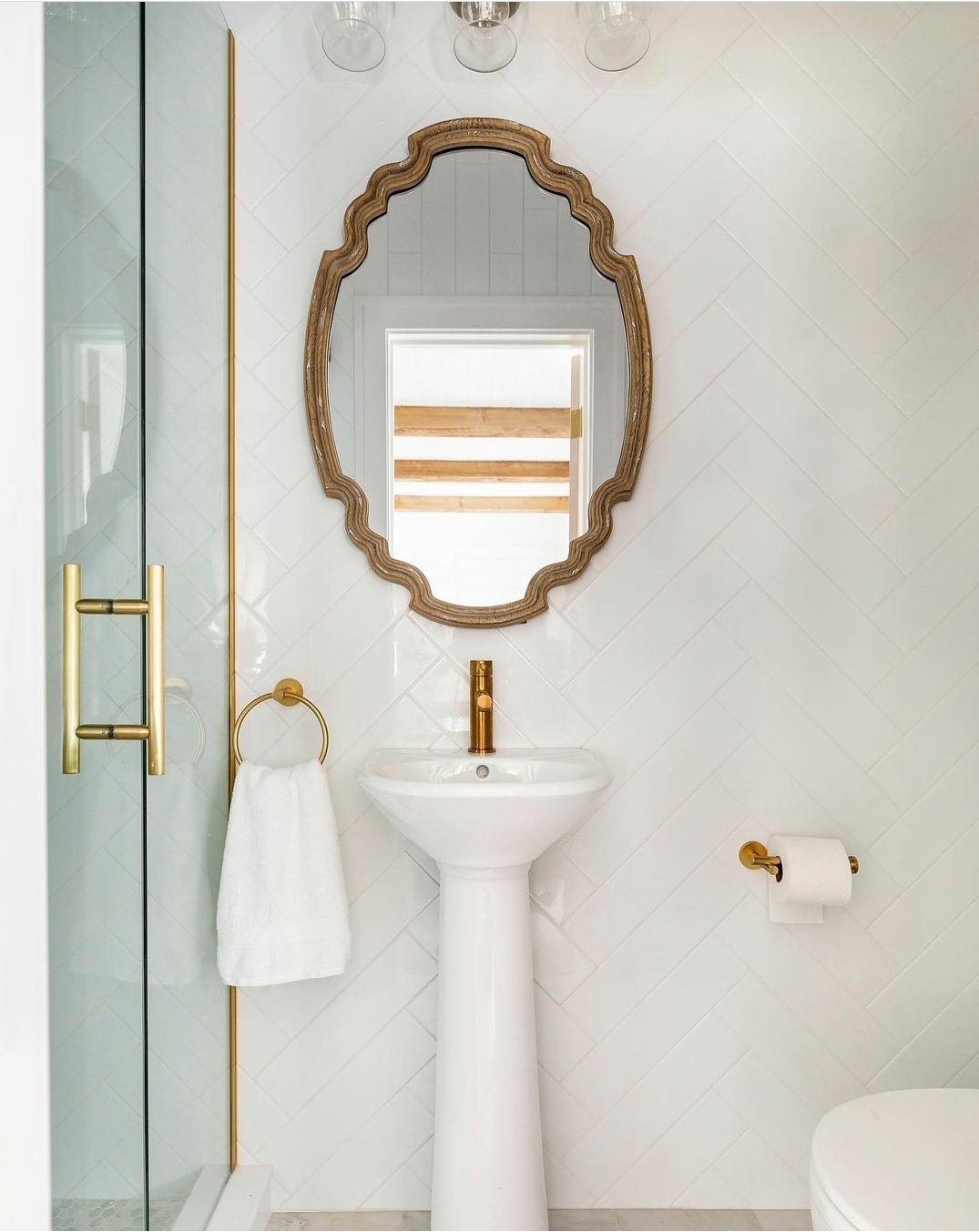 Picking tile and cabinetry over the internet would have been quite tricky! There were a few bumps along the way, timing, delays, but overall I have to say we were quite lucky. I was most impressed with the privacy wall that Refined came up with, and everyone around us loves it too!
I have plans to do something special there in the spring. We will see what happens, but I love it plain too. Honestly, I love this little place. Thanks to Refined for directing us where we needed to go. I feel that we worked with an amazing team of contractors from start to finish. I feel like they are family now and wish I had another project to start working on together!
I will say my number one question to date is always about paint! Here are all the paints we used: The entire house interior is painted Chantilly Lace, the blush doors are Light Mocha. For the exterior, the black trim is Tricorn Black, and the house is Alabaster.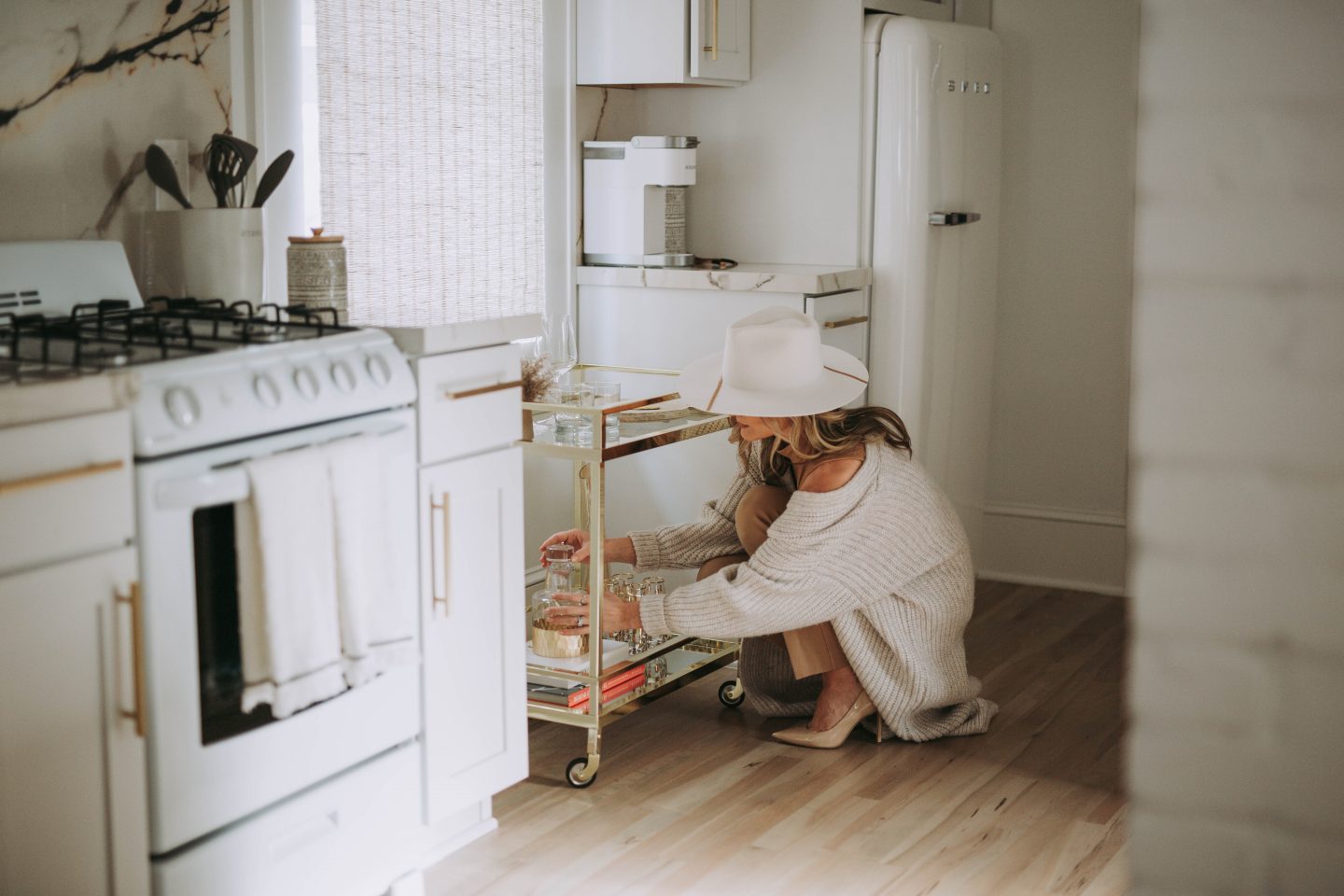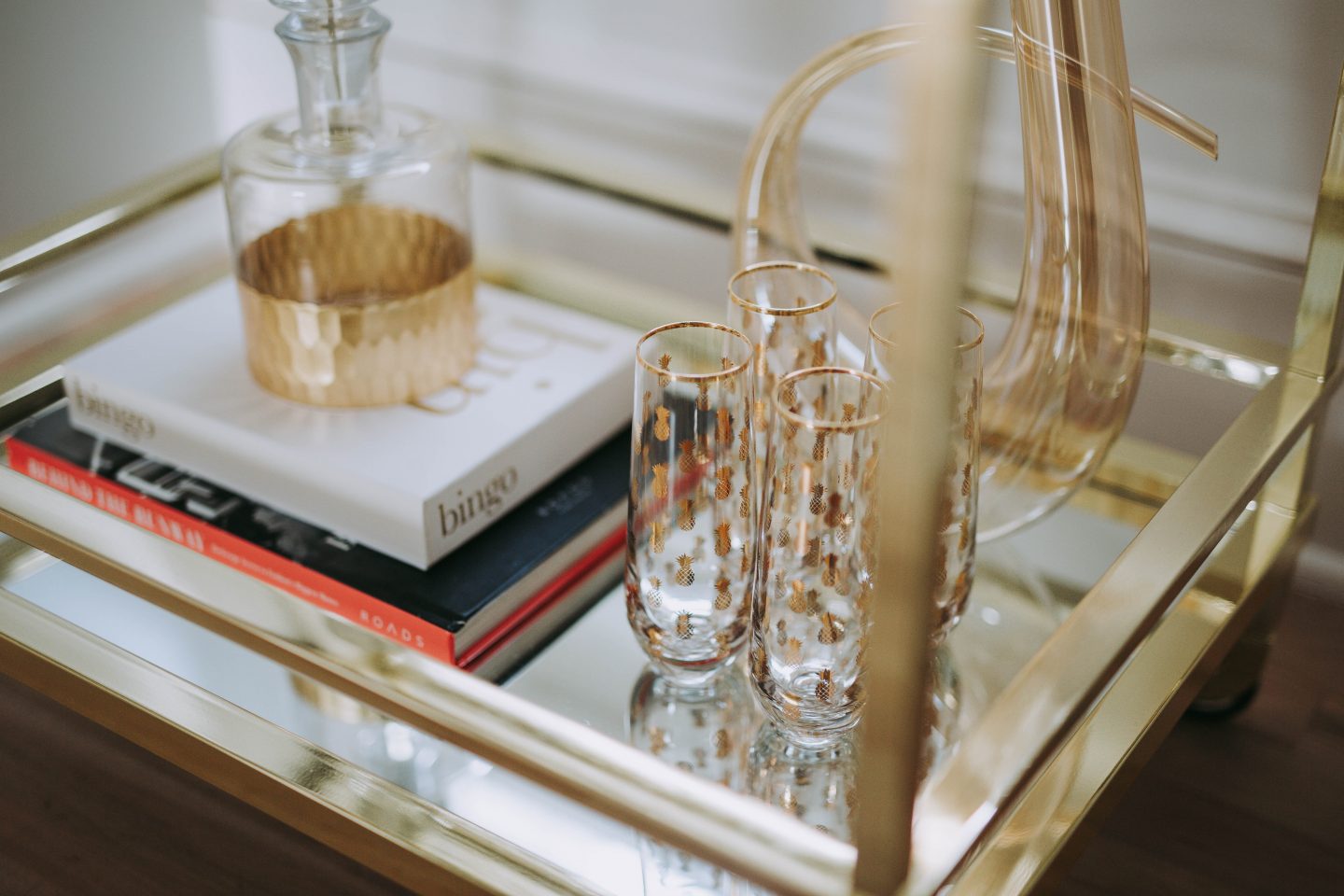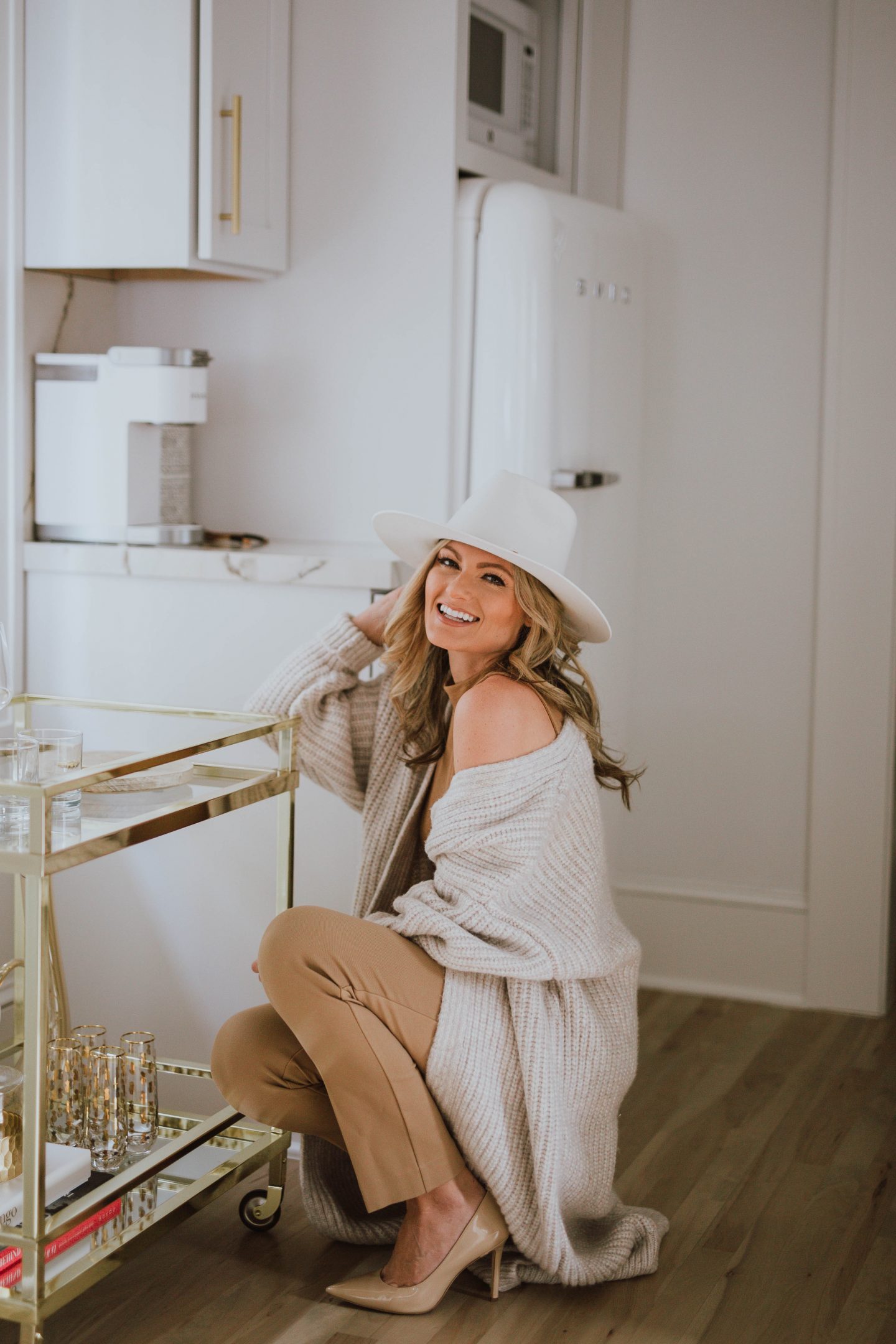 Our porcelain slab has also been a hot topic! I not only love it, but I also adore it and will use it somewhere else one day! We used Amsum and Ash for our countertops and backsplash. This Porcelain, in particular, is sturdy and highly recommended for this bungalow! The waterfall and backsplash truly make it so much more impactful. The kitchen is the first thing you notice when you open the door, so I love that they are a standout piece!

Our floors are maple, and we tried to keep as much original to the house as possible, but these were in not so great shape, so we kept the bedroom floors, stripped those and laid new floors, and stained it all to match. I cannot tell you how much stress this little can of stain brought me! I could not have been happier with how these floors look.
The natural beams and tongue and groove ceiling tie in so nicely with the floors too. It is such a fine line of going too dark or too red or too yellow, and I went through quite a few rounds with the floor people. Keeping everything light and airy was top of mind to maximize the space as much as possible.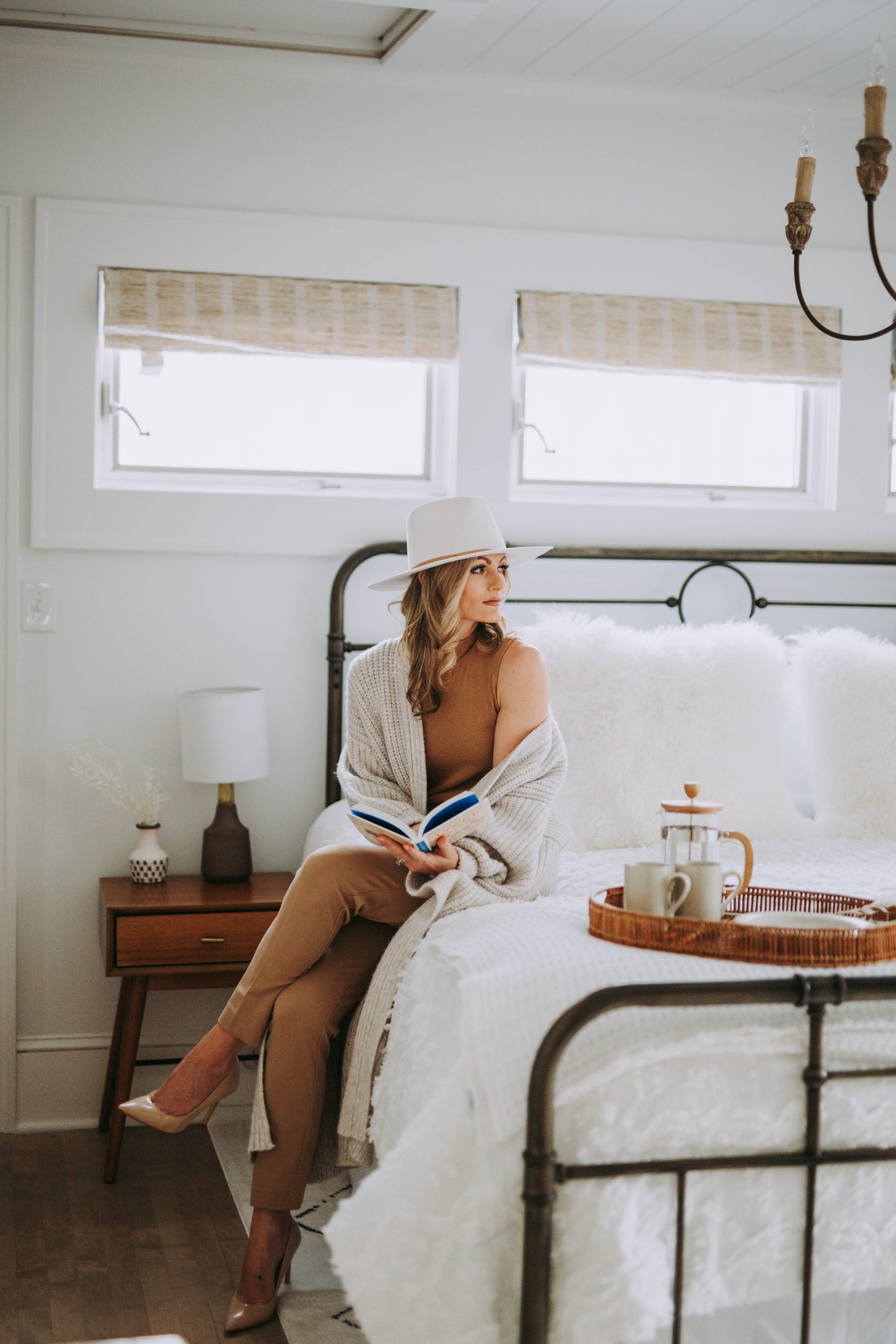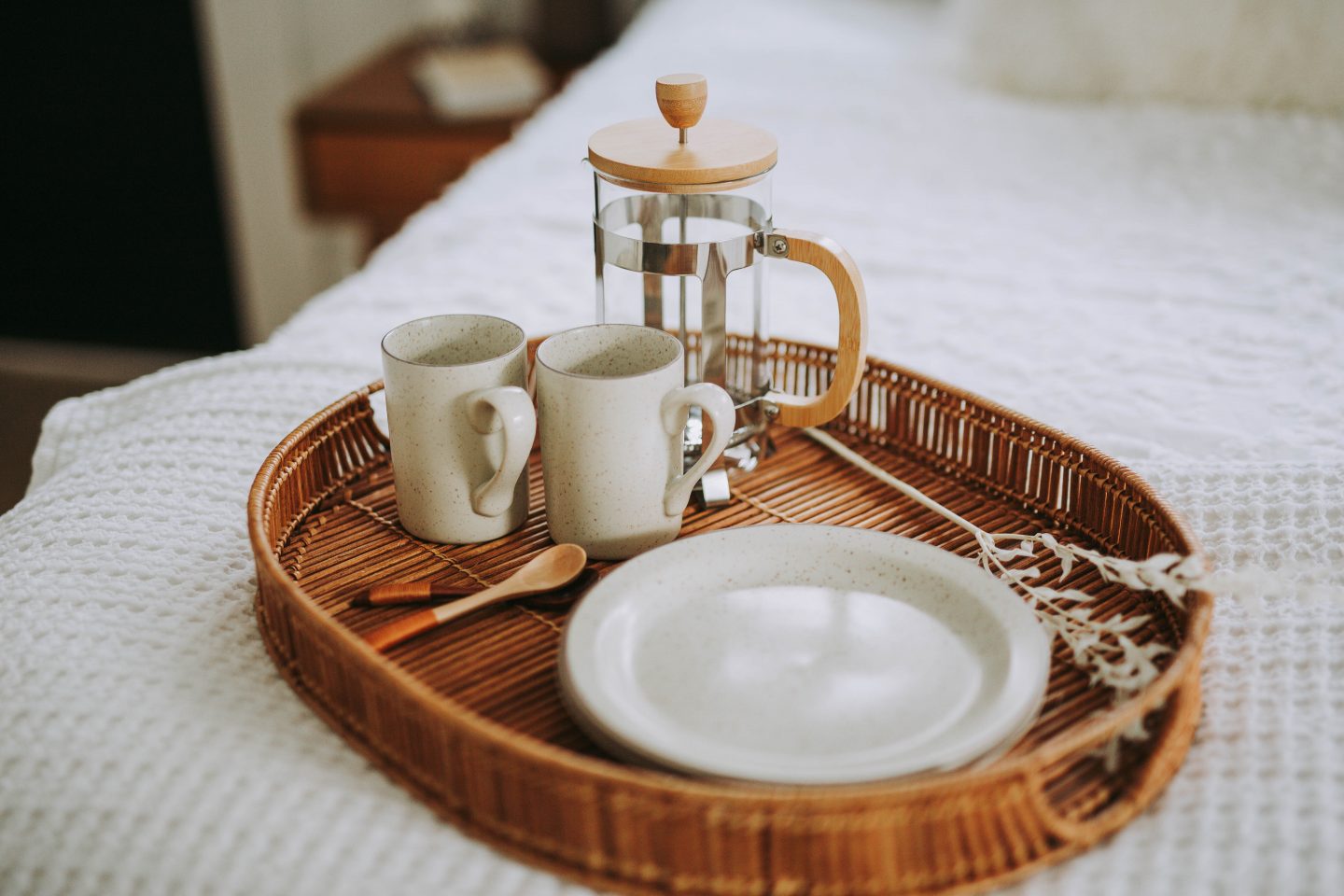 When it came time to furnish the bungalow, I was scrambling! I knew this would be the most fun part of it all but also a tiny bit of pressure! I had spoken with Z Gallerie about our bungalow, and they came on board as a partner to help us furnish and decorate the space so beautifully it is perfect. I had the opportunity to work with their design team and make the most of the space and create something we are all truly proud of together.
I have been working with Z Gallerie for a few years now, and it is a pinch-me moment. Growing up in Texas, I have so much love for this brand. I like how they have a little something for everyone and on-trend and classic pieces that will last and last. The breakfast table is by far my favorite piece. The chairs are super comfortable, and the design is charming and ties in so beautifully with the other pieces.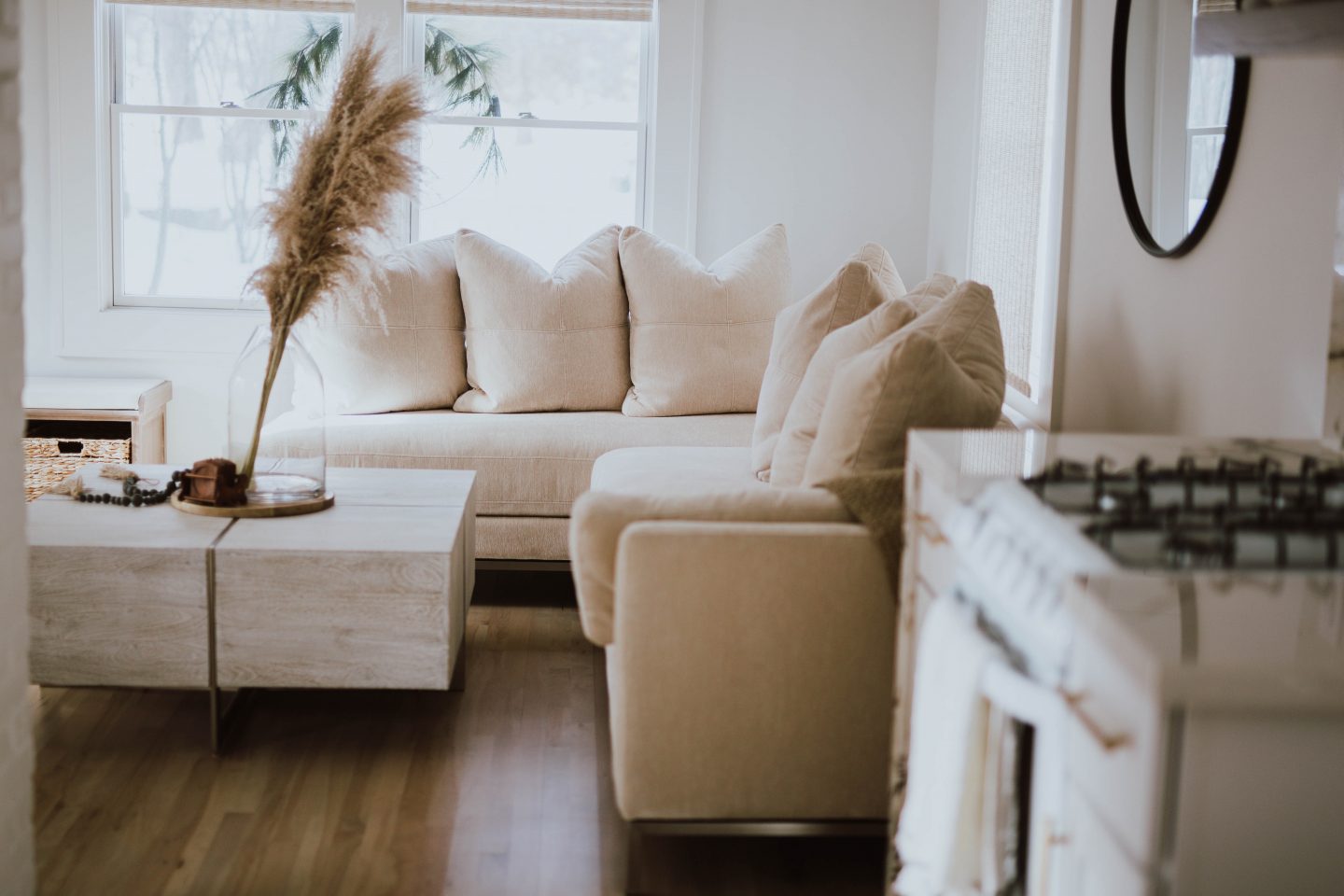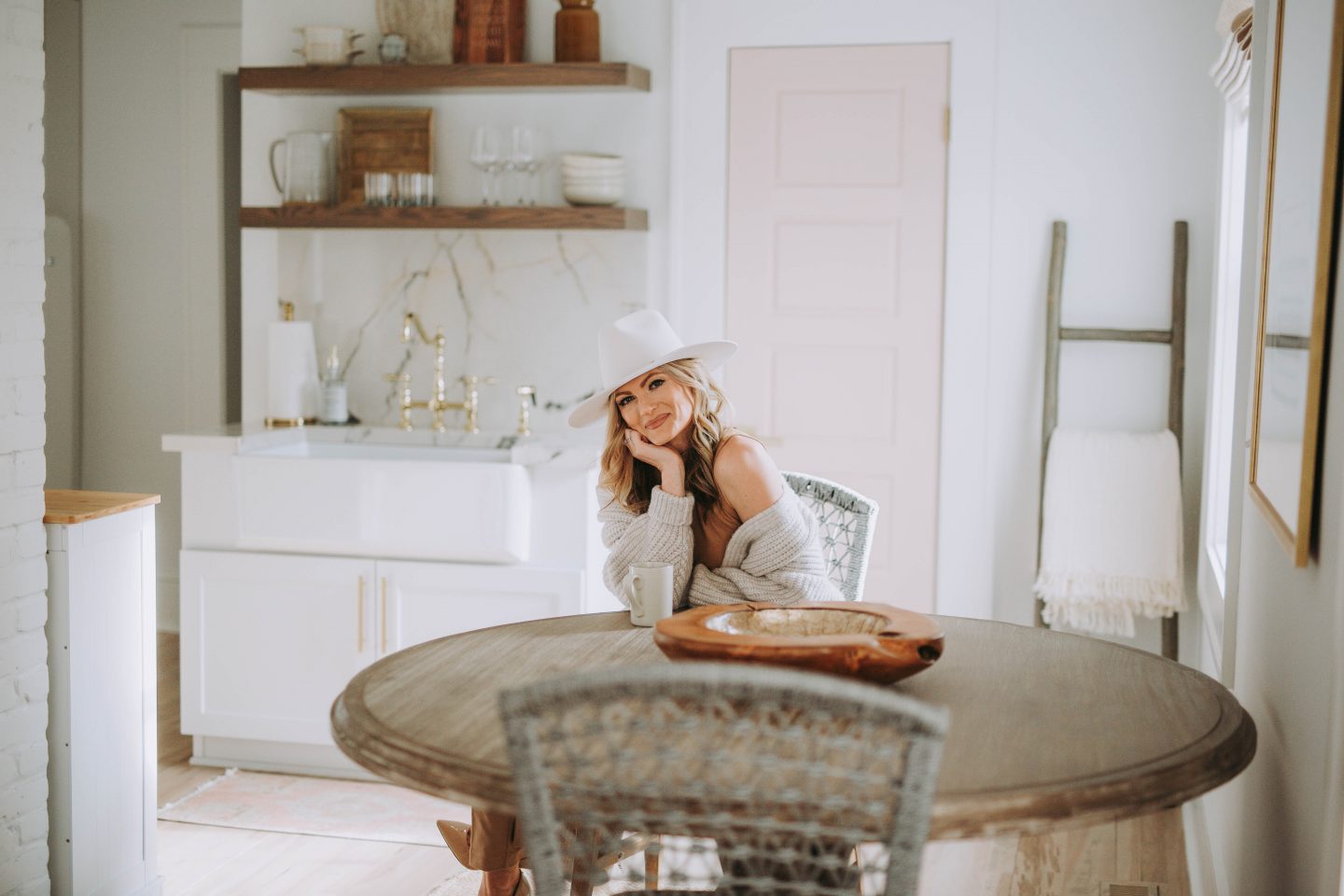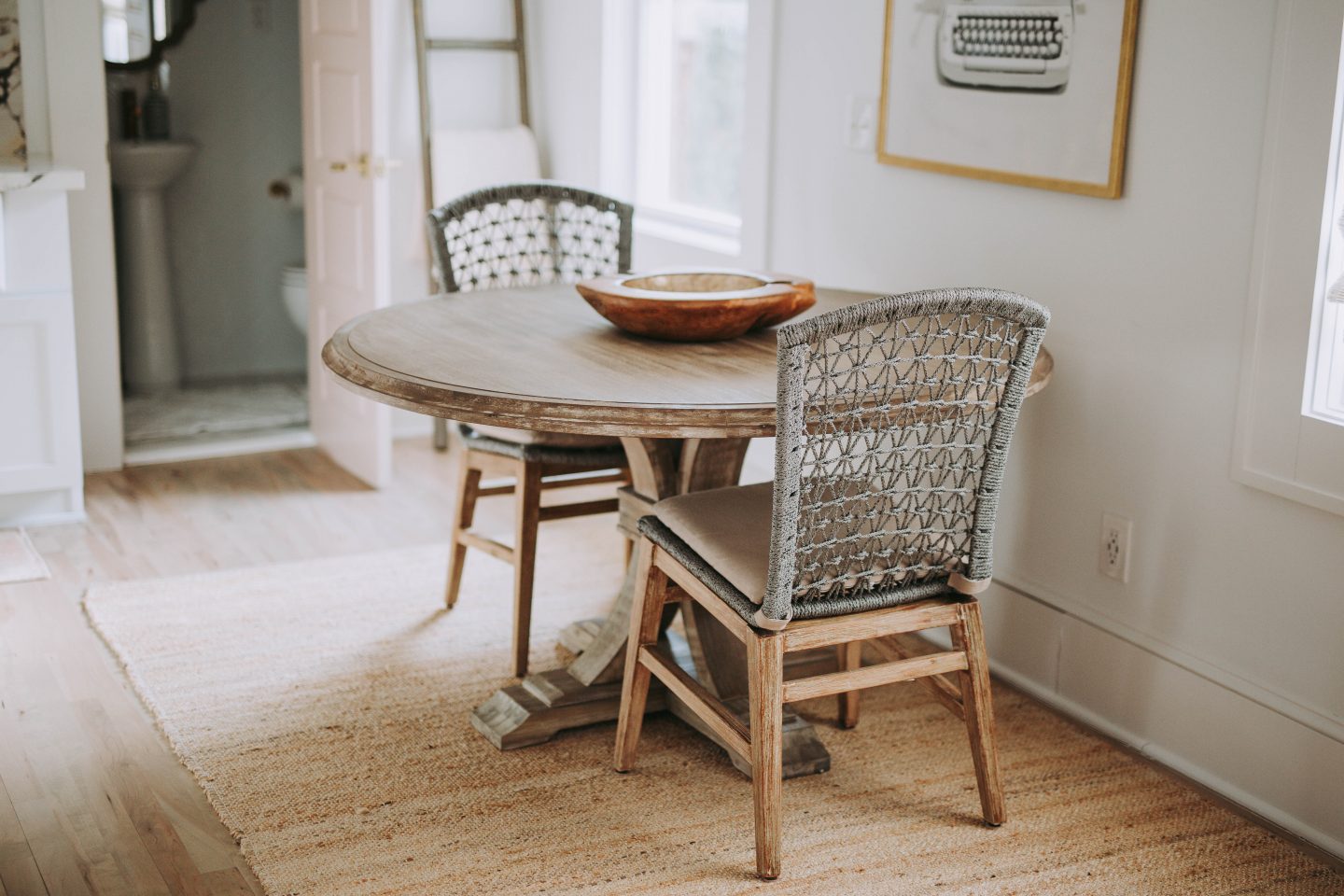 My one request was furniture and pieces that are welcoming. I want our guests to sit down and relax and feel at home as much as possible. I think Z Gallerie nailed that entire feeling with their beautiful pieces. Our sectional begs for you to kick off your shoes and unwind. I love the size, depth, and comfort, not to mention the handsome coffee table! I am always drawn to texture and love all the wood pieces mixed with the gold accents.

One area that left me scratching my head was the space between the cabinets in the kitchen. There was a shelf that existed in that space before, and it was flimsy and not functional. We removed the shelf and instead popped in a stylish bar cart. I love how modern this piece looks with the others and truly a piece of art.
ZGallerie really nailed it. I love how our bungalow feels from the minute you walk in the door it feels like you are home! There is also a lovely write-up featuring our little bungalow if you want to check it out here!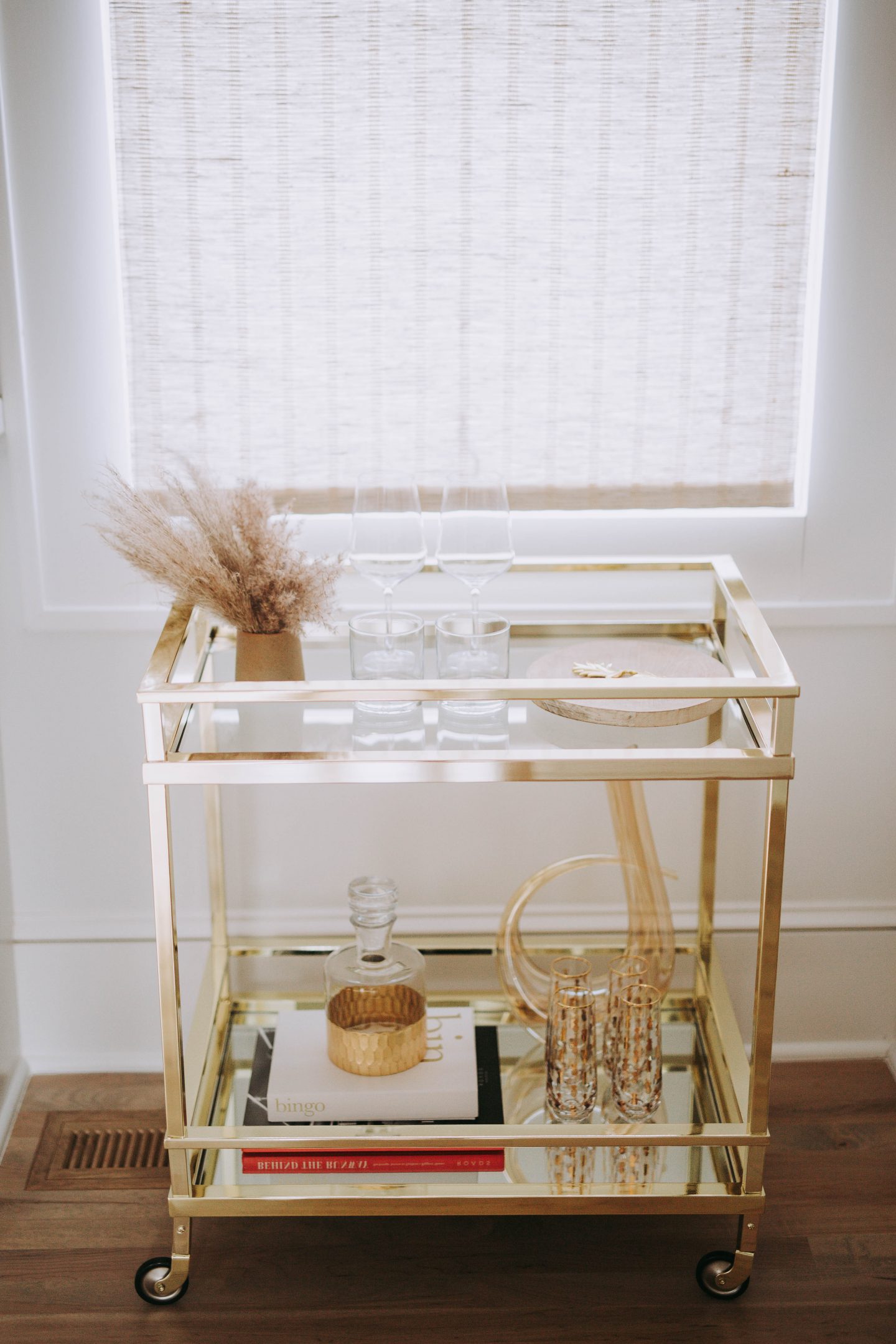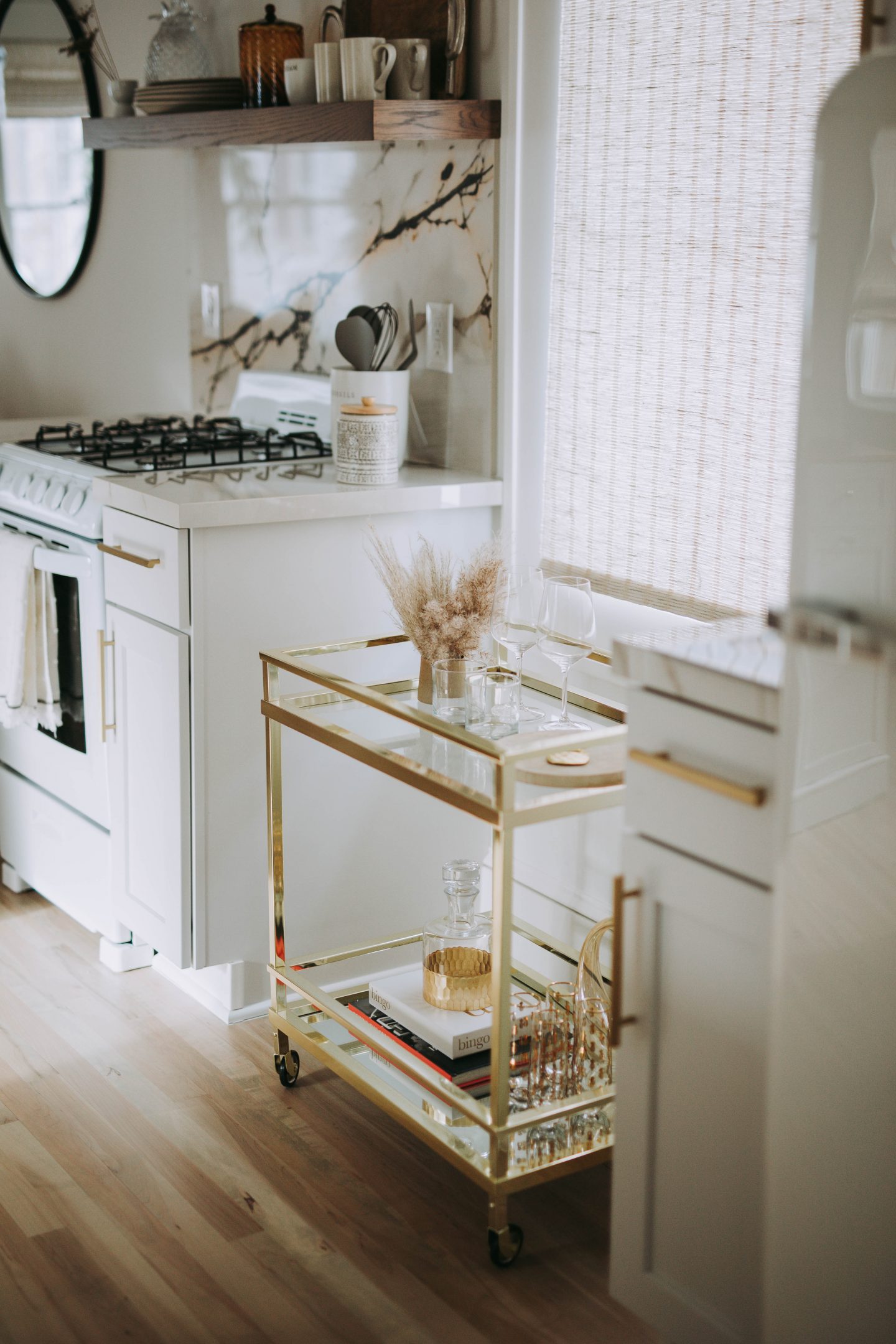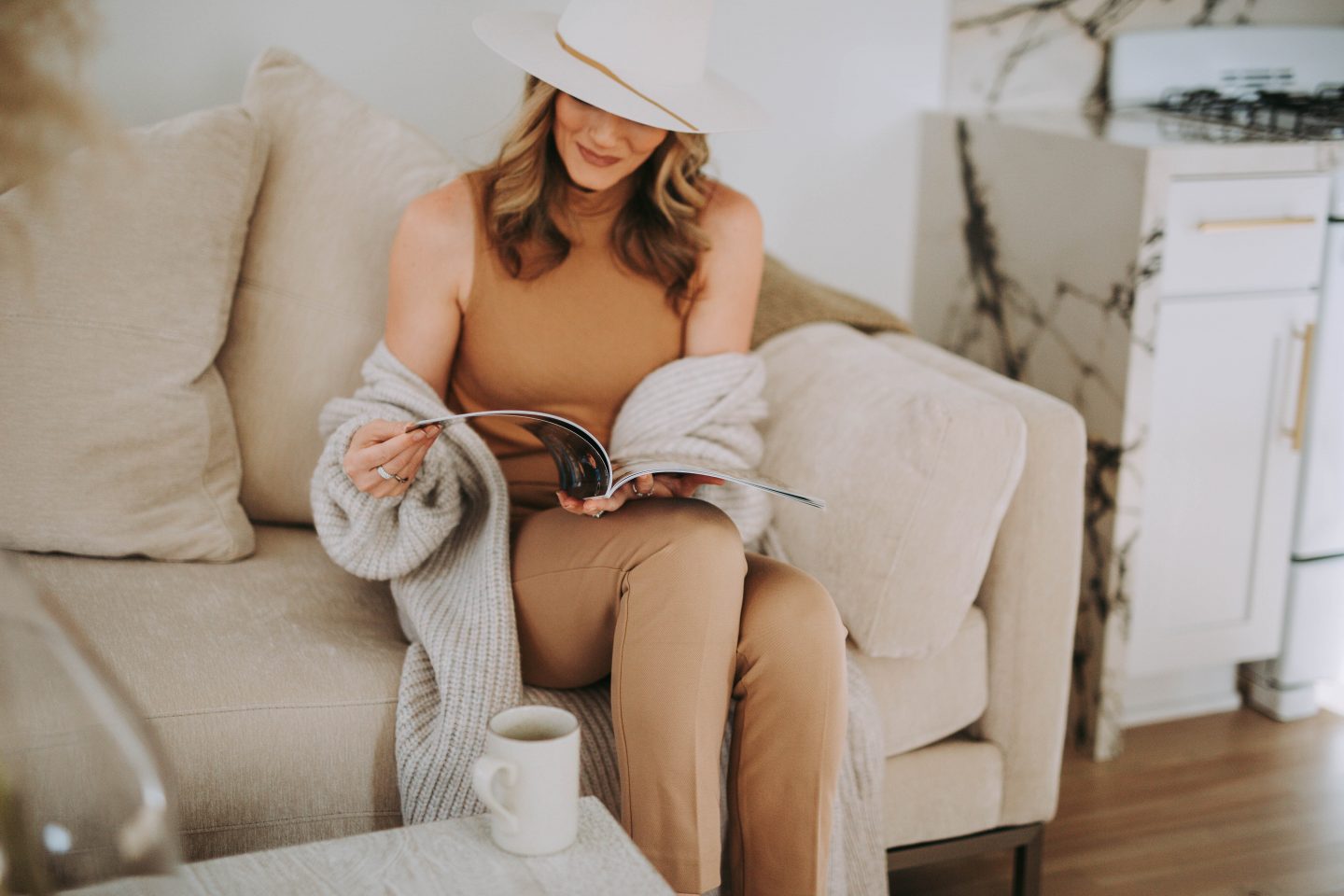 I hope you enjoyed this before and after and I hope you will come to stay with us! I say it all the time, but Minneapolis is one of those cities you didn't know you were missing. The Bungalow sits a block away from one of the cities largest lakes, and no matter the season, there is always something to see and do. Farmers Markets, restaurants, coffee shops, plenty of charming shops, and more are at your fingertips.
I also want to thank so many people who not only helped me make this possible but were a sounding board through this process. First Dwayne, Kim, Alex, and Matt at Refined! You know how much I appreciate you all. Zuli at ZGallerie, you have been one of the most supportive and kindest humans. I am so grateful to have met you and worked together these past few years. Without you, all this place would not possess beauty and charm! Minted, thank you for always bringing these walls to life! Kelly at Maven, thank you for helping a tired mama make sense of things! I am always so grateful for your stylish eye and friendship. Warner Stallion for helping us with our beautiful kitchen appliances, especially our SMEG! I cannot imagine a perfect fit for this kitchen.
And of course the most important of all, the biggest thank you to my best friend, my ride or die, my husband, John. I could write a novel but thank you for never doubting me and making this the most exciting thing we have ever done—cheers to all of it.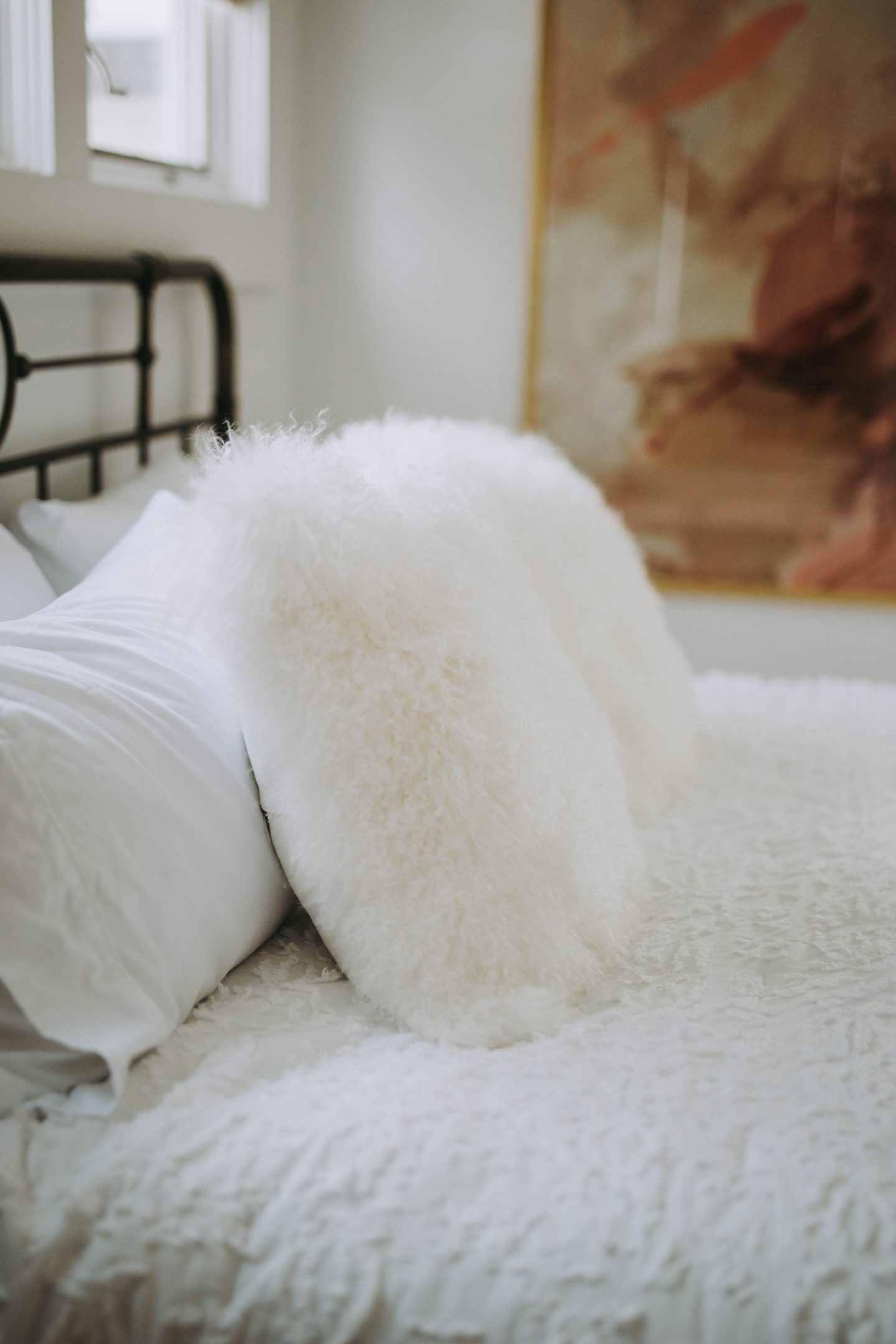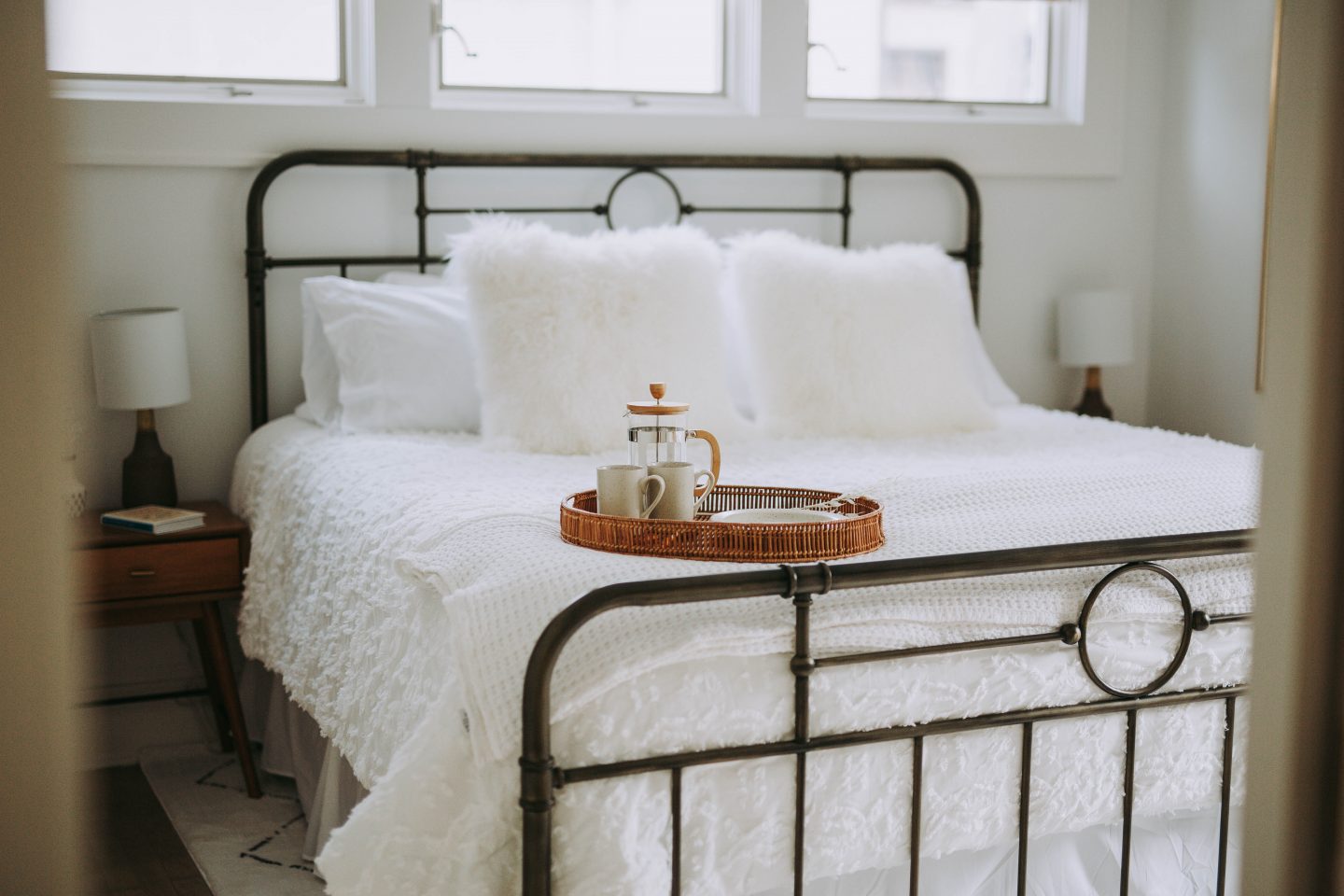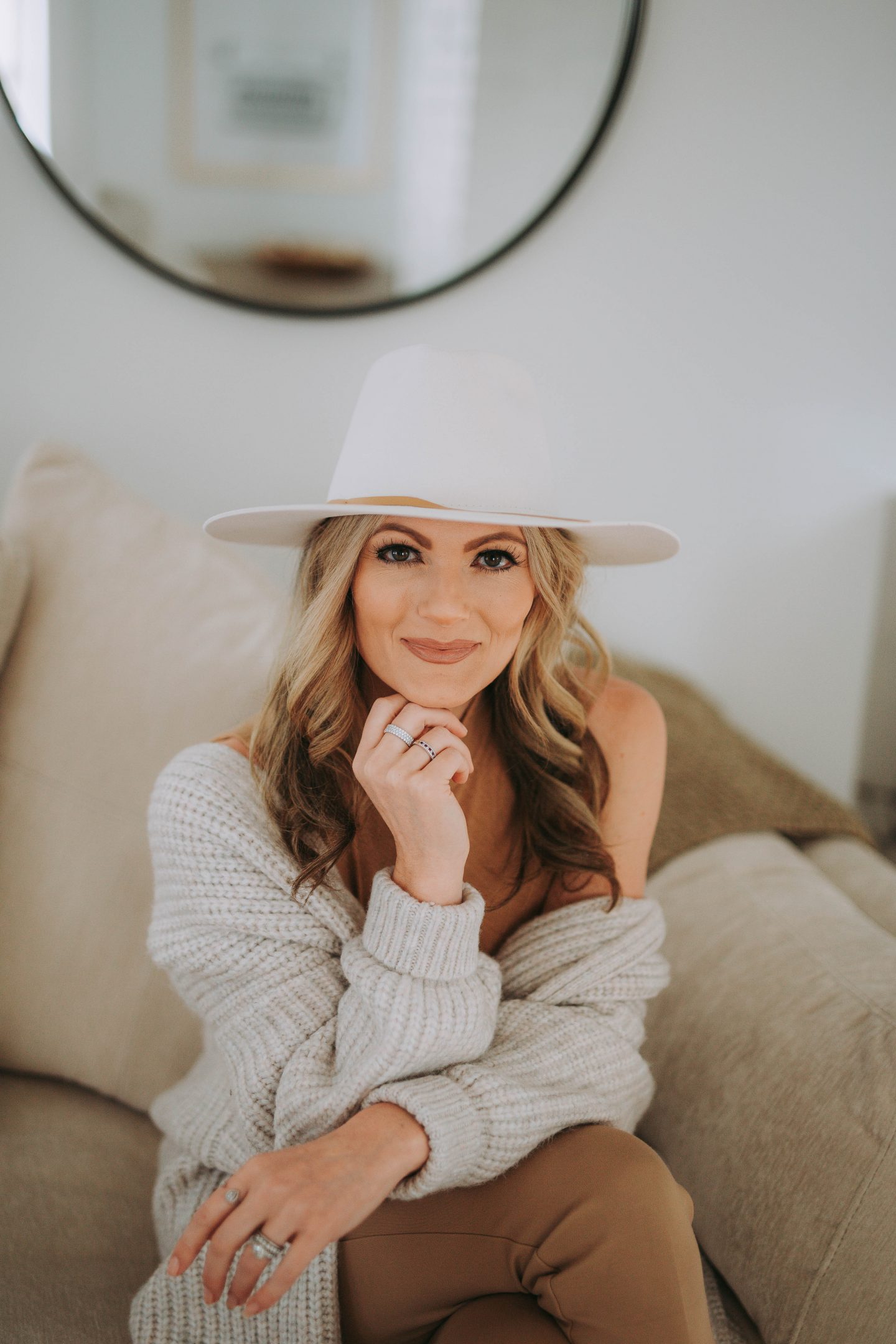 Thank you for reading this, and thank you for following along on our little journey!
With love,
Tamara
Images by Samantha Cater Photography